28 February 2001
KETTERING GAME
City are hoping to arrange their away fixture at Kettering Town for next Tuesday 6 March. "The Conference have asked us to see if we can play the game then and I've got no problems with that," said Blues boss Graham Barrow. This would also allow Martyn Lancaster to serve a one match ban before the FA Umbro Trophy quarter final the following Saturday. If City are to play at Rockingham Road next Tuesday, it could mark the return of Carl Ruffer who has been sidelined since his nasty shin injury at Northwich.
---
27 February 2001
CITY SIGN KEEPER
Chester have signed a goalkeeper Phil Priestley on loan as cover for Wayne Brown whose injury on Saturday has forced him out of tonight's home Conference match with Boston United. Priestly is currently with third division Rochdale, and although he hasn't played a first team game at Spotland, he has played on loan at Scarborough this season. Jimmy Haarhoff and Paul Carden are still suffering with hip injuries and Steve Whitehall suffered a reaction after coming on for the last 10 minutes on Saturday. There was snow in Chester this morning, and more forecast this afternoon, but at 14:15hrs the match was definitely on. If you want to check with the club nearer the kick-off time ring 01244 371376.
---
26 February 2001
FA UMBRO TROPHY DRAW

Chester City have drawn at home to Southport in the quarter-finals of this years competition. This is City's fourth home draw in the competition. The match takes place at Deva Stadium on Saturday 10th March. The teams are also due to meet at Haig Avenue three days later in the Conference. Other ties in the competition are: Morecambe or Hereford United v Burton Albion, Canvey Island or Stevenage Borough v Telford United, Forest Green Rovers v Worksop Town
---
BROWN SELECTED AGAIN
Goalkeeper Wayne Brown has been selected again for the England semi-pro squad who play in Holland in early March. He's the only City player to be called up. Meanwhile Brown is suffering from a knock received on Saturday so non-contract 'keeper Michael Price, who has been on the bench in recent weeks, is on stand-by for tomorrow night's home Conference match with Boston United.
---
YOUTH TEAM DEFEAT
City's youth team lost 6-2 at Wigan Athletic in the Youth Alliance on Saturday morning.
---
23 February 2001
MYSTERY BUYER?
According to reports from Radio Merseyside and the Chester Chronicle a mystery buyer has shown an interest in taking over the football club. Details are sketchy, but he's a 44-year-old lifelong fan who still lives in the Chester area. Although not a wealthy business man himself he believes he can get hold of the necessary finances for a buy-out.
He's issued the following statement:
"At this stage I wish to remain anonymous. The reasons for this are many, not least of which is that I believe the club is bigger than and one person and personalities should not hinder the future of the club.
I do not want a 'profile' I simply want to give something back to the club which has given me so much pleasure in the past. Similarly, as a supporter I wish to continue supporting the club as best I can during this sensitive period.
Central to my decision is the spirit and success displayed on the pitch by the players under the guidance of Graham Barrow. Should Mr Smith replace the manager or sell any of the players then my offer to take over the club will immediately be withdrawn.
To the fans I would state quite simply this 'I am a fan, I live in the city and should I be in such a position I would consider any offers of assistance with the running of the club. This could be with organised supporters groups or individuals with something to offer.
Such assistance and co-operation I believe is vital particularly with the massive gaps developing daily between the big clubs and clubs the size of Chester City. The club is called Chester City Football Club and as such belongs to Chester. As supporters I feel you have a large part to play in the future of the club and I simply want to co-ordinate that future while trying to return the club to where it belongs.
There will be no false promises and no false dawns, just a club with a spirit, a club to be proud of and a club that serves the community of which it is a part." <end>
Terry Smith's reply was as follows: "The offer is not worth responding to".
---
TEAM NEWS
A succession of injuries has hampered City's build-up to tomorrow's fifth round FA Umbro Trophy match with Blyth Spartans. Jimmy Haarhoff is rated 50/50 following his midweek injury but striker Steve Whitehall, who has been sidelined with a cracked rib, resumed training this week and will start tomorrow if he comes through a tough training session today. The draw for the quarter-finals takes place live on talkSPORT radio (1053/1089mw) at 15.45hrs on Monday. You can hear the draw via their website at http://www.talksport.co.uk/
---
YOUTH PLAYERS CALLED UP
City youth team players Danny Evans and Shaun Roberts have made the Wales U15 squad to play Ireland next month. Both players live in Wrexham.
---
21 February 2001
MORE INJURY PROBLEMS FOR CITY
City striker Jimmy Haarhoff was stretchered off in last night's win over Telford United suffering with a dead leg following a heavy tackle and is rated very doubtful for Saturday's visit of Blyth Spartans. Meanwhile a goal from Chris Hopwood gave City's youth team a 1-1 draw at home with Burnley. This follows their 3-2 victory over Wigan Athletic on Saturday.
---
20 February 2001
CITY IN ACTION
Chester host Telford United tonight in a Conference match at Deva Stadium which kick's-off at 19:45hrs. Midfielder Paul Carden is doubtful for City who have already been robbed of the services of Steve Whitehall, Andy, Porter, Chris Blackburn and Carl Ruffer through injury. United currently lie one place and one point above City in the table.
---
ISA ANNUAL REPORT
Details of the ISA Annual Report 1 July 1999-30 June 2000 can be found on the ISA site.
---
19 February 2001
CITY HELD
Chester came away with a point from Saturday's scrappy derby match at Northwich Victoria. Jimmy Haarhoff's first goal for City being cancelled out by a second half strike from Blundell. City's injury problems continue though, with both Carl Ruffer and Matt Doughty picking up knocks which leaves Graham Barrow's small squad stretched to the limit. Once again he was forced to play Matt Woods as a makeshift centre forward.
Ruffer was rushed to hospital for stitches at half-time after a horrific challenge from Vics' Gregg Blundell. "Blundell went in with his studs and just followed through," said the 26-year-old defender. "The challenge ripped my shin pad and it was painful at the time but it wasn't really until half-time that I realised how bad it was. My sock was just soaked through with blood and when their doctor came to have a look he said I needed stitches and he actually drove me to the hospital. Thankfully it was just around the corner because I could have lost a lot more blood. I've never seen anything like it. You could actually see my shin bone and the wound was about two centimetres wide" [Evening Leader].
Ruffer is expected to be out for two weeks.
Meanwhile next Saturday's FA Trophy opponents Blyth Spartans lost 2-0 at Barrow at the weekend.
---
NICK RICHARDSON
Former City player Nick Richardson played 20 minutes as a substitute for York City on Saturday in the 3-0 home defeat by fellow strugglers Exeter City, the defeat has now left York bottom of the league.
---
16 February 2001
CARDEN BACK FOR CITY
Paul Carden in for the injured Chris Blackburn is likely to be the only change in the City line-up for tomorrow's local derby at Northwich Victoria. Darren Moss has recovered from the virus that kept him out of Tuesday's semi-pro match and Matty Woods looks set to continue in the centre-forward role. The Vics are expecting their highest Conference gate of the season with up to 1,000 Chester fans likely to make the short 17-mile trip across Cheshire.
---
VARIETY CLUB TROPHY
Morecambe's 5-2 victory over Leigh RMI in the Variety Club Trophy last night sets up their semi-final tie with Nuneaton Borough, Chester City await the winners for the northern final game at a venue to be decided.
---
14 February 2001
SOLID DEBUT FOR WAYNE

Congratulations to City 'keeper Wayne Brown who made his debut for the England semi-professional side last night. Wayne played for 88 minutes in the 0-0 draw with Wales in front of a crowd of 1,181 at Rushden & Diamonds' ground, Nene Park.
Despite dominating the match for long periods England were unable to break down a resolute Welsh defence. The closest effort came with a 71st minute disallowed goal from Terry Skiverton.
City manager Graham Barrow missed the game, he was watching next week's Conference opponents Telford United while chairman Terry Smith was spying on City's FA Trophy opponents Blyth, who drew 1-1 with Barrow.
England: Wayne Brown (Chester City) [sub Scott Cooksey, Hereford Utd 88m]; Terry Skiverton (Yeovil Town), Jason Goodliffe (Hayes), Tim Ryan (Doncaster Rov) [sub Paul Ellender, Scarborough 78m], Tarkan Mustafa (Rushden & Diamonds), Stewart Drummond (Morecambe), Geoff Pitcher, Gary Patterson (Kingstonian), Paul Underwood (Rushden & Diamonds) [sub Kevin McIntyre, Doncaster Rov 83m], Justin Jackson (Rushden & Diamonds), Warren Patmore (Yeovil Town) [sub Marc McGregor, Nuneaton Borough 78m]. Sub not used: Steve West (Woking).
Wales: Tony Pennock (Yeovil Town) [sub Tony Roberts, Dag & Redbridge 71m]; Neil O'Brien, David Barnhouse (Carmarthen Town), Andy York, Terry Evans (Barry Town) [sub Gary Shepherd, Newport County 65m], Mike Flynn (Barry Town) [sub Glyndwr Hughes, Aberystwyth Town 76m], Adrian Needs (Merthyr Tydfil), Jamie Jenkins, Gary Lloyd (Barry Town), Gavin Williams (Hereford Utd) [sub Mark Williams, Newtown 90m], Graham Evans (Caersws). Sub not used: Mark Peters (Rushden & Diamonds).
---
13 February 2001
CITY LADIES TO PLAY AT THE DEVA
From this Sunday Chester City Ladies will be playing all their home games at the Deva Stadium. Liverpool Feds are the first visitors for a game which kick's-off at 14:00hrs. There is no admission charge and a £1 match programme will be available.
The Ladies team are on good form at the moment and on Sunday they travelled to Leeds to represent Cheshire County FA in the Northern Counties Ladies Cup Competition. They were pitched up against Leeds City Vixens representing West Riding (the cup holders and currently sitting top of the Northern Combination League (one league above Chester, same as Coventry City who also fell to Chester in the FA Cup!!!). The girls promptly dispatched their opponents 4-1 with goals from Cally Reid (2), Rachael McKenzie and Sarah Tyson.
On the 25th Feb they now travel up to Middlesbrough to compete in the semi final when they must overcome North Riding to set up a final encounter against Liverpool or Manchester.
---
12 February 2001
PLAYERS TO GO ON TRIAL
Both Chris Blackburn and Matt Doughty are to go to Southampton on trial. However Blackburn picked up a hairline fracture in the foot on Saturday which will keep him out of action for five weeks, and the trial has been delayed. Both players were due to go to The Dell this week. It's reported that both Leicester City and Nottingham Forest are keeping tabs on Blackburn as well.
"Missing out on the week at Southampton is a big blow for me," said Blackburn. "It couldn't have come at a worse time but the gaffer's trying to arrange it for another week. I'm also going to miss out against Northwich – my home town club on Saturday although I'll be at the game."
Meanwhile Darren Moss has had to pull out of the Wales team playing the England semi-professional side tomorrow with a chest infection, while goalkeeper Wayne Brown played on Saturday with a similar infection.
---
11 February 2001
BROWN HOPING FOR ENGLAND APPEARANCE
City keeper Wayne Brown will be hoping to make the England No.1 shirt his when he joins the England Semi-Professional squad this week for the match against Wales at Nene Park on Tuesday night. Brown is up against Hereford United 'keeper Scott Cooksey, whose played for England before, for the goalkeeper's jersey.
---
YOUTH TEAM WIN!
Chester's youth team won their first League match of the season on Saturday when they beat Blackpool away 3-2. Two goals from Lee Sefton and another from Rogers brought the victory.
---
9 February 2001
CROSS APPOINTED
Jonathan Cross has been appointed a full-time coach with the club's centre of excellence.
---
PLAYERS SENT HOME
City trio Neil Fisher, Darren Moss and Martyn Lancaster were all sent home from training as a precaution yesterday suffering from gastric flu. This is the last thing than manager Graham Barrow needs as he prepares his side to take on Conference leaders Yeovil Town at the Deva tomorrow. The club will be expecting a higher than average gate to see what promises to be a good game. City will be seeking revenge for their 2-1 defeat at the hands of the Glovers back in early September. Andy Porter and Steve Whitehall are ruled out through injury, and Paul Carden misses the game through suspension which leaves the City squad stretched to the limit.
---
ISA MEETING
The annual general meeting of the association will take place this Monday 12 February at the Royal Mail Club, Station Road, Chester, starting at 19:30hrs. There will be a number of places available on the ISA committee to be filled at the AGM and any member wishing to stand for election should forward their details to: Chester City ISA, PO Box 308, Chester CH1 5ZF.
---
NEW BOOK – PHOTOGRAPHS WANTED
Chas Sumner, author of "On the Borderline: The Official History of Chester City Football Club 1885–1997" and the sequel "Official Review of the Season 1998–99" is currently compiling a book of historical images of Chester City for publication next year. He would be interested to hear from anyone with old photographs or printed memorabilia and can be contacted at chas.sumner@chester-city.co.uk Thanks to all those who have been in touch so far. An acknowledgement will be printed in the book for all material used.
---
7 February 2001
CITY THROUGH TO NORTHERN FINAL
Chester's comprehensive 3-0 victory at Southport in last night's tie in the Nationwide Variety Club Trophy, sets them up for a northern final, and more fixture congestion; although the original two-legged format has been scrapped and the venue will be decided at the toss of a coin. The opposition is as yet unknown, but will be either Nuneaton, Morecambe or Leigh RMI. The southern final will be contested between Yeovil and Kingstonian. "The regional finals were originally to be played over two legs but that was always subject to alteration," said a Nationwide Conference spokesman today. "Yeovil and Kingstonian are through to the Southern Final. Yeovil won the toss and it will be played at Huish Park. The final will be over two legs but again that is subject to alteration." Meanwhile striker Steve Whitehall will be out of action for up to five weeks with a cracked rib. Paul Beesley (knee) and Neil Fisher (virus), who both missed last night's win are expected to be fit for Saturday's home game with Conference leaders Yeovil Town.
---
WHATEVER HAPPENED TO...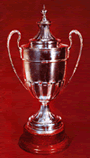 The Debenhams Cup? ... The latest issue of FourFourTwo magazine contains an interesting article, with picture, about 'Forgotten Cups' which includes amongst others, the Debenhams Cup won by Chester who beat Port Vale 4-3 over two legs in May 1977.
For those too young to remember, the trophy was fought for by the two last remaining clubs from outside the old First and Second divisions who'd advanced furthest in the FA Cup competition. Both Chester and Vale reached the fifth round that year. The Seals (as they were then) losing 1-0 at Wolves, and Vale 3-0 at Aston Villa.

The trophy was only played for on one more occasion, the following season when our forthcoming FA Trophy opponents Blyth Spartans beat Wrexham 3-2. As for the whereabouts of the magnificent '100oz solid silver' cup? that remains a mystery. Blyth organised an exhibition last year – their Centenary season – and tried to find out what happened to the cup then. The F.A. don't have it and they didn't get a response from Debenhams!
What a nice gesture if both clubs could get together to organise something special for the 24th. Any suggestions?
---
5 February 2001
FA UMBRO TROPHY DRAW
Chester have been drawn at home to Blyth Spartans in the fifth round of the FA Trophy. The game will take place on Saturday 24 February. The home Conference match with Kingstonian, scheduled for that day, will now be rearranged. Blyth currently lie 17th in the UniBond Premier League.
The draw in full: Burton Albion v Yeovil Town, Weymouth v Southport, Evesham United or Morecambe v Leigh RMI or Hereford United, Canvey Island v Stevenage Borough, Histon or Billericay Town v Telford United, Tiverton Town v Worksop Town, Chester City v Blyth Spartans, Matlock Town or Forest Green Rovers v Rushden & Diamonds.
"You've got to be happy with a home draw at this stage," said City manager Graham Barrow. "We all know about Blyth's cup tradition and it won't be an easy game for us. But at least we haven't been drawn away to Tiverton or Weymouth."
•Blyth Spartans official website.
---
3 February 2001
GRAHAM VILE LEAVES
City's director of the Centre of Excellence Graham Vile, has left the club after eight years, following a "disagreement" with owner Terry Smith. Meanwhile it's been reported that the chairman wrote to each of the players following their defeat at second division Port Vale in the LDV Vans Trophy criticising their performance.
Extracts from the letter, which appeared with the players wage packets, were printed in the Evening Leader: "You are the best players and the best team in the Conference and you should be at the top of the Conference and you should be winning cups not just playing in them. Lack of effort and lack of expecting greatness from yourselves is a disgrace to yourselves."
The players wrote "This was the response of Terry Smith to Chester City's exploits in the LDV Vans Trophy against second division Port Vale. This is the same team that has played six ties against league opposition losing only two, this one against Port Vale, and the other against Blackburn Rovers who are in play off position for the Premiership. No letters were given to the players after the Plymouth, Oxford or Hull City games, congratulating them on their performance in these games. This letter has just dented the morale of a club aiming to be together for promotion. The good of the team does not seem to be considered. The players were offered overnight accommodation for the away trip to Blackburn but they would have to get up at 6.00am for the Dover trip – not good preparation for a promotion pushing side."
•Chairman's letter in full.
---
NICK RICHARDSON MOVES ON

Good luck to former City skipper Nick Richardson who has left the club, the remainder of his contract has been paid off. Richardson joined Chester in 1996, after an initial successful loan spell, and played nearly 200 League games for City and scoring 16 goals in the process.
Speaking in the Evening Leader Richardson said: "Being the PFA representative, I was fairly instrumental in keeping the players together during the administration period. We had to agree to have no appearance money or bonuses and if there'd been a few more players of a militant nature in the squad, the whole team could have broken up.
But we battled on and managed to survive although I think the off the field pressures took their toll on me – and it's really gone downhill for me from there.We reached a compromise (on the settlement) last week and it's no more trips over the Pennines to Chester.
I'm disappointed not to have been involved this season but I think everyone will realise that it's time to move and I want to stay in football and I believe I can still do a good job for a league side."
---
FA UMBRO TROPHY DRAW
The draw for the fifth round of the FA Umbro Trophy takes place live on talkSPORT radio (1053/1089mw) at 15:15hrs on Monday. You can hear the draw via their website at www.talksport.co.uk/ Chester's ball in the hat is number 6.
---
2 February 2001
DEBUT FOR JIMMY?
With striker Steve Whitehall having a late fitness test, and rated at only 50/50 for tomorrows FA Trophy match with St Albans City, Graham Barrow looks poised to hand a full debut to Jimmy Haarhoff. The diminutive striker has impressed in the last two City matches when coming on from the bench. Once again cameras from SKY TV will be present and highlights from the match will be shown in next Thursday's Non-League Show.
---
1 February 2001
CALL UP FOR DARREN MOSS

Congratulations to City defender Darren Moss who has been selected for the Wales squad who take on England in a friendly at Rushden's Nene Park on 13 February. Facing Darren in goal for England will be City's Wayne Brown who was picked for the squad last week.
For those City fans who would like to see, hopefully, both Darren and Wayne Brown play in the match, ticket details are as follows:
Seating – Adult £8.50, Concession £5.00, Under 12 £2.00
Standing – Adult £7.50 Concession £4.00 Under 12 £2.00
Tickets are now on sale from the Rushden & Diamonds Football Club Box Office, and can be purchased in person, postal applications or by telephone. Ticket Office telephone number (01933) 652936.
Rushden & Diamonds Football Club, Nene Park, Irthlingborough, Northamptonshire NN9 5QF.
---
ANOTHER DEFEAT
Another thumping defeat for the reserves who lost 4-0 at home yesterday to Oldham Athletic in the Youth Alliance.