30 November 2001
PLAYERS DOUBTFUL

Defender Chris O'Brien (left) has flu and along with Carl Ruffer (knee) and Mick O'Brien (sciatica) are all rated as doubtful for tomorrow's match at Woking. City will welcome back Mark Beesley and Chris Blackburn from suspension though, and give a second debut to midfielder Paul Carden after he re-signed for City this week.

The players will be looking for nothing less than three points tomorrow after being told in no uncertain terms earlier in the week by chairman Vaughan that an improvement on recent form is essential if they are to be kept at the club.
---
NO WOKING COACH
There will be no supporters coach to Woking tomorrow due to a lack of demand. Only 15 supporters had shown an interest in travelling, too few to make the trip worthwhile.
---
29 November 2001
SUPPORTERS TRUST MEETING
The Chester City Supporters Trust hold a meeting at the Deva Stadium tonight starting at 19:30hrs. City chairman Steve Vaughan will be in attendance. The three main items on the agenda are:
1. To hear about the exciting plans the new owners have to develop the club
2. To discuss the offer of shares in the club
3. Explain the Trust Loan Fund
Although this is a members meeting, non-members may attend. More information will be found on the Supporters Trust website.
---
27 November 2001
VAUGHAN PROMISES CHANGES
Chairman Steve Vaughan has promised changes following City's defeat at Dover on Saturday. The Blues slipped into the bottom two after being beaten 1-0 at the Crabble Ground and Vaughan said: "The supporters and me are expecting better from professional players, and I'm sick of hearing about how unfortunate we've been when the truth is that we've been rolled over. The players have had opportunities to prove themselves – we had good results at Yeovil, and Morecambe, but then we get rolled over by Dover. I've got all the debts from the club's previous owners and I've got to clear it. We're stuck with contracted players and debts. We've got to try and get this club up the table. The teams preparation is perfect, but the results are not acceptable. I don't care who I upset, I'm looking towards the future – I've never known a side to play well one day and do bad on another day. They may be a Jekyl and Hyde side. but I can be a Jekyl and Hyde chairman, and I'll turn on them if they don't perform." Vaughan held a meeting yesterday of all the first team players and reserves yesterday and stated that some players will be put up for sale and others will be sent out on loan.
---
23 November 2001
TEAM NEWS
City may be without several key players for tomorrow's six-pointer at Dover Athletic. Mark Beesley and Chris Blackburn both serve match suspensions, while Jimmy Haarhoff, Mick O'Brien, and Michael Rose are all doubtful through injury.
On the plus side, striker Gary Williams who impressed against Rushden is set to make his Conference debut, as is Alex Higgins. Higgins, who plays on the left side of midfield, has played for Sheffield Wednesday and QPR and the club were hoping he'd sign on a non-contract basis today. City are also hoping to have Paul Carden in the line-up tomorrow. The club faxed an offer to Doncaster Rovers on Wednesday night and were confident it would be accepted.
Dover, under caretaker-manager Clive Walker, aren't without their own problems and also have players missing. Defeat for City tomorrow will send them below Athletic and into the bottom three of the table.
---
NEW DIRECTOR
Former Tranmere Rovers chairman Fred Williams has become a director of Chester City. A Tranmere fan since he was a boy, Williams, ran four companies in the construction and heating and ventilation business before his retirement. Williams was chairman at Prenton Park for 12 months after being a board member for 20 years.
---
22 November 2001
ISA MEETING
The next ISA members meeting will be this Monday 26 November at The Royal Mail Club, Station Road, Chester, starting at 19:30hrs. The guest speaker is City manager Steve Mungall.
---
FANS UNITED 4
Wimbledon Independent Supporters' Association have organised a Fans' United Day on Sunday 16th December at their 'home' match v. Nottingham Forest. This match was specifically chosen because, with it being on a Sunday, most other teams will not be playing and there will therefore be a chance for more fans of other teams to attend. The aim of the event is to highlight the value of supporters to football clubs and the link between a football club and its local community and, more specifically, to protest against franchising in football, the MK issue and to push for a return for
Wimbledon FC to its rightful home in Merton.


The match is not all-ticket though seats are limited.

Anyone interested in helping out should contact Richard McGregor (WISA Committee member).
---
20 November 2001
LADIES WIN AGAIN
A hat-trick by Cally Reid gave Chester City Ladies a 3-0 victory at Macclesfield Town on Sunday in the Cheshire Cup, they now meet Witton Albion at home on 16 December in the quarter final of the competition. The team are holding a party with disco and buffet on Friday 30 November at the Deva Stadium social club (fancy dress optional!). The fun starts at 20:00hrs and tickets which are just £3 are available from Mickey Clifford 01244 347782, George Rogers 01244 536466 or Kevin Grainger on 01244 659464.
---
GAME REARRANGED
Chester have brought forward their home Conference match with Morecambe from mid February to Saturday 8 December, kick-off 15:00hrs. City were without a match that day (FA Cup second round) and Morecambe's scheduled Conference opponents Dagenham & Redbridge are still involved in the Cup competition.
---
17 November 2001
CARDEN TO RETURN?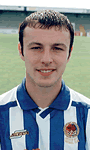 City are showing interest in signing former player Paul Carden back from Doncaster Rovers. The midfielder moved to Belle Vue in the summer for £3,000 but has been out of the side recently and the Yorkshire club are looking to recover their fee for him.
Carden said "I'd definitely fancy coming back to Chester. All I know is what I've read in the papers. Gareth Owen said it was in the Evening Leader last week and I asked my boss if it was true. Obviously I'm pleased that Chester are showing an interest, I've got a lot of time for Chester and I enjoyed my time there.
I'd like to go back to Chester City and try and turn round hat happened at the club last season. No club has a divine right to be in the Football League, but of all the clubs in the Conference, Chester should be back in the league. I always look for Chester's results and I still talk to Mark Beesley, Carl Ruffer and Chris Malkin. They've told me things are really looking up at Chester, and they all speak highly of Steve Mungall as a coach and a person."
---
CITY REJECT BID
Chester have turned down a bid of £50,000 from Rushden & Diamonds for striker Mark Beesley.
---
14 November 2001
CITY LOSE ON PENALTIES
City missed out on the J.C.Thompson Championship Shield last night losing 4-3 on penalties at Rushden & Diamonds after the game had finished 2-2 after 90 minutes and extra-time. Chester gave a debut to on-loan Accrington Stanley striker Gary Williams who showed great pace and scored a wonderful goal to give City the lead. Mark Beesley also scored a superb goal following a smart three man move but City's sloppiness in defence twice gifted the home side equalisers. Chester almost snatched a last gasp winner but Dean Spink was unable to stretch out a leg to divert Mark Beesley's teasing cross in the 85th minute. City boss Steve Mungall said following the defeat: "We gave a great showing and I thought the lads played some good stuff creating a number of good chances. It wasn't a backs to the wall performance like at Yeovil the other week, and we more than matched them". On debutant Gary Williams Mungall said: "He's got good feet good ability and pace and adds to our options. He did tire as the game went on and that is why we had to bring him off. We could well look at extending his loan period beyond the month."
---
LADIES THROUGH TO THIRD ROUND
Two goals by Helen Cann and another by Leigh Broadbent brought City a thrilling 3-2 win at Middlesbrough on Sunday in the second round of the Womens FA Cup. The tie was decided in extra-time after the match had finished 2-2 after 90 minutes. City's reward is a home tie with Newcastle United in the third round on Sunday 9 December. The team and their management would like to thank the dozen City fans who made the long trip to Teesside to cheer on the girls, it was really appreciated.
---
12 November 2001
SHARES FOR THE FANS
The following statement was issued by the Chester City Supporters Trust on Saturday and outlines the news that chairman Steve Vaughan has agreed to sell 7% of his shares to City fans who are members of the Chester City Supporters Trust.
<start>
SUPPORTERS' SHAREHOLDING IN THE CLUB
The Chester City Supporters Trust, an Industrial and Provident Society, was formed in November 2000 to provide a legal framework to enable supporters to own shares in the club and to have a supporter director on the Board.
Since Stephen Vaughan took over at the club, he has gone out of his way to work positively and co-operatively with the Trust, so much so that we are now pleased to report that the club has agreed to sell shares to fans through the medium of the Trust.
Those wishing to join in with this share purchase must be members of the Trust. If you have not already done so, therefore, now is the time to join the Trust and help create a solid foundation for the future of Chester City FC. Application Forms to join the Trust can be obtained on the internet at www.SupportChester.co.uk or by post to Chester City Supporters Trust, PO Box. 3170, Chester, CH4 8WP.
The Board of Chester City Supporters Trust

---
RUSHDEN NEXT
Chester travel to Rushden & Diamonds tomorrow for the CIS Cup match, the non-league equivalent of the Charity Shield. Jimmy Haarhoff must be doubtful for the Blues following his injury against Forest Green Rovers, but Steve Halford and Dean Spink will be available after serving their suspensions. The game kick's-off at 19:45hrs and extra time and penalties will decide the tie should they be necessary. City are expecting to field 24-year-old striker Gary Williams who has joined on a month's loan from Accrington Stanley. A fee will be involved should manager Steve Mungall want to sign the player.
---
NEW DIRECTORS
Following the purchase of 21% of Steve Vaughan's shareholding at the club Sheelagh Horne, Michael Horne and Alan Case have joined the board of directors. As a result, Case has resigned from the ISA committee who have issued the following statement: "Alan Case tendered his resignation from the ISA Committee co-incident with his appointment to the Board of Directors of Chester City FC. We would like to thank him for his efforts over the last three years and send him, and Sheelagh and Michael Horne, our best wishes as local and committed City supporters in their new capacity as Directors and investors in Chester City FC".
---
9 November 2001
CITY LOOK TO CONTINUE RUN
Chester entertain Forest Green Rovers at Deva Stadium tomorrow (15:00hrs) looking to build on a run that has seen them take 10 from the last 12 Conference points available. Jimmy Haarhoff and Mark Beesley will lead the strike force and Mike O'Brien is expected to return in midfield following a back injury which kept him out of Tuesday's Cheshire Cup match, as is defender Chris O'Brien. Scott Ruscoe will also feature but may have to be content with another place on the bench. Steve Halford and Dean Spink are unavailable through suspension. Manager Steve Mungall said: "I'm naming a squad of 16 players for Saturday's match, but I'm still unsure about a few positions. I'm not sure whether to put Scott Ruscoe in my starting line-up, and whether to name Chris Malkin as a substitute. Paul Berry will definitely play no part because he's suffering from a virus."
---
DOVER COACH
City fans who want to travel on the supporters coach to see the Blues at The Crabble on 24 November should contact either Barrie Hipkiss or Richard Prince at tomorrow's match to book a place. Alternatively please phone Barrie on (01244) 379011 between 18:00-20:00hrs only. The coach leaves at 07:45hrs and seats cost £15.
---
8 November 2001
FANS FORUM
Around 100 City fans attended last night's Fans Forum at Deva Stadium. Questions were answered by Steve Vaughan, his brother and business partner Roy, John Radege (Chief Exec), Jim Jones (Commercial Manager), Richard Lavender (Marketing Executive) and Steve Mungall. You can read Les Smith's account of the meeting here. It was promised that another forum would be held in a month's time when the full financial appraisal of the Club should be available.
---
7 November 2001
CITY OUT OF CUP
Chester lost 2-1 at home to Stalybridge Celtic last night in the second round of the Cheshire Senior Cup. The game went to extra time after the two sides finished 1-1 after 90 minutes. The crowd, given free admission by the club included many families and was a healthy 1,408. The club's stewards volunteered to work for nothing on the night, and the Chester players also agreed to play without receiving appearance money. The only payments were made to St John's Ambulance, and the match officials.
---
SUSPENDED

Defender Steve Halford will miss Saturday's match with Forest Green Rovers as he serves a one match suspension.
---
FANS FORUM
There will be a fans forum at the Deva Stadium tonight in the social club starting at 19:00hrs. Steve Vaughan will be on hand to give the latest details regarding the financial position of the club and the possibility of forming a new company. There will be a Q&A session as well.
---
5 November 2001
BATTLING CITY WIN AT YEOVIL

It was back's to the wall for most of Saturday's match but City fought well to gain a valuable win at Huish Park. Mark Beesley's clinical finish midway through the first half was enough to grab the points but an all-round team effort was needed to make sure the lead was preserved.
Two great saves by Wayne Brown and a goal line clearance by Mick O'Brien thwarted the home side when it seemed that an equaliser was inevitable during long periods of second half pressure.
"The lads showed commitment, effort and fight – it was an outstanding display, and an immense performance on the day from the whole team. They really worked their socks off," said a delighted Steve Mungall.
---
GREAT WIN FOR THE LADIES TOO
Goals from Helen Cann (3), Sarah Tyson and Clare Reynolds gave Chester City Ladies a thrilling 5-2 victory over Manchester United on Sunday in front of 50 fans at the County Officers club. Indeed City were leading 5-0 until injuries late on to Michelle Hounslow and Sarah Tyson forced a reshuffle. This is a great result especially when you consider that United, like Scunthorpe and Blackpool before them were top of the league until they played us!
---
CHESHIRE CUP
City are at home on Tuesday to Stalybridge Celtic in the second round of the FA Unibond Cheshire Senior Cup. The game kick's off at 19:45. There may even be a return to the Deva Stadium for ex-players Mattie Woods and Paul Beesley who recently signed for Paul Futcher's side. Admission to the match is free "I had planned for supporters to watch a league game free, but I've switched the idea to tomorrow's game because our exit from the FA Cup hit our resources". said chairman Vaughan. The club will be hoping for a bigger crowd than the first round when just 57 turned up to see the victory over Congleton Town in a competition that has rarely attracted great interest.
---
CITY BID FOR DUO
Chester have tabled a bid in the region of £40,000 for Telford United's Neil Moore and Jake Edwards. United recently put their entire squad up for sale in an effort to raise much needed cash. Defender Moore has played for Everton reserves, Norwich City, Burnley and Macclesfield Town while striker Edwards, who scored a hat-trick against Hayes yesterday, has previously played for Wrexham. Telford value the players far higher wanting £35k for each. City team boss Mungall said: "We're not prepared to pay out £35,000 each for Neil Moore and Jake Edwards, but Neil Moore will be available on a Bosman from January, and we'll speak to him then".
---
FIXTURE MOVE?
The club are attempting to bring forward the home Conference match with Leigh RMI, scheduled for 2 March, to Saturday 17 November to try and fill the vacant FA Cup round 1 day. Scarborough have already been approached and refused to play.
---
2 November 2001
INDEPENDENT ARTICLE
This morning's copy of The Independent contains a large article on Steve Vaughan, mostly regarding his dealings at Barrow, written by David Conn. Conn also wrote an article on Terry Smith and Chester City a few months ago. You can read the online version here.
---
CITY LADIES
The Chester City Ladies are at home to Manchester United Ladies on Sunday in a Northern Combination League match. The kick-off is at 14:00hrs and the home venue is the Cheshire County Officers Club in Upton. Why not go along and give the team some support.
---
1 November 2001
YEOVIL
Anyone travelling to Yeovil on Saturday should note that the away terrace won't be open. Chester supporters should use the Bartlett stand (Adults £9 children £6). Unlike last season, the social club will not admit away fans either on Saturday, so if you want a pre-match drink it's a trip to Yeovil town centre, miles away.City will have both Dean Spink (three matches) and Martyn Lancaster (1 match) missing through suspension on Saturday while striker Mark Beesley still hasn't fully recovered from his groin injury and may start again on the bench. Midfielder Andy Porter has a toe injury but manager Steve Mungall will welcome back both O'Brien's, Chris and Mike.
---
GREAT PERFORMANCE
Chester's 3-0 victory at Morecambe recently has earned them the Nationwide Conference performance of the month award. City will receive a trophy and a £250 cheque at their next home match against Forest Green Rovers.