29 July 2001
WIN OVER VALE
Just 254 people turned up for City's friendly match with Port Vale on Saturday; 31 fans stood on the home end with many familiar faces now determined to stay away from the Deva while Terry Smith is in charge. Over 100 fans elected to join the picket outside the ground. For the record City won the game with a goal ten minutes from time by Steve Whitehall. The club also unveiled a new kit, sky blue and black striped shirts (without sponsors name) black shorts and socks.
---
27 July 2001
BLACKBURN TRIAL
Highly rated midfielder Chris Blackburn has joined Manchester City for a trial and will play against Radcliffe Borough in a reserve friendly on Saturday.
---
26 July 2001
ISA STATEMENT
The ISA committee have today issued the following press statement:

<start>
Chester City owner, Terry Smith, has recently accused supporters of a string of misdeeds and singled out the ISA as particular culprits. We do not wish to dignify the multitude of outrageous claims by referring to them in any detail but simply take this opportunity of issuing a categorical denial of these allegations.
It is true that members of the ISA, along with other supporters, take part in the peaceful picket outside the Deva Stadium, which is now heading into its fifth week. During this time the pickets have not attempted to dissuade anyone from entering the Deva whilst our presence (which has included fans of all ages, men, women and children) has not created any problems with the police.
Neither the pickets nor the stewards need accept any responsibility for the failure of the club to sell season tickets, the postponement of the Everton friendly, the absence of a main sponsor, the departure of numerous first team players, etc. Nor do we condone violent or irresponsible behaviour as we wish to maintain the good name of Chester City supporters even in the face of the current and unremitting adversity.
We would ask all supporters to recognise the seriousness of the current situation and give their support in any way they can.
Chester City ISA
< end>
---
25 July 2001
BAN LIFTED
Following Terry Smith's deal with a security firm to steward matches at Deva Stadium, Cheshire County Council have lifted their zero rating at Deva Stadium. It's believed that the capacity has been reduced to 3,000 which should be more than adequate this season! Saturday's friendly match against Port Vale (15:00hrs) goes ahead, though, if you are going, no admission prices were known when the club was rung this morning.
---
24 July 2001
PAUL CARDEN SOLD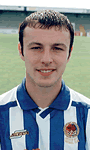 Midfielder Paul Carden is the latest player to leave Chester; he's joined fellow Conference side Doncaster Rovers.
The fee for the player is just £3,000. Third Division Carlisle United had also been linked with the player.
Following his signing Carden stated: "I'm free at last. I'm just so glad to get away. Things were getting me down at Chester. I've noticed the difference immediately on how a club should be run and although I'm sad to leave Chester I just hope that the good times will return there.
We all know what the problem is at the club and I just hope for Chester supporters' sakes that the club survives and who knows, in a couple of years time, I could be back with them as a player. I'd like to thank the City fans for their support during my time at the club."
---
23 July 2001
TRANMERE CANCEL FRIENDLY
Tranmere Rovers' official website states that they have taken the decision to cancel their pre-season friendly against Chester City. Following discussions with the police and emergency authorities, Rovers have been unable to gain adequate assurances from Chester City regarding safety issues and the licensing of the stadium. The club have therefore decided that the friendly, which was set to take place on Tuesday 31 July at the Deva Stadium, should not go ahead. A similar decision was recently taken by Everton who also pulled out of their friendly fixture against Chester. Rovers are now playing Macclesfield on that night.
---
20 July 2001
DOUGHTY AND MOSS BOTH LEAVE
Defender Matt Doughty has today signed for Rochdale. To make things worse Rochdale's official website states that the signing was made on a free transfer due to an administrative error by Chester City. Doughty had been linked with a move to Shrewsbury Town earlier in the week. After leaving Matty said: "I'm relieved to get away after what has been going on there but I'm sad for the players who are left. If Graham barrow would have stayed then so would I but I had to move on and I've moved to a club where I can just concentrate on playing football and I'm back in the Football League". Darren Moss has also left the club today after signing a one year contract with Shrewsbury Town.
---
SMITH BOOKS SECURITY FIRM
Terry Smith has claimed that City's pre-season fixtures will go ahead after he hired a security firm Special Projects Security to do the Deva Stadium stewarding. The cost of this will be £30,000 over the season, about £1,400 per match which is three times the cost last season. He said: "We solved the stewarding problem late yesterday (Thursday) afternoon. We have booked the security firm who cover Manchester United matches. The friendly games will go ahead and we have booked them for the season. It will be very expensive because of their standard but it will make it better for the club, and will make the council and police happier. They will be able to deal with any potential problems because they are so highly trained."
---
HOT RECEPTION FOR HILL
City kicked-off their pre season with a 3-0 victory at Connah's Quay Nomads last night. Chester's goals coming from Martyn Lancaster, Scott Ruscoe and a penalty from Mark Beesley. Off the pitch, manager Gordon Hill received a hostile reception from City fans and there was a scuffle involving Hill before the game as he walked out of the players tunnel, he received a police escort from the pitch at the end.
---
WOKING MATCH
Unless a security firm are hired and trained by the club in the next few weeks City will play their opening Conference fixture against Woking behind closed doors. A letter has been sent from the Conference Board to the club asking for an explanation of the current situation at the Deva. Back in the 1980s Newport County were thrown out of the Conference for failing to fulfil a fixture, and, following on from the Hayes fiasco last season, City are sailing close to the wind. The Conference Board next meet on 9 August and they will demand answers, and, no doubt, a valid safety certificate by then.
---
19 July 2001
SHORT TRIP FOR CITY
Chester play their first pre-season friendly tonight when they travel to League of Wales side Connah's Quay Nomads (19:30 kick-off). A large number of Blues fans are expected to make the short trip to the Deeside Stadium to see the first outing under Gordon Hill's leadership, and to carry on the Smith Out! campaign. Only three new players have been signed during the summer (not counting Jimmy Haarhoff), brothers Michael and Stephen Rose and Chris Malkin, and all will be expected to feature tonight. In the corresponding fixture last season City drew 1-1, where a number of trialists also featured. If anyone can send a match report for the site it would be appreciated. Tomorrow morning Chester play a practice match behind closed doors at Burnley's training ground.
---
CAR STICKERS & T-SHIRTS
Car stickers (£1) and T-shirts (£5.50) were on sale at the joint meeting of fans in Chester on 16 July and can now be bought at the Deva Stadium picket line.
There is a choice of two slogans for stickers:
Chester City FC Boycott The Ultimate Sacrifice
Chester City Hall of Shame Smith. Evans. Fair. Hill. Cross
The t-shirts have both slogans on (back & front).
---
GROUND CLOSED
Following a meeting yesterday, Cheshire County Council's Grounds Safety Committee have withdrawn the safety certificate for the Deva Stadium as the club only have only a handful stewards signed up for next season. The certificate states that 34 safety stewards and four fire stewards are present when paying customers are admitted into the stadium.

Cheshire's Civil Protection manager Martin Smith said: "We must emphasise that this action was taken with the greatest reluctance but regret that there was no alternative. The safety of the public must always be paramount and it is in the interests of public safety that we have been forced to take this action. We are prepared to work with the club to help resolve this issue and will look at the matter again as soon as the club considers that it is in a position to fulfil its legal obligation with regard to crowd safety."

The clubs safety certificate is held by secretary Michael Fair but he was unable to attend yesterday's annual meeting. The Council have stated that the certificate will be restored once the club have convinced the safety committee that adequate measures to supply stewards have been taken. This decision must cast a major doubt over City's chances of staging their three home pre-season friendlies against Port Vale, Tranmere Rovers and Manchester City. Not only that, but the opening Conference game of next season against Woking is now less that a month away.
---
17 July 2001
SUPPORTERS MEETING
Around 150 people turned out for last night's supporters meeting. Many items were discussed and there was a show of hands on how many people were going to boycott home games and it was 99% boycotting.
It was mentioned that some of the pickets went into the club yesterday to confirm that Terry Smith had indeed evacuated his office (he's now working from home to avoid the picket). His PC wasn't there but the office was strewn with papers. The most disturbing story was that the Nationwide Trophy was lying in the corner of the office broken – Bob Lord would turn in his grave!
It was very encouraging to hear people talk about a resurrection and the ways in which it could be done. It was also good to see all the supporters groups backing each other.
It appears that Everton FC have also now joined a long list of people being sued by Smith.
---
16 July 2001
GET DOWN TO THE ROYAL MAIL CLUB
An open meeting will take place tonight for all Chester City supporters at the Royal Mail Club, Station Road, Chester. This meeting, like the last one, sees all the Chester supporter groups, as well as individuals who do not currently belong to one of the existing organisations coming together as one where they will be updated on the current situation at the Deva and what steps can be taken next. The meeting starts at 19:30hrs and with the situation spiraling out of control at the Deva all supporters are urged to attend. The following press release has been issued:
<start>
At recent meetings of the principals of various groups of supporters including the ISA, The Supporters Trust, The Official Supporters, The Exiles, The Executive Club, the Able-Disabled and the Chester Supporters Group, it was unanimously agreed that picketing of the Deva Stadium and encouragement of the boycott of season ticket sales and sponsorship be continued until such a time that matters regarding the current custodians of Chester City FC have been resolved.
It was agreed that a further open meeting for all fans be arranged at Chester Royal Mail Club on Monday 16th July at 7.30pm to update fans, discuss further actions and agree upon a united campaign to bring further pressure to bear on the current owners to bring matters to a swift conclusion.
Tony Durkin
<end>
---
13 July 2001
EVERTON GAME CALLED OFF
Not surprisingly Everton have pulled out of the pre-season friendly at the Deva Stadium on 25 July. They have cited concerns over safety at the ground as their reason. City were forced to make the match all-ticket with a reduced 3,000 capacity, after having failed to provide an adequate number of stewards, or to back up their claim that they would get a professional security team in.
---
CLOSED DOORS FOR FRIENDLIES?
City face the real prospect of playing their home pre-season friendly matches behind closed doors. The club's current lack of stewards, only six have reported back, is causing great concern among the local authorities, and, despite the club announcing last week that they would hire a professional security firm, no details have been submitted to the police.

A reduced capacity of 3,000 could also be slapped on the club if, and when, sufficient stewards are found. Decisions are expected to be made next Wednesday at a meeting between the local safety authorities and the football club.

The Nationwide Conference board, who met on Wednesday, are keeping close tabs on the situation at the Deva. Said Conference chairman Bill King: "We noted Chester's position at our board meeting on Wednesday and we are monitoring the way it could affect our competition. We have been notified by the police about their safety concerns and they must do whatever they have to do. As far as playing behind closed doors is concerned we would have to deal with that if it happened, but we have a responsibility to the fixture."
---
12 July 2001
DEVA PICKET ENTERS THIRD WEEK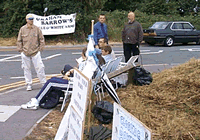 The fans picket at the Deva Stadium has now entered its third week. About a dozen City supporters are stoically manning the line every day "until Terry Smith goes" and are getting plenty of support from passing motorists.
With the temporary closure of a section of Sealand Road, traffic is currently being diverted down Bumpers Lane right past Deva Stadium.
Earlier in the week Terry Smith launched a bitter attack on the local police (as well as the usual: supporters, local media, Morrisons etc) for not breaking up the picket, who, the police have said are committing no offence.
One of the picket line faithful George Rogers said their action is working and that the people of Chester are talking about their protest. He said: "In pubs and on the streets you can hear people say 'have you heard about the picketing' at Chester City. "Terry Smith might not like it but we will stay put until he leaves". Another fan Phil Bailey said: "Terry Smith has been out and said we have made our point and told us to go. The police have also been down but they can't do anything because we are not doing anything wrong."
Thanks to Mike Rowe who helped man the picket on Wednesday and has sent some pictures.
---
GAUNT LEAVES CITY
Defender Craig Gaunt has been released by Chester at his own request, he's going to spend more time with his textile business. Gaunt made 28 appearances for the Blues last season. This leaves Martyn Lancaster as City's defence for next season! Both Darren Moss and Matt Doughty are targets of former boss Kevin Ratcliffe at Shrewsbury Town. Moss is on non-contract terms and would move to Gay Meadow for free. Gordon Hill said of both players: "They're gone. They're not in my squad and they're not in my plans."
---
EVE SIGNS FOR JABLOTEH
Midfielder Angus Eve has signed for Trinidad & Tobago professional club Jabloteh. Eve signed a new two-year contract with CL Financial San Juan Jabloteh on Tuesday July 11, 2001 after being approached by Jabloteh's coach Terry Fenwick. A delighted Fenwick said: "We are really happy to have a player like Angus come to our club. He is a popular figure in Trinidad and the Caribbean and one of the bigger players to come out of Joe Public. We are sure that he can bring a lot to our club. With us signing Angus, it shows just how ambitious our club is and now we can say that we have a team of good experience and youth. What we are trying to do is really develop the youth of TnT but to do this we need a couple of really good experienced players. Not only is Angus an experienced lad, but he is also a 'Trini' which can only be good for some of the younger ones," said Fenwick. Eve was on loan with Joe Public from English club Chester City. His contract with Chester ended on June 31.

•Eve's International Caps
---
11 July 2001
FISHER MOVES ON
Midfielder Neil Fisher, released at the end of the season, has joined part-time Conference side Leigh RMI. Fisher had received offers from elsewhere including becoming full-time with Shrewsbury Town. Fisher decided on the part-time contract as he's going to college in September to train to be a chef.
---
9 July 2001
MAN CITY FRIENDLY?
Chester's scheduled friendly match on 4 August with Manchester City would seem to be in some doubt, the fact than no one at Maine Road knows about the game is also a mystery. There is no mention of it on their official website listing of pre-season matches and a phone call to the Manchester club this afternoon brought the following polite response: "nothing is arranged, it must have been provisional and nothing came of it." It later transpires (in an email from Man City) that it will be a Reserve team only that's coming for the fixture.
---
EVERTON MATCH ALL-TICKET
City's match with Everton on 25 July will definately be all-ticket. Explaining their decision a Chester police spokesman said: "The police are obliged to consider capacity issues in respect of each match. We assess this based on information from the clubs and experience at previous fixtures. If there is evidence that attendance may exceed capacity at the ground, we advise the club's safety officer and the local council's safety advisory group that the match needs to be all ticket. Chester Police's advice in respect of the forthcoming match against Everton is that the game should be all ticket. This advice is based upon experience of the previous fixture between the two teams when there was evidence that numbers attending may have exceeded official capacity. We have been advised from the visiting team that their travelling supporters group could, on their own, fill the stadium to capacity. On this basis, to ensure the safety and comfort of those who attend the match, the official police advice is that only fans with an advance ticket should be given entry to the stadium."

The previous fixture referred to took place on 20 July 1999, when a crowd stated as 5,800 crammed into the Deva with many people standing in the aisle's in the over-full main stand.
---
PAY LATE AGAIN
The Evening Leader reports that the players wages were late again this month, the Professional Footballers Association have been informed and are monitoring the situation. Meanwhile Terry Smith has issued another threat to close the club down, this time on 14 July.
---
GRAHAM BARROW
Former manager Graham Barrow has been linked with the manager's vacancy at third division Carlisle United. United's boss for last season Ian Atkins had now joined the coaching staff at second division Cardiff City. Barrow was interviewed for the Brunton Park job before Atkins was appointed last season. And with Northwich Victoria boss Keith Alexander resigning to join Lincoln City as assistant manager there's a post to fill there as well.
---
6 July 2001
BEESLEY HEARING
Paul Beesley has won his tribunal case against the club at Telford yesterday. The hearing lasted three and a half hours with the PFA representing Beesley and Smith the club. Beesley is now considering what action to take before making any comment on the situation.
---
STEWARDS
Fifteen of last season's stewards who resigned en masse after the Rushden game, have now signed-up to return to the Deva Stadium for next season. However, this is about half the required number and the club are thinking of bringing in a professional security team to make up the numbers – this would have to be approved though by the local authorities, including the police and Cheshire County Council trading standards officers, as specialist training would be required. This lack of stewards would also call into question whether City are capable of staging their pre-season friendlies, especially the higher profile Everton game.
---
NO CHARITY
A charity match between a Hollyoaks TV X1 and the Cheshire Fire Brigade has been moved from Deva Stadium after City demanded a £3,000 match fee to stage the event. The game will now be played for free at a more charitable Winsford United. Secretary Mike Fair said: "We were just covering our costs of opening the ground. I was not party to a specific figure being mentioned. The club wanted to take part. It wanted to support the event. We were looking to cover the cost of stewarding it really. There were safety factors to consider".
---
YOUTH MATCH
City's youth team have been drawn away at Guiseley in the first qualifying round of next season's AXA FA Youth Trophy. The match is to be played before 1 September. The winners will go to Dunston Federation Brewery or Marine in the second qualifying round.
---
5 July 2001
BEESLEY HEARING
Paul Beesley's appeal hearing against his recent sacking(s) is due to take place at Telford today. Beesley's case is being supported by the PFA. Meanwhile, tonight's Evening Leader states that Matt Doughty has had talks regarding a possible move to Shrewsbury Town, and Doncaster Rovers are interested in midfielder Paul Carden.
---
4 July 2001
FOUR FOUR TWO

The latest (August) issue of FourFourTwo magazine contains an excellent article, written by Steve Hill, on Chester City and Terry Smith's running of the club. There's plenty of background information and quotes from Terry Smith as well as unnamed players: "we were training for five hours a day, and didn't even break sweat, playing against invisible people," Phil Davies, Alistair Syme and Cleggy, etc.
The six page article, entitled 'No surrender to the USA', also features many pictures from the pre-Rushden fans march with the coffin to Deva Stadium.
---
NEW PHYSIO
Chris Malkin is set to combine a playing role with that of club physio next season. Malkin worked part-time with Gordon Hill's youth side last season at the Deva and also turned out for Telford United. Chris Malkin will be assisted in his physio role by Steve Mills. Mills, a qualified referee, will be match day physio while Malkin is playing for the team. Also joining Hill's management team are fitness specialist Chas Osula – and, you guessed it, Terry Smith. "I've known Terry for ten years and believe he has a lot to offer," said Hill.
---
3 July 2001
CONFERENCE FIXTURES
Next season's Conference fixtures have now been released. City kick-off the campaign on 18 August with a home match against Woking, followed on the Tuesday with their first away trip to Southport. Over the Christmas/New Year period there are two local games with Northwich Victoria and another festive visit from Hayes. The season is completed on 27 April at Dagenham & Redbridge.