31 May 2001
HILL APPOINTMENT
City's Youth Development officer Gordon Hill has today been appointed Director of Football at the Deva Stadium. According to the club he will be working alongside Graham Barrow, who, no doubt, probably had little or no say in the appointment. "I don't believe my role at the club has changed" said Barrow. Meanwhile Terry Smith has stepped down as chairman at the club and will take up another post at the Deva. The board of directors are to meet soon to appoint a replacement.
---
30 May 2001
CAMPAIGN MEETING
City fans are urged to get to a campaign meeting tonight of the F.A.N.S. party which will take place at the Royal Mail Club, Station Road, Chester starting at 20:00hrs. There's not too long to the general election now and City supporters have a unique opportunity to let their voices be heard at the ballot box on 7 June. Volunteers will be required for leafleting etc so the more that turn up the better.
---
25 May 2001
CONFERENCE PLACE APPEARS SAFE
Nationwide Conference chief executive John Moules has indicated there's no reason why Chester won't be playing in the Conference next season. Assurances have been given by the club that fixtures can be fulfilled, and it appears that no Conference rules have been broken. The Conference hold their annual general meeting at the Moat House hotel in Chester on 2 June at which the league's £4,000 annual membership fee is due. Meanwhile Graham Barrow had a long meeting with chairman Terry Smith yesterday the outcome of which is that he is still in post as manager, despite rumours elsewhere that he'd been sacked last weekend.
---
23 May 2001
CLUB REINSTATES PLAYERS
Chester City Football Club have this morning done a complete u-turn and reinstated three players: Paul Beesley, Wayne Brown and Carl Ruffer after sacking them last week for gross misconduct. The three, who all represented England at semi-pro level last season, were due at a non-league tribunal in Staffordshire today to contest their case for unfair dismissal.
---
TRANSFER EMBARGO
The Football Association have slapped a transfer embargo on the club stopping them from signing new players until further notice; this follows an unpaid fee of £3,500 to Ilkeston Town for Tony Hemmings who was signed for City by Ian Atkins back in January 2000.
---
21 May 2001
CANDIDATE NAMED
ISA chairman George Rogers has been named this morning as the candidate for the F.A.N.S. party who are contesting the City of Chester seat at next month's general election. Unfortunately, nationwide listings have George entered as an Independent candidate so the F.A.N.S. party name probably won't be on the ballot paper. So just remember the name ROGERS and vote for George.
The following press release has been issued this morning:
<start>
George Rogers For A New Start (FANS)
Save Chester City Football Club campaign candidate for the City of Chester constituency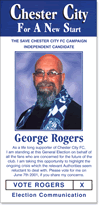 During the past eleven years our football club has dropped from Division Two and is now a Conference side. After 69 years of Football League status it is now a non-League club. In this time the club ceased to own its ground and various custodians have originated from places as diverse as Scotland, Manchester and the USA.
Under recent ownership, thirty seven players, eight managers/coaches, three directors, many commercial and administrative officers plus a safety officer have all left. All the stewards have resigned, three sponsors have been lost, numerous executive club members, season ticket holders and social club members have stopped supporting the club.
The average gate has been reduced by 30% in the past two seasons. Many supporters only went to away games refusing to financially support the club whilst the present custodian remains. Most supporters I talk to are determined not to go to the Deva Stadium unless and until there is a significant change in the current climate. In short the club is in crisis!
No financial accounts have been produced for five years. Some players have asked for a transfer. No sponsor has been named for next season. It has been suggested by the chairman that next season the club will be represented by a team of foreign players. Directors have rarely made appearances in the last few months. More recently, marches and demonstrations by fans prove the supporters have no confidence in the present regime.
Chester City Football Club when a league club, represented the City of Chester both nationally and internationally. Its results were published worldwide. Now the club is reeling from too many short sighted decisions made in the past.
Appeals to the football authorities and also to Companies House have met with a sad lack of response.
By standing for election I am determined to raise the problems affecting our football club and the situation it is now in. I want to see Chester City FC survive and prosper and I do not think that this is impossible.
Many supporters have promised me their vote on June 7th. Please join them and myself in making an even stronger statement.
I am supported in my campaign by: The Official Supporters Club, The Independent Supporters Association, The Chester Supporters Group, The Chester City Exiles, The Executive Club.
George Rogers [21 May 2001]
< end>
•Anyone wishing to help in the campaign are asked to contact either of the following:
•Alan Case on 01744 811120,
•George Rogers on 01244 536466
•Barry Hipkiss on 01244 379011
---
CITY ON THE RADIO
TalkSport radio are doing a piece on Chester City with the Evening Leader sports editor Alistair Syme just after 07:30hrs tomorrow morning (Tuesday). You will find TalkSport at 1053/1089mw on your radio and at www.talksport.co.uk
---
NEW DEAL FOR HAARHOFF
Winger Jimmy Haarhoff has signed a new two year deal at the Deva Stadium. The deal was conducted between the player and chairman Terry Smith, it appears that Graham Barrow was left out of the equation which doesn't bode too well. Haarhoff signed on a short contract from Birmingham City back in January and started eight times in a City shirt last season. He started brightly at the club but failed to make the starting line-up for the last eleven games of the season. "I am very happy to be returning to Chester, I like playing for the club and I love the supporters and I am looking forward to helping them win promotion next season." said Jimmy.
---
18 May 2001
APPEAL THROWN OUT
Chester City FC have lost their appeal this afternoon against the decision, over a year ago, to award Kevin Ratcliffe £200,000 compensation. The appeal was thrown out by a High Court judge Mr Justice Moses who stated Chester must pay the amount owed plus interest. This gives the green light to former manager Ratcliffe to pursue his threat to wind-up the club. "I'll wind the club up if I have to," said Ratcliffe."I'm disappointed that I've had no correspondence from the club and I'll be speaking to my solicitors about what steps I should take next." Meanwhile Terry Smith has vowed to take the decision to a Court of Appeal. "No court has ever decided that Chester City Football Cub owes Mr Ratcliffe anything and the club does not think the Football League panel decision was made with any authority because the club was not a member of the League when they made the decision". said Smith.
---
GOALSCORING LEGEND DIES

It's sad to report the death of one of Chester's greatest players William (Bill) Pendergast who passed away on Tuesday evening.
Bill (pictured left) was in the news in January when it looked like his goalscoring record for Chester, 15 goals in 12 successive Division Three (North) matches in the 1938-39 season, was going to be broken by Bournemouth's Jermain Defoe.
The funeral will take place at 12.30 on Tuesday 22 May at St.Anne's Church on Vale Road in Rhyl.
---
MORE PLAYERS TO BE SACKED?
It appears that all the players who refused to turn up to yesterday's training session have been finally warned with the sack by the club this morning, unless they do what Smith says they're out. The players involved are Craig Gaunt, Steve Whitehall, Matt Woods, Paul Berry, Paul Carden, David Kerr, Dean Spink, Jimmy Haarhoff, and Andy Porter. The situation regarding physio Joe Hinnigan and manager Graham Barrow, neither of whom turned up yesterday, is as yet unclear. The players seem united over this stand against the chairman. Just how many players, if any, turn up on Monday remains to be seen.
---
LADIES FC PRESENTATIONS
Chester Ladies FC manager Wayne Gresty awarded all 19 of his squad players with awards when he announced his manager's player of the year prize at the club's presentation evening at the United Services Club. Goalkeeper Laura Edwards and ever-present defender Michelle Brooks received the most improved players' award, and Laura Edwards also picked up the young player of the season prize alongside striker Cally Reid. Midfielder Lisa Pritchard collected the players' player of the season and supporters' player of the season awards, and the club person of the year award was presented to coach Graham Hounslow, ISA member Micky Clifford, and Ian Langford with his sponsorship work.
---
EDDIE'S IN CHARGE
Former City favourite Eddie Bishop has been appointed manager at non-league neighbours Witton Albion. Bishop had previously been in the caretaker manager role at the club since Nigel Gleghorn departed.
---
NEW BOOK – PHOTOGRAPHS UPDATE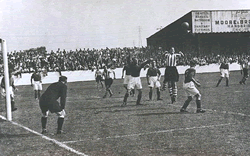 Thanks to all those who have been in touch and sent photographs to Chas Sumner for his book of historical images of Chester City to be published in the middle of next year.
Chas has had a good response for photos from the late 1940s and early 1950s and is keen to hear from anyone now with original action photographs from the 1960s-1990s.
If you think you may have pictures that will be of interest please email Chas Sumner. An acknowledgement will be printed in the book for all material eventually used.
If anyone has details of who Chester are playing in this picture (left) or know any of the Chester players names Chas would also be grateful to hear from you.
---
17 May 2001
PLAYERS SACKED FOR GROSS MISCONDUCT
As revealed yesterday three key players have been sacked for gross misconduct by Terry Smith: Paul Beesley, Carl Ruffer and Wayne Brown, all were notified by a letter included with their pay-slips. Brown, who earned his third international cap for England earlier in the week spoke out in the Evening Leader about his sacking. "What do you expect? He doesn't like people standing up to him. It's not a problem, I'll find another club. I've got a few irons in the fire and a few clubs have shown interest in me. I don't know if Smith has forgotten but he actually gave me a 12-month extension on my contract in February. But I don't think anyone wants to leave a club in this way and I'll be contacting the PFA about it today. Smith wants to get his own players in but I do feel sorry for the fans. I've been at the club for nearly six years and the stuff they've gone through, especially in the last couple of years, has been awful."
It appears that no players turned up at the Deva this morning for the extra training ordered by Terry Smith yesterday, more sackings could be on the way and I've no doubt the PFA and Nationwide Conference will be watching disbelievingly as the situation at the Deva Stadium spirals out of hand.
We currently have the playing squad united in open revolt, a chairman who will only communicate via a fax machine, a ban slapped on employees from talking to the press, no commercial department in place, key young players out of contract for next season, and no pre-season friendlies arranged either.
---
CITY SUPPORTER TO STAND AT GENERAL ELECTION
In an effort to raise the profile of the crisis that's happening at the Deva Stadium, Chester City supporters groups are to field a candidate at the forthcoming General Election on 7 June. The following statement has been circulated this morning to the press and more details will be available in the forthcoming days. The candidate will be named next Monday morning, while the first leaflet drop to 43,000 homes in the Chester area will go out on 25 May.
<start>
A NEW CAMPAIGNING PARTY FOR CHESTER 'F.A.N.S' For A New Start
F.A.N.S. AT C.C.F.C.
For a new start at Chester City Football Club
A number of fan groups of Chester City Football Club have come together in order to field a candidate in the forthcoming general election to be held on 7 June 2001. Our candidate will be standing in the City of Chester constituency, and it is our hope and intention that by contesting this election we will place very firmly, in the local and national media, the crisis situation which is currently the norm at the Deva Stadium.
We are a single issue party and will remain so throughout our campaign. We hope that we can call upon the support of all Chester City fans and indeed football fans generally. Our candidate will be announced on Monday 21 May at 10am when nomination papers will be handed in at the Town Hall in Chester, and on the same day we will be announcing contact telephone numbers for those who wish to help in our campaign.
<end>
City of Chester results from last General Election
1. Christine Russell: Labour – 29,806 votes – 53%
2. Gyles Brandreth: Conservative – 19,253 votes – 34.2%
3. David Simpson: Liberal Democrat – 5,353 votes – 9.5%
4. R Mullen: The Referendum Party – 1,487 votes – 2.6%
5. I Sanderson: Official Monster Raving Loony Party – 204 votes – 0.4%
6. J Gerrard: West Cheshire College in Crisis Party – 154 votes – 0.3%
Labour majority 10,553 Turnout: 78.4%
---
SUPPORTERS STATEMENT
STATEMENT ON BEHALF OF THE INDEPENDENT SUPPORTERS ASSOCIATION, OFFICIAL SUPPORTERS CLUB, CHESTER CITY EXILES, EXECUTIVE MEMBERS, CHESTER SUPPORTERS GROUP.
The above associations are deeply disappointed that Mr. Terry Smith has decided to remain as the owner of Chester City Football Club.
Mr. Smith's tenure has seen the rapid decline of the club, both on and off the field.
The Supporters groups have no faith in Mr. Smith to halt this decline and we would ask him to seriously reconsider his decision to stay. Quite simply, the message from the overwhelming majority of Chester supporters is that he is not wanted.
We are not prepared to support an organisation led by Mr. Smith, nor indeed his chosen Managing Director.
It is time for a change. It is time for the people of Chester and its elected representatives to stand up for its Football Club before it is too late.
Mr Smith must realise that his cause is lost. There can be no recovery for him.
We know that many supporters have already decided not to return to the Deva next season in protest at Mr. Smith.
We ask all supporters to consider NOT renewing or purchasing season tickets for the season 2001/2.
It seems staggering that Mr. Smith has not realised that without support he cannot survive.
He has little or no support from fans, players or staff. So why does he stay?
One can only presume that Mr. Smith's continued presence is yet another attempt to antagonise supporters who have had far too much to put up with, for far too long. To suggest that we will change our colours is yet another insult that will not be tolerated.
Enough is enough. Mr. Smith should just go and let us try to pick up the pieces.
---
16 May 2001
CONTRACTS TERMINATED
Chester City have this afternoon terminated the contracts of three key players They are assistant manager Paul Beesley, defender Carl Ruffer and goalkeeper Wayne Brown. Ironically the first, second and third choices in the recent supporters' Player of the Year vote.
---
PLAYERS NOT FIT ENOUGH!
Terry Smith has decided that after a long hard season which has seen the squad play no less that 61 games, a two-week training camp is needed to get them fit starting at 9am tomorrow morning. Players ordered (by fax) to report in are Craig Gaunt, Steve Whitehall, Matt Woods, Paul Berry, Paul Carden, David Kerr, Dean Spink, Jimmy Haarhoff, and Andy Porter. Don't expect any of them to turn up though, Smith will no doubt use this as the excuse to get rid of most of them at the end of the month. The fax sent by Smith to the players stated: "Success in any sport or anything in life will be down to your outworking everyone else…with this in mind Chester City Football Club begin a two-week training camp for players who had fitness problems due to injury or players we feel need extra fitness training."
---
14 May 2001
DAVIES TO FIGHT ON
Businessman Phil Davies has said that he's determined more than ever to take over at Chester City, despite the goings-on at the club on Friday. Speaking to the Evening Leader he stated: "Myself and the people involved here are not going to give up. We're not going to quit. We will get this club. We have just got to plan our strategy but I can say this: it hasn't even started yet but the gloves are off now."
---
LADIES WIN
Chester City Ladies beat Yorkshire League champions Scunthorpe 3-1 on Sunday in the first of their promotion play-off games. City were trailing 1-0 at the break but a second half goal from Sarah Tyson took the match into extra time. Further goals from Sharon Jones and Michelle Brady sealed the win for City in the extra 30 minutes. Chester City: Laura Edwards, Linda Grainger, Annette Jones, Michelle Berry, Michelle Brooks, Leigh Broadbent (Cally Reid), Lisa Pritchard, Michelle Brady, Joanne Reynolds (Sharon Jones), Sarah Tyson, Claire Reynolds. Subs not used: Rachel McKenzie, Laura McWilliams.
---
11 May 2001
SMITH IS STAYING ON
Terry Smith has appointed Gareth Evans (real name Ian Bromley) as the clubs new managing director and indicated that he intends to stay on as chairman next season. Evans, who used to manager the Stone Roses rock group, first job was to sack the commercial manager Jonathan Parker. City's PR and Community Promotions Manager Matthew Eddy has also been made redundant.
Said Evans: "I am very excited about about being involved with Chester City Football Club. I have closely followed Chester City for the past two years, and I know that I can contribute greatly to helping turn the club around. I am here to support Terry Smith all the way and to create an environment at this club that has all staff being loyal to the club, the chairman and the board of directors. I want everyone working together for one common goal, this goal being promotion and the long-term survival and prosperity of Chester City Football Club."
This shock move comes on the day when Smith was due to meet Phil Davies at 12:00 to settle the sale of the club. It has also been reported that the wage cheques of three senior players and some YTS players have bounced this week.
Things can't get any worse, or can they.....there's a whisper going round that at Gareth Evans' request we may even be playing in red and white next season! – surely a disastrous commercial decision like that won't be taken (are they going to change all the blue seats as well?). If memory serves me right the last time City had a red shirt was the third choice kit for the 1992-93 season and hardly anyone bought a replica one, at this rate there will be nobody there to buy one next season anyway – if it does happen, potential new shirt sponsors better take note.
---
LADIES CHAMPIONS
Congratulations to the Chester City Ladies who have won the NWWPL championship by, currently, some 16 points (one result yet to come in). The girls have now to play in a 'round robin' along with Scunthorpe United (the team the girls beat 4-1, in the FA Cup first round) and Billingham. Two out of the three will win promotion to the Northern Combination (the ladies equivalent of League Division 2).
Their first game is at home to Scunthorpe United this Sunday 13 May kick-off 14:00hrs. The game will be played on the West Cheshire Pitch at County Officers sports facility and to a finish with extra-time and penalties if needed. The team deserve a good turn out and it would be great to see many City supporters there as the game promises to be a cracker and, currently, the girls are playing some of their best football (as the demolition of Bolton Wanderers at their place 4-0 last Sunday proves).
The second game will take place on Sunday 27 May away at Billingham.
Congratulations should also go out to Sarah Tyson, who, if things remain the same, will be the Premierships's leading scorer!
The Ladies Football Team's presentation evening is on Friday 18th May at the United Services Club off Watergate Street.
---
CONTRACTS UP
The following players are out of contract at the end of the month: Matt Woods, Martyn Lancaster, Neil Fisher and Jimmy Haarhoff, while promising youngsters Chris Blackburn, Matt Doughty and Lee Woodyatt are out of apprenticeship. Manager Graham Barrow's hands are effectively tied at the moment and is unable to offer new contracts to these or any other players with future ownership of the club in doubt. No doubt that City's ownership was high on the agenda when the Conference board met yesterday prior to the AGM in Chester on 2 June.
Prospective owner Phil Davies contacted Board member (and Chester resident) Bill King yesterday to tell him he had completed the deal to takeover at the Deva, this was swiftly followed by one of Terry Smith's faxes to King denying this. The Conference are seeking assurances that Chester are in a position to complete their fixtures next season and conduct themselves properly, that means, amongst other things attending Conference/board meetings and having senior officials available on matchdays to greet visiting guests.
A precedent has been set in that both Slough Town and Barrow have lost their Conference status in recent years because the Conference weren't satisfied with the admin running of the clubs. Whether Chester have actually broken any Conference rules isn't clear though.
---
10 May 2001
CITY ON THE RADIO
Chester City and chairman Terry Smith will be the subject of a feature on BBC Radio 5 Live (909/693MW) tonight in the Sport On Five programme with Ian Payne between 19:00 and 20:00hrs. Barrie Hipkiss and Neil Turner also feature in the programme.
---
8 May 2001
CITY LIFT THE TROPHY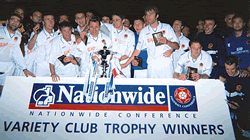 City's season ended on a high with a win last night in the final of the Nationwide Variety Club Trophy. The Blues won the Trophy 4-2 on penalties after the match had ended scoreless after 90 minutes and extra-time.
Andy Porter, Steve Whitehall, Darren Wright and Neil Fisher scored from the spot for City with Wayne Brown's final save from Billy Mead winning the silverware, after K's had hit the bar with their first kick.
Neil Fisher lifted the trophy in front of the 150 travelling fans who'd invaded the pitch at the final whistle. Twenty minutes later champagne was being served from it in the social club!
The victory also brings with it entry into next season's LDV Vans Trophy.
---
WAYNE IN ENGLAND SQUAD AGAIN
City keeper Wayne Brown has been chosen again for the England semi-professional squad that will play against the Highland League on Tuesday 15th May, kick-off 7.30pm. The game will be played at Inverness Caledonian Thistle's stadium for the final semi-pro international of the season. The full squad is Wayne Brown (Chester City), Kevin McIntyre (Doncaster Rovers), Tim Ryan (Doncaster Rovers), Jason Goodliffe (Hayes), Scott Cooksey (Hereford Utd), Gary Patterson (Kingstonian), Geoff Pitcher (Kingstonian), Stuart Drummond (Morecambe), Tarkan Mustapha (Rushden & D), Justin Jackson (Rushden & D), Paul Underwood (Rushden & D), Steve Brodie (Scarborough), Scott Guyett (Southport), Nick Roddis (Woking), Warren Patmore (Yeovil Town), Terry Skiverton (Yeovil Town).
---
7 May 2001
FUNERAL MARCH
Around 4-500 fans joined the silent funeral march to the Deva Stadium before Saturday's match. The march was led by ISA chairman George Rogers dressed as the Grim Reaper, complete with scythe. A black coffin was carried by four City fans and laid to rest at the directors entrance outside the ground. The march was a great success with the Chester City stewards, who resigned en masse following the game, joining in to show their support along with many Rushden supporters.
•Final Conference League table and stats.
---
6 May 2001
COMMERCIAL MANAGER TO TAKE ACTION
Jonathan Parker, City's commercial manager, is seeking legal advice after a signed statement by him was printed in yesterday's match programme admitting he was to blame for banning supporter Barrie Hipkiss by mistake. Parker has stated he made, and signed, no such statement. And Phil Davies, the businessman hoping to buy the club, is also expected to seek action after another signed statement was printed in the programme under his name saying that he did not wish to proceed further with negotiations following the abuse directed at Terry Smith.

Once again chairman Smith, who wasn't at yesterday's game, used the programme (bizarrely dated Thursday April 26th) to print another 2000 words listing his achievements at the club including "designing the winning goal against Southport", and to criticise the local press once again. For some reason there was also a full page picture of the chairman dressed in American Football gear. A press release also claimed that the club had made a £1m plus turnover in the first 10 months that Smith has been at the Deva, leading up to 31 May 2000. The statement reads that gate receipts are up 80%, corporate sponsorship and advertising is up 75%, club merchandise and programme sales up 100%, and function rooms income up by 100%. Apparently the club accounts for 1999/2000 "would be filed at Companies House shortly."

Smith also went on to state: "There is no question that I will be leaving the club as soon as possible, and so this will be my last home game, with my last game being Chester City's first Cup Final win for a few decades in the Nationwide Trophy Final on Monday. I am telling you that I will be leaving so that all of my critics can enjoy themselves today and at Kingstonian on Monday. You do not need to get yourselves stressed. You do not need to strip any more sheets off your beds to make creative, imaginative, artistic and decorative banners. You do not even need to go to the pub before the games to practice all your new and amusing chants."
Match programme is slammed by Programme Monthly magazine.
---
CONGRATULATIONS
The award of Chester City player of the year has gone to assistant manager Paul Beesley, in second place was Carl Ruffer with Wayne Brown in third.
Young Player of the Year: Chris Blackburn.
Away Travel Player of the Year: Wayne Brown.
ISA Player of the Year: Carl Ruffer.
Evening Leader Supporter of the Year: Phil Bailey.
---
4 May 2001
EMOTIONAL DAY AT THE DEVA
The visit of Conference champions elect Rushden & Diamonds tomorrow promises to be a highly tense affair. The Conference top brass will be at the Deva to present the trophy to the visitors and they will both see and hear first hand the depth of feeling at our club towards chairman Terry Smith, who surprised many by turning up at the Deva for last night's match.
At 13:45hrs a slow funeral procession with coffin will head towards the ground from the top of Bumpers Lane with visiting fans expected to swell the ranks; this is to emphasise many City fans' fears that the club is dying on its feet and may not be in existence next season unless the current ownership is replaced. Many long-term City fans have vowed never to attend the Deva again while Terry Smith is at the club, and it's hard to imagine any of the current playing staff there next season either after what they've been through.
The board of the Conference will have some tough questions for the chairman also when they hold their AGM in Chester on 2 June and it's not beyond the realms of possibility that they will bar City from competing in the league next season – it's as serious as that. Assurances will be asked for that City can complete their fixtures and those assurances would be hard to give under the current climate.
Before the match tomorrow, which is sure to attract a bumper crowd, there will be the usual Player Of The Season presentations on the pitch.
---
CITY THROUGH TO FINAL
A goal by Darren Wright six minutes from the end of extra-time gave City a 2-1 victory over 10-man Nuneaton Borough in the Nationwide Variety Club Trophy semi-final tie at Deva Stadium last night. The Blues now play Kingstonian in the final on Bank Holiday Monday 7 May at Kingstonian's Kingsmeadow Ground, kick-off 20:00hrs.
---
3 May 2001
THE INDEPENDENT
Today's copy of The Independent carries an article by David Conn 'Supporters fear for American's Chester dream' about chairman Terry Smith and the way the club has/is being run. You can read the online version here. According to the Collins English Dictionary the definition of a scrimmage is: American Football. the period of a game from the time the ball goes into play to the time it is declared dead.
---
2 May 2001
SATURDAY'S PROTEST MARCH
The ISA's organised funeral march will start at 13:45hrs on Saturday. All fans are asked to meet up at the Kwik Save car park at the top of Bumpers Lane from where the march will begin its slow silent route to the Deva Stadium. A single drum and toll bell will accompany the procession. Once at the ground it is planned to have a fans chain right round the stadium. There will be plenty of media coverage on the day with many people promising to cover the peaceful march, and with promotion now certain it is hoped that Rushden fans will join the protest.
---
WAYNE'S HAD ENOUGH

Wayne Brown looks to have played his last game for Chester City. Speaking to the Evening Leader the keeper, who has broken into the England semi-pro ranks this season, has spoken about his decision to want away and blaming that on just one man, Terry Smith. Brown, who has been at the Deva for five seasons also revealed that player morale at the club is at an all time low. Brown still has 12 months left on his contract but recently put in a transfer request, along with five other players. "There's only one reason for me wanting to leave Chester – and it's Terry Smith".

Brown stated: "He's got to be joking if he thinks he's got one of the best chairman/players' relationship in football. Why would six players hand in transfer requests? And there's been the treatment of Paul Beesley since then. The players have been disgusted at that! There was also the interference on the training ground in the build up to cup games – and that put the lads on a real downer. My confidence was shot last season. Having Terry training and coaching may have helped a bit but it was embarrassing with him jumping up and down in front of me in warm-ups. But to read in the non-league Teamtalk magazine that Terry is taking some of the credit for me making into the England non-league set-up is annoying. That's down to me, Graham Barrow and Grenville Millington. But I can't go on with this again next season. My agent and I have asked to talk to Terry about my contract next season. But he's never got back. I'm in the England non-league set-up but I'm one of the worst paid goalkeepers in The Conference."
---
1 May 2001
LAST BUT ONE
Scarborough visit the Deva Stadium tonight for the penultimate Conference match of the season. Craig Gaunt is suspended for City and Chris Blackburn who picked up a knock on Saturday may be doubtful. Many City fans, furious about events off the pitch, have decided to boycott tonight's match which looks certain to be played in front of the Deva's lowest ever League/Conference crowd.
---
VARIETY CLUB TROPHY
Kingstonian's surprise 5-0 win at Yeovil last night means that they will be the opponents in the final of the Nationwide Variety Club trophy should City beat Nuneaton Borough in the other semi-final at Deva Stadium this Thursday. The venue of the final is decided by the toss of a coin. Yeovil fielded what was effectively their reserve side for the match last night.