---
Saturday 30 July
Hyde United 2 Chester 2
Pre-season friendly
Attendance: 214 Half Time: 1-1

Hyde United: Bellagambi, Ditchfield (Uche 74), Swaby-Neavin (Brownhill 78), Spooner, Fagbola, Roscoe, Dawson (Carne 88), Brown (Trialist A 74), Lazenbury (Tongue 74), Redshaw, Pratt. Sub not used: Chew.
Chester: Stanway (Tyrer 46), Morgan (Weeks 76), Williams, Trialist A, Coulton, Trialist B, Lynch (Murray 46), Earl (Willoughby 88), Thomas (Roberts 46), Hall, Dudley (Daly 69). Sub not used: Burke.
Goals from Lewis Earl and a penalty from Kole Hall see the Blues draw their final pre-season friendly at Hyde United.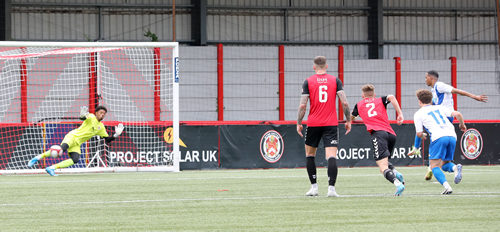 •
Match photographs
---
Tuesday 26 July
Chester 1 Atherton Collieries 0
Pre-season friendly
Attendance: 508 Half Time: 1-0


Chester:
Stanway (Tyrer 46), Williams, Burke, Kenyon, Heywood, Lynch, Weeks, Murray (Daly 87), Dudley (Hall 56), Stephenson (Marsh-Hughes 69), Willoughby. Subs not used: Horsfield, Forde, Nelson.
Atherton Collieries: Trialist, Trialist (Rooney 52), Trialist, Roberts (Kershaw 52), Lafferty, Defreitas-Hansen, Bakkor, Lenehan (Roberts 75), Daniels (Cusani 54), Smith, Trialist. Subs not used: Trialist, Trialist.



The third and final home game of pre-season saw Chester host Atherton Collieries from the league below. The Colls, who hosted Zack Clarke on loan last season, fielded a number of trialists whilst City put together a blend of youth and experience with several absences from the squad.

With a back four of Williams, Burke, Kenyon and Heywood, Chester moved the ball around well as they sought to play a patient game. Lynch, Weeks and Murray made up the midfield whilst Dudley, Stephenson and Willoughby formed a three-pronged attack. Blues dominated possession but occasionally got themselves in to trouble notably when Weeks hit a wayward pass back to an off-guard Stanway which went narrowly wide for a corner.

The Black & Whites playing in all green this evening applied pressure but Blues blocked their efforts and broke away with Murray, only for the move to be prematurely curtailed by Defreitas-Hansen flattening the City midfielder.

Blues forced a number of corners themselves and also worked openings for Stephenson and Murray. Atherton's back door was unlocked on twenty-one minutes when Willoughby's perfectly timed run was found by Lynch's searching pass. The City forward came out of the setting sun to beat a couple of defenders to the ball and tuck it clinically past the keeper. Willoughby, buoyed by his third goal in as many games, looked sharp throughout and Stephenson's strength on the ball was apparent too. A lunging tackle on the latter which, mercifully, failed to connect earned Defreitas-Hansen a yellow card, quite a rarity in friendly matches.

City tried to build on their lead after the break but could not apply the finishing touch despite efforts from Weeks, Dudley and Willoughby. The Colls defended tenaciously and with the lead continuing to be slender they began to threaten an equaliser. Burke rescued a couple of defensive situations by his strength and anticipation of danger. Marsh-Hughes injected a bit of energy and urgency in City's forward play – closing down defenders and twice carving out half-chances to get through on goal. Despite the changes and squad permutations – including Trialist D replacing Trialist B for the visitors – the scoreline remained the same.

Results, of course, are immaterial in pre-season, but confidence at least will be boosted by a third win in a week for the Blues. The next time City play at home will be in the rough and tumble of the National League North against Brackley and following a visit to Alfreton on the opening day of the season. Then Chester fans will get a true measure of the campaign to come.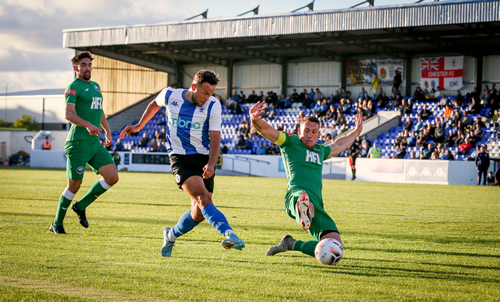 •
Match photographs
---
Saturday 23 July
Runcorn Linnets 0 Chester 1
Pre-season friendly
Attendance: - Half Time: 0-1

Runcorn Linnets:
Taberner, Brown, Short, Doyle, O'Mahony, Heathcote, Rodney, Welsh, Rainford, Sango-Fofana, Crilly. Subs: Mossley, Trialist, Gumbs, Olarewaju, Hellawell, Trialist.

Chester:
Tyrer, Morgan, Burke, Williams, Heywood, Kenyon, Weeks, Murray (Marsh-Hughes 75), Dudley, Hall (Lynch 58), Willoughby. Subs not used: Stanway, Stephenson, Horsfield, Daly.

Kurt Willoughby was on the scoresheet again notching the only goal of the game from the penalty spot on 20 minutes, as Chester overcame Runcorn Linnets in their latest pre-season friendly.
---
Tuesday 19 July
Stalybridge Celtic 2 Chester 3
Pre-season friendly
Attendance: - Half Time: 2-1


Chester:
Stanway, Forde (Morgan 46), Burke (Williams 46), Heywood, Trialist, Horsfield, Daly (Earl 46), Lynch (Murray 46), Turner (Willoughby 46), Clarke (Hall 46), Marsh-Hughes (Dudley 46). Subs not used: Smith, Griffiths.

Kurt Willoughby scored a last minute winner as Chester came from two goals down to win their latest pre-season friendly at a hot Bower Fold.

Earlier the home side had taken the lead through Raul Correia on 11 minutes and doubled their advantage on 37 minutes through Ethan Padden. Reece Daly pulled a goal back for the Blues just before half time, before Matty Williams equalised on 56 minutes.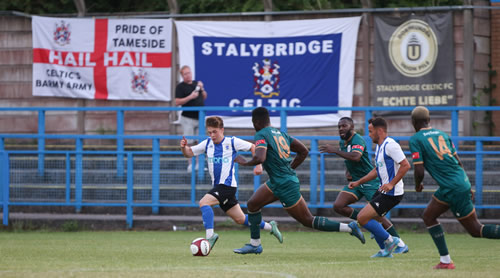 •
Match photographs
---
Saturday 16 July
Chester 1 Morecambe 1
Pre-season friendly
Attendance: 779 Half Time: 0-1

Chester: Tyrer (Stanway 46), Morgan, Burke, Williams, Heywood, Kenyon (Horsfield 62), Earl (Lynch 46), Weeks, Murray (Dudley 46), Stephenson (Marsh-Hughes 71), Willoughby (Hall 46). Subs not used: Clarke, Turner, Daly.
Morecambe: Smith, Cooney, Gibson (Melbourne 46), Fane (Taylor 46), O'Connor (Rawson 6'), McLaughlin (Delaney 61), Connolly (Gnahoua 61), McLoughlin (Love 61), Obika (Stockton 61), Hunter (Watts 46), McDonald. Sub not used: Ripley.
Referee: Peter Gibbons.



Pre-season continued in the burgeoning heatwave with this workout against League One opposition. The Shrimps had defied received wisdom and avoided relegation last term in their first season at this level. Aberdonian Derek Adams, who took them to promotion, is now in his second spell with them as manager after an interlude at Bradford City.

Chester meanwhile were seeking to remain solid in a match where Calum McIntyre expected them to be out of possession for large periods. After an initial flurry when Matty Williams headed Murray's corner narrowly wide and Murray himself just failed to convert an opportunity carved out by Willoughby, it was indeed the visitors who dominated.

At the other end Obika beat the offside trap and tried to round Tyrer but Burke retrieved the situation. Frenchman Ousmane Fané caught the eye as he policed the midfield with authority. Weeks brought him down just outside the area and Ash Hunter curled the free kick against Tyrer's left hand post. Hunter was not to be denied for much longer however after he finished off an attack down the right when the ball fell to him in the penalty area and he turned cleverly to shoot past Tyrer.

The Blues made four changes at the break whilst the Shrimps made three including the withdrawals of both Fané and Hunter. Chester were now on the front foot and began to create opportunities. Stephenson and Lynch struck up well and saw a lot of the ball down the right. Weeks began to revel in more midfield freedom. He had a sighter effort from outside the box and then converted a chance for City's equaliser sidestepping a couple of challenges before smashing the ball past Shrimps' skipper Smith.

Horsfield went close, shortly after, to giving Chester the lead but his angled shot flew over the bar. Morecambe responded by making five more changes and the match settled into a competitive but fairly uneventful work-out with frequent drinks breaks in the unrelenting heat. Marsh Hughes was amongst further subs for the Blues and curved one delightful run behind the Shrimps' defence to open up another attacking possibility. Dudley went closest of all to scoring when his tight one-two ended with his shot straight at Smith.

The Blues will be pleased with the creditable draw and useful outings for several of the new signings as they acclimatise themselves to the Deva. Skipper Glendon however continued to absent with injury and there were still no sign of Adam Thomas and Liam Edwards who are yet to feature in pre-season.

Morgan and Stephenson led the way to the Harry Mac after the game to sign autographs and pose for selfies with a posse of youthful admirers.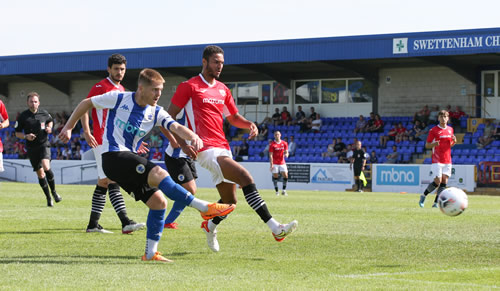 •
Match photographs
---
Saturday 9 July
Chester 0 Rochdale 1
Pre-season friendly
Attendance: 780 Half Time: 0-0

Chester: Tyrer (Stanway 74), Morgan, Williams, Burke, Heywood (Trialist A 46), Earl (Daly 85), Weeks (Trialist B 62), Lynch (Horsfield 46), Murray (Clarke 88), Dudley (Hall 46), Stephenson (Marsh-Hughes 78). Subs not used: Turner.
Rochdale (First half): O'Donnell, Watts, Ebanks-Landell, McNulty, Odoh, Kelly, Diagouraga, White, Trialist A, Trialist B, Charman.

Rochdale (Second half): Trialist C, Graham, Taylor, John, Trialist D, Keohane, Trialist E, Brierley, Ball, Rodney, Trialist F.


A good performance from Chester who are beaten by a second half Devante Rodney goal.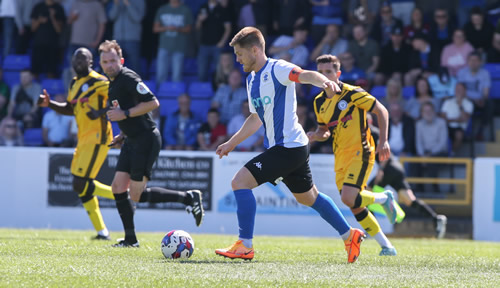 •
Match photographs
---
Tuesday 5 July
Whitchurch Alport 0 Chester 2
Pre-season friendly
Attendance: 495 Half Time: 0-1

Whitchurch Alport: Rawlins, Campbell, Yeardley, Griffiths, Simms, Nielsen, Hughes, Ellis, Allcock, J.Evans, K.Evans. Subs: Urvantev, Annikey, Flory, Jukes, Rowlands, Carpenter, Madeley.
Chester (First half): Stanway, Roberts, Burke, Williams, Trialist A, Trialist B, Lynch, Weeks, Turner, Murray, Hall.
Chester (Second half): Stanway, Morgan, Edwards, Earl, Heywood, Horsfield, Trialist C, Glendon (Daly 71), Marsh-Hughes, Trialist D, Clarke.
Goals either side of half-time from Sam Turner and Zack Clarke gave Chester a 2-0 victory at Whitchurch Alport in their opening pre-season match. Captain George Glendon limped off with an injury in the second half.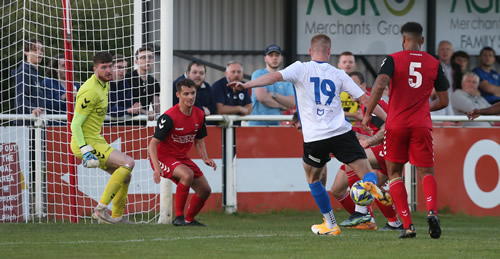 •
Match photographs
---