Ground address
Deva Stadium, Bumpers Lane, Chester CH1 4LT, England, UK.
Email – General Enquiries
info@chesterfc.com
Email – Commercial
commercial@chesterfc.com
Telephone – Ground
01244 371376

Telephone – Commercial / Club Shop
01244 390243
Telephone – Social Club
01244 390269
Main Sponsors – 2022/23 Season
MBNA
Ground capacity
The ground has a current capacity (94%) of 5,126.
Record attendance at Deva Stadium
5,987 v Scarborough 17 April 2004
Record attendance at Sealand Road
20,378 v Chelsea (FAC 3r) 16 Janaury 1952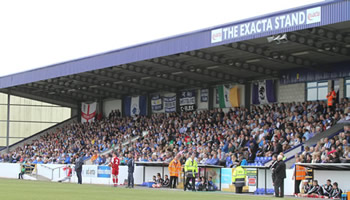 East main stand
Disabled facilities
There is space for 32 wheelchairs and 40 helpers in the East and West stands. There is a disabled toilet in both areas. Cost is free for disabled full price for helper. Please phone the club in advance of your needs.
Car parking
There are plenty of car parking spaces available at the ground priced at £1.00.
Social club (Blues Bar)
There is a social club at the ground open on match days/nights, entry is £1 before the match and away fans are welcome. There is a £1.00 admission charge before the match. Real ale(s) are available as well as hot food. The bar is now fitted with SKY HD television as well.
Due to the terms of the clubs licence and obviously for reasons of safety and comfort, the bar is limited to 120 persons maximum. Therefore once 120 is reached then further admission is not possible.

The nearest pubs to the ground are a good 20/25 minutes walk away. Head from the ground back up Bumpers Lane. At the end turn right (at ALDI) and head along Sealand Road towards the City. Just past the Sealand Fish and Chip shop on your left turn into South View Road and follow this round to find the excellent Telfords Warehouse pub, by the canal bridge, serving a great selection of real ales and good quality food. Alternatively, keep on Sealand Road past the chip shop and the Watergate Inn is a few more minutes walk on your right, next to the Roodee racecourse.
• Supporters Buy-A-Brick scheme
Match programme
Chester produce a full colour 48-page matchday programme, a smaller size this season, called The Cestrian, price £2.50.