13 February 2019

CUP EXIT
Despite fielding a strong side Chester were beaten 1-0 at Nantwich Town in the quarter final of the Cheshire Senior Cup last night in front of a crowd of 272. The only goal of the game came for the Dabbers in the last minute as Danny Glover bundled the ball home from close range after Blues 'keeper Connor King had saved a Steve Jones effort.

Chester were forced to play nearly half the match with ten men after George Green received a straight red card for a foul on Ricardo Fuller two minutes before the break. It was the midfielder's second red card of the season and he will now serve a three match ban. Joint manager Bernard Morley said: "I'm disappointed and a little bit gutted for George, but we'll look at it and if it's worth an appeal then we'll appeal."

---
12 February 2019

BLUES WELL BEATEN AT KIDDERMINSTER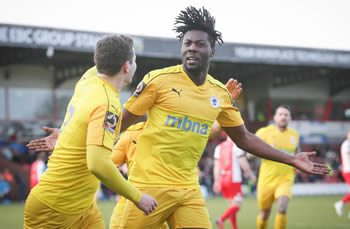 Despite a well taken goal from Akwasi Asante on his return from injury, Chester's run of poor form continued as they were well beaten at play-off rivals Kidderminster Harriers.

Asante gave the Blues the lead at Aggborough on 37 minutes but a well struck equaliser from Declan Weeks and a goalline header from a corner by Joe Ironside gave the home side the half-time advantage.

Harriers had a goal disallowed before Ryan Johnson and Ed Williams found the net in the second period to wrap up a comfortable victory for the home side.

Joint manager Anthony Johnson was critical of his teams effort, he told the Chester Chronicle: "It's difficult to put into words without effing and jeffing and being aggressive. It's not acceptable. You come to Kiddy, a full-time side, you're 1-0 up with seven minutes until half time and concede two disgraceful goals."

"Second half you are looking for a response and we saw a response, it was the opposite of what we were looking for. It is not acceptable from any of us, from Bernard and me through to everybody else that was not acceptable, that."
"We got the goal and their supporters were abusing their players and singing anti Kiddy songs and you think 'brilliant', let's get to half time. Then we go and concede two of the most disgraceful goals I can imagine. One where a marker loses the man he marks and another where players are just looking at the ball."
"For 65 minutes of that game what pains me and hurts me is that we haven't shown desire. Not often I can say that about our sides. We're wallowing in self pity. We are looking to stand up and get hold of it and there is nothing, it's a disgrace."
"We get an hour a week on hour pitch (at the Swansway Chester Stadium) to try and work on what our identity is. But even in the first half when we were 1-0 up that isn't what we play like, that's not us. The way we get back to where were were three months ago is a long journey, it doesn't just happen."
"We're miles away. That was a shambles, and that is coming off the back of two other defeats. That isn't off the back of five wins and thinking 'don't worry about it'. That was an absolute disgrace of a performance from us. Whether it was the team picked, the shape, it's not acceptable."

• League table

---
4 February 2019

NEW BLYTH DATE
Chester's rearranged home game with Blyth Spartans will now take place on Tuesday 26 February, kick-off 19.45hrs.

---
JUNIOR BLUES TAKEOVER DAY
The home league game against Boston United on Saturday has been designated Junior Blues Takeover Day an initiative run by the Chester FC Community Trust. All juniors aged 17 and under will be give free admission to this match and are encouraged to bring as many friends of theirs to support the initiative.

The Junior Blues boasts a membership of 400 and their members will be helping the club with a number of roles on the day that include:

- Management Team
- Community Trust Mascot Co-Ordinator
- Media Team
- Match Photographer
- Groundsman
- Chairman / Director - includes Boardroom Duty
- Tannoy Announcer
- Commercial Matchday Team
- Seals Live (Matchday Summariser)
- Matchday Ticket Office
- Stadium Safety Team

Junior Blues members wishing to take part, should email juniorblues@chesterfc.com with the job roles that you are interested in, together with your age and contact details by Friday 8 February.

---