NEWS FROM DEVA STADIUM 2018
16 February 2018

FUNDRAISING SUCCESS

Over £25,000 was raised last night at the fundraising match between a Chester X1 and Colin Murray's All-Star side. The fighting fund now stands at £75,000. A crowd of 2,080 saw the Chester side run out 4-1 winners with goals from Matty McGinn, Chris Simm, Matty McNeil and Michael Owen. Neil Mellor netted for the All-Star side.

Michael Owen, who along with Colin Murray and Jeff Banks helped organise the successful night told the Chester Chronicle: "Chester are part of my life. My Dad played here and scored quite a few goals in the process, the most famous team I'd say when they won promotion and got to the semi-finals of the League Cup."


"Colin Murray rang and said we're possibly Chester's most well-known supporters so let's do something and I said absolutely. We decided to put a game on, ringing what felt like millions of players, and fair play the response was brilliant."

After the match the shirts worn, sponsored by MBNA and Chester Racecourse were auctioned off to boost the funds on the night.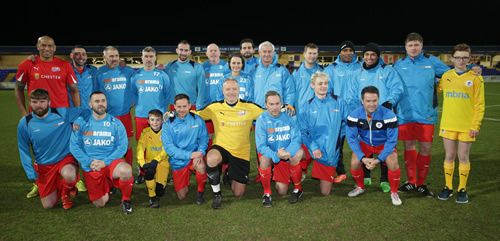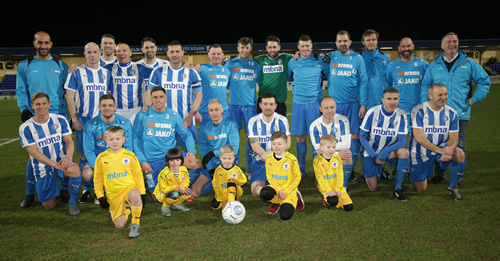 ---
ONE OUT, ONE IN

Midfielder Kingsley James had joined Barrow on loan until the end of the season. Meanwhile Chester have signed 24-year-old midfielder Dominic Vose until the end of the season. He played for Marcus Bignot when he managed Grimsby Town. The former Wrexham and Bromley player has signed non-contract terms and will be just paid expenses from the Squad Builder Fund.

---
JAMES ALABI TRIBUNAL

As a result of yesterday's FA Tribunal, Chester will receive £22,500 for the transfer of striker James Alabi to Tranmere Rovers last summer, they will also pocket 15% from any sell on fee received. Alabi scored 17 goals for the Blues last season before moving to Prenton Park.

---
14 February 2018

CELEBRITY MATCH UPDATE

Ian Rush is the latest player to sign up for tomorrow night's fundraising match at Chester. He will star up front alongside Michael Owen in the all-star side that will face a Chester X1.

Colin Murray said: "I'm delighted to have captured the legend that is Ian Rush, and he will be lining up alongside another former Liverpool legend, Michael Owen in what is a unique and historic occasion being played under the Chester FC lights. To have two of Liverpool's record goalscorers on the same team is just absolutely phenomenal and this is going to be a treat for everyone going to this match!"

Murray's side will be managed by Kevin Ratcliffe and the squad assembled features: Maik Taylor, Andy Griffin, Chris Iwelumo, Andy Higginbotham, Danny Webber, David Thompson, Eddie Bishop, Keith Gillespie, Michael Owen, Neil Mellor, Paddy McCourt, Perry Groves, Richie Partridge, Justin Madders, Sonny Pike, Jason McAteer, Clinton Morrison, Ian Rush and Colin Murray.

Facing the All-Starts team with be a Chester X! manager by Neil Young. His squad includes: Adam Judge, Wayne Brown, Ian Sharps, Stuart Graves, Carl Ruffer, Paul Linwood, Matty McGinn, George Horan, Greg Stones, Robbie Booth, Shaun Reid, Michael Powell, Paul Carden, Bradley Barnes, Ian Howard, Ryan Lowe, Ben Mills, Matty McNeil, Chris Simm and Michael Wilde.

Tickets for this unique game, which kicks off at 19.45, are still on sale at Chester's Ticket Office at the ground or by calling 01244 371376 between 10.00-16.00 Wednesday and Thursday.

---
10 February 2018

YOUTH DRAWN AWAY

The Youth team have been drawn away to Romford in the quarter-final of the National League U19 Alliance Cup. The game will take place on Wednesday 14 March, kick-off time to be confirmed.

---
9 February 2018

McCOMBE LEAVES BLUES

John McCombe has left Chester by mutual consent, he made 23+1 appearances for the Blues this season after signing from Macclesfield Town in the summer.

---
6 February 2018

FUNDRAISING MATCH

Former manager Neil Young will manage a Chester side against an all-star X1 managed by Colin Murray and Michael Owen to raise funds for the club on Thursday 15 February. Keith Gillespi, Maik Taylor, Perry Groves, Trevor Sinclair, Danny Higginbotham and Chris Iwelumo are just some of the players who will give their time for free in an effort to help the club boost funds.

Owen said, "I was born in Chester and brought up listening to my dad's stories about the "glory days" from his playing time at Chester FC including that run to the semi-final of the League Cup. It's so important that we do what we can to help them. We can't lose this club again."

Tickets for the fundraising event are on sale via the Chester FC website and tickets will also be available to buy from the Ticket Office at the ground, Tel 01244 371376. The cost is £10 for adults and £5 for juniors.

---
WREXHAM MATCH

The away league game at Wrexham will now be televised by BT Sport and will kick-off at 12.00hrs on Sunday 11 March.

---
4 February 2018

DEFENDER JOINS ON LOAN

Chester have signed 19-year-old AFC Bournemouth defender Shaun Hobson on loan until the end of the season.

---

LATEST NEWS

FUNDRAISING SUCCESS
Chester's fundraining match against an all-star X1 raised £25,000 for club funds on a hugely successful night.
more »
LAST MATCH

BLUES BEATEN AT HOME
Chester are unable to build on Saturday's win as they lose by a single goal to Leyton Orient.
more »
CLUB HISTORY

Everything you need to know about the club's history, honours, records and kits. Complete list of fixtures from 1885 and much more.
more »
SUPPORTERS

EXILES BLOG
The Exiles have set up a blog to provide away match information and articles for Blues fans living away from Chester. You can read it here
Exiles »