---
Tuesday 20 February
Chester 0 Leyton Orient 1
Football Conference National
Attendance: 1,935 (245 Orient) Half Time: 0-0
Booked: Roberts, Mahon, Halls.

Chester: Hornby, Halls, Hobson, Astles, Anderson (Waters 78), Mahon (Akintunde 78), Roberts, Crawford, Vose, Hannah, Archer (White 66). Subs not used: Firth, Dawson.
Leyton Orient: Brill, Caprice, Widdowson, Happe, Bonne, Coulson, Koroma (Ling 82), Clay, Brophy, Holman (Lawless 69), Adams (Harrold 69). Subs not used: Grainger, Reynolds.
Referee: Matthew Dicicco.
Chester are unable to build on Saturday's win as they lose by a single goal to Leyton Orient.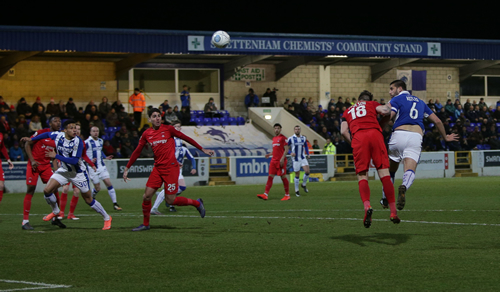 •
Latest table
Rate Chester's performance
---
Saturday 17 February
Chester 3 Eastleigh 1
Football Conference National
Attendance: 1,604 Half Time: 2-1
Booked: Hobson, Hannah.

Chester: Hornby, Halls, Hobson, Astles, Anderson, Mahon (Akintunde 72), Crawford (Dawson 88), Roberts, Vose (Waters 90), Archer, Hannah. Subs not used: Firth, White.
Eastleigh: Stack, Hoyte, Togwell, Cresswell, Wood, Yeates, Zebroski, Broom (Matthews 55), Hollands (Constable 76), Boyce, Williamson (McCallum 71). Subs not used: Obileye, Miley.
Referee: Andrew Miller.
Two goals from Ross Hannah see Chester get back to winning ways with a hard fought victory over Eastleigh.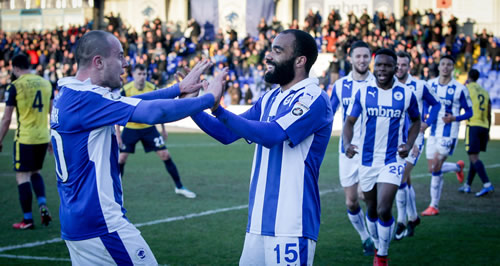 •
Latest table
Rate Chester's performance
---
Saturday 10 February
Woking 1 Chester 0
Football Conference National
Attendance: 1,367 Half Time: 1-0
Booked: White, Archer, Dawson.

Woking: Baxter, Young, Staunton, Ralph, Ferdinand, Lathrope (Isaac 84), Carter, Cook, Banton (Jones 71), Orlu, Grego-Cox. Subs not used: Edwards, Saraiva, Mason.
Chester: Hornby, Murombedzi, Rowe-Turner, Hobson, Astles, Mahon (Hannah 64), Roberts, James (Dawson 80), Akintunde, Archer, White. Subs not used: Firth, Crawford, Waters.
Referee: Chris O'Donnell.



Each time I visit Woking for a Chester match, it's definitely a case of "more in hope, than expectation". So it was with a doubting mind that I trudged through the freezing drizzle and into Kingfield via the aptly-named Moaners' Corner.
Chester started better than I'd seen them in 2018, with James Akintunde having an early shot after he ran through with the ball from midfield. It was fairly clear that Woking were nothing special, and the Blues initially seemed to be more 'up' for the game.
But the home side started making more of an impression as the first half went on, and striker Reece Grego-Cox, on loan from QPR, had the ball in the net inside the first 15 minutes. His strike was ruled out for offside, but it seemed to give Woking more confidence.
Their efforts were rewarded on the 23rd minute when they won a corner, which seemed to take an unlucky bounce for Chester before the ball hit Woking's Josh Staunton and somehow found its way into the net.
One of Chester's best chances of the game fell to Ryan Astles who headed for home from a Gary Roberts' free kick. But his header was easily held by Woking goalkeeper Nathan Baxter, who is on loan from Chelsea.
The Cards had a couple more chances before half-time, but it was the turn of Chester goalkeeper to be more than a match for the attackers. When referee Chris O'Donnell blew for half-time there'd only been one card showed during the game. But there were another seven cards in the second half, including a 58th minute red card for Woking's Matt Young for a late tackle on Akintunde.
The sending-off seemed to spur Chester into more determined action, but they always seemed to come off second best when they got close to the Woking box. Their best chance fell to substitute Ross Hannah who did manage to beat Baxter, only to see his shot hit the crossbar. Jordan Archer also won the ball right in front of goal, but an attempted overhead kick was perhaps not the best way for him to find the net.
It was all hands on deck in the Chester attack during the five minutes of added time, but they still couldn't threaten the Woking goal. Grego-Cox actually had another good chance for the hosts in the final stages, but his shot also hit the woodwork to keep the score at 1-0 when full-time came.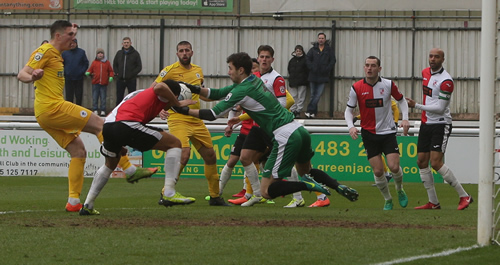 Rate Chester's performance
---