---
Saturday 9 November
Chester 3 Alfreton Town 0
National League North
Attendance: 1,687 Half Time: 1-0
Booked: G.Roberts, Taylor.

Chester: Griffiths, K.Roberts, Livesey, Grand, Taylor, Waters (Dudley 75), Glendon, G.Roberts (Stopforth 66), Jackson, Waring, Hughes (Elliott 75). Subs not used: Morgan, Burton.
Alfreton Town: Andrew, Clackstone, Thacker, East (Grice 59), Smith, Qualter, Killock, Clarke, Blake (Bacon 64), Morgan-Smith, Johnson (Witham 66). Subs not used: Atkinson, Bennett.
Referee: Richard Holmes.



The Blues ended a seven match sequence without a win as they fought hard to overcome a dogged Alfreton Town.

The weather conditions were pretty atrocious, cold, wet and windy to boot which will have had an effect on the attendance but did not dampen the spirits of those who were there. After a silent tribute to the fallen on this weekend of remembrance, City began attacking the clock end. The Reds pressed City high up the field and were stubborn competitors in the middle, generally quicker to the second ball on the rare occasions that it landed on the ground. Alfreton were also adept at winning free kicks in threatening positions and saw this as their principle route to goal.

Griffiths was rarely troubled, however, and the closest Alfreton came to breaking the deadlock was Shane Killock's header from a corner which skimmed the top of the crossbar. As half time approached it was Chester's turn to win a free kick over on the right. Waters launched a curling ball towards the far post. Waring knocked it down and then, following a scramble, the ball ended in the back of the net. It was difficult to see how and for a while it was hard to believe a goal had been scored. It must have been one of the most underwhelming reactions to a home success at the Deva for a long time. The goal was initially attributed to Grand but replays showed that a defender's clearance rebounded off a prone Livesey to make him the scorer.

Shortly afterwards City should have doubled their lead. A clever flick by Roberts set up Glendon to cross from the right, Waters, headed on and gave the unmarked Waring the chance to volley. Unfortunately his effort was high, wide and handsome as the 'goal of the season award' flashed before his eyes.

In the dying embers of the half, Amari Morgan-Smith – who tormented City last season in a Telford shirt – ran with the ball towards goal. Gary Roberts won the ball with his tackle on the edge of the box but as Morgan Smith stumbled and went down in stages, Mr Holmes the referee awarded a free kick. To rub salt in the wound he showed Roberts the yellow card (Meaning a suspension). A truly harsh decision considering some persistent offences from the visitors. Still, Johnson's free kick sailed over the cross bar and Mr Holmes was greeted with a chorus of boos as he stepped off for half time.

Blues began after the break on the front foot and were soon two goals to the good. Livesey was again the scorer, drilling the ball home the Reds had struggled to clear. Gary Roberts returned the ball into the area, and Grand nodded down for Livesey to notch his, and his team's second of the afternoon. Skeins of geese flew northwards across the stadium as Chester too swept forward looking for a decisive third. Substitutes Elliott and Dudley added fresh impetus to the attacks.

When the third goal did arrive it was in the most bizarre of circumstances. As City forced a succession of corners, Reds' keeper Andrew came under pressure. He had a lucky escape from one effort as he fumbled at the far post and the ball went out between his legs for another corner. Next time Taylor's kick curled beyond Andrew's despairing grasp and straight in. Some, on and off the pitch thought that a goal had been given, others that Mr Holmes had awarded a free kick for an infringement. Andrew assumed the latter, took it quickly and passed to a defender who, (thinking that it was a goal and it had to go back to the centre circle) helped it casually forward – straight to Danny Elliott. The Chester forward had the presence of mind to beat another defender and stroke a left footed shot past a frantic Andrew. This time the goal stood but the confusion was comical.

The rain continued to pour and the wind to blow but City fans were at last re-acquainted with that resultant warm inner glow following a home win.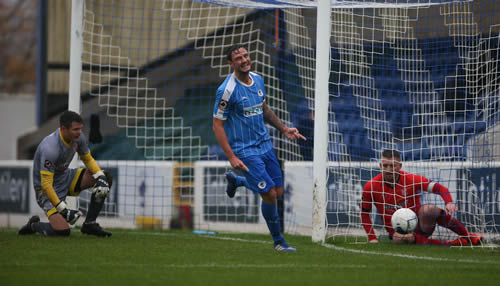 •
Latest table


Rate Chester's performance
---
Saturday 2 November
Brackley Town 1 Chester 1
National League North
Attendance: 476 Half Time: 1-1
Booked: Waring, Waters.

Brackley Town: Lewis, Myles, Franklin, Byrne, Audel, Dean, Lowe, Armson (Murombedzi 87), Ndlovu, York (Fairlamb 63), Walker. Subs not used: Daire, Langmead, Worby.
Chester: Griffiths, K.Roberts, Grand, Livesey (Morgan 46), Taylor, Glendon, G.Roberts, Dudley (Hughes 81), Jackson, Elliott (Waters 60), Waring. Subs not used: Burton, Stopforth.
Referee: Scott Simpson.

Chester take the lead through Bradley Jackson but are pegged back by Brackley and must settle for a hard earned point.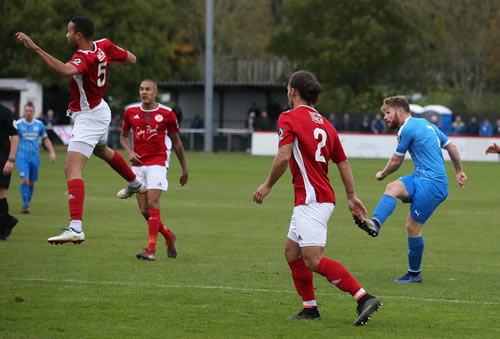 •
Latest table


Rate Chester's performance
---

LATEST NEWS

ANNUAL GENERAL MEETING
The City Fans United Annual General Meeting takes place at Deva Stadium on Thursday night at 19.30hrs.

more »
LAST MATCH

THAT WINNING FEELING
Chester get back to winning ways with a first league win in six matches as they beat Alfreton.

more »
CLUB HISTORY

Everything you need to know about the club's history, honours, records and kits. Complete list of fixtures from 1885 and much more.
more »
SUPPORTERS

EXILES BLOG
The Exiles have set up a blog to provide away match information and articles for Blues fans living away from Chester. You can read it here
Exiles » | ISA »