---
Tuesday 24 November
Chester 1 Dover Athletic 1

Football Conference Premier
Attendance: 1,479 Half Time 1-1
Booked: -.


Chester: Worsnop, Higgins, Heneghan, Whitmore, Hunt, George, Rooney, Shaw, Mahon (Chappell 46), Dyson (Hobson 67), Hannah. Subs not used: Forth, Gordon, Lloyd.
Dover Athletic: Rafferty, Magri, Grimes, Orlu, Thomas, Raggett, Deverdics, Parkinson, Modeste, Miller, Payne (Ajala 84). Subs not used: Murphy, Diallo, Sterling, Walker.
Referee:
Martin Coy (County Durham).

Ross Hannah finds the net again as Chester battle to save a point against Dover Athletic.
Rate Chester's performance
---
Saturday 21 November
Chester 1 Woking 2

Football Conference Premier
Attendance: 1,837 Half Time 0-1
Booked: Sharps.


Chester: Worsnop, Higgins, Heneghan, Sharps, Hunt, Chapell (Hobson 73), Shaw, Rooney (Woodland 76), Mahon, Hannah, Roberts (Dyson 37). Subs not used: Forth, Gordon.
Woking: Cole, Norman, Saah, Jones, Arthur, Andrade (Caprice 79), Robinson, Ricketts, Goddard, Holman (Daniel 90, Quigley (Keohane 88). Subs not used: Hamann, Thomas.
Referee:
Richard Wigglesworth (Doncaster).

Chester hit the woodwork twice but Woking complete the double over the Blues.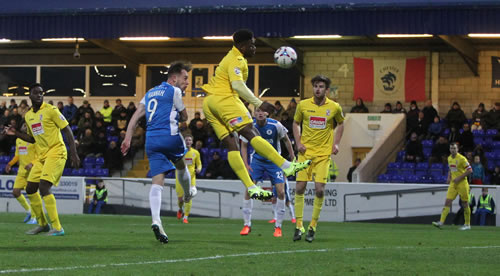 Rate Chester's performance
---
Saturday 14 November
Boreham Wood 0 Chester 0

Football Conference Premier
Attendance: 589 (246 Chester) Half Time 0-0
Booked: Sharps.


Boreham Wood: Russell, Woodards, Doe, Clifford, Howell (Jeffrey 62), Shakes, MacDonald (Morias 85), Kamdjo, Vilhete, Stephens, Devera. Subs not used: Cox, Reynolds, Edwards.
Chester: Worsnop, Higgins, Hunt, George, Sharps, Shaw, Hannah, Rooney (Hobson 73), Dyson (Chapell 61), Roberts (Mahon 61), Heneghan. Subs not used: Forth, Woodland.
Referee:
Christopher Powell.

My hopes were not high for a day out at Borehamwood. Not only have Chester failed to win at any away day around the Home Counties so far this season, but it was one of those rain-sodden days that made you wish Spring was around the corner.
The signs were not good when I arrived at Boreham Wood FC's Meadow Park not long after 2pm to find the gates still closed to Chester fans and we weren't welcome in their bar either. So I opted for a wet walk down the High Street to kill time before kick-off.
On the positive side, I did meet lots of fellow Exiles on my way. On the negative side, there were so many of us (246 travelling fans) that when I returned to the ground I faced a 20-minute queue to get into the ground as only one turnstile had been opened.
It meant I missed the minute's silence for the Paris massacre victims, plus the match kick-off, as well as Ross Hannah getting the ball in the net in the opening minute – an attempt which was declared offside.
Thankfully the heavily-stewarded Chester fans had their own section of a smart stand to shelter themselves from the rain as the actual match didn't do much to warm us up on this drab November afternoon.
Everton loanee Callum Dyson looked a lively addition to the squad. He had Chester's best chance of the first half following a good cross from James Roberts. But Wood goalkeeper Scott Doe made a good save to deny the Blues a goal.
For the home side, Ricky Shakes somehow missed two great chances before half-time whistle blew, and that about summed up the first half's entertainment.
Chester had the best of the opening spell of the second half, with the swirling wind leaving Boreham Wood needing to clear a John Rooney corner off the line. It did look to the noisy away following that the Blues had a real chance of a result, and fresh legs entered the field on the hour in the shape of Jordan Chapell and Craig Mahon.
But they failed to make much of an impact, and Chester had to call on goalkeeper Jon Worsnop on a couple of occasions to make some relatively simple saves. He was almost red-faced near the end of the game when he fumbled a catch from a long-distance shot, but he managed to keep it out of the net.
In the end, a 0-0 draw was probably a fair result in the end, with the weather making conditions difficult for both teams. But I can't say I'll be looking forward to a return trip to Boreham Wood, and have to admit I'm hoping they'll only have a one-season stay in the National League.
Sue Choularton

• League Table
Rate Chester's performance
---
Tuesday 10 November
Chester 3 Kidderminster Harriers 1

Football Conference Premier
Attendance: 1,956 Half Time 1-1
Booked: -.


Chester: Worsnop, Higgins, Heneghan, Sharps, Hunt, George, Shaw, Rooney (Hobson 87), Mahon (Chapell 71), Roberts (Dyson 74), Hannah. Subs not used: Forth, Kay.
Kidderminster Harriers: Snedker, Hodgkiss, Langmead, Howkins, Young (McQuilkin 71), Whitfield, Fazlic, Jones (Obusu 86), Francis-Angol, Barnes-Homer, Murphy (Singh 67). Subs not used: Rowe-Turner, Brown.
Referee: Joseph Johnson (Liverpool).

Chester had to come from behind to beat struggling Kidderminster Harriers. The Blues, with Luke George back in midfield started well and could have opened the scoring on 14 minutes as a fine save from Dean Snedker denied Ross Hannah and Hannah again should really have scored after Snedker had parried a Johnny Hunt strike with the Blues striker shooting the loose ball over from eight yards.
The visitors, who have won only once this season, took the lead seven minutes before the break through Kelvin Langmead who converted past Jon Worsnop after Matthew Barnes-Homer had pulled back a far post cross.
The lead lasted only two minutes as Hannah found the net sweeping home a James Roberts cross to send the sides in level at the break.
Thirty seconds after the re-start John Rooney gave the Blues the lead scoring from inside the box following a Hannah pass. Jordan Chapell fired well over as Chester looked to extend their advantage.
Chester wrapped the points up seven minutes from time as hannah pounced on a loose ball to score after Snedker had saved a Rooney effort.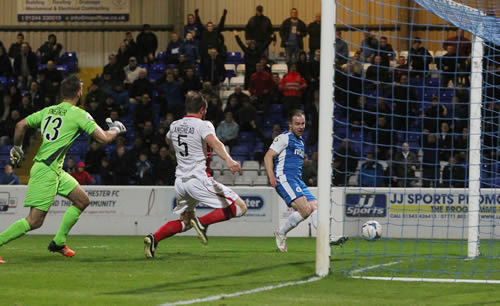 Picture © Rick Matthews (Chester Leader)

• League Table
Rate Chester's performance
---
Tuesday 3 November
Chester 10 Winsford United 1

Cheshire Senior Cup Preliminary Round
Attendance: 311 Half Time 8-1
Booked: -.


Chester: Forth, Higgins (Boardman 71), Heneghan, Kay, Gordon, Woodland, Hughes, Richards, Hobson, Thomson (Haley 78), Peers. Subs not used: Worsnop, Rooney, George.
Winsford United: Latham, Hibbert, Clarke, Jones, Barrett (Eiselt 53), Rothwell, Howell, Jennings, K.Riley, Hudson (Seol 46), S.Riley (Cook 59). Sub not used: Egan.

Referee: TBC.

Four goals for Craig Hobson as Chester run out comfortable winners in their opening Senior Cup outing. George Thomson opened the scoring in the sixth minute, before the midfielder set up Tom Peers for the second goal ten minutes later.

Winsford produced an instant reply as Kyle Riley slotted the ball past Dylan Forth making his debut in goal. Hobson restored the two goal lead moments later converting a Kane Richards cross.
Richards and Sam Hughes found the scoresheet to give the Blues a5-2 lead in the opening half hour. Ben Heneghan added a sixth ten minutes before the break with Peers and Hobson both finding the net again to give Chester a remarkable 8-1 half-time lead.
Hobson headed Thomson's free kick home in the 69th minute to make it 9-1 before the striker completed the scoring with his fourth goal, and Chester's tenth, in the final minute.
Rate Chester's performance
---