---
Saturday 23 October
York City 1 Chester 0
National League North
Attendance: 3,154 (417 Chester) Half Time: 1-0
Booked: Lacey.

York City: James, Duckworth (Newton 90), Wright, Brown, McLaughlin, Hopper, Woods, Dyson, Donaldson, Willoughby (Heaney 64), Beck. Subs not used: Campbell, Haase, Lancaster.
Chester: Gray, Cowan, Williams, Grand, Askew, Lacey (Waring 81), Glendon, Weeks, Hardy (Oyibo 64), Dudley, Redshaw (Stephenson 71). Subs not used: Clark, Horsfield.
Referee: TBC.

A decent first-half performance from Chester who rue a host of missed chances as York score the only goal of the game just before the break.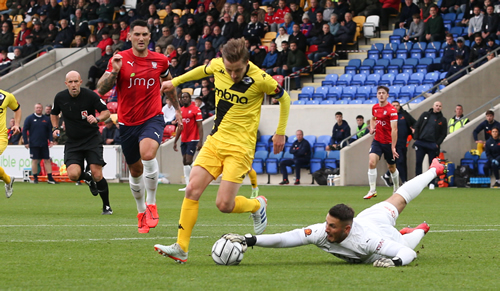 • League table after this match | Match pictures |
---
Tuesday 19 October
Chester 0 Stockport County 1
Cheshire Senior Cup Round 1
Attendance: 385 Half Time: 0-0
Booked: -.

Chester: Gray, Roberts, Weeks, Livesey, Hardy, Dudley, Stephenson, Clark (Glendon 65), Burke, Oyibo (Clarke 60), Redshaw. Subs not used: Waring, Horsfield, Heywood.
Stockport County: Hinchcliffe, Walker, Rydel, Hogan, Fish, Pye, Raikhy, Barclay, Quigley, Collar, Reid. Subs not used: Statham, Edwards, Holding, Earl, Alli.
Referee: TBC.

Jack Redshaw misses a first half penalty as Chester are knocked out of the Cheshire Senior Cup in the first round.

---
Saturday 9 October
Kettering Town 0 Chester 0
National League North
Attendance: 1,014 Half Time: 0-0
Booked: Williams, Weeks, Roberts.
Sent-off (second yellow): Roberts.

Kettering Town: Smith, Barrett, Brown, Ward, Johnson, C.Smith, Powell (Stones 65), Ofosu (Crawford 87), Perry, Stohrer (Sherif 85), Neal. Subs not used: Sheriff, Sharpe.
Chester: Gray, Roberts, Williams, Cowan, Grand, Askew, Lacey, Weeks (Waring 71), Glendon, Dudley (Oyibo 79), Redshaw. Subs not used: Livesey, Hardy, Clark.
Referee: R.Holmes.



Chester emerged with a point to show from a scrappy encounter, featuring two red cards, at Kettering's Latimer Park ground.
There were three changes to the Blues' line-up after the disappointing midweek FA Cup exit to Marske United. Cup-tied loanee Jack Redshaw was playing up front, with Simon Grand and Matty Williams also in the starting eleven.
It was a glorious Autumn afternoon and there was a hint in the air of the ground's proximity to a huge Weetabix factory. But while the attendance of 1,014 was boosted by the lack of top flight football for international weekend, it was not a game which showcased non-league football.
Although a couple of poor corners were taken by both sides in the opening spell, more than half an hour passed before either team had any realistic chance of scoring.
One of the supporters of Kettering - who have currently scored the most FA Cup goals in its history and are still in the hat after their midweek replay win against Leamington - told us to look out for Callum Powell, who has found the net 12 times this season. He was in the thick of a couple of chances on the half hour mark, but Louis Gray held onto his deflected shot.
Soon after Chester had their own opportunity when George Glendon attempted a strike from distance. But it was a straight forward save for Kettering goalkeeper Jackson Smith.
The Poppies thought they came close to opening the scoring a few minutes later when Alex Brown hit the crossbar following a pass from 15-stone striker Kyle Perry. But the flag was put up for offside.
Much-travelled Perry appealed for a penalty before half-time when he tumbled in the box. The referee dismissed his claims and then booked him for dissent.
Chester's most enterprising player in the first half was Redshaw, who looked comfortable with the ball at this feet. He took aim after a Declan Weeks' corner at the start of the second half, but his header sailed over the bar.
Soon after Perry, who must regularly eat three Weetabix to keep up his bulk, was sent off for a foul on Grand. The frontman protested the decision to no avail, and had a good-natured spat with a handful of Chester fans as he trudged off for an early bath.
In truth, you wouldn't know the home side were down to ten men as the game went on. The closest they came not long after the sending-off was a free-kick which fell to Redshaw, but his shot was blocked and kicked away for a corner.
At the other end, Dan Cowan kept the Blues in the game with two good tackles to stop Claudio Ofosu and Lamine Sherif. The match got increasingly scrappy towards full-time, with Kevin Roberts sent off on the 87th minute for a second yellow card.
Chester did have a good chance in the final stages of the match, with a melee in the box leading to the ball being cleared off the goal-line and Redshaw then heading wide. But in truth a draw was a fair result and there was some relief it was a better performance than the midweek FA Cup replay.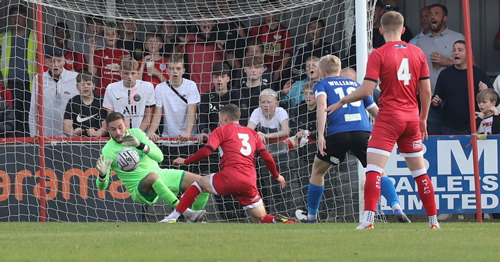 • League table after this match | Match pictures |
---
Tuesday 5 October
Chester 0 Marske United 4
FA Cup Third Qualifying Round Replay
Attendance: 1,138 Half Time: 0-1
Booked: Livesey.

Chester: Gray, Roberts (Horsfield 80), Weeks, Livesey, Cowan, Hardy (Waring 57), Glendon, Dudley, Lacey (Oyibo 68), Marsh-Hughes, Askew. Subs not used: Grand, Clark, Williams, Lowe.
Marske United: Catterick, May, Round, Butterworth, O'Sullivan, Wheatley, Smith, Hopson, Boyes, Tymon, Dicicco. Subs not used: McTiernan, Carling, B.Clark, I.Clark, Williams, Watson.
Referee: E.Duckworth.



If Chester thought they had avoided a banana skin by drawing away at Marske, they tripped over a whole bunch in this replay and ended flat on their faces.

City were their own worst enemy with some atrocious defensive play, albeit under pressure from tenacious and highly motivated visitors. Although they began on the front foot and had the majority of possession and goal-scoring opportunities in a swirling wind, City found themselves a goal down at half time. This came about when Gray threw the ball out quickly to Askew but the move was anticipated by Marske and they swarmed to attack down the right, with Hopson getting behind to cross. Gray could only parry the ball and Boyes stabbed it in from ten yards with City's defence at sixes and sevens.

Despite the setback there was nothing to suggest that the Blues would not be capable of turning the tie around. Weeks, Glendon and Hardy found time on the ball to probe but not create clear cut chances. Marsh-Hughes came closest when he headed Weeks' cross straight at the keeper. Five minutes into the second half, however, more calamitous defending gifted Marske a second goal. Indecision between Gray and Cowan led to Boyes stealing possession and teeing up Dicicchio. The Marske forward had two bites of the cherry, and after his first effort was blocked by Livesey, he was able to score from a prone position with his second.

Still, the drums continued beating, the Harry Mac urged Bern and Jonno's Blue and White Army forward and the faithful believed a comeback was possible. The managers replaced Hardy with Waring and, soon afterwards, Lacey with Oyibo but still City struggled against stubborn defending by the visitors. Dudley dropped deeper, ran and turned cleverly in efforts to engineer scoring opportunities. A couple of half-chances fell his way – he shot over the bar from the edge of the area and then his snatched shot was straight at the keeper.

The Blues' attacking play was blunted as Marske continued to defend their penalty area stoutly. There was simply no room to thread a ball through. They struggled to find width or pace to hurt the visitors who worked unceasingly to deny City room on the ball.

With a quarter of an hour to go City received a boost when O'Sullivan was given a second yellow card for time wasting as he deliberated too long over a throw in. Oyibo's angled cross was flicked towards goal by Livesey but without enough power to trouble the keeper. With Livesey staying up front as a third centre-forward, City's defensive cover was decidedly thin when, in a counter-attack, Round found Hopson on the left with a reverse pass and the latter curled his cross shot past Gray. An unbelievable third goal for the Seasiders. It just remained for Boyes to add a fourth in stoppage time for City's misery to be complete.

Home supporters vented their anger, frustrated by years of lack of success in the cup and the potential revenue lost, on the managers. Jonno seemed as shell-shocked as the fans when he eventually emerged from the dressing room to give a candid and honest interview to the press. Commendably, some Chester fans remained to applaud Marske off the pitch. Theirs was a stunning performance which belied their status two leagues below Chester. That is the beauty and the agony of football. The Seasiders gave Chester a lesson in humility this evening.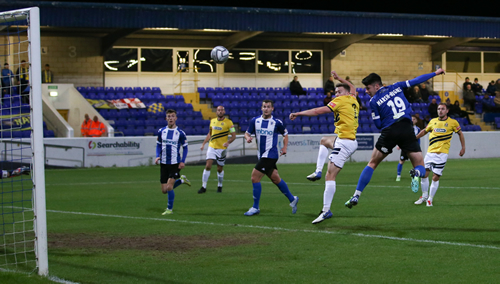 •
Match pictures
---
Saturday 2 October
Marske United 0 Chester 0
FA Cup Third Qualifying Round
Attendance: 890 Half Time: 0-0
Booked: Horsfield.

Marske United: Catterick, May, Round, Butterworth, O'Sullivan, Wheatley, Smith, Hopson (McTiernan 37), Boyes, Tymon, Dicicco. Subs not used: B.Clark, Williams, I.Clark, Watson.
Chester: Gray, Weeks, Livesey, Cowan, Hardy (Marsh-Hughes 56), Glendon, Waring, Dudley (Oyibo 86), Horsfield (Roberts 83), Lacey, Askew. Subs not used: Grand, Clark, Williams, Lowe.
Referee: A Williamson.



The two sides must meet again on Tuesday night after a goalless draw in this FA Cup tie.

A lively start saw James Horsfield given a yellow card after just 15 seconds of the start. Marske's main threats came from the long throw of Liam O'Sullivan, something that Chester were aware of and dealt with well throughout the 90 minutes.

Horsfield set george Glendon through, his effort was saved by Ryan Catterick in the home goal with George Waring unable to capitalise on the rebound from close range.

Danny Livesey headed clear as Marske continued to press, a cross from Curtis Round was heading for Adam Boyes in the six yard box before Livesey's timely intervention. There were shouts for a penalty from the home players as the resulting long throw appeared to hit Livesey's hand above his head but referee Williamson, and his assistant, were having none of it.

The bumpy pitch denied Chester a great chance just before the break, Weeks and Waring played a one-two and just before Weeks could shoot the ball bobbled up to deny the midfielder a clean strike.

Marske almost broke the deadlock early in the second period, a Glen Butterworth corner was met by Rio May but John Askew headed clear from the line for Chester.
Louis Gray had to be smart off his line to deny the advancing Boyes and gather his shot.

Paddy Lacey tried an effort from long range that flew wide, but at the other end Boyes should really have opened the scoring as he shot wide from close range after a deflection had fallen kindly for him.

Chester finished strong, Anthony Dudley shot straight a Catterick when he only had the 'keeper to beat. Lacey saw another effort saved by Catterick, but the biggest chance of the game came late on as substitute Lloyd Marsh-Hughes shrugged off a challenge from Andrew May leaving himself one-on-one with Catterick but the young striker somehow fired just wide of the post.


•
Match pictures
---