---
Saturday 12 April
Grimsby Town 2 Chester 1

Conference Premier
Attendance: 4,174 (239 Chester) Half Time 1-0
Booked: Hobson, Kay, Jarrett.

Grimsby Town: McKeown, Hatton, Pearson, Boyce, McLaughlin, Rodman (Winfarrah 88), Kerr, Disley, Neilson, Tounkara (Cook 69), Jennings (Thanoj 80). Subs not used: McDonald, Hannah.
Chester: Chapman, Griffin, Ashworth, Kay, McIntyre, L.Turner (Caton 45) , Bond (Seddon 65), Jarrett, Mahon, Rooney, Hobson (Carlton 56). Subs not used: Danby, Linwood.
Referee: Richard Wigglesworth (Doncaster).
Chester are beaten at Grimsby Town and remain 19th as both Southport and Aldershot pick up points at the bottom of the table.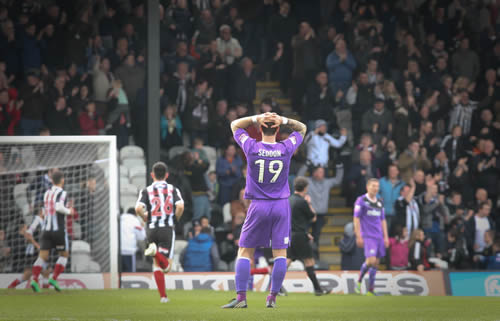 Picture © Rick Matthews (Chester Leader
• Table after this match | More pictures
Rate Chester's performance
---
Saturday 5 April
Chester 3 Hyde 2

Conference Premier
Attendance: 2,228 Half Time 2-0
Booked: Kay, Rooney, Mahon, McIntyre, Sent-off: Brown.

Chester: Chapman, L.Turner, Brown, Kay, McIntyre, Rooney, Bond, Jarrett, Mahon (Linwood 78), Hobson (Menagh 85), Seddon (Griffin 64). Subs not used: Danby, Peers.
Hyde: Kettings, Brizell, Blakeman, Haining (Thornton 75), McQuade, Tomsett, Clark, Brown, Thurston (Day 88), Walker, Hughes. Subs not used: Fitzgerald, Pollard, Kirby.
Referee: Ben Toner (Darwen).

City held on to win a vital three points but they certainly made it hard for themselves.
It had all seemed so comfortable when Hobson nodded in Rooney's corner to make it 3-0 after fifty minutes. When Blakeman reduced the arrears for the visitors with a well-placed free kick from the right hand edge of the penalty area, his goal was greeted with polite applause by many home fans – so sure of the points did they feel.
Shortly after this, however, it all began to go pear-shaped. First Kay was pulled up for a free kick on the half way line and referee Toner prepared to show him the yellow card (harshly in my opinion). Before he could get it out of his pocket Matt Brown got involved in an altercation and threw the ball in an opponent's face. Toner reached for his other pocket and produced the red card for the Spireite loanee. Who knows why he did it – there seemed little animosity in the match up to this point.
Moments later Blakeman was lining up another direct free kick on the edge of the box and proceeded to bend it into the opposite corner of the net to his first effort. So twenty-six minutes plus added time of agony were assured as City's ten men tried to hold on to the lead.
Play became even more error-strewn as nerves jangled both on and off the pitch.New signing Adam Griffin was introduced to the defence and Seddon withdrawn as the Blues had to readjust. Jarrett had a golden chance to ease the pressure but couldn't control the ball with the goal at his mercy. At the other end the long-haired Walker glanced a header wide when it looked easier to score. In injury time Chapman caught and then dropped the ball on the edge of the area and in the scramble that ensued, Hyde somehow failed to score. City survived – just.
In the calmer times of the first half both teams passed up good opportunities to open the scoring. Seddon's tame shot when clean through might have been thee earliest goal ever recorded had it gone in. Hyde's Hughes ghosted in on the right a few minutes later but skied his shot well over the bar from point blank range. Blues forged ahead when Seddon latched on to Brown's long forward pass and lobbed the keeper from the right side of the penalty area – almost but not quite as spectacular as Amalfitano's goal for West Brom against Cardiff last weekend. The Tigers then gifted Chester a second when another Brown long ball towards the box was headed into his own net by Brizell – keeper Kettings having gone AWOL.
Results around the rest of the Conference favoured Chester but with challenging away trips to Grimsby and Cambridge to come they needed a bit of leeway. Blues fans joined the long queues for tickets to the Wrexham game drained of all feeling and wondering how their shredded nerves will cope. Later, in the Blues Bar, referee Toner sipped his drink and gamely justified some of his decision-making to shell-shocked supporters.

Colin Mansley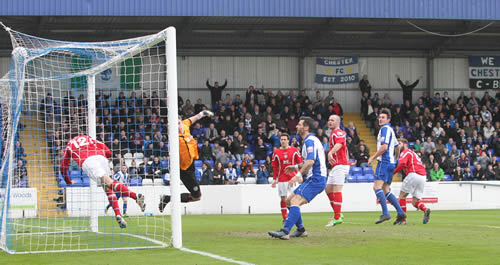 Picture © Rick Matthews (Chester Leader)

• Table after this match | More pictures
Rate Chester's performance
---