---
Tuesday 25 November
Dartford 2 Chester 4

Football Conference Premier
Attendance: 904 Half Time 1-0
Booked: Worsnop, Brown, James.


Dartford: Brown, Driver (Collier 59), Mitchel-King, McAuley, Bender, Sweeney, Hayes, Cornhill (Harris 71), E.Bradbrook, Noble (Daley 81), T.Bradbrook. Subs not used: Ibrahim, Dembele.
Chester: Worsnop, Kay, Brown, Charnock, G.Roberts, James, Rooney, Mahon (Touray 88), McConville (Hobson 76), Hughes, Oates (Peers 90). Subs not used: C.Roberts, Harrison.
Referee: Jeff Muschik.

A remarkable second half comeback from Chester who score three goals in ten minutes to come away from Dartford with a victory.
• League table after this game
Rate Chester's performance
---
Saturday 22 November
Chester 2 Bristol Rovers 2

Football Conference Premier
Attendance: 2,936 (479 Bristol Rovers) Half Time 0-0
Booked: James.


Chester: Worsnop, Heneghan, Brown, Charnock, G.Roberts, James, Rooney, Mahon, Hughes (Hobson 87), O'Keefe (McConville 46), Oates (Touray 89). Subs not used: Kay, C.Roberts.
Bristol Rovers: Mildenhall, Brown, Lockyer, McChrystal, Parkes, Mansell, Monkhouse, Sinclair, Blissett (Goldberg 87), Taylor (Harrison 77), Della Verde (Gosling 66). Subs not used: Clarke, Balanta.
Referee: Wayne Barratt (Bromsgrove).



Chester gave another memorable performance in what is promising to become a vintage season as they fought back from two down to force a draw with Bristol Rovers.

The game really sprang to life after a well contested first half but one which had little if any goalmouth action. Rovers, backed by a travelling contingent of approaching 500 had gained the upper hand and enjoyed the lions' share of possession. The ubiquitous Stuart Sinclair prompted much of their forward movement and seemed to contest all of the midfield. Bristol were solid, well-organised and made it difficult for City to play their passing game. Although they did not move the ball around as slickly as Gateshead, the previous week, The Gas grew in menace as the half wore on.

At the break Chester brought McConville on for O'Keefe who had picked up a knock in the first period. Rovers attacked, Taylor spun and crossed low from the left and the tall Blisset steered it home at the near post. Soon they were two goals to the good as Blisset made a nuisance of himself at a corner, Henneghan's clearing header was returned towards goal and fell kindly to Parks after the by now prone Henneghan diverted it towards him. The Rovers defender made it two-nil.

Bristol threatened briefly to overwhelm City and Worsnop did well to tip over Monkhouse's shot from a narrow angle. But Blues began to respond and pulled a goal back with an attack down the right. Mahon's cross into the box was deflected, Oates stuck his left foot out and was delighted to see the ball fly into the corner of the net.

The game had burst spectacularly to life and Blues came forward again, spurred on by the magnificent James in midfield and urged on by an animated crowd. Within minutes they were level. A clearing header was picked up by the excellent McConville. He turned it back into the box. The ball clipped a defender's heel and sat up perfectly for Hughes to nip in and head past Mildenhall. City fans were ecstatic now as the game had seemed lost.

Both sides continued to look for a winner as the match became end to end but had to settle for a point a-piece. Rovers will feel less satisfied having built a comfortable lead but for the Cestrians it almost felt like a win.


• League table after this game
Rate Chester's performance
---
Saturday 15 November
Chester 1 Gateshead 0

Football Conference Premier
Attendance: 2,308 Half Time 0-0
Booked: Brown.


Chester: Worsnop, Heneghan, Brown, Charnock (Kay 90), G.Roberts, James, O'Keefe, Oates, Rooney, Mahon, Hobson (Touray 46). Subs not used: C.Roberts, Menagh, Peers.
Gateshead: Bartlett, Baxter, Curtis, Clark, Anderton, Turnbull, Oster (Finnigan 71), Pattison, Rodman, Wright (Shaw 75), Ramshaw (Heardman 66). Subs not used: Jones, Rankine.
Referee: Stephen Ross (Barnet).

Chester enjoyed one of their best results of the season so far with an impressive performance against promotion-chasing Gateshead.

The Heed came south having only been defeated once on the road so far, back in early September. They began the game strongly and came close to taking the lead in the first minute as they forced a corner and Turnbull shot wide from the edge of the box.

City struggled as Gateshead's midfield of Oster, Turnbull and Pattison playing the ball around from the back got a strong grip on the game. Rodman found plenty of room on the left and cut inside to clip a shot off the far post. Ramshaw then headed over from Rodman's cross as the Blues continued to find life difficult.

When they were able to push forward, however, Chester began to threaten the visitors. A brilliant passing move down the left involving Rooney and Roberts ended with Mahon crossing for Hobson just to miss out in front of goal. City's best effort of the half came when home debutant Oates controlled Mahon's pass with a deft touch and then shot hard and low. Bartlett did well to parry it away. Blues fans were happy to be still in the game at half time nevertheless.

Steve Burr made a tactical change at half time with Ibou Touray coming on for Hobson. Oates took on a lone role centrally up front. Chester now had a better shape about them and the Heed's midfield were stifled. The visitors were reduced more and more to playing the ball back as City pressed much more effectively.

Blues built from this solid base to begin to threaten their high flying opponents. Oates' pace was a worry to veteran stopper Clark and twice he used his body in a wily way to thwart the young striker as he threatened to get past. But Gateshead's captain was undone when Oates beat him to a bouncing ball on the edge of the box. Mahon then pounced to flick it to Rooney who scored quick-as-a-flash from the edge of the area with a brilliant shot.

Gateshead still had twenty minutes or so to respond and tried to create the opening for an equaliser. They threw on substitutes Shaw and Finnigan. The latter hit the bar with his header at the far post when well placed. Worsnop saved magnificently from Shaw. Heed's long serving centre back Curtis – who scored a screamer here last season to knock City out of the FA Cup – saw red late on as he picked up a second yellow card for lunging at O'Keefe.

Chester held on for a hard fought victory. Credit must be given to Burr and McCarthy for tactically turning this match around. This was a smart win against strong opponents and a thoroughly absorbing match. As we watched in the Blues Bar as Wayne Rooney blaze the ball over the bar against Slovenia – we thought "His brother would have scored that".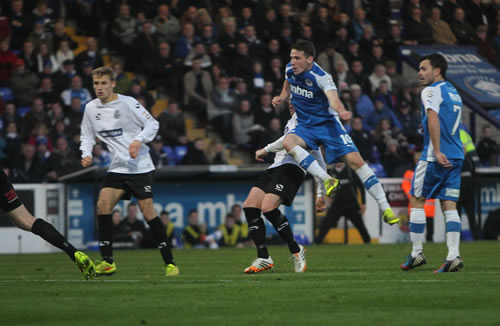 • League table after this game
Rate Chester's performance
---
Tuesday 11 November
Macclesfield Town 3 Chester 1

Football Conference Premier
Attendance: 1,951 Half Time 2-0
Booked: McConville.


Macclesfield Town: Taylor, Halls, Pikington, Hogan, Barrow, Holroyd, Whittaker, Turnbull, Gnahoua, Barnes-Homer, Fairhurst (Moke 86). Subs not used: Branagan, Disney, Grant, Bailey, Lavelle-Moore.
Chester: Worsnop, Heneghan, Brown, Charnock, G.Roberts, Rooney, James, Mahon, McConville (O'Keefe 75), Menagh (Touray 65), Hobson (Oates 65). Subs not used: C.Roberts, Harrison.
Referee: Darren England (South Yorkshire).

Blues manager Steve Burr was forced into one change from the side that caused the cup upset at Southend last Saturday with Jamie Menagh starting in place of the injured Peter Winn. The Blues were also forced to change their purple changes shirts due to a clash with Macclesfield's blue and were forced to wear the Silkmen's green change shirt!
Both sides got off to a slow start though Craig Hobson did find the net on 13 minutes only to see his header from a John Rooney free-kick ruled out for offside. Craig Mahon and Kieran Charnock both forced saves from Rhys Taylor in the home goal before Chester were awarded a penalty when Sean McConville was fouled by Liam Hogan in the box.
McConville stepped up to take the spot kick only to see Taylor make a one handed save diving to his left and deflecting the ball to safety. Chester continued to press and went close when Rooney saw a shot hit the post and Charnock had an effort cleared off the line.
Six minutes before the break the home side were awarded a penalty after Phil Turnbull had been fouled by Menagh, Waide Fairhurst sent Jon Worsnop the wrong way and Macc took a 1-0 lead.
Three minutes later the home side doubled their advantage as Fairhurst scored his second with a spectacular long range effort from 35 yards into the top right hand corner of the net.

Hobson sent a close range effort wide before Worsnop prevented a third on the stroke of half time denying former Blue Chris Holroyd from scoring ten yards out. Mahon had the ball in the net a couple of seconds after referee England had blown for half-time.
Eight minutes after the restart Chester found themselves further behind as Matthew Barnes-Homes took advantage of some slack defending to fire home form 15 yards.
Chester responded within a couple of minutes as Ben heneghan headed home from a McConville corner. Kingsley James forced two more saves from Taylor as Chester looked to score a second.
Rhys Oates came off the bench for a debut along with Ibou Touray and on-loan signing Josh O'Keefe was also introduced for the first time with 15 minutes remaining but Chester were unable to reduce the deficit as Macc saw out the closing stages.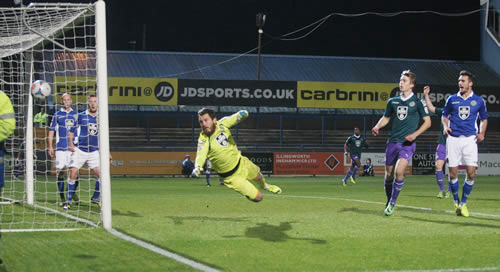 Picture © Rick Matthews (Chester Leader)

• League table after this game | More pictures
Rate Chester's performance
---
Saturday 8 November
Southend United 1 Chester 2

FA Cup Round One
Attendance: 4,037 (322 Chester) Half Time 1-1
Booked: Rooney, Hobson, Heneghan, Touray.


Southend United: Bentley, White, Prosser, Sokolik, Williams, Timlin, Deegan (Coulthirst 61), Leonard, Worrall (Hurst 61), Corr (Payne 71), Weston. Subs not used: Smith, Atkinson, Bolger, Clifford.
Chester: Worsnop, Heneghan, Brown, Charnock, G.Roberts, Rooney, James, Mahon (Menagh 86), McConville, Winn (Touray 66), Hobson. Subs not used: C.Roberts, Greenop, Riley, Harrison, Disney.
Referee: Graham Horwood (Bedfordshire).

They say that always expect the unexpected in football and this match was the classic ex ample.. Nobody pre match gave Chester much of a sniff against a team in the top half of League Two, but how wrong we were. Mark my words this was no fluke or lucky win as Chester were the better side overall and thoroughly deserved the victory through greater effort and commitment.

The boys made a dream start after just five minutes when Bad Heneghan opened the scoring heading home a Peter Winn free kick. Southend responded with good possession mainly through the impressive wingers, but lacked the final ball as Chester defended stoutly. The equaliser came on 31 minutes when Rooney impeded full back White in the box and Corr sent Worsnop the wrong way from the resultant penalty. Chester however were playing the better football as the half progressed with Rooney and Hobson missing opportunities.

The moment of this enthralling encounter came on 51 minutes when Mahon fired Chester back into the lead in front of the 300 jubilant travelling supports, Charnock could have made it three but failed to connect with a free kick as Chester continued to match their higher placed opponents.
Southend threw everything at Chester in the final half hour, but without in truth creating any clear cut chances apart from one outstanding save from Worsnop, with Charnock and Brown solid as a rock at the back. The travelling support was magnificent never stopping singing and encouraging all match, especially through the predicted seven minutes of injury time (mainly through an unfortunate injury to Peter Winn).

The celebrations between the players and the fans at the end brought home what following Chester is all about and a great away day There is also the added bonus a the financial rewards from such a Cup Run which is a massive boost to the Club.

What is the secret regarding Steve Burr and the FA Cup?!

Alan Parry-Jones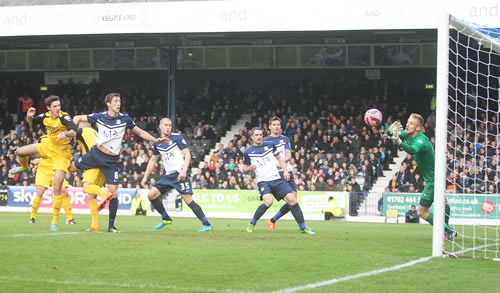 Picture © Rick Matthews (Chester Leader)

• Match highlights | More pictures
Rate Chester's performance
---
Monday 3 November
Runcorn Town 3 Chester 1

Cheshire Senior Cup Preliminary Round
Attendance: 176 Half Time 3-0
Booked: Menagh, Harrison, Peers.

Runcorn Town: Buckley-Smith, Lester (Thompson 63), Toone, Latham, Gibson, Spearritt (Lawton 88), Shanley, Irlam, Breen, Keddie, Dykes. Subs not used: Plant, Beckett, Salt.
Chester: Roberts, Disney, Touray, Harrison, Morris, Savin (K.Evans 46), Menagh, Riley, Peers, Blake, Greenhop. Subs not used: S.Hughes, Christopher, J.Evans, Soarisbrick.
Referee: Peter Gibbons.

A young Chester side concede in the first 30 seconds as they are knocked out of the Cheshire Senior Cup at the first hurdle.


Rate Chester's performance
---
Saturday 1 November
Eastleigh 3 Chester 2

Football Conference Premier
Attendance: 1,306 Half Time 1-0
Booked: McConville. Sent-off: Hughes.

Eastleigh: Flitney, Spence, Green, Beckwith, Evans, Stanley, Reason, McAllister (Wright 69), Constable (Todd 46), Fleetwood, Strevens (Odubade 69). Subs not used: Reid, Helm.
Chester: Worsnop, Heneghan, Brown, Charnock, G.Roberts, James, McConville, Hughes, Rooney, Mahon (Winn 34), Hobson (Menagh 70). Subs not used: C.Roberts, Harrison, Touray.
Referee: Adam Bromley (Plymouth).

This was a match result which seemed to divide Chester fans as they walked out of Eastleigh's Silverlake Stadium. "We could have got a win if we'd have taken all our chances", said one. "Eastleigh deserved the three points," said another. And there was also: "I thought we were going to shade a draw there."
I was of the view that Eastleigh were the better team, with a bigger and higher quality strikeforce. I wasn't surprised when they went ahead on the 25th minute when Ben Strevens scored from the rebound after Jon Worsnop made a good initial stop.
The home side had already missed one good chance when Michael Brown, called in to replace suspended Michael Kay, had to clear off the line in the opening stages of the match.
Chester did have an opportunity themselves after Eastleigh's opener, when Matty Hughes beat a couple of defenders and passed well to Sean McConville. Unfortunately for Chester, McConville's shot failed to trouble Ross Flitney.
In truth there wasn't much atmosphere at this game, with Chester fans scattered throughout Eastleigh's small ground. And no-one could go behind one of the goals as it's in the middle of being developed, with what's there now resembling half a warehouse.
Just before half-time there was a double sending-off in an incident which also divided the travelling fans. I was shielding my eyes from the fierce sun, so didn't get all that good a view from the opposite side. But Hughes was clearly bought down by Dean Beckwith. In a flash, the heads of Hughes and Beckwith came together and they were surrounded by most of the other players. Referee Adam Bromley quickly showed a red card to both players, and the rest of the half ended without any more drama.
The half-time debate among the Chester fans was about the red card incident. Some thought they were just "two rutting stags" and there was no real intent. But others were sure they'd seen a headbutt from Hughes and there'd been no avoiding a red card for the Chester man.
Purple-clad Chester started slightly brighter in the second half, with Peter Winn – a replacement for injured Craig Mahon - having an opening not long after the re-start. That came to nothing, as did a better chance for Craig Hobson and an opportunity for John Rooney.
But the match turned again after 15 minutes of the second half when Jai Reason tumbled over in the box after a clumsy challenge from Ben Heneghan. Stuart Fleetwood had no trouble from the spot-kick to make it 2-0 to Eastleigh.
Not long after that it was 3-0 to the home side when a good pass from Reason found Craig McAllister in space, and he had no trouble slotting it past Worsnop.
But Chester refused to give in, and Winn and McConville combined to give the Blues a goal with nearly 15 minutes left on the clock. The initiative was all with the Blues now, and substitute Jamie Menagh almost connected with a Rooney cross to make it 3-2.
Soon after that, it did go to 3-2 when hard-working Kingsley James scored from a powerful strike from outside the area. At that stage the injury time board had not gone up, and Eastleigh nails were being bitten when Chester continued to press forward.
But, after two minutes of stoppage time, the referee blew to end Chester's late surge. In a distinctly atmosphere-free game one of the biggest cheers of the day came when the full time whistle went at Hull City v Southampton (a win for the visitors). The Chester fans had other issues to debate, and I'm sure the discussions went on long into the evening as the away fans travelled home.

Sue Choularton

• League table after this game
Rate Chester's performance
---