---
Saturday 18 January
Leamington 0 Chester 0
National League North
Attendance: 865 Half Time: 0-0
Booked: Jackson.

Leamington: Weaver, English, Morley, Clarke, Mace, Lane, Anderson, Maycock, Bremang, Edwards, Taylor (Dunbar 90). Subs not used: Gittings, Murphy, McFarlane, Martin.
Chester: Griffiths, K.Roberts, Taylor, Grand, Jones, Livesey, Jackson, G.Roberts, Dudley, Glendon (Asante 64), Stopforth. Subs not used: Burton, Elliott, Ngwatala, Hughes.
Referee: Scott Simpson
.


Chester fans hoping for a response from the team after last Saturday's disappointing exit from the FA Trophy at the hands of Royston town were largely let down by this visit to Leamington.
If it was Chester's game plan to return with a point, then it could be chalked up as a success. But it was a scrappy affair and the Blues were in danger of returning north with nothing again to show for their travels.
The Chester fans who found their way to one of the most isolated ground you'll come across were heartened to hear that Akwasi Asante was on the bench. Matty Waters and Matty Hughes were replaced in the starting line-up by Joel Taylor and Danny Livesey.
While the initial action was at Leamington's end, with Chester shooting into the bright winter sunshine, the Brakes made no real impression in the opening spell. As Chester tried to threaten cap-clad Leamington goal keeper Jake Weaver, they won four corners in a row. But the defence always had the better of them, and when the half time whistle blew the closest Chester had come to scoring was from a Livesey header tipped over the crossbar by Weaver.
The second half was a more lively encounter with Taylor twice coming close to finding the net for Chester. Anthony Dudley also had a strike, which was held onto by Weaver. Asante did come onto the field on the 64th minute, but he mainly made a nuisance of himself without being a serious goal threat.
Leamington thought they had notched up a goal when Jack Edwards put the ball in the net, but it was disallowed for off-side. Another Chester second-half chance came with a Gary Roberts' free kick, but Livesey headed the ball over the bar.
The home side had Chester nerves jangling as the game drew to a close, but it ended honours even. Not only did this result mean Chester have still never won against Leamington but – on a personal note – it left this Exile with a sorry record of three post-Christmas Chester matches without even a goal for the Blues.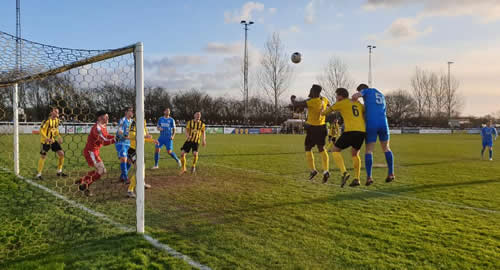 Rate Chester's performance
---
Saturday 11 January
Royston Town 3 Chester 0
FA Trophy Round 2
Attendance: 818 Half Time: 0-0
Booked: Stopforth, G.Roberts, Glendon, Elliott.

Royston Town: Smart, Scott-Morriss, Warner-Eley, Bridges, Murray, Martin, Mentis, Watkins, Adams (Ofosu 67), Bateman, Castiglione. Subs not used: Ingrey, Brighton, Crowther, Green, Brathwaite, Foxall.
Chester: Griffiths, Grand, Jones, Waters (Goodwin 74), K.Roberts, G.Roberts, Glendon, Stopforth (Taylor 67), Hughes (Elliott 67), Dudley, Jackson. Subs not used: Livesey, Morgan, Burton, Ngwatala.
Referee: Daniel Middleton
.



This match will have to go down as one of my worst ever Chester match experiences – with the dismal performance only being tempered by a new ground to 'tick off', a welcoming set of home supporters and a chance to catch up with some fellow southern-based Exiles.
The Garden Walk home of Royston Town sits on a quiet estate on the edge of town, just a short stroll away from the Exiles' pre-match meeting point where younger fans were talking carelessly about the Blues being only four ties from Wembley.
But long-standing Chester fans knew better, and as we walked into the compact ground, with its tiny stand, small covered terraced and sloping pitch, there was a feeling that anything could happen. However, I'm not sure anyone would have predicted a 3-0 win for the Crows!
In truth the result in this FA Trophy second round match was no more than the Southern League Premier Central team deserved. The home side started the game in confident fashion, and any outsider would have found it impossible to pick which team was the highest in the football pyramid.
Chester were without injured strikers Akwasi Asante and George Waring, and didn't seem to have a game plan to threaten the goal without them. It was Royston who seemed likeliest to score first, with Russ Griffiths make a good save to deny Gus Scott-Morriss in the opening spell.
The wind started picking up and both sides had a couple of wild strikes over the bar before Chester's best chance of the game came to Anthony Dudley. A good cross from Brad Jackson fell well for Dudley who was just a few yards out. But goalkeeper Harry Smart parried his strike out, and Matty Waters couldn't find the net with the rebound.
Just before the referee blew for half-time, Chester defender James Jones did well to head a Royston strike off the line to keep the scores level as the two sets of supporters, making up the crowd of 818, swapped ends during the interval.
There was very little action for the travelling fans to see at close hand in the second half, with Royston captain Matt Bateman scoring with a header on 51st minute. Soon after another header – this time from Josh Castiglione – made it 2-0 for the hosts. There can be no excuses for Chester, who had the wind behind them in the second half, but barely seemed to advance the ball in the right direction.
Chester made a double substitution on the 67th minute, with Danny Elliott coming on for Matty Hughes and Joel Taylor replacing Gary Stopforth. Soon after, academy graduate Will Goodwin made his senior debut when he replaced Waters.
But as a contingent of the Chester fans were enjoying a spot of banter with the Royston youngsters who were sitting in stand behind the goal, the match went out of reach of the visitors. Bateman found himself in space again to score his second headed goal and end Chester's Wembley dream for another year.
I'm sure there'll be another healthy away following when the Blues travel to Leamington on Saturday, but the travelling fans will be expecting a response to this defeat with a better performance – to be honest, they can hardly do any worse!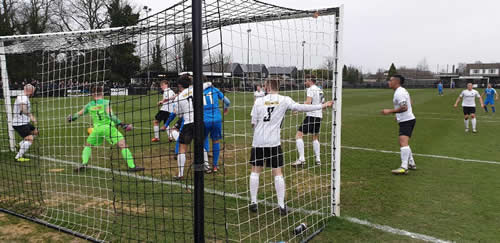 Rate Chester's performance
---
Tuesday 7 January
Chester 1 Stockport Town 0
Cheshire Senior Cup Round 2
Attendance: 321 Half Time: 0-0
Booked: -.

Chester: Griffiths, Morgan, Taylor, Burton, Hayes, Macready, Crilly (Goodwin 71), Glendon, Elliott, Ngwatala (Noble 78), Murray (Hampson 82). Subs not used: Burke, Rubin.
Stockport Town: Ollerenshaw, Thiam, Taylor, O'Connell, Freeland, Holness, Dwyer, Abdullah, Grimshaw, Knight, Depeiaza. Subs: King, Neal, Salmon, Deering.
Referee: Adam Davies
.


Danny Elliott scores a 55th minute winner as Chester progress in the Cheshire Senior Cup.
---
Saturday 4 January
Guiseley 0 Chester 1
National League North
Attendance: 1,029 Half Time: 0-1
Booked: Hughes, Stopforth.

Guiseley: Dewhurst, McNally, Nicholson, Jones, Bencherif, Digie, Felix (Newall 90), Cantrill (Smith 46), Sang, Soleman, Johnson (Shaw 69). Subs not used: Barkers, Clayton.
Chester: Griffiths, Grand, Jones, Waters, K.Roberts, Stopforth, G.Roberts, Jackson, Dudley (Taylor 84), Asante (Waring 61), Hughes (Glendon 84). Subs not used: Ngwatala, Elliott.
Referee: Andy Sykes
.



Fresh from their victory over Southport on new Year's Day, Chester named an unchanged side for the visit to Guiseley and made a bright start at Nethermoor. Anthony Dudley and James Jones both saw early efforts on goal before Jones opened the scoring after just 11 minutes.

Matty Waters cross from the right found Jones at the far post and he headed past Marcus Dewhurst into the Guiseley net to give the Blues the perfect start.

Chester, by and large, were having the better of a scrappy first half though Guiseley created chances with Simon Grand blocking the best effort from Gabriel Johnson.

Grand almost doubled the lead heading onto the crossbar following another dangerous Waters corner.
The second half started slowly, Dewburts cleared a Dudley effort off the line, the striker followed that up minutes later wit a curling shot just over the bar.

Gary Roberts sent Bradley Jackson through with a fine pass but Jackson's effort was deflected just wide.

The home side finished strong and it took two superb challenges from gary Roberts and Kevin Roberts to deny the home side a late equaliser.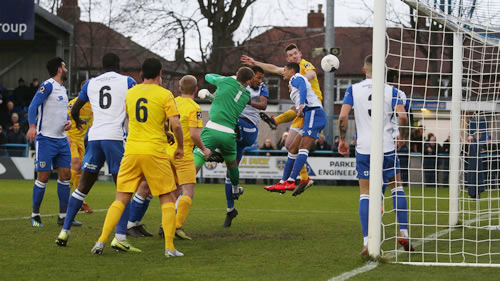 Picture © Rick Matthews

• Latest table
Rate Chester's performance
---
Wednesday 1 January
Chester 4 Southport 0
National League North
Attendance: 1,928 Half Time: 1-0
Booked: Grand.

Chester: Griffiths, K.Roberts, Grand, Jones, Waters, Stopforth, G.Roberts (Ngwatala 74), Dudley, Jackson (Waring 83), Asante, Hughes (Elliott 78). Subs not used: Morgan, Taylor.
Southport: Albinson, Mohammed, Doyle (Homson-Smith 13), Winnard, Astles, Morgan (Correia 59), Benjamin, Wood, Green, Sampson, Ogle. Subs not used: Woods, Oliver, Bauress.
Referee: John Kenny
.



The New Year dawned but the playlist at the 1885 Arena was decidedly retro. The Seekers, Rolling Stones and Freddie and the Dreamers serenaded sets of both supporters as they took their places for the return leg of the Boxing Day fixture which City had rather surprisingly won 3-1. In between Chester had come unstuck at home to Curzon Ashton who took the points back to Greater Manchester with them. So what kind of performance would it turn out to be today?

Five changes to the previous line up were made including a welcome return of Brad Jackson whose attacking prowess was sorely missed on Saturday. He it was who provided an early chance for Asante. After powering down the right he crossed for the Chester number nine to glance a header narrowly wide. In the process Southport's left back Doyle was injured and had to be replaced by Homson-Smith. Griffiths had to be alert to deny Sampson early on as he broke into the box. The City custodian saved at his feet. Then Devarn Green deceived Waters down the right and passed inside to Morgan who helped it on but Homson-Smith scooped his shot over the bar.

Hughes did well and forced a save from Albinson who conceded a corner. Waters took it from the right and after being told to move the ball back a couple of inches by the linesman whipped a cross into the box. Albinson got both hands to it but it continued to the far post where Grand nodded into the gaping net to open the scoring.

Southport replied with a stinging shot from a direct free kick just outside the box. Griffiths punched it away from just under the bar and the ball went for a throw in. After the break City came forward urgently and pressed home their advantage after Jackson had won another corner on the right. Again Waters took it (And again the linesman got him to roll the ball back). Gary Roberts picked up the clearance and worked it back to Jackson sitting deep. His ball forward found Asante who touched it to Dudley and he in turn found Hughes. The latter's shot was saved a full stretch by Albinson but Asante was quickest to anticipate and knocked in the rebound for Chester's second.

City were well on top now and forced a succession of corners. Asante had a shot blocked as Southport defended desperately. Then saw another shot saved as the Blues swept forward through Jackson again. Dudley's intelligent ball put Asante through once more but Albinson recovered well to deny him as the rampant centre forward tried to steer the ball round him to finish.

Jackson sat deep once again from another Waters corner and the ball was worked back to him via Stopforth, allowing him to run at the defence and cross to the far post for Jones. His header down was picked up and thumped home by Dudley lurking on the edge of the box. The game was now firmly in City's grasp.

Jackson then crashed a shot against the foot of the post as City came forward relentlessly and Dudley went close a couple of times as Chester picked the Sandgrounders apart with ease.

Chester's fourth and final goal came from another corner on the right. The ball came back out to Waters whose cross into the box was picked up by Asante. With his back to goal the strong centre-forward held off a couple of defenders to turn and shoot into the corner. His celebrations spoke volumes about how much he was enjoying himself. He was denied a hat trick as his header from another corner was headed off the line and Grand's follow-up was parried by Albinson.

As far as City fans were concerned it was the perfect start to the New Year and they went home feeling glad all over as the Dave Clark Five and the rest of the Sixties playlist rang around again.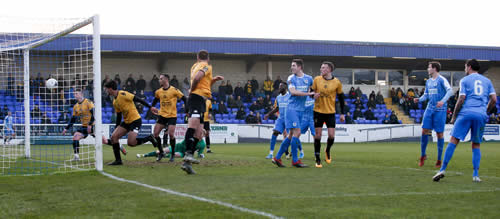 Picture © Rick Matthews
Rate Chester's performance
---