---
Saturday 18 October
Chester 2 Alfreton Town 1

Football Conference Premier
Attendance: 2,084 Half Time 1-1
Booked: James, G.Roberts.

Chester: Worsnop, Heneghan, Kay, Charnock, G.Roberts, Mahon, Rooney, James, McConville, Hughes, Hobson (Menagh 75). Subs not used: C.Roberts, Harrison, Touray, Winn.
Alfreton Town: Dawson, Wood, Davies, Graham, Rowe-Turner, Shaw, Courtney, Howell, Mellor (Bradley 49), Hawley (Keane 79), Ironside (McDonald 63). Subs not used: Sheridan.
Referee: Ian Hussin (Liverpool).
Chester concede an early goal but fightback with an equaliser from Matty Hughes and a stoppage time winner from Craig Mahon.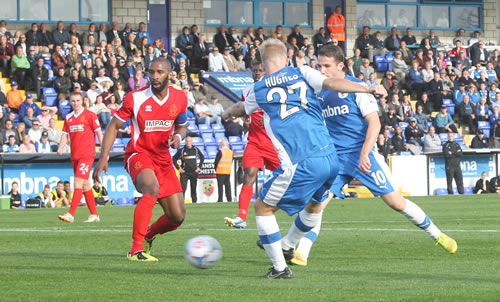 • League table after this game |
Rate Chester's performance
---
Saturday 11 October
Dover Athletic 2 Chester 0

Football Conference Premier
Attendance: 1,009 Half Time 0-0
Booked: Worsnop, Heneghan, Kay, Touray, Hughes, Hobson.

Dover Athletic: Rafferty, Essam, Orlu, Bonner, Stone, Kinnear, Deverdics, Wynter, Nanetti (Bellamy 74), Miller (Elder 92), Murphy (Raggett 83). Subs not used: Payne, Reid.
Chester: Worsnop, Heneghan, Kay, Charnock, G.Roberts (Hobson 55), Mahon, Rooney, James, Winn (Touray 46), Hughes, McConville (Menagh 76). Subs not used: Harrison. C.Roberts.
Referee: Christopher Powell (Dorset).



Manager
Steve Burr named an unchanged side for the long trip to Dover after the Blues had made it 13 points out of 18 with the midweek defeat of Aldershot Town.
Chester started well with Gareth Roberts having a shot blocked early on and John Rooney seeing a free-kick curl past the post before the home side came more into the game with Nick Deverdics having a shot cleared off the line by Roberts.
Deverdics had another effort blocked by Sean McConville and Chester cleared off the line again as Michael Kay denied Chris Kinnear as the Whites looked the more likely side to break the deadlock.
Ricky Miller saw a lob clear Jon Worsnop but drop just over the bar as the hosts continued to press but Chester created the last chance of the half as Matty Hughes raced through onto Rooney's through ball only to see his low effort saved by Andrew Rafferty in the home goal.
Two minutes after the break the Whites took the lead as Tom Murphy's low shot was deflected past Worsnop by Ben Heneghan.
Burr brought on Craig Hobson for Roberts and Chester looked to get back on level terms. Craig Mahon forced a save from Rafferty who turned his shot round for a corner. The resulting flag-kick saw Kieran Charnock flick the ball on but McConville wasn't able to convert the loose ball.
Dover doubled the lead on 64 minutes as Connor Essam headed home a Murphy cross giving Worsnop no chance. A minute later Murphy almost made it three as his shot came back off the post after Worsnop had dropped Chris Nanetti's shot.
Chester created several chances as they looked to get something from the match that was slipping away. Kingsley James set up Hughes who sliced his shot wide and both McConville and Hobson headed wide from corners.
Ten minutes from time James saw a goal ruled out for offside and Rooney saw a long range effort fly wide in stoppage time before referee Powell blew for full time.
• League table after this game |
Rate Chester's performance
---
Tuesday 7 October
Chester 1 Aldershot Town 0

Football Conference Premier
Attendance: 1,776 Half Time 0-0
Booked: Mahon, Hennighan, Hughes.

Chester: Worsnop, Heneghan, Kay, Charnock, G.Roberts, Mahon (Menagh 90), Rooney, James, Winn (Touray 73), McConville (Harrison 90), Hughes. Subs not used: Brown, C.Roberts.
Aldershot Town: Smith, Oastler, Wilson, Phillips, Gibbs, Forbe, Roberts, Hatton, Lathrope (Fitchett 82), Williams (Scott 76), Derry (Plummer 69). Subs not used: Barker, Thomas.
Referee: Ryan Johnson.



A superb turn and finish put the gloss on a great debut by City's new golden boy Matty Hughes. Blues banished the disappointment of last Saturday when victory was snatched from their grasp at the last gasp by Welling with a late winner against Aldershot Town this evening.

Signed on a month's loan from Fleetwood in the morning Hughes went straight into the starting line-up. In the absence of both Iwelumo (Unwell) and Hobson (Hamstring injury) he was joined in a seemingly lightweight forward line by Sean McConville - like Hughes a former Skelmersdale player. What they lacked in height and stature, however, the two forwards more than made up in mobility and good footwork as City began the game with pace and energy and moved the ball around neatly.

Mahon tried to repeat his good luck with a similar strike to the one he got off the mark with on Saturday but Smith was not to be beaten. Winn was back in the side on the opposite wing and saw a good effort fizz over the bar. Aldershot were pegged back but looked dangerous at set pieces. The chief scare came when Phillips made poor contact with Hattons' free kick when well placed to head home and the chance went begging. Brett Williams also lurked with a menacing presence and when Mahon lost the ball he was put through dangerously but shot over the bar. As half time approached Mahon beat a defender to the ball to knock it into the net – only to see the linesman's flag raised for offside.

As the second half began Mahon had a shooting opportunity from almost the same spot as Williams before - Rooney's pass found him in space on the right. His low effort was saved by Smith and with McConville and Hughes looking for a rebound – the ball stuck to the keeper. City began to rattle the visitors' defence as they persisted with their passing game. Worsnop resisted kicking the ball long as the Blues tried to build from the back. At times they won applause for the way they kept the ball – at times they gave it away too cheaply but always fought hard to win it back again. Gradually they gained the upper hand but it was a tight game and as the clock wound down we got the feeling whoever scored first would win it.

McConville went close after a good run and raking shot. Roberts was booked for the Shots for a foul on Heneghan – retaliation for the right back's reckless tackle on him previously. Oastler followed him into the book shortly after as City began to press forward. Touray replaced Peter Winn.

Rooney ran into too many defenders as he tried to engineer a way through. McConville went down under a challenge on the edge of the box but the referee waved away claims for a penalty. But then with ten minutes remaining Hughes – who had run indefatigably all evening – produced a brilliant turn and shot with his left foot into the far corner of the net. The frustration was lifted and Hughes mobbed by ecstatic team mates and fans alike but emerged from the huddle to see the ref's yellow card.

Anxiety levels increased amongst the home fans as Aldershot pressed for an equaliser. A free kick on the left seemed to have produced a goal when it was met at the far post, nodded down and somehow scrambled off the line. Worsnop also pulled off a great save moments earlier. Just like Saturday four minutes stoppage time was awarded and the tension was almost unbearable. But the Blues hung on to the three points on this occasion and moved above the visitors in the table to the lofty heights of fourteenth place.

Matty Hughes basked in the glory of a fine debut performance and goal in the glow of an almost full moon. The road shone white in the moonlight. It was a long way back to Aldershot for the Town and their 101 supporters. City fans were elated to win this hard fought contest – one that gives us real hope that progress is being made this season.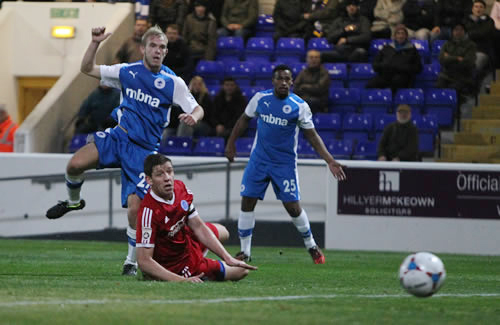 • League table after this game | Match highlights | More pictures
Rate Chester's performance
---
Saturday 4 October
Chester 1 Welling United 1

Football Conference Premier
Attendance: 1,997 Half Time 1-0
Booked: -.

Chester: Worsnop, Heneghan, Kay, Charnock, G.Roberts, Mahon (Harrison 81), James, Rooney, Touray, McConville, Iwelumo (Winn 81). Subs not used: C.Roberts, Brown, Hobson.
Welling United: Henly, Fazakerly, Bush, Fyfield, Jefford, Gallagher, Beautyman, Gallagher, Day, Healy, Nouble (Hudson 61), Marsh. Subs not used: Turner, Williams, Corne, Fagan.
Referee: Jason Whitley (Leeds).



The second game in a row at Chester turned on a last-minute goal – this time it was for the opposition, and gave Welling a deserved point to take back to London.
In a lacklustre game, Chester went ahead on 10 minutes when a Craig Mahon shot was fumbled by Welling goalkeeper Jonathan Henly and – to everyone's amazement – ended up in the back of the net.
I'm struggling to think of another attempt on goal in the first half in a match which was largely devoid of goalmouth action. I even think there were only two corners in the game – and one of them resulted in the Welling equaliser.
Chester started with Chris Iwelumo for the first time since August, after Craig Hobson picked up a knock in the Grimsby match. Hobson, the club's top scorer this season, still made the bench.
Iwelumo didn't really make an impression again, and seemed to be most effective when he was called into defensive duty during a couple of occasions in the first half. He actually missed the best goal chance of the match on the 53rd minute when a good cross from Gareth Roberts found him in space right in front of the net. But he headed the ball way wide – later blaming the sun for him missing such a great opportunity.
It was one of those days when everyone in the main stand had to shield their eyes to follow the action in the second half – a real sign that the clocks are about to change and winter will soon be on the way.
As the game wore on, Chester seemed to be hoping a more defensive approach would allow them to keep their slender advantage. Kingsley James, who went on to be man-of-the-match sat further back in the second half to steady the defence.
It was Mahon who'd actually caught my eye as a potential man-of-the-match. He played with a bit of adventure and never seemed to stop working. It was no wonder he got a rousing round of applause when he was replaced by Danny Harrison on the 81st minute. Iwelumo was replaced by Peter Winn at the same time.
It's actually hard to believe that we're now a third of the way through the League season, and just when I was thinking Chester could end up in their highest ever league position since the reformation, Welling finally hit back. In fairness, a goal had been coming as they'd been continually pushing forward following the Chester double substitution.
Just when Chester nails were being bitten as the referee allowed four minutes' injury time, Welling won a 92nd minute corner. The Blues failed to clear it, and Tyrone Marsh was in the right place to score an easy equaliser. The final whistle went about 90 seconds later, leaving Chester reflecting on another set piece which cost them two points.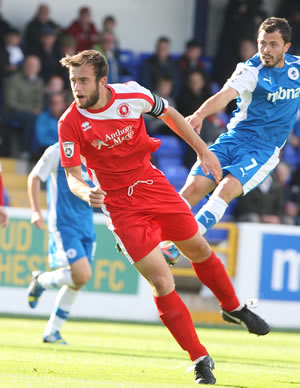 • League table after this game | More pictures
Rate Chester's performance
---