---
Saturday 14 October
Kidderminster Harriers 2 Chester 0

FA Cup Fourth Qualifying Round
Attendance: 1,896 (522 Chester) Half Time: 1-0
Booked: Rowe-Turner, Halls.

Kidderminster Harriers: Hall, Pearson (Williams 48), Taylor, Croasdale, Horsfall, O'Connor, Sonupe (Austin 80), McQuilkin, Ironside, Ngwatala, Wright (Bradley 61). Subs not used: Brown, Weeks, Digie, Howkins.
Chester: Lynch, Halls, Rowe-Turner, James, McCombe (Bell 72), Astles, Turnbull, Dawson, Waters (Chapell 46), White (Zanzala 61), Akintunde. Subs not used: Davies, Jones, Shaw, Crump.
Referee: Peter Marsden.

Chester went out of the FA Cup at the 4th Qualifying Round stage for the third season in a row, but this defeat at Kidderminster had to be the most disappointing of them all.
It was hard to find a highlight from a dismal afternoon at the Aggborough Stadium, even the home side's famous pies ran out well before kick-off, as most of the travelling 522 fans seemed to want to sample some tasty fayre.
It certainly wasn't a feast of football for the Chester fans, who were making themselves heard right from the off. Their side's two best chances were unchallenged headers for Kingsley James and John McCombe, but they were well off target.
Kidderminster were simply the best in every area of the park, belying their status as a mid-table Conference North team. They were a tad lucky with their opening goal when a shot cannoned off the post on the 19th minute right to unmarked Emmanuel Sonupe, who had no trouble finding the net.
Chester failed to respond to the challenge and it was hard to think of many of their passes finding the man, let alone giving them a chance to score. There was one change at half-time when Matty Waters was replaced by Jordan Chapell, but there was no marked improvement in team performance in the second half.
It wasn't long before a growing number of the Chester fans were letting their feelings known to their lacklustre players with chants of "what a load of rubbish", and this only got louder when Kidderminster when 2-0 up through a Joe Ironside header. It got so bad before the end of the game that several Chester fans were joining in with the Kiddie fans chanting "off, off, off" when the referee showed Andy Halls a yellow card.
When the inevitable Kidderminster victory was confirmed, there was more anger shown by the travelling army. Manager Marcus Bignot took his team out for a 'dressing-down' within earshot of their chanting. It was at least 15 minutes after full-time before the last of the furious Chester fans left the ground, many of them heading straight to the nearby off-licence or one of the excellent local hostelries to console themselves after their early awakening from their Wembley dream.

Sue Choularton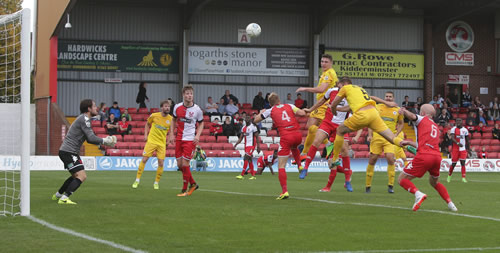 Rate Chester's performance
---
Saturday 7 October
Tranmere Rovers 0 Chester 0

Football Conference National
Attendance: 7,172 (1,198 Chester) Half Time: 0-0
Booked: Shaw, James, Turnbull, Hannah.

Tranmere Rovers: Davies, Buxton, Ridehalgh, McNulty, Sutton, Mottley-Henry, Jennings, Norburn (Harris 90), Hughes, Cook (McDonagh 61), Norwood. Subs not used: Pilling, Alabi, McEveley.
Chester: Lynch, Rowe-Turner, McCombe, Astles, Halls, Turnbull, James, Dawson, Shaw (Joyce 90), Akintunde, Hannah. Subs not used: Chapell, Jones, Bell, Waters.
Referee: Peter Wright.
Alex Lynch pulls off a series of fine saves to help Chester grab a point at Prenton Park.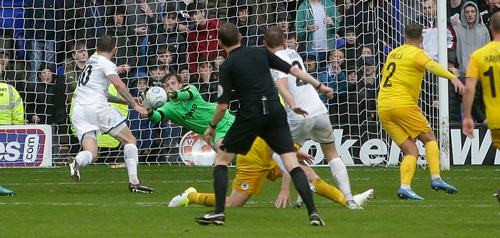 • Latest table | More pictures


Rate Chester's performance
---
Tuesday 3 October
Chester 0 Woking 2

Football Conference National
Attendance: 1,658 Half Time: 0-1
Booked: Hannah.

Chester: Lynch, Halls, McCombe (Bell 80), Astles, Rowe-Turner, James, Shaw (Turnbull 66), Dawson, Mahon (Davies 20), Akintunde, Hannah. Subs not used: Joyce, Sheron.
Woking: Baxter, Young, Staunton, Wynter, Saraiva (Stojsavljevic 71), Isaac, Ferdinand, Carter, Bawling (Ward 66), Charles-Cook, Philpot (Effiong 80). Subs not used: Orlu, Appau.
Referee: Glen Hart.
Woking are very much a surprise package this season and came to Chester in sparkling form. They had won five out of the last seven including victories over Macclesfield and Sutton. As the game unfolded under a gibbous moon, it was easy to see why as they started much more rapidly than the Blues. The visitors appeared quicker to every ball and took just a touch to control it where City players, sluggish by comparison took two.

The Cards kept up a high energy pressing game and put Chester under pressure whenever they were in possession. There were a number of forced errors as a result and it did not come against the run of play when Woking took the lead after just ten minutes. Young's pinpoint cross from the right was met by Ferdinand's precise header just inside the post.
It got worse for City when Mahon was forced off after a clumsy challenge from behind by Isaac. Liam Davies was sent on as his replacement. Chester did managed to forge a couple of opportunities. First Dawson shot straight at the keeper from outside the area and then Baxter saved Hannah's effort from much closer quarters.

In the second half the Blues fought hard to get a toe-hold in the game. Hannah went close with a header at the far post and was then given offside as he made a second attempt to score. More agonising for City was seeing Astles' glancing header strike the foot of the post and roll tantalisingly across goal before being cleared.

Within a couple of minutes of this near miss, Woking sealed the game at the other end. Philpot raced on to Hall's under-hit back pass and came off better from Lynch's onrushing challenge. The Cards' forward was able to roll the ball into the empty net for a second and decisive goal.

Understandably, the stuffing was knocked out of Chester by this blow but they continued to make a game of it but the Cards were resolute in defence. Although on another evening Chester might have forced a draw there was no denying that the visitors were slicker and quicker on the ball than City tonight. Woking moved up to third in the table with this win. Chester will look to raise their game for the local derby with Tranmere at the weekend.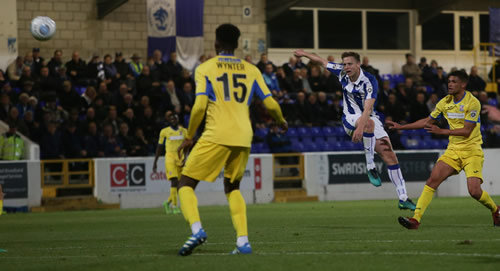 • Latest table | More pictures


Rate Chester's performance
---