---
Saturday 8 January
Bradford (Park Avenue) 1 Chester 0
National League North
Attendance: 569 Half Time: 1-0
Booked: Weeks.

Bradford (Park Avenue): Sykes-Kenworthy, Ross, Hinds, Lund, Havern, Windass (Clee 67), Mottley-Henry, Richman, Dockerty, Odunston (Johnson 82), Maguire (Nowakowski 61). Subs noit used: Rawson, Toulson.
Chester: Gray, Horsfield, Williams, Grand, Fitzpatrick, Roberts (Clarke 57), Glendon, Weeks, Apter, Dudley (Waring 57), Stephenson. Subs not used: Smith, Lacey, Askew.
Referee: Peter Cooper.

Chester miss a host of chances as they are beaten by an early goal at next to bottom Bradford (Park Avenue).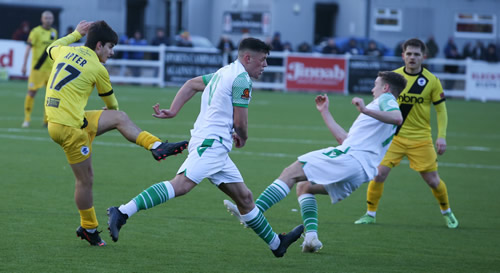 • League table after this match | Match photographs
---
Sunday 2 January
Chester 1 AFC Telford United 1
National League North
Attendance: 2,116 Half Time: 1-0
Booked: Grand, Glendon.
Sent-off: Grand (second yellow)

Chester: Gray, Horsfield, Williams, Grand, Askew, Lacey (Clarke 59), Roberts, Weeks, Glendon, Stephenson, Dudley (Livesey 50). Subs not used: Smith, Burke, Waring.
AFC Telford United: Griffiths, White, Lilly, Shotton, Bood, Walker, Goodridge, Oswell, Williams, McHale (Baker 78), Daniels (Wright 84). Subs not used: Abbey, Bange, Bennett.
Referee: Jonathan Maskrey.

After a creditable home draw against AFC Fylde, this point against bottom of the table AFC Telford was less than expected. But at least it was a point. Had Carl Baker not been profligate in smashing his stoppage-time penalty kick against the crossbar it might have been a blank return for the Blues.

Chester missed the energy of the injured Hardy on the right of midfield. Lacey, his replacement is more defensive by temperament so Glendon endeavoured to provide attacking options down the right. The game lacked quality and energy in the first half but City eventually took the lead just after half an hour. Stephenson found Dudley's run to the left and the latter's cross was met by Lacey. His header looped in to the net. Lacey the boxer sparred with the corner flag in celebration.

City then dominated before the break but could not capitalise further. The slenderness of their lead was exposed when Grand picked up a second yellow card for tangling with Oswell who'd latched on to a wayward pass from Weeks. Worse was to follow when Brendon Daniels smashed the free kick past the defensive wall and Gray for the equaliser. Telford's boisterous following celebrated over-exuberantly by setting off a flare on to the pitch inducing an asthma attack in a nine-year-old boy who needed hospital treatment as a result.

At the other end City fans misbehaved too as they pelted goalkeeper Russ Griffiths – formerly of this parish and eager to do well on his return – with plastic bottles. Manager Steve Watson reacted to the sending off by sending on Livesey for Anthony Dudley. Shortly afterwards Lacey was replaced by Zack Clarke to inject some youthful energy into City's attacking and granting a debut to the young forward.

Both substitutions helped to alleviate the pressure that the visitors exerted after their goal. As the half wore on and Clarke vented his unbounded energy in keeping the Bucks defenders on their toes, ten-man Chester got more of a toe-hold in the game. Glendon fashioned an opening to shoot and saw Griffiths save at full stretch. Before this Daniels had a chance to repeat his goal-scoring free kick from an identical position but this time his chipped effort found the safe hands of Louis Gray.

The excellent Roberts and Weeks combined down the right to present another shooting opportunity for the skipper but Glendon's shot was over the bar. As the game ticked into stoppage time the referee awarded Telford a penalty – seemingly for handball. Telford players punched the air; their fans cheered; only for Baker to blast on to the bar. Now it was City fans making all the noise as they urged the Blues to rub salt in Telford's wounded pride with a winner. Matty Williams came marauding forward. His shot was blocked and Clarke's effort from the rebound cannoned for a corner. A winner proved elusive but it made for a dramatic finish.

Steve Watson had adjusted the team well after the setback of the sending off and spoke later about seeking to re-balance the playing squad in the next week or so. His words were measured and his approach business-like as he continues to impress.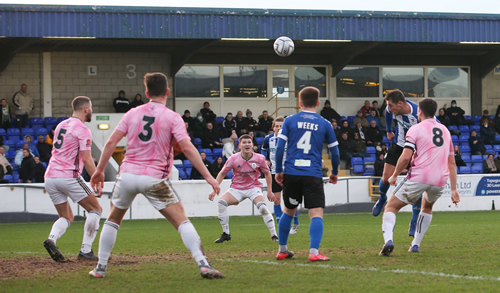 • League table after this match | Match photographs
---

LATEST NEWS

FORWARD SIGNS
Chester have signed 22-year-old winger Okera Simmonds from Worcester Raiders on a deal until the end of the season.
more »
LAST MATCH

DEFEAT AT BRADFORD
Chester miss a number of chances as they are beaten by an early goal at lowly Bradford (Park Avenue).
more »
CLUB HISTORY

Everything you need to know about the club's history, honours, records and kits. Complete list of fixtures from 1885 and much more.
more »
SUPPORTERS

EXILES BLOG
The Exiles have set up a blog to provide away match information and articles for Blues fans living away from Chester. You can read it here
Exiles » | ISA »