---
Saturday 14 April
Boreham Wood 4 Chester 2
Football Conference National
Attendance: 551 (94 Chester)Half Time: 2-0
Booked: Jones, Anderson.

Boreham Wood: G.Smith, K.Smith, Woodards, Ricketts, Stephens, Shakes, Champion, Murtagh, Andrade (Davey 86), Folivi (Sach 72), Ferrier. Subs not used: Harfield, Quigley, Doe.
Chester: Firth, Hobson, Anderson, Jones (Downes 87), Astles, Vose, Mahon, Roberts (Cunningham 78), Crawford, White (Brown 68), Akintunde. Subs not used: Archer, Gough.
Referee: Richard Hulme.

Promotion chasing Boreham Wood are just too good for the Blues who put up a battling display in their 4-2 defeat.
Rate Chester's performance
---
Tuesday 10 April
Chester 3 Bromley 2
Football Conference National
Attendance: 754 Half Time: 1-0
Booked: Roberts, Vose.

Chester: Firth, Halls, Astles, Hobson, Anderson (Gough 57), Vose, Crawford, Mahon (Brown 79), Roberts, Akintunde, White (Archer 72). Subs not used: Dawson, Cunningham.
Bromley: Gregory, Rees, Holland, Reymond, Hanlan, Dennis (Wanadio 54), Johnson, Sterling, Porter, Sutherland, Woolfenden. Subs not used: Dunne, Allen, Higgs.
Referee: Karl Evans.

Goals from Dom Vose, Jordan Archer and a brilliant solo effort from Nathan Brown in the final minute bring victory for Chester.
Rate Chester's performance
---
Saturday 7 April
Chester 0 Tranmere Rovers 2
Football Conference National
Attendance: 3,103 (1,800 Tranmere) Half Time: 0-1
Booked: Anderson, Crawford.

Chester: Firth, Halls, Astles, Hobson, Anderson, Mahon, Crawford, Roberts, Vose (Brown 80), Akintunde, White (Archer 65): Subs not used: Cunningham, Dawson, Gough.
Tranmere Rovers: Davies, Buxton, Ridehalgh, Sutton, McNulty, Tollitt (Harris 83), Cook, Norwood (Mangan 73), Jennings, Norburn (Wallace 80), Hughes. Subs not used: Taylor, Monthe.
Referee: Simon Barrow.



Chester's relegation to the Conference North was confirmed following this home defeat to Tranmere Rovers and Solihull's late win at Hartlepool United.

Defender James Jones was ruled out with an ankle injury so manager Marcus Bignot was forced to replace his with Dominic Rose while Andy Halls reverted to full-back. Tranmere, with more supporters in the ground that the Blues, had the first opportunity as James Norwood met a Connor Jennings cross to shoot against the bar from 12 yards.

Good work from Vose set up Harry White but the striker couldn't get on the end of the teasing cross.

Ben Tollitt twice tested Andy Firth in the chester goal who produced two smart blocks to deny the Tanmere winger. Ryan Astles also produced a last ditch tackle to deny Jennings who looked certain to score from ten yards out.

Ten minutes before the break Tranmere hit the woodwork again as Jeff Hughes met a corner but as the game entered stoppage time the visitors took the lead as Andy Cook met a far post corner and sent a looping header over Firth into the net.
Ten minutes into the second period White shot high over the bar with Tom Crawford unmarked and in space to his right. Moments later Tranmere doubled their lead as Norwood raced through the Blues defence, who were appealing for offside, rounded Firth to slot the ball home into the empty net and complete a miserable afternoon for Chester.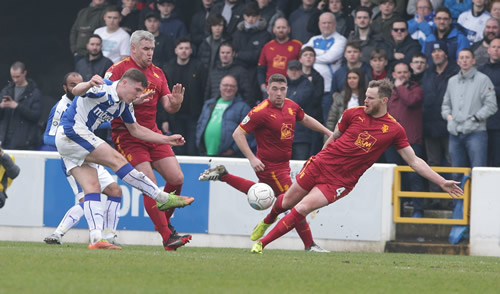 Picture © Rick Matthews (Chester Leader)
Rate Chester's performance
---
Monday 2 April
Macclesfield Town 1 Chester 0
Football Conference National
Attendance: 2,996 (262 Chester) Half Time: 0-0
Booked: Dawson.

Macclesfield Town: Jalal, Hodgkiss, Fitzpatrick, Lowe, Pilkington, Marsh (Kennedy 81), Blissett, Hancox, Evans, Whitehead (Burgess 60), Whitaker. Subs not used: Ramsbottom, Wilson, De Girolamo.
Chester: Firth, Halls, Astles, Hobson, Anderson, Jones, Mahon, Crawford, Roberts, White, Akintunde (Archer 74). Subs not used: Jaaskelainen, Cunningham, Vose, Downes.
Referee: Thomas Bramhall.



Judging by the performance of both sides at Moss Rose on this wintery Easter Monday, you'd never have believed that both sides looked destined to be playing their football two leagues apart in the 2018-19 season.
It was never going to be a game of silky football, with the pitch looking close to either a mudbath or a sandpit in various patches, and an icy wind whistling down from the snow-topped hills.
Following Chester's dismal bank holiday defeat at home against Torquay it seemed like a different side ran out in front of 262 travelling fans. In fact the only changes were Tom Crawford and Myles Anderson replacing Lucas Dawson and Lathaniel Rowe-Turner.
But players like Craig Mahon and Harry White put on a better display than they had done for most of the season and ex-Macclesfield player Andy Halls was definitely playing like he had a point to prove. The constant boo-ing he got at each touch only seemed to inspire him!
That said, Chester couldn't find the net, despite at least three good first half opportunities for White, as well as James Akintunde shooting over following a Gary Roberts' corner.
Once Macclesfield went ahead on the 53rd minute, through a Danny Whitehead strike, you did feel the floodgates might open as usual. But Chester continued to fight back and were unlucky not to equalise when a White free kick hit the Macclesfield wall and fell well for James Jones. His shot was well saved by Silkmen goalkeeper Shwan Jalal.
The drama wasn't over then as White had more chances and Chester thought they were in for a penalty when Crawford appeared to be fouled in the box. But referee Thomas Bramall ignored the appeals and Chester's chance of a rare away point slipped away.
Sue Choularton

• Latest table
Rate Chester's performance
---