---
Tuesday 16 September
Chester 2 Southport 0

Football Conference Premier
Attendance: 1,790 (143 Southport) Half Time 2-0
Booked: -.

Chester: Worsnop, Roberts, Charnock, Kay, Mahon, James, McConville, Rooney, J.Hall (Harrison 89), Heneghan, Hobson (Touray 43). Subs not used: Iwelumo, Roberts, Riley.
Southport: Porter, Collins, Connor (Hattersley 80), Fitzpatrick, McDonald, Gorman (Smith 46), George (Mitchell 79), Kay, Rutherford, Marsden, Brodie. Subs not used: Lynch, Joyce.
Referee: Wayne Barratt.
Early goals from captain Kieran Charnock and Craig Hobson bring three vital home points for Chester.


Rate Chester's performance
---
Saturday 13 September
Woking 1 Chester 0

Football Conference Premier
Attendance: 1,629 Half Time 0-0
Booked: McConville.

Woking: Warner, Cestor, McNerney, Clarke, Payne, Rendell, Sole (Goddard 76), Lewis (Newton 56), Jones, Morgan (Murtagh 76), Arthur. Subs not used: Little, Arnold.
Chester: Worsnop, G.Roberts, Heneghan, Charnock, Kay, Harrison (Morris 79), James, Rooney, McConville (Mahon 59), J.Hall, Hobson (Iwelumo 79). Subs not used: C.Roberts, Jourad.
Referee: Nicholas Kinseley.



Steve Burr's visit to Woking was not as profitable as the last time, when the newly-crowned Chester manager celebrated an away win and it looked like his team were heading for a higher-placed finish than the Cards.
It was an encouraging performance from the visitors though, that could have earned them a valuable away point if luck had gone in their favour.
A nervy start saw the unbeaten home team pushing ahead from the off, and Chester defender Gareth Roberts was in the right place to clear the ball off the line after a corner in the first five minutes.
Chester settled into the match after that, with new boy Jaden Hall making some promising runs. A Hall cross into the box saw Sean McConville head it wide in front of Woking's incongruously-sized main stand. Hall was prepared to take people on, and another cross/shot had to be cleared from the box by the Woking defence.
But it was Kingsley James who had the best chance for the Blues before the end of the first half when the ball came to him outside the area. His powerful shot from 25 yards out thundered against the inside of the crossbar, but dropped on the wrong side of the line. The linesman signalled for offside straight after that when Craig Hobson tried to connect with the rebound.
An appeal for a Chester penalty when McConville seemed to be pulled down inside the area was turned down. It was a decision that the Woking fans felt was lucky to have gone their way.
The second half saw Chester attacking towards the smaller Kingfield Road terrace. The away fans tried to generate an atmosphere in the more enclosed space – but nothing could match the noise at Kidderminster the previous month.
And just when the Blues fans were in full voice, a defensive blunder by Chester saw Woking go 1-0 up. Chester 'keeper Jon Worsnop came out of his goal as Woking pressed forward, when a good pass found Guiseppe Sole in space. He's already scored nearly 100 goals for Woking during his career, and made no mistake this time.
He was taken off when Woking manager Garry Hill made a double substitution on the 73rd minute. Burr held back from putting Chris Iwelumo on until the 79th minute, but the target man had another ineffectual performance. Chester's best chance of the second half came from a John Rooney free kick. But Woking's on-loan 'keeper, and man-of-the-match, Ross Warner held onto it.
Chester pressed as full-time approached and you couldn't fault Hobson for effort around the area. But a goal was not forthcoming and it was a disappointing return to Woking for Steve Burr, who later argued that his team had missed out on a first half penalty.
•
League table after this game
Rate Chester's performance
---
Tuesday 9 September
Chester 0 Torquay United 2

Football Conference Premier
Attendance: 1,954 Half Time 0-0
Booked: Charnock, Kay, James, Rooney.

Chester: Worsnop, Heneghan, Charnock, Kay, Roberts, James, Rooney, Harrison (Morris 67), J.Hall (Mahon 60), McConville (Riley 71), Hobson. Subs not used: C.Roberts, Iwelumo.
Torquay United: Rice, Tonge, Cruise, Downes, Young, Bowman, Ajala, Chapell, Richards, MacDonald, Ofori-Acheampong. Subs not used: Pearce, Yeoman, Wakefield, Seabright, Sullivan.
Referee: Karl Evans (Wigan).



Manager Steve Burr named an unchanged side as he looked to build on Saturday's win over Macclesfield Town but the Blues turned in a poor performance and were eventually beaten by a stronger Torquay outfit.

Jon Worsnop was called into action in the opening minutes saving well from Ryan Bowman before denying the Gulls player again moments later when he was sent through on a one-on-one with the 'keeper.

It was a frenetic start with the action switching straight to the other end where Craig Hobson was just unable to divert with a Kingsley James effort on goal.

Torquay always looked a threat going forward and Jordan Chapell saw an effort clip the crossbar with Worsnop beaten.

There was controversy on 30 minutes when referee Karl Evans gave a second yellow card and sent-off Kieran Charnock in a case of mistaken identity after Michael Kay had brought down Gulls dangerman Ryan Bowman. The decision was overturned after protests from players and officials and Kay was eventually booked when normality resumed.
Ben Heneghan shot over high and wide as Chester looked to get on top in the closing stages of the opening period but the final effort of the half saw Torquay hit the woodwork again as Duane Ofori-Acheampong's effort came back off the post.
Ofori-Acheampong forced Worsnop into a fine save after the break before the visitors took the lead on 60 minutes as Aaron Downes headed home Luke Young's corner.
Burr made three substitutions, including a debut for Callum Morris, as Chester looked for an equaliser but Torquay added a second goal to seal the three points in the 78th minute as Bowman raced onto a through ball to beat Worsnop from close range.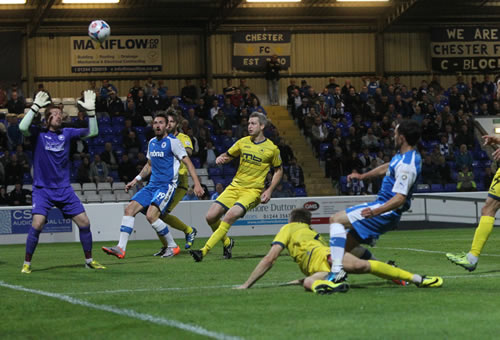 Picture © Rick Matthews (Chester Leader)

• League table after this game | More pictures
Rate Chester's performance
---
Saturday 6 September
Chester 1 Macclesfield Town 0

Football Conference Premier
Attendance: 2,612 Half Time 1-0
Booked: Kay.

Chester: Worsnop, Heneghan, Charnock, Kay, Roberts, Rooney, Harrison, James, J.Hall (Mahon 70), McConville, Hobson. Subs not used: Roberts, Riley, Morris, Iwelumo.
Macclesfield Town: Taylor, Halls, Pilkington, Waterfall, Barrow, Moke (Holroyd 43), Lewis, Turbull, Gnahoua, Fairhurst, Rouse (Haining 80). Subs not used: Cowan, Diaz, Branagan.
Referee: Richard Wigglesworth (Doncaster).



Chester finally got their home season up and running with a hard fought victory against a previously unbeaten, but rather disappointing Macclesfield side. Believe me, this was a vastly improved performance from the Barnet debacle which I witnessed. The effort and hard work was apparent and they looked organised and at last like a team. Chester are no means the finished article, but this performance gives hope going forward that the struggles of last season will be a thing of the past. Only time will tell.

The winning goal came after 14 minutes from a sublime John Rooney free kick, after Craig Hobson had been fouled off the ball. Buoyed by the early lead, the confidence flowed through the team and various half chances were not converted as there was a lack of cutting edge in the final third.

Ironically, the main chance of the first half fell to Macclesfield, but Worsnop (unfairly singled out for criticism after the Barnet game – let's face it they were all poor!) saved at the feet of Macclesfield forward Gnahoua
.
The second half began with Chester still in control. Hobson brought a great save out of Taylor from an outrageous chip and loanee Hall caused problems with his pace up front. Kingsley James was outstanding as Chester controlled midfield andKay and the returning MOTM Charnock comfortably marshalled a poor Macclesfield forward line. The only clear cut chance for Macclesfield fall late on to Holroyd, who produced a brilliant save out of Worsnop.
There was a cracking atmosphere as the game drew to a conclusion, with the vocal support second to none all afternoon. More performances like this both on and off the field and the future will be brighter.

Alan Parry-Jones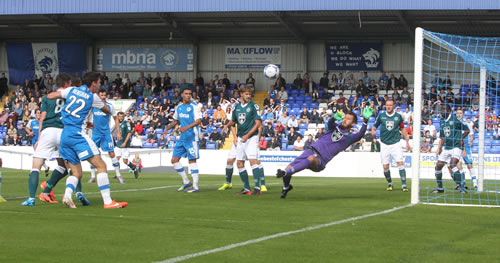 Picture © Rick Matthews (Chester Leader)
• League table after this game | More pictures
Rate Chester's performance
---