---
Tuesday 16 December
Chester 0 Barnsley 3

FA Cup Round Two Replay
Attendance: 3,534 Half Time 0-1
Booked: Kay.


Chester: Worsnop, Kay, Brown, Charnock. G.Roberts, Heneghan (Greenop 67), James, Rooney, Mahon, McConville, Hobson (Winn 89). Subs not used: C.Roberts, Touray, Harrison, Menagh, Blake.
Barnsley: Turnbull, Holgate, Crainie, Ramage, Brown, Bailey (Digby 89), Berry, Hourihane, Jennings (Boakye-Yiadom 90), Hemmings, Cole (Lita 83). Subs not used: Davies, Treacy, Abbot, Cowgill.
Referee: Keith Hill (Royston).

The FA Cup run is over as Chester are unable to repeat the heroics from the first match at Oakwell.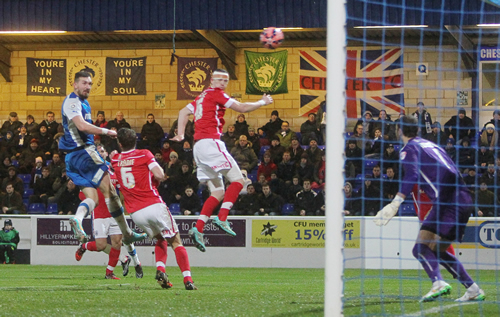 Rate Chester's performance
---
Saturday 13 December
AFC Telford United 1 Chester 1

FA Trophy Round One
Attendance: 776 Half Time 1-1
Booked: Kay, Charnock.


AFC Telford United: Hall, Higgins, Grogan, McDonald (Smith 59), Brownill, Hancock, Poku, Platt (Barnett 14), Todd, Deacey, Farrell. Subs not used: Hedge, Gray, Cooke.
Chester: Worsnop, Kay (Peers 57), Brown (Touray 65), Charnock, G.Roberts, Heneghan, James, Rooney, Mahon, McConville (Menagh 82), Oates. Subs not used: C.Roberts, Hobson.
Referee: Jason Whiteley (Leeds).

Telford and Chester will have to meet again on 22 December as their FA Trophy match ends in a draw.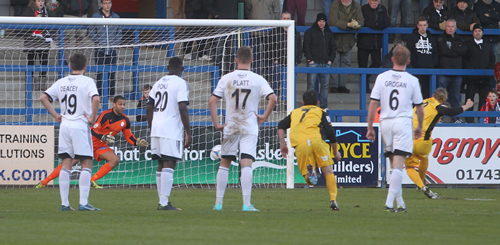 Rate Chester's performance
---
Sunday 7 December
Barnsley 0 Chester 0

FA Cup Round Two
Attendance: 7,227 (2,143 Chester) Half Time 0-0
Booked: -.


Barnsley: Turnbull, Cranie, Ramage (R.Brown 19), Nyatanga, Dudgeon, Hourihane, Berry, Abbott (Jennings 58), Trotta, Lita (Treacy 71), Hemmings. Subs: Davies, Digby, Holgate, Cowgill.
Chester: Worsnop, Kay, M.Brown, Charnock, G.Roberts, Heneghan, James, Rooney, Mahon, McConville, Hobson. Subs: C.Roberts, Touray, Harrison, Greenop, Menagh, Riley, Blake.
Referee: Darren Handley (Bolton).



This was a day to remember to all the 2,143 Chester fans who made the trip to Barnsley's Oakwell Stadium as they cheered their team onto an impressive draw and into the hat for the FA Cup Third Round.
Chester put on such a passionate performance that they were unlucky not to win the game outright as their League One opponents looked uncomfortable each time the Blues came forward and there was even a shout that a first half Craig Hobson header had crossed the line.
One of the heroes of the game emerged not long after kick off when Jon Worsnop was struck in the face by the trailing boot of Barnsley's Brad Abbott. It looked doubtful that he could carry on, but after attention from the physio and a check from the doctor he was allowed to stay on the field. It later emerged that he played for 85 minutes with a double cheekbone fracture.
He was soon called into action to make a save from Kane Hemmings, and the Blues fans heaved a sigh of relief as he dived low and held onto the ball. Attention soon turned to the other end when a Craig Mahon strike was parried onto the crossbar by Barnsley goalkeeper Ross Turnbull.
Then came the Hobson header that a couple of the Chester players pleaded had crossed the line, but referee Darren Handley said Reds' defender Joe Dudgeon had cleared it in time. Not long after that, it was Chester's turn for a good clearance when Keiron Charnock stopped a goal-bound shot from Marcello Trotta.
Half-time came with the comforting knowledge that Chester often put on a better performance in the second half and this time they had the added advantages of shooting towards a stand of raucous Chester supporters with the biting South Yorkshire wind behind them.
And so it was no surprise the Chester took the second half by the throat, with fearless Craig Mahon running at the retreating Barnsley defenders almost from the off. With less than five minutes gone, he collected a good pass, jinked into the box and had his strike saved by Turnbull.
At the other end, Worsnop was called into action to stop a Leroy Lita strike. But many of Barnsley's chances went nowhere near the goal. It was no wonder the Chester fans were justified in chanting: "Football League, you're having a laugh!".
As Chester continued to press forward, Charnock found himself with a free header in the area, but he squandered the opportunity and somehow the score remained 0-0. However, the Blue fans went momentarily wild when Sean McConville put the ball in the back of the net. But it was wishful thinking as both he and Ben Heneghan were clearly in an offside position.
Worsnop made another excellent save in the last 10 minutes and Barnsley also had another chance that went just wide. This was one of those 0-0 encounters that had as much goalmouth action as the 3-2 win at Dartford.
Mahon's eyecatching display continued as he rampaged into the Barnsley box in the game's dying minutes. His strike just dipped over the bar to deny Chester the win they deserved. By now Chester nerves were jangling, but Matty Brown stood firm in injury time to clear a ball off the line. A last minute Barnsley goal would have been cruel on Chester, and the referee blew his whistle just as the ball was cleared from danger.
Barnsley slumped off to a booing set of home fans, while the Chester team and bench were straight over to applaud the travelling army – the biggest away following at Oakwell so far this season. If Chester can replicate that performance in the reply, then they'll be into Round Three. We can only dream about what will happen next.
Sue Choularton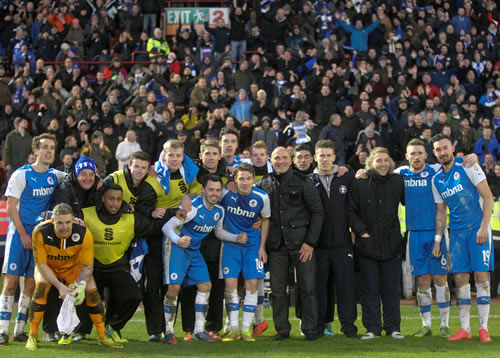 Picture © Rick Matthews (Chester Leader)

• Match highlights [BBC] | More pictures
Rate Chester's performance
---
Tuesday 2 December
Chester 2 AFC Telford United 0

Football Conference Premier
Attendance: 1,860 Half Time 0-0
Booked: Kay, Mahon.


Chester: Worsnop, Kay, Brown, Charnock, G.Roberts, James (Harrison 81), Rooney, Mahon (Touray 85), McConville (Peers 90), Hughes, Oates. Subs not used: C.Roberts, Hobson.
AFC Telford United: Hall, Higgins, Parry, Akrigg (Hancock 46), McDonald, Brownhill, Grogan (Cooke 64), Poku, Ledsham, Smith, Gray (Farrell 72). Subs not used: Hedge, Platt.
Referee: Richard Wigglesworth (Doncaster).



The Blues ground out what proved to be a comfortable victory in the end as they scored two second half goals to beat bottom of the table Telford and move themselves firmly into mid table.

The Bucks had held Grimsby to a draw at the weekend and started the game the brighter of the two sides tonight as they strove to play catch-up with the rest of the Conference. Godfrey Poku was the most influential midfielder as the visitors drove forward towards the Clock End. He it was whose effort was deflected upwards and over the bar on to the roof of the net – Worsnop was either completely deceived by the flight of the ball or the coolest customer in the stadium as he watched it drop to safety. The visitors also included Karl Ledsham in midfield, on loan from Lincoln, he had scored twice for Southport in the eventful draw at the Deva last season.

City had lost disappointingly away at Nuneaton but welcomed back Kingsley James from suspension. Gradually Chester began to see more of the ball and wrest control of the game from the Bucks. Hughes initially had little joy against the impressive Higgins at right back. But when Hughes and Mahon switched wings they began to make more headway. The Fleetwood loanee teamed up well with Kay a couple of times as the Blues began to exert pressure down the right.

McConville's claims for a penalty were waved away by referee Wigglesworth as he deemed the Chester forward to have gone down too easily. More mystifying was his denial of a spot kick when Rooney's goal bound shot clearly hit Grogan's left hand and away to safety. It was noticeable the linesman in particular gave every contentious handball that occurred to City after that. City's best and brightest moment of the half ended with Mahon shooting narrowly wide from the edge of the box through a crowd of players.

Freddy Hall, given a warm reception in the Telford goal had a lucky escape when his throw out rebounded off a defender's legs but did not fall kindly for Rhys Oates and was scrambled clear.

Telford changed things around at the break and brought on midfielder Hancock to replace former Skelmersdale and Southport centre back Akrigg. The tactic appeared to have backfired when a good move early in the second half saw McConville win a corner on the right which he proceeded to take himself. From his delivery Matty Brown rose to nod in the first goal of the evening.

Kay, rightly, and Mahon, inexplicably, were booked by referee Wigglesworth in as many minutes but City's rhythm was undisturbed. McConville and Hughes combined well but Hall pulled off a tremendous save from the winger's shot. Blues finally got the second goal they craved when Oates latched on to a through ball and his pace worried Hall into hurrying his clearance only to see it canon back off a defender and back into the net. A scruffy goal but Chester weren't complaining.

Telford rarely threatened and when Sean Cooke ballooned his free kick over the bar from a threatening position on the edge of the area we began to sense that City might hold on for the three points. After the disappointment of last weekend, this result was all important.

Now for a brief respite Chester can concentrate on the FA Cup on Sunday and dream about making progress towards the trophy that was on display – albeit temporarily – in the club shop before tonight's match. City fans took pictures of it with their phones and were told by security guards to look but "Don't touch". We wondered who will be getting their hands on it next May.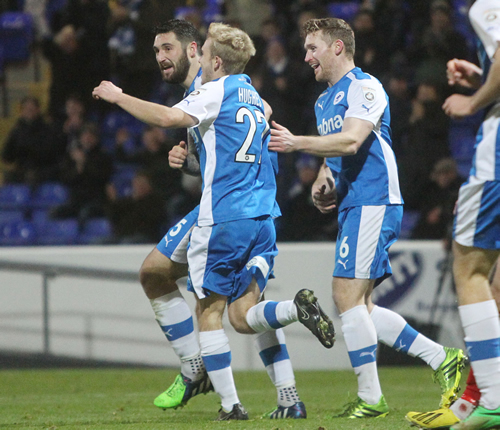 • League table after this game | More pictures
Rate Chester's performance
---