---
Saturday 10 November
Chester 1 Altrincham 2
Conference National North
Attendance: 2,388 Half Time: 0-1
Booked: Roberts.

Chester: Shenton, Moran (Noble 86), Grand, Roberts, Livesey, Howson, Pritchard (Jordan 77), Mooney, Dieseruvwe (Deane Smalley 77), Dudley, Mahon. Subs: Dom Smalley, Murray.
Altrincham: Thompson, White, Hampson, Jones, Hannigan, Moult, Johnston (Densmore 90), Harrop (Richman 72), Hulme, Hancock, Dale. Subs not used: Gabbidon, Scott, Wynne.
Referee: Matt Cortlett.

Chester miss out on the chance to go top as their 11 match unbeaten league run is brought to an end by Altrincham.
•
League table
Rate Chester's performance
---
Tuesday 6 November
Chester 3 Nuneaton Borough 2
Conference National North
Attendance: 1,462 Half Time: 2-0
Booked: Moran.

Chester: Shenton, Moran, Grand, Howson, Livesey, Mooney (Dominic Smalley 90), Roberts, Stopforth, Mahon (Murray 76), Dudley (Pritchard 46), Dieseruvwe. Subs not used: Deane Smalley, Jordan.
Nuneaton Borough: Belford, Calveley, Obeng, Wesolowski (Richards 46), Addison, Carter, Baker, Wharton (Benjamin 70), Panayiotou, Angus (McGurk 53), Kelly-Evans Subs not used: Basso, Davies.
Referee: Michael Barlow.

Chester led 3-0 at one stage but were left hanging on in the final minutes to secure three points against bottom of the table side Nuneaton Borough.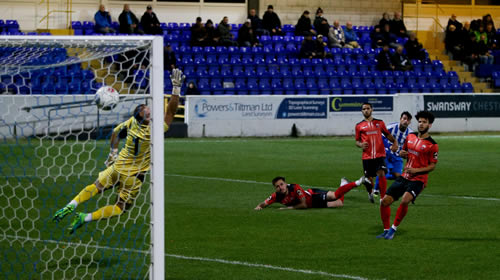 •
League table
Rate Chester's performance
---
Saturday 3 November
Brackley Town 2 Chester 2
Conference National North
Attendance: 650 Half Time: 0-0
Booked: Roberts.

Brackley Town: Lewis, Murombedzi, Franklin (Fairlamb 68), Byrne, Hall, Dean, Walker, Armson (Nti 90), Ndlovu, Lowe (Myles 90), Walker. Subs not used: Jeffers, Noon.
Chester: Shenton, Moran, Howson (Deane Smalley 83), Livesey, Grand, Stopforth, Roberts, Mahon, Mooney, Dudley (Pritchard 78), Dieseruvwe (Jordan 89). Subs not used: Murray, Dominic Smalley.
Referee: Aaron Bannister.



Two breath-taking goals from Fleetwood loanee Dan Mooney made this another trip to Brackley Town that will live long in the memory of the travelling Chester fans.
The second one was simply stunning with the ball coming across behind him before he spun and volleyed an unstoppable strike right into the top corner. His timing was perfect as it came in the 5th minute of injury time and there was barely a kick after the re-start before it was full-time.
The Chester fans, who must have made up more than a third of the crowd, went absolutely wild as his goal earned City a vital point, as well as making it ten League games undefeated.
Until then, this was not a good spectacle for a neutral, with the first half largely forgettable. Chester's only change from the previous game was the start for fellow loanee Emmanuel Dieseruvwe. He had a few good touches when he looked like he had the makings of a quality centre forward, but he never quite managed to pose a threat.
There was actually no serious likelihood of a goal until the 50th minute when Brackley opened proceedings after a Grant Shenton block was pounced on by Connonr Franklin to put the hosts ahead.
But not long after that Dieseruvwe made a neat move on the left-hand side and crossed the ball across goal. Mooney, who had largely been anonymous until then, proved that he knows where the net is with a shot into the top corner from the edge of the box.
Chester had barely settled from that equaliser when they did what seems to happen all too often. Less than a minute after Mooney's goal, they allowed Brackley to run forward and a good pass to Sean Byrne was slotted home to put the Saints back in front.
There was still half an hour to go at this stage, and Chester had several corners and free kicks without looking likely to score until Mooney's goal-of-the-season contender on the 95th minute. It was a strike more than worthy of the point that it earned.

Sue Choularton

• League table
Rate Chester's performance
---