CULTURE CLASH
It's often assumed that just because the British and Americans both speak the same language that they should be able to understand each other. But "It ain't necessarily so" as they say.
To be fair to Terry – he has been subjected to some unfair ridicule in the media mainly because of their belief that, as he is American, he cannot understand the subtleties of the English game. One national paper tried to trap him by asking how many caps Bobby Charlton had won for Scotland. A question of the "When did you stop beating your wife?" variety. Consequently any ideas he has had which don't seem to fit in with the footballing culture are seized on as evidence of his lack of understanding viz. his idea of three captains – one for defence; midfield and attack. So the press – particularly those doing a feature for a national magazine or newspaper – have been quick to emphasise the alien aspect of Terry's ownership of Chester.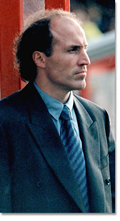 Because of what they have been through, Chester fans have been psychologically battered. We have suffered over ten years of people coming into the club with big ideas but no substance. Terry needed to tread carefully, therefore, and he hasn't always endeared himself by some of his statements or actions. To begin with it appeared that the ISA directors were working hard behind the scenes to make sure that Terry understood a bit of the background to the club and in turn they would communicate Terry's plans in ways which made sense to us. But this did not last for long. Whereas the previous chairman, Mark Guterman, had, by the last two years of his regime become so laid back he was almost invisible, Terry Smith was almost diametrically opposite – he wanted to do everything. The signs were there, early on, that Terry wanted a strong say in running the playing side of affairs. He couldn't resist signing Paul Berry, for example, from Warrington Town and then checking with Kevin Ratcliffe afterwards.
When Kevin walked out, Terry obviously wanted to try his hand at being manager. At first he threw up a smokescreen, saying that there would be a team of coaches of which he would be one – but then, in the Aston Villa programme, it was there for all to read "Manager: Terry Smith". His plan was to bring in overseas players as a cost cutting exercise. A reasonable course of action – given Chester's recent history of expenditure far outstripping income. But either the players weren't up to it, or they needed work permits which took a long time to come, some like Craig Donaldson came and went again and no one was given an explanation why. And all of the time City, through lack of experienced players, plummeted towards the bottom of the League. Even Gianluca Vialli (The first manager in the Premier League to field a side composed completely of foreign nationals) has admitted recently that for success in the English League you need players who are used to the tempo of the game here and its conditions.
When results go badly in English football the first person to feel the pressure is the manager. Terry reacted with rage when the fans began to have a go at him for not appointing a manager but if he had known something of the football culture he would have known that the best reaction would be a shrug of the shoulders. Terry did not seem to understand this and blamed the media for hounding him and – even more unfortunately – fell out with the ISA when they, through sheer frustration, passed a vote of no confidence in him as manager. The ISA were at pains to say they were happy with him as Chairman – but Terry accused them of going back on their agreement.
He was in danger of being completely isolated. It was possible to imagine the players having little respect for someone who had never played the game, had no coaching qualifications in football and seemed to place all his faith in hard work. Terry himself appears to be a workaholic, spending hour after hour at the Deva as a sign of his commitment to the cause. This in itself may appear commendable but there is a great premium to be set on the art of good management and calm objective judgement. A chairman should have a bit of distance.
After the debacle of losing at home 1-5 to the only team below them in the League, even Terry had to contemplate change. When he announced that he was looking for a manager, however, he said that it was all part of the plan anyway. He spoke of realising that the club needed someone "Within the circle" of the English game – a clear indication that he felt left out in some way. This was partly the fault of the English football culture which is extremely hostile to outsiders but also partly Terry's own doing. After matches when he was in charge, for example, he would often go down the tunnel without shaking hands with his opposite number. This was an unforgivable breach of etiquette as far as the unofficial union of managers was concerned and another example of cultural misunderstanding.
Terry's appointment of Ian Atkins was an absolute masterstroke for which just about every Chester fan applauds him. Atkins is just the type of manager you would hand pick to get you out of dire straits. Even as he was appointed, however, there were dark threats from the new Director of Football about packing his bags at the first sign of interference from the chairman. Mercifully Terry seems to have taken the hint – though he still takes his place in the dugout, he still calls himself the manager and even more bizarrely appointed himself goalkeeping coach on the basis of actually having played in goal on a couple of occasions. The only surprise has been that he hasn't – as far as I'm aware – registered himself as a player.
Terry still writes manager's notes in the programme and these have not really helped to bridge the communications gulf between him and the fans. It's clear that he is as excited as anyone by the recent campaign to avoid relegation. But he only seems to be able to relate it to his previous experience in American football which is inappropriate. He praises the players some of them individually – but talking of Neil Fisher's "hustle play" and his running from "endline to endline" show that he is still not au fait with the lingo of the English game.
Almost all will be forgiven if we manage to avoid relegation to the Conference. It should prove easier to learn from the painful experiences of the past year if we have another season at least ahead of us as a League club. The falling out if we are relegated just does not bear thinking about.
Football has changed a lot since the 1960's when chairman such as Stafford Heginbotham of Bradford City used to control every aspect of the club's affairs. Yet even he conceded a division of labour, "Each year at the Annual meeting", he said, "I like to say the same thing – directors direct, managers manage and players bloody well play". Now I would like to think there is room for supporters to have a say and help in the running of clubs like Chester too. I had hoped that 1999/2000 was going to be the beginning of a fruitful partnership between the supporters of Chester and Terry Smith. Let's hope that we can make a new start in forging that partnership - starting in the summer. Bridges need to be built and a lot of listening needs to be done for it to happen.
One of my favourite Americans, the fictional Dr Frasier Crane (played by Kelsey Grammer), starts his radio programme with the catchphrase, "I'm Listening." I suspect that City fans would love to hear Terry Smith say the same thing.