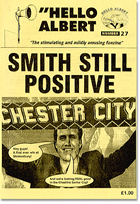 EDITORIAL
You've got to accentuate the positive
Eliminate the negative
Latch on to the affirmative
And don't mess with Mr In-between
So goes the old Bing Crosby song. Since Terry Smith arrived as Chester City's saviour in the summer there hasn't been much messing with Mr In-between. Terry arrived talking up Chester's prospects and the dawn of a new era for the club. Positive expectations were stirred in the hearts of the City faithful. Despite our recent history we are an eternally optimistic lot. We desperately want to believe in anyone who has a vision of success for our Football Club after so many false dawns and broken promises.
The euphoria that greeted the news of Terry Smith's buy-out in August has tarnished somewhat in the mean time. Terry's strategy for turning Chester round from a club which haemorrhaged money to one which broke even was bound to mean some drastic changes. And we have found them hard to take;
• We winced when admission prices were hiked up.
• We waited anxiously for City players to sign up to new contracts.
• We were stunned when Kevin Ratcliffe walked out.
• We flinched when City's wafer thin and inexperienced squad were beaten at home by journeymen Third Division sides.
• We grew frustrated at City's inability to get off the bottom of the League.
• We grew more cynical as the signing of players from abroad fell through.
But if we learned anything from last season's campaign to save the club, we should have learned to act positively together. The tactics needed in the campaign to oust Guterman and then to shame the local public and media into supporting one of their most valuable assets worked extremely well. But now that we are part of the establishment – with three ISA members on the board – our strategy will need to be different. When there is a common objective it is easy to unite everyone to the cause – just look at Whyteleafe's rallying of players and management to build a new stand for their game against us recently. When Mark Guterman was public enemy number one, as far as we were concerned, it was easy.
Keeping the club going through administration was really hard work. It was a superb effort but it took a toll on the personal lives of ISA members – especially those on the committee. Nor could we have expected the sympathy of other supporters – magnificent though it was last season – for yet another campaign. So it was a great relief when Terry Smith stepped in to buy the club out of administration. Not only that he offered the ISA places on the board. This was an unbelievably good offer. Even more important – there was no alternative. No other buyer or consortium came in with an offer even though we know there were more rumours, counter rumours and mystery buyers talked about than we could shake a stick at.
Now it is less clear what the role of the supporters should be. We want to get behind the team and the management but are anxious about the team's fortunes on the pitch first and foremost. Not surprisingly there are divided opinions between City supporters – opinions which are genuinely and passionately held on different sides. We shouldn't be afraid of this – although there has been too much of a personal element in some of the criticism. We have got ISA meetings, some Fans Forums promised and most important of all three members of the ISA on the board. We are better placed than ever before to make sure our voices as supporters are heard. We have to make the most of these relatively new opportunities – we had to struggle hard enough to achieve them.
Personal abuse either of players or the chairman is uncalled for and will only produce negative results. Understandably frustrating though the situation is at the moment, tempting though it is to howl at the latest player to miss a tackle or yell at Terry Smith when results go against us. All this will achieve is to give the players even less confidence and Mr Smith to wonder whether it's worth the hassle.
Chester needs proactive supporters who can be constructively critical. Let's not go back to the old days when all we could and did do was moan. If we disagree with what's happening let's do so reasonably and rationally. The other side of the bargain is that Terry Smith and the ISA board members must listen to us and respond to us. So that if, for instance, most of the fans feel we need an experienced manager to get us out of trouble – then we ought to be able to put this opinion through the ISA board members. And we should expect an answer. We may not like it. It may be we cannot afford the wages of a decent manager. If that is in fact the case and there are figures to prove it – at least we will know where we stand. It may be that we have to settle for the fact that survival of the club is a higher priority than hanging on to our League status.
We need the two-way flow of communication and, through the ISA we must keepthe club to their assurance of openness and accountability that was promised in the open letter to supporters at the beginning of the season. But let's do it calmly and avoiding personal insult or we will be in danger of wrecking what ever future Chester City FC might have.