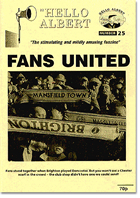 EDITORIAL
What a frustrating and disappointing season this has been. Promotion should have been there for the taking – there was even talk of the championship in early January. A couple of additions to the squad at that point could have made the vital difference. A great opportunity has been missed and the club has stood still, if not gone back a couple of steps, on the field of play.
It all seemed to go wrong in November when the Swansea fixture was hastily re-arranged. At first it seemed to be the Welsh club that was in difficulties. The Vetch Field, scene of our wretched end to last season, was unfit to host a crowd. But when the fixture was switched to the Deva at two days notice (What ever happened to the police's need for ten days warning?), it was suggested that it was because Chester needed the cash through the turnstiles so desperately. Although at the Fans' Forum Mr Guterman insisted that it was the League that had urged that the game be played as soon as possible, there was nevertheless a cash flow problem.
And there have clearly been problems since then. The club has been served with two winding-up orders by the IR (International Rescue – not!) for unpaid tax bills. creditors including the club's kit manufacturers and the publishers of Chas Sumner's excellent history of the blues have been queuing up. The club shop has been so depleted of stock that not even a scarf or a mug could be purchased to send as a small token of solidarity with the Fans United Day in February. More recently it emerged that the players and other staff had not been paid, and that the PFA have been called in to help out. More alarming still was the news that City have had a transfer embargo slapped on them by the League since the autumn – we were just assuming that the club was short of money.
We all breathed a sigh of relief on transfer deadline day when Julian Alsford was sold to Dundee United, to be followed closely by club captain, Iain Jenkins. Then when the promising Matt McKay departed to Everton for a fee set to rise from £250,000 to a possible £750,000, Chester's future seemed secure. A few days later Mr Guterman was announcing that a rescue package was in place and he could now put money of his own into the equation in the knowledge that it wouldn't be disappearing into a black hole.
Chester fans remain to be convinced that the sale of these players will provide financial stability or is merely a stay of execution. Some more details about the rescue package, including a proper set of accounts would be welcome.