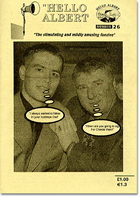 EDITORIAL
So much has happened in recent months that the HA editor has been suffering from information overload. Out of the club's financial crisis have emerged one or two consolations, namely...
The Independent Supporters Association – not yet a year old has proved a rallying point for City fans. Even the Administrator has hinted that the club might not have survived without the efforts of the supporters.
The players have been brilliant. Keeping Chester playing good football and very much a going concern on the pitch. Their loyalty in trying times has been different class.
Kevin Ratcliffe must take the credit for holding it all together on the pitch. He even had time to win a manager of the month award for December. His gesture of inviting a couple of ISA representatives to share his award was spot on.
Clearly Chester are still in trouble and the deafening silence as far as news of a buyer is concerned is worrying. But at least we have cause to be proud of supporting our LOCAL club and if we and the players continue to stick together – "We will survive".