Duff Signings Of The Past No.7 – Eammon O'Keefe
A more recent signing of the past to enter the 'DUFF' files was the athletic figure of Eammon O'Keefe, a barrel of a man who could have walked into any nursery rhyme as Hulmpty Dumpty.

Eammon (left) was signed in March 1988 having been the player manager of Cork City, his main claim to fame though was that he had played for Everton in the old first division and was therefore another 'has been' signing who usually bring excitement to the club purely on their past glories.

He made his debut for Chester as a substitute away at Blackpool and scored the equaliser in a 1-1 draw, the ball deflecting in off his gut. He made a total of 12 appearances and 5 as sub, scoring four times, one of which was with a pastry girl from Fray Bentos in the Rendezvous night club.

Having hung up his boots due to his immense pie consumption he became commercial manager for the club but this was not a great success and he parted company. His ambition had been to get into management after his playing days but I'm not sure if he has achieved this.

His professional career began at Plymouth in 1974 but he moved onto Everton before playing a game. He later helped Wigan win promotion and also played for Blackpool and Port Vale and won one cap for Eire. He was last seen rolling down Sealand Road with a suitcase, any sightings to the editor please.
---
Fanzine Football
Fans matches have been arranged against Wigan and Mansfield since the last Albert. Unfortunately a heavy fall of overnight snow led to our game against Wigan being cancelled on the Saturday morning. As the Wigan lads had already set off I met them and took them on single handedly at darts for a couple of hours. To add insult to injury Chester's match was called off pretty late in the day too

We entertained Mansfield prior to Chester's last game of the season and the visitors went home the winners by the odd goal in seven. But not before they'd changed into their fancy dress outfits, manager Steve Hartshorn looked remarkably comfortable in his Little Hitler outfit, whilst the already horizontally challenged Stag who put on extra padding to become a Mega Sumo had to be admitted to the Deva through the emergency doors as he couldn't manoeuvre his bulk through the turnstile.

We gave the trophy we'd won at Mansfield back to them in the hope that we'd win it back later in the summer.

Unfortunately this was not to be. This year the tournament was won by Preston who arrived at Mansfield in minibuses provided by the club and manager Gary Peters actually played for them. our lads struck up an understanding with the runners-up, Everton, and this led to a friendly fixture early this season on the morning of Chester's game with Cambridge, which resulted in a 4-4 draw.

Earlier this summer we also entered the Euro Wirral tournament at Tranmere. Once again we didn't progress beyond the group stage but managed to notch up a few points before going out. Poor old Ned Stewart ended up in Arrowe Park hospital after this one.Valiantly saving a dodgy penalty against Blackpool, his hand was injured in the attempt and they scored from the rebound. But I'm pleased to say he's made a full recovery much sooner than expected.

Thanks are due to Mark Andrews and Paul Howells for organising the team and to Chester City FC and Bill Wingrove in particular for lending us a full set of kit for both tournaments.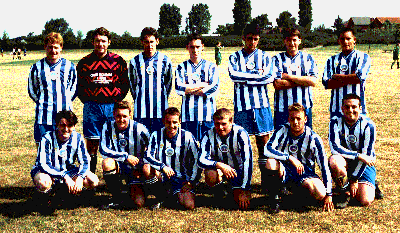 Albert