---
Tuesday 30 October
Vauxhall Motors 0 Chester 3

Conference North
Attendance: 1,752 Half Time 0-1
Booked: Denson, Jarman.
Vauxhall Motors: Jones, Roberts-Nurse, Hannigan, Nicholas, Dames, Burns, Noone (Moss 59), Egerton (Clair 59), Mahon, Thompson, Rutter. Subs not used: Winslade, Kocis, Ellison.
Chester: Danby, Denson (Baynes 64), Collins, Linwood, Clancy, Sarcevic, Brown, A.Williams, D.Williams, Gray (Hankin 64), Jarman. Subs not used: Howard, Mackin, Taylor.
Referee: Peter Wright (Southport).



Chester moved back to the top of the Conference North following this 3-0 derby win at Vauxhall Motors. Manager Neil Young made four changes from the side that that fought out an unconvincing victory over Histon on Saturday. There was a debut for Danny Williams, a first league start for Tony Gray, and recalls for Luke Denson and Ashley Williams. Making way were Marc Williams, who picked up an injury on Saturday, Wes Baynes, Dave Hankin and Iain Howard.
This was the first competitive match between the two sides and Chester were backed by over 1,200 fans in a packed Rivacre Park ground.
It was the home side who had the better start and forced John Danby into a save after just 20 seconds palming away a Craig Mahon shot after the Motors player had picked up on a poor Sean Clancy clearance.
Chester were gifted the lead through an own goal on ten minutes as an inswinging right-wing cross from Gray was deflected past Zac Jones in the home goal by Conor Roberts-Nurse.
David Thompson almost added a second own goal from a Clancy corner before Thompson turned provider at the other end to set up Tom Rutter whose shot was well saved by Danby.
Antoni Sarcevic tried another of his trademark 25-yardere but saw his effort fly well wide of Jones' post as the rain lashed down making conditions difficult.
The home side were reduced to ten men on 27 minutes as Roberts-Nurse was shown a straight red card following a tackle on Clancy that seemed a bit harsh to many observers.
Danny Williams almost doubled Chester's lead on the stroke of half-time but saw his long-range effort tipped over the bar by Jones.
Chester continued to create a threat after the break. A fine Sarcevic through ball set up Gray with an opportunity but the striker's shot was well blocked by Andy Nicholas before Paul Linwood saw a goalbound shot headed clear from the line by Rutter.
The Blues eventually got the all-important second goal on 65 minutes as substitute Dave Hankin's back post cross was met on the volley by Danny Williams to crash the ball home.
Five minutes later the game was made safe with another well taken goal as Danny Williams' left-wing cross set up Clancy who capped a fine performance with a superb volley into the roof of the net for his first goal in a Chester shirt.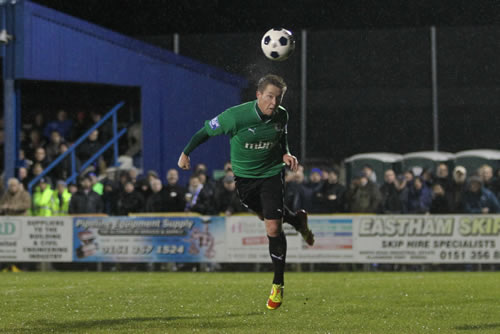 Picture © Rick Matthews (Chester Leader)

• League table after this match | More pictures
Rate Chester's performance
---
Saturday 27 October
Chester 2 Histon 1

Conference North
Attendance: 2,410 Half Time 1-0
Booked: -.
Chester: Danby, Baynes, Linwood, Collins, Clancy, Hankin (Gray 69), Brown (Mackin 75), Sarcevic, Howard (A.Williams 59), Jarman, M.Williams. Subs not used: Denson, Taylor.
Histon: Mellings, Roberts, Clerifa, Fitzsimmons, Coker, Sear, Stevenson, Dowie, Mills, Ola (Ahmed 71), Hoban. Subs not used: Hawkins, Thomson.
Referee: Sarah Garratt (Halesowen).



Chester moved back to the top of the league following this victory over Histon but the Blues made heavy work of the three points turing in a performance well below the high standards they have set themselves in recent weeks.
The match marked the third Think Pink Day held by the club as they helped raise money for the Countess of Chester Hospital's breast care unit, the team wore a specially commissioned pink and blue striped kit for the occasion that was auctioned off after the game.

Visitors Histon were delayed by traffic up from Cambridgeshire and didn't arrive at the ground until 15:00hrs, the match eventually kicked-off 35 later.

The Blues took the lead in the ninth minute, Nathan Jarman saw his goalbound shot handled by Danny Fitzsimmons in the area. Referee Sarah Garratt awarded the penalty and Jarman stepped up to send Joe Mellings the wrong way to register his sixth goal of the season and the club's first from the spot.
Chester however failed to capitalise on their encouraging start and rarely troubled Mellings again in a forgetful first half though Wes Baynes saw the Stutes 'keeper save his long range effort at the second attempt, and Marc Williams saw an effort blocked by the Histon defence.

Jarman's long range effort flashed just wide of goal and Dave Hankin should have done better with a header from Sean Clancy's left wing cross, but the midfielder missed the target as Chester failed to make what little chances they had count.
The Blues failure to step up the pressure was punished six minutes after the break when Histon equalised. Jim Stevenson's free-kick to the back post was headed across to captain Remy Clerifa whose first effort was well saved by John Danby, however the ball dropped back at the feet of Clerifa who made no mistake with his second effort.
Manager Neil Young rang the changes bringing on Ashley Williams and Tony Gray for Iain Howard and Hankin and this seemed to liven the Blues up. Paul Linwood forced a smart save from Mellings as he met Clancy's deep corner moments later.
Jarman saw a fine header tipped onto the bar by Mellings before Chester finally forced the winner with nine minutes remaining. Marc Williams fed a through ball to Gray down the right, the striker cut through the defence to pull the ball back for the onrushing Antoni Sarcevic to place his shot past Mellings and the final defender from six yards out.
Substitute Levi Mackin saw a powerful shot go just wide before Danby produced a fine save five minutes from time to deny Stevenson an equaliser. Both Gray and Sarcevic were denied by Mellings in the closing minutes as Chester held on for victory.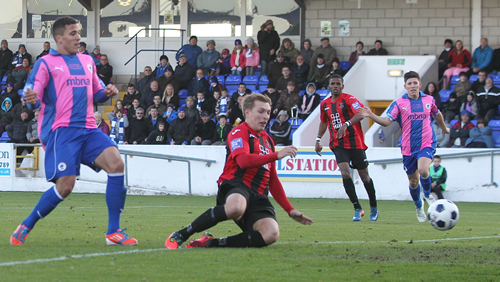 Picture © Rick Matthews (Chester Leader)

• League table after this match | More pictures
Rate Chester's performance
---
Wednesday 17 October
Chester 1 Bradford Park Avenue 1

Conference North
Attendance: 2,031 Half Time 0-1
Booked: Collins, Jarman, M.Williams.
Chester: Danby, Denson (Baynes 75), Collins, Horan (Linwood 50), Clancy, Hankin, Brown, Sarcevic, Howard (Gray 62), Jarman, M.Williams. subs not used: Mackin, McGinn.
Bradford Park Avenue: Deasy, Duckworth, Radcliffe, O'Brien, Knowles, Hotte, Greaves, Needham, Holland (Marshall 46), James (Drury 78), Davidson (Walker 46). subs not used: Deacey, Higginson.
Referee: Ryan Johnson (Swinton).



A goal two minutes from time by Marc Williams brought the point that ensured that Chester moved to the top of the table on goal difference, but the Blues were left frustrated that they couldn't turn their domination into a victory.
Manager Neil Young named an unchanged starting X1 following Saturday's win at Bishop's Stortford through both Wes Baynes and Matty McGnnn returned from injury to take a place on the bench. Bradford rested three players with an eye on their FA Cup match at the weekend.
Chester found themselves a goal down after just three minutes as Avenue broke down the left, the ball was played by Alex Davidson inside to Danny Holland who broke away from two defenders to curl a shot round John Danby inside the right hand post.
Chester replied through Williams who saw a long range effort fly wide and clever play by Antoni Sarcevic flicking the ball over an advancing defender, set up the midfielder though he shot straight at Tim Deasy in the Avenue goal form 18 yards.
The visitors had has the better of the opening stages but the Blues were now starting to dominate. Dave Hankin saw a long range effort fly over the bar before Nathan Jarman won the ball and broke clear, his through ball to Williams was met by the striker who steered his shot wide of goal when an equaliser looked certain.
Williams found himself unmarked inside the area but saw another close range effort blocked by the legs of Deasy. An inswinging Sarcevic free-kick was met by George Horan but his flick on just clipped the bar. Jarman was next to be denied by Deasy as he met another Sarcevic through ball but forced the 'keeper into another save.
Good play by Williams and Sarcevic set up Iain Howard but the midfielder saw his shot deflected over the bar and Deasy produced another fine save to deny the in-form Sarcevic who had intercepted a deflected shot from Howard.
Chester carried on where they left off after the break. Iain Howard saw a 20-yarder fly just wide before Paul Linwood came on for the injured Horan. Williams was booked for a dive in the penalty area as Chester continued to press. Jarman saw a free-kick claimed by Deasy and the 'keeper then denied Linwood by saving the defender's header.
At the other end Chester were almost made to pay for their misses as Liam Needham crossed to Tom Greaves who fell as he steered his close range effort wide of both Danby and the goal. Dom Collins made a last ditch tackle to deny Rob O'Brien a chance at goal.
With five minutes remaining Williams saw an effort fly into the side netting and Martin Drury bravely threw himself into the line of a Hankin shot that was deflected wide after Deasy's weak punch had found the Blues midfielder twelve yards out.
Chester's persistence was finally rewarded as Williams stooped to head home Sean Clancy's right wing corner to the great relief of the home fans behind the goal.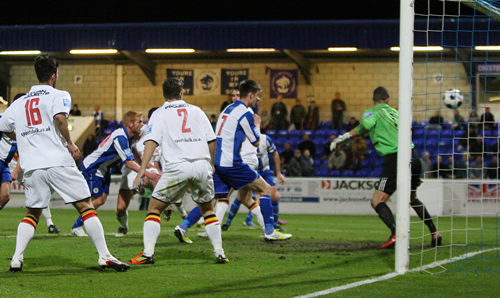 Picture © Rick Matthews (Chester Leader)
• League table after this match | Match highlights | More pictures
Rate Chester's performance
---
Saturday 13 October
Bishop's Stortford 1 Chester 2

Conference North
Attendance: 812 Half Time 0-0
Booked: Sarcevic, Horan.
Bishop's Stortford: Wootton, Waller-Lassen, Anderson, Sinclair-Furlonge, Herd, Abdullahi (Ladapo 83), Prestedge, Johnson, Spence (Livings 68), Sappleton, Cawley (Webb 83). Subs not used: Duncan, Lette Jallow.
Chester: Danby, Denson, Collins, Horan, Clancy, Hankin, Brown (Gray 71), Sarcevic, Howard (A.Williams 71), M.Williams (Mackin 85), Jarman. Subs not used: Fearon, Linwood.
Referee: Carl Fitch (Ipswich).



Chester moved within touching distance of their current Blue Square North rivals, Brackley Town, with a 2-1 away win at Bishop's Stortford after two great goals from Nathan Jarman and Antoni Sarcevic.

There wasn't much to remember from the first half - apart from the friendliness of Chester's Hertfordshire hosts and two close shaves from Iain Howard. The first hit the side-netting, fooling some of the away following. The second looked an easier chance, but the midfielder failed to find the target.

Manager Neil Young gave a debut appearance to new signing Luke Denson, who came in for Michael Powell. Otherwise the team were unchanged from the midweek Halifax encounter.

Iain Howard had another chance early on in the second half when he shot for goal with a volley, following a Dave Hankin pass. However, his attempt missed the target again.

Chester were beginning to dominate the match when the ever-threatening Marc Williams had a near miss with a good header. The Blues' fans, who were all but surrounding the tidy Woodside Park ground, were getting livelier as the team upped the ante as well.

And their encouragement paid off on the 75th minute when Nathan Jarman struck a fabulous half volley from more than 25 yards out. His shot nearly ripped the net, and it was impossible for the Bishop's Stortford goalkeeper, David Wootton, to do anything about it.

Chester perhaps rested on their laurels for a short spell, and the home team quickly capitalised. Stortford defender Johnny Herd, turned on a challenge to score an equally well-struck goal and it was back to level-pegging.

But the match was far from over and we were rewarded with another quality finish. And yes, it was another half volley as well. At this level of football, that's got to be a great sign. This time it was from Sarcevic and it was at even longer range than Jarman's impressive strike. Once again, the goalkeeper had no chance.

Tony Grey and Ashley Williams had come on as substitutes by then, replacing Howard and Scott Brown. Young's final sub-of-the-day was Levi Mackin, who replaced Marc Williams on the 85th minute. He almost had a chance to make it 3-1, but his shot was saved by Wootton.

The Blues managed to hold out until full-time to earn the three points. And as the away fans drifted away, they picked up on results elsewhere which had gone their way. For Chester supporters this really was a 'Non-League Day' to remember.

Sue Choularton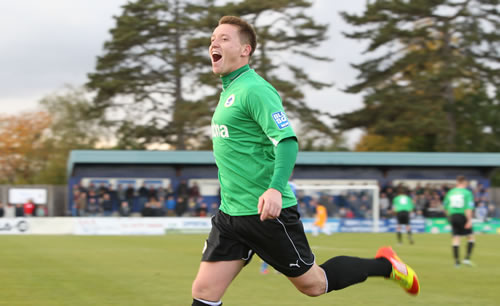 Picture © Rick Matthews (Chester Leader)
• League table after this match | More pictures
Rate Chester's performance
---
Tuesday 9 October
FC Halifax Town 3 Chester 1

FA Cup Third Qualifying Round Replay
Attendance: 1,514 Half Time 2-0
Booked: Danby, Collins, Horan. Sent-off: Powell.
FC Halifax Town: Glennon, Toulson, St Juste (McManus 46), Hogan, Jarrett, Lowe, Worsley, Marshall (Hackney 57), Johnson (Seddon 72), Gregory, Worthington. Subs not used: Senior, Bolland, Qualter.
Chester: Danby, Powell, Horan (Mackin 83), Collins, Howard (A.Williams 80), Hankin, Brown, Sarcevic, Clancy, Jarman (Gray 78), M.Williams. Subs not used: Fearon, Booth, Ormrod.
Referee: Martin Coy (County Durham).



Chester crashed out of the FA Cup and saw Michael Powell needlessly red carded in the process as Halifax ran out 3-1 winners in this fourth qualifying round replay at The Shay. Manager Neil Young was forced to make changes to his defence with both full-back's Matty McGinn and Wes Baynes not recovering from injuries that saw them substituted in Saturday's match between the sides. Sean Clancy and Dave Hankin were recalled to fill their roles.
The home side took just five minutes to open the scoring, a long throw found its way through the Blues defence to Jason St. Juste whose squared cross was converted by Jon Worthington. John Danby found himself in the referee's notebook after rushing out to meet Lee Gregory and fouling the Town striker outside the area. Danby made amends moments later saving Liam Hogan's close range effort with his feet.
Chester began to find their way back into the match but were dealt a blow in the 30th minute with Powell seeing red following an off-the-ball incident spotted by the referee's assistant.
Going down to ten men seemed to galvanise Chester and they had the ball in the net five minutes later only for Nathan Jarman's effort to be ruled out for offside after he'd pounced on Antoni Sarcevic's through ball and lobbed ex-Chester 'keeper Matt Glennon.
Jarman saw another effort smothered moments after the restart with Glennon saving at the second attempt the striker's effort. The home side doubled their lead on 52 minutes however with a simply taken effort. A long ball over the top from Danny Lowe found Dale Johnson, his pass was met by Gregory who dummied the ball in front of Danby to score into the empty net.
Sarcevic forced Glennon to parry a long-range effort before Marc Williams gave Chester hope when he pulled a goal back jest before the hour mark as he converted a knock down by Ian Howard following Hankin's cross to score just inside the right hand post.
Chester's joy was short-lived through as Town added a third five minutes later as Worsley was allowed time to run onto a through ball and beat Danby at the near post and put the tie beyond the Blues and book a place at Lincoln City in the next round.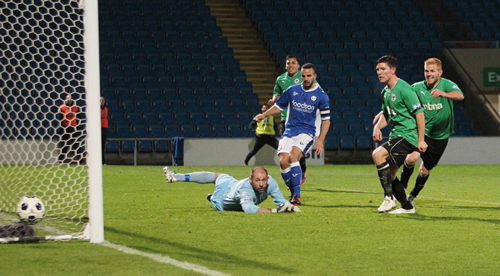 Picture © Rick Matthews (Chester Leader)

• More pictures
Rate Chester's performance
---
Saturday 6 October
Chester 1 FC Halifax Town 1

FA Cup Third Qualifying Round
Attendance: 2,613 Half Time 0-0
Booked: Brown. Sent-off: Horan.
Chester: Danby, Baynes (Hankin 30), Collins, Horan, McGinn (Mackin 10), Brown, A.Williams, Sarcevic, M.Williams, Jarman, Gray (Clancy 55). Subs not used: Howard, Fearon, Powell, Booth.
FC Halifax Town: Glennon, Toulson, St Juste, Hogan, Jarrett (McManus 46), Lowe, Worsley (Hackney73), Marshall, Johnson, Gregory, Worthington (Seddon 66). Subs not used: Senior, Qualtar.
Referee: Anthony Tankard (Sheffield).



Chester, as a club, were caught off guard, as a small group of visiting fans launched a kamikaze mission on the Harry Mac terrace after only two minutes of the game. They took advantage of the absence of police and ran on the pitch to taunt the home end. stewards had no choice but to shepherd them back into the West stand until police re-inforcements arrived. The entry of several police officers in the opposite corner of the ground co-incided with another incident when two or three "away" supporters were ousted as H block administered rough justice and the miscreants escaped on to the pitch.

This second incident occurred after twenty minutes. On neither occasion did the referee see fit to stop the match. But the first invasion heightened the crowd unrest and seemed to transmit its chaos on to the pitch as wild tackles began to fly. Brown was booked as he threw his tackle into the mix.

As with the league match earlier Halifax took the game to City and pressed them back. A couple of chances were scuffed before City had to re-arrange their back line. First McGinn and then Baynes limped off to be replaced by Mackin and Hankin respectively. This had a detrimental effect on Chester's shape and rhythm but ironically gave them a little more width when Hankin got the chance to go forward. They posed little threat to the visitors goal however apart from a good shot by Jarman which Glennon dealt with at full stretch.

In such a physical encounter it was perhaps no surprise that a couple of red cards ensued. But when they did arrive for Horan and Johnson it was not because they were trading blows but for being locked in a synchronised grapple like two rutting stags trying to impose their authority over each other.

After their departure the game became much more open. Chester re-arranged again with Mackin going to centre half – a position in which he looked more comfortable – and Clancy came on to go to left back after debutant Tony Gray was withdrawn.

Out of the blue Antoni Sarcevic let fly a stunning shot from thirty yards which dipped and curled into the top right corner, giving Glennon no chance. It was a goal worthy to win any match but there was still a long way to go and the visitors equalised when City couldn't clear their lines following a free kick on the left and substitute Hackney belted a shot in off the bar from the edge of the area.

City might have edged a second goal – Jarman's curler was tipped around the post by Glennon and the Halifax keeper came perilously close to carrying the ball over his line a few minutes later. Brown looked to have scored a sensational winner but the net rippled from the wrong side as it rebounded off the stanchion. At the other end Danby did well to get down to rescue the ball from Gregory's feet.

You wouldn't find many City fans arguing that a draw was not a fair result but supporters of both clubs were left shaking their heads at the idiocy of the few who had travelled to the game intent on causing trouble.

Colin Mansley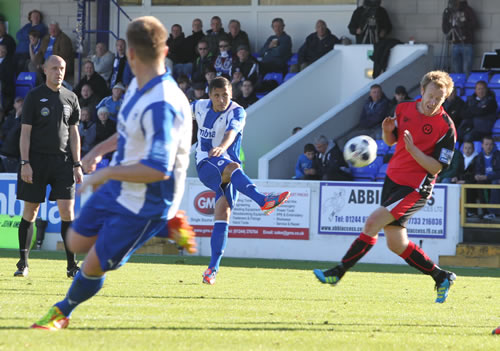 Picture © Rick Matthews (Chester Leader)

• More pictures
Rate Chester's performance
---
Tuesday 2 October
Chester 2 Gainsborough Trinity 1
(After Extra-Time)
FA Cup Second Qualifying Round Replay
Attendance: 1,492 Half Time 0-0
Booked: Baynes.
Chester: Danby, Baynes, McGinn, Horan, Linwood (Collins 38), Brown, Hankin, Sarcevic (Mackin 82), Jarman, M.Williams, Howard. Subs not used: Fearon, Powell, Clancy, A.Williams.

Gainsborough Trinity: Budtz, Roma, Wilde (Nelthorpe 62), Waterfall, Hone, Leary (Banks 109), D'Laryea, Clarke (Yates 72), Young, Knowles, Hawkridge. Subs not used: Williams, Ridley, Kackach.
Referee: Simeon Lucas (Darwen).

City made heavy weather of progressing to the next round of the Cup as dark clouds gathered around the Exacta. Once again Gainsborough proved difficult opponents and – like a wasp at a picnic – were a constant nuisance and looked like they would not buzz off.

As the game drifted into stoppage time Chester clung to a slender lead acquired when Collins' effort at the far post was deflected into the net by a Gainsborough defender. Baynes' free kick had thumped the crossbar so hard that it threatened to uproot the posts but City could not add to their tally and put the game to bed. spectators began to make their way home.

A steward shouted "see you Saturday!" to one who was leaving. Tempting fate we thought. Sure enough Trinity's annoying persistence paid off when substitute Yates struck the ball into the net following a corner.

It looked like Chester would never score again, so successfully did Gainsborough smother their attacking play. But then just over half way through extra time, Marc Williams wriggled free and pulled the ball back for Mackin to shoot precisely from the edge of the box and just inside Budtz's left hand post. It was enough.

so we were spared the trauma of penalties and City would indeed be at home on Saturday to face another stiff challenge in the next round from FC Halifax. It had been a tough encounter and a gruelling one, not pretty but ugly. Williams'' moment of quality made the difference and earned the Blues an important victory.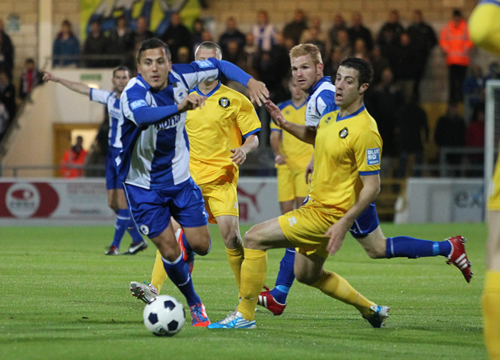 •
More pictures
Rate Chester's performance
---