---
Saturday 30 March
Colwyn Bay 1 Chester 5

Conference North
Attendance: 1,463 (1,093 Chester) Half Time 0-1
Booked: L.Turner, M.Williams.

Colwyn Bay: Sanna, Taylor, Meadowcroft, Smyth, Lea, Evans (Davey 64), McKenna, Joyce, McLachlan (Crowther 46), Ellison (Payne 74), Hopley. Subs not used: Lampkin, Roberts.
Chester: Danby, L.Turner, Horan, Linwood, D.Williams, Hankin, N.Turner, Sarcevic, McGinn (Howard 74), Gray (M.Williams 72), Jarman. Subs not used: A.Williams, Collins, Brown.
Referee: Simon Bennett (Stoke).



Chester fans queued patently along a muddy track to gain access to the Red Lion Foods Stadium. They did so under the gaze of hordes of special constables and security guards but there was never a hint of the crowd trouble that had marred Chester FC's first ever fixture as a reformed club almost three years ago. It was never likely to be repeated, being the stupidity of just a few over-inebriated hotheads, but the authorities were taking no chances.

Once inside the stadium City supporters were confronted with a stonking queue for the burger bar and a view of the popular side now covered and seated with a new stand – much changed from our last visit. Manager Neil Young was also returning to the club he continues to hold great affection for – having led them to promotion prior to joining Chester.

But there was no room for sentiment as Chester began battle with the Seagulls for much needed points. The home side had no less than five former Chester players in their ranks – all with points to prove no doubt but, even more, desperate to avoid the drop. Chester applied the majority of the pressure in the opening stages, almost scoring in the first minute. But clear-cut chances were rare. Jarman struck low and true from the edge of the box and Sanna almost let it squirm underneath his body before recovering to save the day. At the other end Ellison nipped in front of Danby to cause flutters in the visitors' defence.

It was Tony Gray who made the vital breakthrough, springing the offside trap and racing through the inside left channel. His first effort was parried by Sanna but only back to Gray who finished to the delight of the travelling supporters.

After the break Bay pressed City back and forced a number of corners. There was unease while the lead was still slender. The tension was relieved a great deal when Matty McGinn curled a superbly taken free kick from a long way out into the top corner of Sanna's net. Soon afterwards City capitalised further when Gray picked himself up from a tough challenge to turn and pick his spot for his second goal and then completed a hat-trick with the faintest of flick-ons from Lewis Turner's driven shot.

Neil Young's composure was rattled first by referee Bennett's decision to award Bay a penalty,which ex-Chorley forward Payne despatched with a shimmy, then a very harsh booking for substitute Marc Williams. But all this was set aside when Antoni Sarcevic put a gloss finish on to proceedings by racing down the left flank from one end of the pitch to another to score a stunning goal.

Blues supporters made their way home contentedly in the chilly sunshine to enjoy the rest of the Easter weekend and anticipating another local derby with Altrincham on All Fools' Day.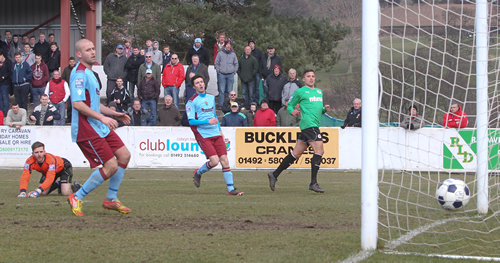 •
League table after this match
| More pictures
Rate Chester's performance
---
Saturday 16 March
Chester 2 Gloucester City 0

Conference North
Attendance: 2,626 Half Time 2-0
Booked: McGinn.

Chester: Danby, L.Turner, McGinn, Horan, Linwood, N.Turner, Hankin (A.Williams 77), Sarcevic, Jarman (Trundle 71), Gray, D.Williams. Subs not used: M.Williams, Trundle, Collins, Brown.
Gloucester City: Green, Green, Andrew, Coupe, Hamblin (Rawlings 52), Webb, Hogg, Harris (Mullings 73), Edwards; Liddiard, Mann (Morford 64). Subs not used: Mustoe, Holland.

Referee: Andy Hendley (Halesowen).

Chester extended their unbeaten league run to 26 matches following this victory over Gloucester City. Manager Neil Young made two changes from the side that defeated Harrogate Town in their last league outing. Lewis Turner, making his full debut, and Dave Hankin came in for Dom Collins and Brendon Daniels.

In-form striker Tony Gray gave the hosts a perfect start as he opened the scoring in the eighth minute, with his third goal in four games. He met a Matty McGinn cross to head past 'keeper Mike Green and then turning the ball home from a narrow angle.
Gloucester's only effort of note in the opening period came ten minutes after the goal as Darren Edwards tested John Danby with a good header that produced an equally good save.
Nathan Jarman sent a snap-shot into the side netting before referee Andy Hendley had to step in to calm things on the bench as words were exchanged between coach Gary Powell and Gloucester manager David Mehew.

Two minutes before the break Chester doubled their lead. Jarman fed McGinn who raced to the byline before crossing for Gray at the far post, however Gloucester defender Tom Hamblin turned the ball into his own net.

hankin almost added a third in first half stoppage time but saw his effort blocked by Danny Andrew.
Chester continued to create efforts after the break with both Jarman and Gray both failing to trouble Green from good goal scoring positions. manager Young introduced Lee Trundle for Jarman and he was unlucky to see a lob beat Green but hit the post before being scrambled clear.
McGinn saw a long range effort fly just over the bar and saw another lobbed attempt caught by Green as Chester turned the screw. Gray forced a fine save from'keeper Green and Ashley Williams, on for Hankin, hit the bar following neat build up play involving Trundle and George Horan.
The last chance of the game saw Antoni Sarcevic force the overworked Green into another save deep into stoppage time. The victory leaves Chester 16 points clear of second placed Guiseley, who have two games in hand on the Blues.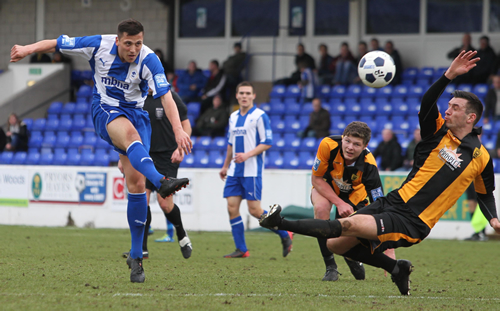 Picture © Rick Matthews (Chester Leader)

• League table after this match | More pictures
Rate Chester's performance
---
Wednesday 13 March
Chester 3 Witton Albion 0

Cheshire Senior Cup Semi Final
Attendance: 802 Half Time 0-0
Booked: Horan.

Chester: Fearon, L.Turner, Collins, Horan, D.Williams, Hankin (Jarman 70), Brown, A.Williams, McGinn (Howard 77), Trundle (Peers 89), M.Williams. Subs not used: Linwood, N.Turner.
Witton Albion: Cooper, Gardner, Harrison, Horne, Glover, Powell, Hancock, Shaw, James (Foster 71), Andrews, Tuck. Subs not used: Wood, Sheehan, Mosley, Plant.

Referee: Mark Duncan (Macclesfield).



After a scrappy first half this semi-final of the Cheshire Cup developed into a hard-fought and ultimately entertaining encounter which led to City reaching the final of a trophy they have not won in over eighty years.

In the light of City's early knockouts from both the FA Trophy and the FA Cup, involvement in the County competition has assumed greater importance, giving Neil Young the opportunity to rotate his squad for them to accrue match fitness. Once again several changes were made to the team for tonight; there was no Sarcevic, Scott Brown starting instead. There was also a debut for Lewis Turner, Nathan's brother, at right back – but as they are identical twins we only really had the announcer's word to take for it.

Turner certainly caught the eye, in the first half especially, as he flew down the wing and combined well with Dave Hankin. Lee Trundle had a couple of early opportunities to score but on both occasions his efforts were parried by Cooper in the Witton goal. Albion, urged on by a noisy following in the far end of the main stand – where we were all located – pressed City quite high up the field trying to squeeze Chester into hitting long passes. In this they largely succeeded - making things difficult for the Blues.

At half time Cleggy gave scores from around the country and made the announcement "For those of you who are Roman Catholics" that a new Pope had been chosen and that he was from Argentina. This made me cast my mind back to other occasions when a Chester match has co-incided with momentous world news. I could only think of the occasion when we played away at Peterborough (16th Feb 1983 – we won with a goal from Clive Wilson) and the announcer raised the biggest cheer of the evening when he told everyone that Coronation Street's Ken and Deidre Barlow had got back together again.

Witton continued to stubbornly resist City's probings until, after a quick exchange of passes, Marc Williams unlocked an opportunity and curled a precise finish just inside the post. A few minutes later Williams returned the compliment to Trundle who scored with a sublime chip over the keeper's head. The contest was all over when Williams again ran through and, despite the attentions of a trailing defender, shrugged off his challenge to score a third.

Competitive it had certainly been – boiling over at times. Andrews, the Chester born winger,was booked for a hot headed challenge and then tangled with Horan minutes later which resulted in City's skipper being booked. Horan continued to chunter at the decision and when the referee called him across for another long lecture moments later, many of us feared the worst, but he remained on the field. In the closing stages Jarman was also shown the yellow card for protesting at another seemingly inconsistent decision.

It meant that many people left the game moaning about the referee, which was a shame as it masked the achievement of City reaching the cup final. A final is a final after all and to be celebrated at an, as yet, uncertain date and venue. Are we still enjoying this season? – Is the Pope an Argentinean?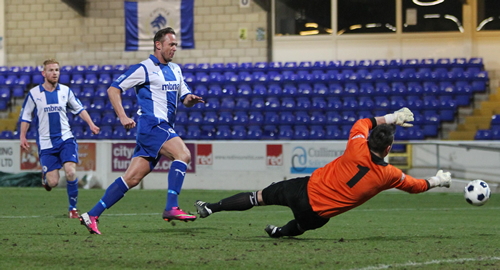 •
More pictures
Rate Chester's performance
---
Saturday 9 March
Harrogate Town 1 Chester 3

Conference North
Attendance: 815 Half Time 0-1
Booked: -.

Harrogate Town: MacGillivray, Samuels, Bloomer, Killock, Merris, Platt, Dean (Elam 64), Bolland, Knowles, Nowakowski (Hardy 75), Chilaka. Subs ot used: White, Youhill, da Veiga.

Chester: Danby, Collins, Horan, Linwood, McGinn, D.Williams, Daniels (Hankin 58), N.Turner, Sarcevic, Gray, Jarman (A.Williams 90). Subs not used: Trundle, Howard, M.Williams.
Referee: Adrian Holmes (Castleford).

Chester chalked off another three points in their quest for Conference Premier football with this well deserved victory at play-off chasing Harrogate Town. The referee Adrian Holmes conducted two pitch inspections before the teams took to the pitch that had surface water in places.
With the Blues struggling to find their feet early on the slippery surface, Dominic Knowles saw a shot slide just wide of the post as the hosts looked to press home an early advantage with Chib Chilaka also being denied by the Chester defence as the striker pressed.
Matty McGinn saw a trademark long-range effort just clear the bar as Chester responded to the early Town pressure. Craig MacGillivray was forced to save an Antoni Sarcevic effort and Tony Gray steered a nathan Jarman cross just wide as Chester looked to capitalise on a decent spell of pressure.
Eight minutes before the break Chester scored the opening goal. A McGinn free kick into the box fell to Jarman at the far post and his overhead kick was too hot to handle for MacGillivray as he let the ball slip through his hands and cross the line.
Gray should have added the second minutes after the break as MacGillivray's save from a George Horan header fell to the striker but he steered his shot over the bar from close range. Minutes later though Gray did get his name on the score sheet as a delightful left wing chipped cross from McGinn was met by the striker to send a looping header over MacGillivray and into the far corner of the net.
McGinn saw a superb free-kick bounce off the bar onto the goal line and back into play as Chester began to turn the screw and on 72 minutes they added a third goal as Dave Hankin's teasing right sided cross was chested home by the in rushing McGinn at the far post for a well deserved goal for the defender.
Three minutes later harrogate scored a quality goal of their own as Dominic Knowles' free-kick beat John Danby and found the back of the net via the left post. Danby was in action again soon after denying Chilaka as Town looked for a second but Chester held firm to record another priceless victory on their quest for a third successive championship.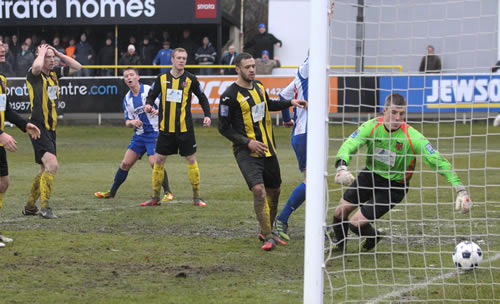 Picture © Rick Matthews (Chester Leader)

• League table after this match | More pictures
Rate Chester's performance
---
Monday 4 March
Chester 1 Tranmere Rovers 0
(After Extra-Time)
Cheshire Senior Cup Quarter Final
Attendance: 820 Half Time 0-0
Booked: -.

Chester: Fearon, Baynes (Collins 91), Horan, Linwood, McGinn (Howard 90), Hankin, A.Williams, Sarcevic, D.Williams, M.Williams, Gray (Peers 119). Subs not used: Danby, Miller.
Tranmere Rovers: Mooney, Lynskey, Black, Phillips, Kay, Harrison, Conchie, Kirby, Stockton, Amoo, Joyce. Subs not used: Durnin, Jones, Beech, Dunne, Davies.
Referee: John Dowd (Wirral).



A goal from captain George Horan, ten minutes into extra-time, steered Chester through to a home Cheshire Senior Cup semi-final clash with Witton Albion after the Blues defeat Tranmere Rovers by that single goal.
The visitors, who had switched the venue from Prenton Park to Chester, fielded a side containing six players who had tasted first team football for the League One promotion chasing side this season. In charge was Shaun Garnett, who had a loan-spell at Chester back in 1992.
The Blues were in control for much of the opening period, good work from Tony Gray forced a save from Jason Mooney, a giant at 6' 9" in the Rovers goal, the ball fell to fellow striker Marc Williams who forced Mooney to save again.
Williams saw another effort blocked by Chris Lynskey before he sent Antoni Sarcevic through on goal but the midfielder pulled his shot wide with just Mooney to beat as the sides finished the first half level.
Matty McGinn had a great chance to open the scoring minutes after the restart but the defender planted a header wide of Mooney and the goal after meeting a cross from full-back Dave Hankin.
Martin Fearon in the Chester goal was called into his first meaningful action midway through the second half collecting a long ranger effort from striker Cole Stockton – a player who has interested Blues manager Neil Young in the past. A spell of possession saw Rovers come more into the match and Wes Baynes made a last-ditch clearance to deny James Joyce giving the visitors the lead.
Marc Williams flashed an effort just wide following good approach play by Danny Williams and the final effort of the 90 minutes fell to substitute Iain Howard who almost scored seconds after coming on for McGinn.
Ten minutes into extra-time the deadlock was finally broken as Howard's cross into the box following a cleared corner was controlled by Horan who turned to shoot home with the ball taking a deflection on its was past Mooney into the net.
Dom Collins has a great chance to make the game safe but the substitute blazed over when a goal seemed certain and the hard working Gray was unlucky to see a shot bounce free off the bar with two minutes remaining but the Blues held on to book a semi-final date with Witton Albion.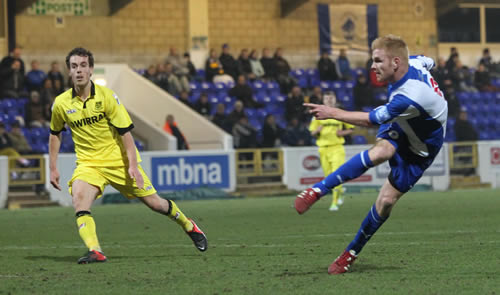 Picture © Rick Matthews (Chester Leader)

• More pictures
Rate Chester's performance
---