---
Tuesday 29 January
Chester 6 Stockport Sports 0

Cheshire Senior Cup Round 2
Attendance: 296 Half Time 1-0
Booked: Horan.

Chester: Fearon, Baynes (Miller 62), Collins, Horan, D.Williams, Hankin, Brown (Peers 75), A.Williams, Howard, Gray, M.Williams (Sarcevic 53). Subs not used: Linwood, McGinn.
Stockport Sports: Dullman, Anane, S.Symons (McKenzie 46), Street, Flowers, Holden (Irwin 46), Anderson, Bains, Marsden (Mehmet 51), Miller, Menelaou. Subs not used: J.Symons, Kass.
Referee: Dave Croft (Wirral).



It was a case of third time lucky for this twice postponed Cheshire Cup-tie against Stockport (Formerly ka Woodley) Sports. The relatively meagre crowd huddled for warmth in the main stand as a cool breeze blew but there seemed to be considerable more than the 296 officially in attendance.

A fairly strong Chester team took to the pitch including Iain Howard who, it had been announced, was free to speak to other clubs. He was therefore bound to score a hat trick – which he duly did. The only surprise was that he didn't complete it before half time. He notched his first goal after five minutes following excellent work by Tony Gray on the right. Howard sidefooted home after Gray's driven cross whipped past a couple of defenders. He might have added more as City dominated but dwelt too long on one occasion and rapped the bar on another.

Following the break Chester scored twice in quick succession to kill the game off. First Hankin went clear on the right and sent over an inviting cross for Howard to head home. Then Marc Williams nodded in from a corner fight under the 'keeper's nose. A glimmer of light appeared for Stockport when Horan got the ball tangled under his feet then fell on the opposing forward as he bore down on goal. The only damage was a yellow card for the skipper as Fearon saved the spot kick low to his right.

Buoyed by their ascendancy City forged further ahead when Gray's quick thinking knocked the ball past the final defender to carve out an opening from which he scored. Youngsters Miller and Peers, who had featured in the earlier round at Cheadle came on and did not look out of place. Peers in fact laid on a couple more goals – one for Sarcevic against his old club and another for Howard to complete his hat trick.


Rate Chester's performance
---
Saturday 19 January
Chester 4 Stalybridge Celtic 1

Conference North
Attendance: 2,095 Half Time 3-0
Booked: Hankin, Linwood.

Chester: Danby, Baynes, McGinn, Horan, Linwood, N.Turner, Hankin, Sarcevic, Jarman (Mills 78), M.Williams (Brown 79), Curran. Subs not used: Collins, Gray, Howard.
Stalybridge Celtic: Woodhouse, Lees, Warburton, Ryan, Egerton (Laird 61), Haywood, Bleau (Pepper 28), Buckley, Bembo-Leta, Osborne (Gregory 61), Austin. Sub not used: Mudimu.
Referee: Matthew Bristow (Manchester).



An army of volunteers cleared the snow off the pitch in the morning, removed the covers and made great inroads into the car park which was also covered with snow. Through their efforts the game was able to go ahead – though there was too much ice to allow the terrace to be open. Instead the south stand was opened to the Harry Mac regulars.

Would City break with tradition and kick towards the empty home terrace in the first half? Whoever won the toss, Chester attacked the south stand end as usual but it was unusually packed with home supporters. They saw the majority of the play in the first forty-five minutes as the Blues comprehensively outplayed their East Cheshire opponents. By half time they led three-nil and it could easily have been double that.

Ashley Woodhouse pulled off a point blank save to deny Jarman after spilling Curran's shot but was not so fortunate a few minutes later when Jarman controlled the ball with his back to goal and turned his marker to fire in low and true with his left foot. City pressed for a second. Veteran Tim Ryan nearly put through his own goal as the ball skimmed off his head but again Woodhouse clawed it away. Sarcevic could not believe it when his venomous shot from six yards was blocked by a defender throwing himself in the way – neither could Hankin who had carved open the opportunity. Jarman went close with a header before Horan nodded home from close range following a spot of head tennis from a City corner.

Marc Williams put the ball in the net with a diving header but was ruled offside. Just before half time, however, he was on hand to bundle the ball home after Jarman's header from Curran's peach of a cross was parried by Woodhouse.

Following the break City continued to go forward but then began to fade as Celtic came into the game more. Prince Hayward became more influential in midfield and substitute Baird added impetus when he came on after an hour. Baird it was who reduced the deficit with a sublimely taken free kick over the wall and into the top corner. Danby injured his back as he cracked into the post attempting to save it. He soldiered on bravely but was nearly beaten when Austin took the ball round him but Horan cleared the danger.

Wes Baynes restored a semblance of reality to the scoreline with a spectacular half volleyed shot over Woodhouse in the dying minutes. Added time at the end of both halves was partially due to the comical occurrence of the linesmen's flags needing to be replaced. Chiefly, however the game will be remembered for another convincing display and further ground made against promotion rivals – this being the only game to go ahead in the Conference North today.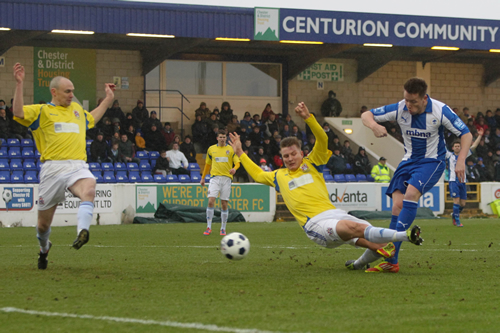 • League table after this match | More match pictures | Clearing the pitch
Rate Chester's performance
---
Saturday 12 January
Hinckley United 0 Chester 6

Conference North
Attendance: 648 Half Time 0-3
Booked: -.

Hinckley United: Conway, Hicks, Raglan (Peet 66), Towers, Lister (Abbasi 61), Brown, Lane (O'Connor 41), Headley, Cole, Canavan, Wint. Subs not used: -.
Chester: Danby, Baynes, Horan, Linwood, McGinn, Hankin, Sarcevic (Brown 73), N.Turner, Curran, M.Williams (Mills 78), Jarman (Gray 60). Subs not used: Collins, Howard.
Referee: Wayne Porter (Bourne).



Chester set their stall out from the off when they visited bottom-of-the-league Hinckley United, with their first goal scored in just 70 seconds. The Exiles had barely had chance to put up their new official banner when a good cross enabled an unmarked Nathan Jarman to make an easy job of heading the ball into the net.

The 67pt difference between the two clubs was apparent for most of the game, with some of the Hinckley team looking like they'd be rushing off after the match to catch up on their homework. But, to their credit, they never let their heads drop and actually looked like they were enjoying the challenge.

The closest the home team came to scoring in the first 45 minutes was midway through the half when they won a corner, and the resultant header was well saved by John Danby.

But it was the travelling Chester supporters who cheering soon after when a Craig Curran strike was initially stopped by the diminutive Knitters' goalkeeper, Martin Conway. The rebound fell well for Curran and he put Chester 2-0 up on the 40th minute.

It was soon 3-0 to the 'Greens' when Antoni Sarcevic hit the ball underneath Conway. The away fans had to grin at the announcer's stuttered attempt to pronounce his name. And soon after the start of the second half, the announcer was stumbling again when Sarcevic netted from a Matty McGinn cross to make it 4-0.

Not long afterwards there was an unusual break in the action when Conway was replaced in the nets by Robert Peet. Conway ran into the tunnel, changed his kit, and came back onto the field on the right wing.

Peet was soon called into action, but found himself rounded by Chester substitute Tony Gray before the on-loan striker made it 5-0 to Chester. The game wasn't over yet, and it finished 6-0 after fellow substitute Scott Brown scored when a sharp-angled shot went in off the post.

So it was another satisfying away day for Chester and let's hope that the revenue boost from an attendance of 648, with the addition of the funds raised by a bucket collection, go some way to keeping brave Hinckley alive to fight another season.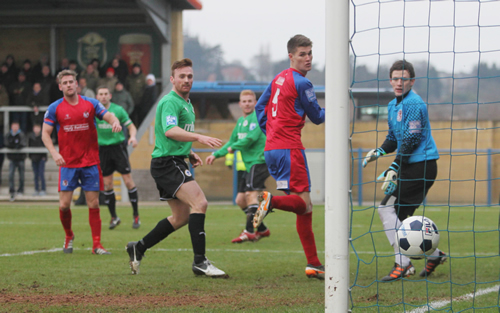 • League table after this match | More pictures
Rate Chester's performance
---
Wednesday 9 January
Chester 2 Oxford City 0

Conference North
Attendance: 1,905 Half Time 1-0
Booked: -.


Chester: Danby, Baynes, Horan, Linwood, McGinn, Hankin (Brown 87), Sarcevic, N.Turner, D.Williams (Howard 38), M.Williams (Mills 77), Jarman. Subs not used: Gray, Collins.

Oxford City: Ingram, Gunn, Stonehouse, Ballard (Mulvany 64), Learoyd, Wilmott, Bell, Pond, Holgate (Stanley 36), Benjamin (McEachran 77), Barcelos. Sub not used: Janes.

Referee: Paul Graham (Manchester).



Chester moved 13 points clear of Guiseley again after what proved to be a comfortable win over Oxford City. The visitors wern't helped by a nightmare journey to the match which saw them finally arrive at the ground just before 20:00hrs, having been held up by a delay on the motorway near Birmingham following an earlier accident.
The Blues got off to a flying start and took the lead within the opening ten minutes. A foul on Danny Williams. Wes Baynes powered in the resulting free kick which was met by Paul Linwood who sent a looping header past 'keeper Matt Ingram for his first goal of the season.
Ingram pulled off a save to deny the in-form Antoni Sarcevic from doubling the scoreline after clever play between the midfielder and Marc Williams set up the chance.
Nathan Jarman had a great chance to add a second just before the half hour mark but the striker seemed to lose his footing while setting himself up to receive a Danny Williams cross.
Jarman was in the thick of the action again after the break heading over from a good position before Chester finally got the second goal and some breathing space nine minutes after the restart, and a quality goal it was.

On-loan midfielder Nathan Turner, who seems to be getting better with every game, sent a superb long through ball for Jarman to run on to he controlled it well on the left before sliding a shot past Ingram and into the opposite bottom corner of the net.
Ingram twice denied Sarcevic as Chester continued to press for a third while John Danby virtually remained a spectator at the other end with little to do all evening.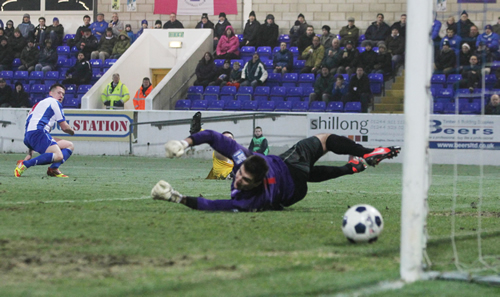 Picture © Rick Matthews (Chester Leader)
• League table after this match | More pictures
Rate Chester's performance
---
Saturday 5 January
Bradford Park Avenue 0 Chester 0

Conference North
Attendance: 957 Half Time 0-0
Booked: Curran, McGinn, Sarcevic.


Bradford Park Avenue: Lamb, Clayton, Knowles, Price, Duckworth, Daly (Corner 80), Deacey, Davidson (James 26), Daly, Walker, Holland (O'Brien 80). Subs not used: Snodin, Drury.

Chester: Danby, Baynes, Horan, Linwood, McGinn, Curran (Hankin 46), A.Williams (Jarman 23), N.Turner, D.Williams, Sarcevic, Mills (M.Williams 72). Subs not used: Collins, Howard.

Referee: Richard Wigglesworth (South Yorkshire).

Chester's wining run comes to an end as they battle out a goalless stalemate on a heavy pitch at Bradford Park Avenue, missing a penalty in the process. The Blues dominated for much of the second half but found Avenue 'keeper John Lamb in inspired form.
Manager Neil Young named an unchanged side for the game against the side who were the last ones to take points off Chester with a 1-1 draw back in October.
On a heavy pitch it was Bradford who started more lively and almost grabbed a goal in the opening five minutes as captain James Knowles headed wide from a corner. Jordan Deacey forced a save from John Danby as the game was punctuated by a series of niggly fouls that threatened to boil over on three occasions. Craig Curran, Matty McGinn and Antoni Sarcevic all found themselves in the referee's notebook.
Ashley Williams was forced to leave through injury, to be replaced by Nathan Jarman before Paul Linwood saw a goal ruled out for offside.
A moment of hesitancy by Danby just after the restart almost allowed Danny Holland in but the striker could only put the ball wide from a narrow angle.
Jarman was denied by the woodwork as Chester finally began to exert some control on the game, the striker ran through on goal, curled a shot past Lamb but saw his effort rebound to safety.
On 57 minutes the Blues, playing in a third strip of yellow, were awarded a penalty following a foul on Jarman. McGinn stepped up and hit his shot low down to the left hand corner but Lamb pulled off a save at full stretch to deny Chester the opening goal.
Substitute Dave Hankin forced another save from the Avenue shot stopper and McGinn saw a trademark long range effort also turned away by Lamb.
Ten minutes from time Danny Williams was sent through one-on-one but the winger shot high and wide.

Michael Duckworth almost grabbed a goal for the home side four minutes from time when his long range free kick flew just past the angle of the crossbar and post when most were expecting a cross into the box.

The Blues thought they'd finally got the winner in the final minute, as Marc Williams headed home, they were to be denied again by the linesman flagging for offside.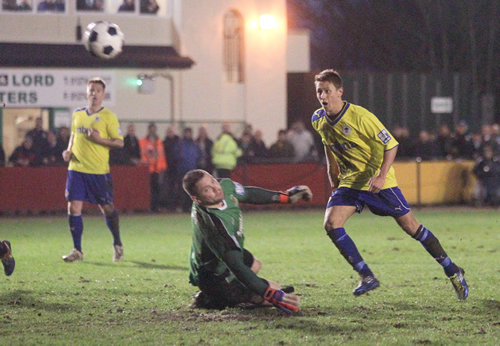 Picture © Rick Matthews (Chester Leader)
• League table after this match | More pictures
Rate Chester's performance
---
Tuesday 1 January
Droylsden 3 Chester 4

Conference North
Attendance: 1,056 Half Time 1-4
Booked: -.


Droylsden: Latham, Derbyshire, Kerr (Killeen 46), Langford, Palmer, Rick (Jacombs 88), Hall (Doherty 46), Sissons, Logan, O'Neill, Ellison. Subs not used: Bryan, Holden.

Chester: Danby, Baynes, Horan (Collins 55), Linwood, McGinn, Curran, A.Williams, N.Turner (M.Williams 77), D.Williams, Sarcevic, Mills (Jarman 66). Subs not used: Hankin, Howard.

Referee: Adrian Holmes (Castleford).

Chester got 2013 off to a flying start at Droylsden scoring three goals in the opening eight minutes as they recorded the double over The Bloods following the 5-0 home victory on Boxing Day.
The opening goal after three minutes had a bizarre look to it as goalkeeper Dale Latham couldn't hold on to a stinging Danny Williams shot, the ball just missed the head of Ben Mills before a defender cleared the ball only to see it rebound off the leg of Antoni Sarcevic's in rushing sliding tackle and into the corner of the net.
Manager Neil Young had made six changes from the side that beat Hinckley United at the weekend and one of the recalled players, Craig Curran, doubled Chester's lead a minute later cutting in from the right to beat two defenders and sending in a curling shot past Latham and in at the far post from the edge of the box.
Chester's storming start continues s they scored their third goal four minutes later. Sarcevic surged through on the right and evaded a defender's tackle from behind and Latham's tackle, stayed on his feet to turn, look up, and clip a cross to the far post for Danny Williams to head home.
The home side pulled a goal back through ex-Chester player James Ellison as he pounced on a loose ball after John Danby had saved from Steve Hall.
Sarcevic hit a post before Chester regained their three goal advantage with a great goal. On-loan Nathan Turner, making his first start for the Blues, played a one-two with Mills outside the box before curling a great shot round a defender and just inside the right hand post giving Latham no chance, to the delight of the Chester fans behind the goal.
Young replaced George Horan, who was carrying a knock, ten minutes after the restart and from then on the Blues seemed to lose their composure. They were made to pay by Ellison who beat substitute Dom Collins to the ball to score his second goal five minutes form time and set up a nervy finish when he completed his hat-trick with a well taken effort in the last minute beating Paul Linwood and giving Danby no chance.

Just as at Brackley a month ago the Blues were left hanging on for a win which seemed a formality just minutes form the end, but hang on they did!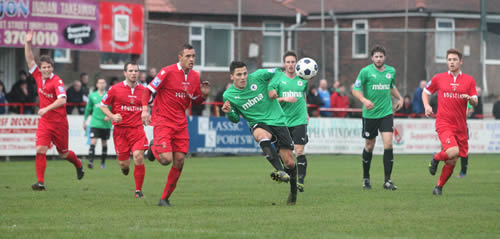 Picture © Rick Matthews (Chester Leader)

• League table after this match | More pictures
Rate Chester's performance
---