29 November 2003
ACADEMY PLANS FOR CITY
City chairman Steve Vaughan has unveiled plans to build a football academy in Chester. An as yet unnamed site in the Chester area has been earmarked for the venture and funding has been agreed with a number of business financial partners who are all keen to see the venture get off the ground. Key to the whole processs though would be a return to the Football League, failure to do so would appear see the project put on hold.

Chairman Vaughan said: "The scheme will go ahead as soon as we regain our place in the Football League. Whilst academy status isn't the exclusive domain of Football League clubs, the financial grants available to league clubs means that it makes economic sense to press all the relevant buttons, when we have gained our place. Obviously academies are the way forward for clubs of our size, and we see it as a scheme that can produce the Chester City players of the future, who will hopefully elevate us up the Football League divisions."
This is the latest in a series of development's being carried out by the club. Executive boxes are currently being built at Deva Stadium and plans have been submitted for extra building work at the ground that will see new bars and shops located around the stadium.
---
28 November 2003
CITY WAIT ON DUO
City may once again be without the services of Carl Ruffer and Phil Bolland again tomorrow, the pair missed the midweek 3-3 draw with Accrington Stanley and are both still recovering from ankle injuries. The Blues will be looking for three points to retain the top spot they currently hold and extend their unbeaten Conference run to 17 games. Visitors Margate will be without defender Sam Sodje. Sodje had a summer trial with City and scored for the Gate when the sides met at Dover back in September, goals from Darryn Stamp and Jon Brady gave City a 2-1 win that day. Visitors Margate are also reeling after, according to their official website, the Conference Board of Directors have fined the club £5,000 per game for every home game that has to be re-scheduled after 1 January 2004 due to their enforced ground-share extension at Dover's Hoverspeed Stadium.
---
BEESLEY "NO" TO VICS
Striker Mark Beesley appears to have turned down a move to Conference neighbours Northwich Victoria.
---
HALF-SEASON TICKETS
Chester are offering half-season tickets for sale soon which will include the match against Leigh RMI on Boxing Day.
Seated adult tickets cost £92, seated concessions cost £69, and seated under-16s cost £46.
Terraced season ticket prices are: adults £77, concessions £54, and under-16s £38; and an executive club season ticket costs £185.
---
THE KIT'S ARRIVED!
The club shop will be open today and tomorrow for the sale of the replica kit that has now finally arrived after a long delay from the suppliers. The shop will be giving a 10% discount on the usual price as a thankyou for fans patience. Adult shirts will now retail at £31.50, Children's at £27.00. Home shirts and both white and yellow shirts are on offer.
---
FA TROPHY
It's the second round of the FA Trophy tomorrow and the draw for the third round, when City enter the competition, will take place on Monday. The third round tie will take place on Saturday 10 January.
---
26 November 2003
GAME OF TWO HALVES
At half-time last night City appeared to be cruising to a comfortable home win against Accrington Stanley. Two headed goals from Daryl Clare in the closing five minutes sent City into a deserved 3-1 lead at the break after Ben Davies' early goal had been cancelled out by Paul Cook. But the Blues appeared to sit back in the second half inviting Accrington at them and the visitors duly fought back to take advantage of two defensive errors to pull City back to 3-3, indeed they may have grabbed a late winner but for a Peter Cavanagh free kick being saved by Wayne Brown.
Assistant manager Steve Bleasdale said after the game: "We've looked at the league table and we've seen we are still top – everything has gone our way, but we could now be sitting three points clear, and if we beat Margate on Saturday we could have been six points clear because the top clubs are all playing one another, that's how frustrating our draw against Accrington is."
Meanwhile former City player Jimmy Kelly did his old team mates a favour with a late equaliser for Scaborough that prevented Barnet winning at the McCain Stadium and going top. Top performance of the night though went to Hereford United who, despite going behind to an early Halifax Town goal, hammered the visitors 7-1 doing wonders for their goal difference in the process.
---
25 November 2003
DEFENDERS SIDELINED?
Both Carl Ruffer and Phil Bolland are struggling to be fit for tonight's home Conference game with Accrington Stanley (19:45hrs), both are suffering ankle injuries. Bolland has not recovered from a knock at Morecambe and Ruffer sustained his injury in the second half at Aldershot Town on Saturday.

•The last time we met – Chester v Accrington Stanley 1961
•Chester v Accrington Stanley – Top 10 matches
---
24 November 2003
WORTHY POINT FOR BLUES

Darryn Stamp scored his ninth goal of the season at a waterlogged Recreation Ground to earn City a point from their toughest game of the season. Persistent rain all night and day make playing conditions very difficult and full credit goes to both sides who produced an entertaining end-to-end game that could have gone either way but which neither side really deserved to lose.

Stamp's goal had given City the lead just after the break but his close range goal was cancelled out 12 minutes later by Challinor as City players and fans were still appealing after a challenge on Daryl Clare who appeared to have been brought down while heading through on goal. The Blues had Wayne Brown to thank at the end after the 'keeper had made two outstanding saves to deny Rosoce D'Sane and Adam Miller whose last-gasp pile driver of a free-kick was heading for the top corner.

City are a point ahead of Barnet who hit five with no reply past Forest Green Rovers, and three ahead of Aldershot and Hereford United who were thumped 4-1 at Shrewsbury Town in front a 6,585 crowd – the highest Conference gate of the season.
---
21 November 2003
BIG TEST FOR CITY
City will travel to the Recreation Ground tomorrow for their first visit in 15 years to Aldershot Town. The Shots, promoted as champions from the Ryman Premier League last season, have had a tremendous start to the campaign and currently lie in third place, just three points behind City and boast the best home record in the division with just two points dropped in nine games.

The Blues will expect their toughest test of the season in Hampshire, the Shots have a more than useful attack scoring 22 goals in those nine home matches, but, in Chester they will come across the meanest defence in the division conceding just nine goals in 18 Conference games. Paul Carden is available again from suspension and manager Mark Wright may elect to reshuffle the defence should Phil Bolland shake off an ankle injury picked up at Morecambe.

Manager Mark Wright said: "Tomorrow is a massive game for Aldershot and ourselves. Iím aware there are a couple of things I can do to our line-up to combat their 4-3-3 formation. Iíve been impressed by what Iíve heard about Aldershot and they must be given enormous credit for the progress they have made in their first season in the Conference. They have been doing exceptionally well and I believe they flock forward in numbers when they get the chance."
---
19 November 2003
MORE DEVELOPMENT PLANNED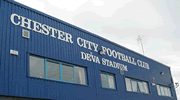 Chairman Steve Vaughan has outlined plans for more building work at Deva Stadium. Eight executive boxes are currently under construction, with a February completion date planned, and now plans are be submitted to Flintshire County Council for developments on both the North and South terrace that will incorporate bars in both terrace areas as well as the inclusion of shops to sell club merchandise.

Vaughan stated: "We have applied for planning permission for the addition of bars and shops at the stadium, and we are hopeful that the relevant permissions will be granted in the next few weeks. We are aware that our supporters in the North Stand terrace can't enjoy a drink prior to games at the moment, and they also find the existing souvenir shop full just prior to matches, so we are adding extra facilities in order that our fans can enjoy the Deva Stadium experience even more. Once our home end has been completed we will start on improving the visiting supporters area. Everything we are doing at the ground currently is in preparation for our return to the Football League. We appear to have got it right on the pitch, now I want a stadium that will have facilities, comparable, if not better, than a lot of first division clubs."

Building work is also to take place in the smaller west stand that will see a reception area and a canteen with office, shower and toilet facilities for the youth development squad, as well as the corporate boxes currently under construction.
---
COMMERCIAL DATES
Dates of several corporate/commercial events at Deva Stadium were announced recently including a Sportsman's Dinner and Christmas Party.
---
18 November 2003
SMITH STARS
A stunning 25-yard strike from Alex Smith gave City three more crucial points against promotion contenders Barnet. City dominated the first half, playing the ball round well with goalkeeper Gore saving from Darryn Stamp, Daryl Clare and Ben Davies, but four minutes into first half stoppage time, after fine interplay between Scott Guyett, Jon Brady and Davies, Smith let fly from fully 25 yards with a swerving shot that gave Gore no chance in the Barnet goal. There were some anxious moments late in the second half as the Bees pushed for an equaliser but City's rearguard, with captain Carl Ruffer in outstanding form, held firm to open up a two point gap at the top of the table.
---
14 November 2003
BLUES LOOK TO PULL CLEAR
City will be hoping for a big crowd at Deva Stadium tomorrow as they entertain third placed Barnet. The Bees have the same number of points as City but an inferior goal difference. Manager Mark Wright will have to do without the services of midfielder Paul Carden who is suspended following his red card at Scarborough recently and goalkeeper Ian McCaldon will have a fitness test after lasting only 45 minutes on Tuesday before going off with a groin strain. Alex Smith makes a welcome return to the Deva following his midweek signing as the Blues will look for maximum points to lift them ahead of their north London rivals, who have already won five times on their travels this season. Next Saturday the Blues face another tough test with a visit to second placed Aldershot Town.
---
13 November 2003
BRODIE FOR DROYLSDEN?
Despite an interest from Forest Green Rovers to take Steve Brodie on a permanent deal, local newspaper reports suggest that the striker could be heading the way of many a City player before him with a loan spell at UniBond Premier League side Droylsden. Both Danny Byrne and Dave Cameron are currently on loan there in a squad that also contains former City players Darren Wright, Leroy Chambers, Mick O'Brien and Chris O'Brien.
---
THE FOOTBALLERS FOOTBALL CHANNEL
It appears that TFFC have stopped broadcasting Conference matches due to money problems. A statement by the Conference on confguide.com states that they (the Conference) will show a FREE weekly programme on the internet. The new show will be shown on sportal.com every Tuesday after midday and will consist of highlights from four matches selected each week, with the latest transfer news, stats and a weekly interview feature. Saturday's Chester v Barnet game is one of the first weeks selected matches.

• confguide.com | sportal.com
---
12 November 2003
CITY GO TOP
Daryl Clare's strike last night was enough to take City to the top of the Conference for the first time this season. In a generally scrappy game, the Blues also inflicted a first home defeat on Morecambe since August 2002 with a close range goal 14 minutes from time. Alex Smith went straight into the side. City lead a chasing pack on goal difference from Aldershot Town and Barnet, our next two opponents. Manager Mark Wright said: "The players have worked tremendously hard to achieve our current position and now we have to work even harder to maintain this placing that we have achieved. We know we are there to be shot at by the other 21 teams in the league, but all of us relish that challenge."
---
11 November 2003
CITY SIGN SMITH

Alex Smith today signed for Chester City and rejoined the club he left in March 1999. The 27-year-old midfielder goes straight into the squad that traveled to Morecambe for tonight's Conference match. Smith has been training with the team for several weeks now and has played for the reserve side.

Smith originally left the Deva for Port Vale for a £75,000 fee, he made 56+7 appearances scoring two goals for the Valiants before moving to Reading in July 2001. He only played 16+2 times for the Royals in the two years he was at the club, scoring three goals in the process. Last season he made 18 appearances on loan at then Third Division Shrewsbury Town.

Meanwhile midfielder Steve Brodie could be moving to Forest Green Rovers in a permanent move. Local west country press quote Rovers manager Colin Addison: "Mark Wright rang me to see if I was still interested in Brodie and we spent the weekend trying to resurrect the deal. Originally we thought it was just on a loan basis, but Chester are looking to transfer him permanently now. I've spoken to Steve and he fancies it and has spoken to his chairman, Stephen Vaughan about the financial position."
---
10 November 2003
TOUGH GAMES AHEAD

City were counting the cost this morning after Saturday's disappointing home defeat at the hands of Gravesend & Northfleet. The Blues missed out on £20,000 prize money from the tie and also a lucrative second round encounter with Billy Dearden's second division Notts County. The Blues must put Saturday's cup exit behind them as they prepare for a trio of games in the next week or so against promotion candidates Morecambe, Barnet and Aldershot Town. City chairman Steve Vaughan was more than disappointed in Saturday's display and let the players know his feelings after the game. He told the Evening Leader: "It's one thing after another at this club at the moment. I feel like I've been let down by the team and I can't understand why. I don't know what more I can do for this club. I know the websites are screaming out for a change in personnel, but let's not be hasty. I'm sure we can bounce back at Morecambe tomorrow night. Going out of the FA Cup so early has cost us in prize money for starters, and we would have pulled in more money from a second round home tie against Notts County. I destroyed the team after Saturday's match – I went down to the dressing room and told them exactly what I thought. I'm not having it – I'm totally stressed out with this job. The management team are under pressure now and they have to put things right tomorrow at Morecambe. I know Mark Wright has criticised our fans for some of their comments, but our fans aren't to blame for getting beat – they pay money to watch us and they have every right to moan."

City face The Shrimpers tomorrow night knowing they have a fantastic home record at Christie Park having not lost there since August 2002. They have also just signed experienced central defender and ex-Chester player Shaun Garnett on a month's loan from Halifax Town. On Saturday, fourth placed Barnet visit Deva Stadium and bring with them the Conference leading scorer Giuliano Grazioli who has bagged 17 goals so far this season since his signing in the summer from Bristol Rovers. Barnet's away form is equally impressive with five wins and a draw in eight games. The following Saturday City return to the Recreation Ground, Aldershot, for the first time since October 1988. On that occasion a Craig Hawtin goal brought Chester a draw. The Shots, promoted from the Ryman Premier League last season, have had a tremendous start to the campaign currently lying third on equal points as City and also boast a lively front line in Tim Sills and Roscoe D'Sane who have scored 16 between them.
---
7 November 2003
CITY LOOK TO PROGRESS
City will be playing for a place in round two and the not-so-small matter of £20,000 prize money when they entertain Gravesend & Northfleet at Deva Stadium tomorrow, kick-off 15:00hrs. Central defender Danny Collins looks to have recovered from the back pain that forced him to pull out of the National Game X1 squad on Tuesday night and manager Mark Wright also has Jamie Heard available following a one game ban. The sides last met back in August with City running out 4-0 winners down in Kent; the scoreline was flattering on the day though and City will expect a tough test tomorrow from a side that got to this stage by beating Exeter City 6-5 on penalties after the two sides had battled out a thrilling 3-3 replay. The draw for the Second Round takes place at 15:00hrs on Sunday, after the BBC's live game of the afternoon, Accrington Stanley v Huddersfield Town.
---
6 November 2003
RIGOGLIOSO SIGNS FOR ROVERS
Adriano Rigoglioso, the Morecambe midfielder who was a target for Mark Wright has signed for third division Doncaster Rovers. He told the club's website: "I always said to Morecambe that if any league side came in for me I wanted to be notified and after I heard Doncaster were in for me there was no other place I wanted to be. So I was delighted when I got another chance to come here. I was never really interested in any other club."
---
4 November 2003
BLUES TO LIGHT UP
Players from City's first team squad are to join members of the Hollyoaks cast in turning on the Chester Christmas lights at the Town Hall on Thursday, 13 November at 18:30hrs.
---
3 November 2003
WRIGHT HITS OUT At SUB STANDARD REF

City lost a two-goal lead and with it the chance to hit the top of the table in Saturday. Goals from Darryn Stamp and Daryl Clare from the penalty spot had given the Blues a 2-0 half-time lead but a Mark Quayle spot-kick soon after the break followed by a red card for Paul Carden signaled trouble for City. The equaliser came soon after as McCaldon failed to gather the ball from a corner, and ten-man Chester in the end had to hold out for a point.
Manager Mark Wright was unhappy at Saturday's refereeing performance from Andy Woolmer. He told the Evening Leader: "The referee booked a number of players for nothing. If Saturday's match was dirty and warranted as many bookings as it did and a red card, then I'm the Pope! It was an awful refereeing performance again. We've had that referee before and he sent two of our players off on that occasion, at Woking. It's a man's game, a contact sport, and there wasn't a bad tackle in the whole of the game. I've heard that ex-players are being encouraged to become referees. Give them a career, pay them good money, and get them involved because ref's like the one we had are sub-standard."
Leaders Hereford United also had a player sent-off and were surprisingly beaten 1-0 at home by Leigh RMI. The Bulls are now one point ahead of City who are joined on 33 points by Aldershot Town and Barnet, both of whom won on Saturday and play City before the month is out.
---
1 November 2003
BLUES WELCOME BACK DUO
City look to extend their Conference unbeaten sequence to twelve matches this afternoon at the McCain Stadium Scarborough. Kevin McIntyre and Paul Carden are both available again after serving a one match suspension but Jamie Heard misses out for the same reason. McIntyre and Carden are expected to go straight back into the side that won unconvincingly at Blyth last Saturday.

The Seadogs have signed Sheffield United duo Colin Cryan and Ashley Sestanovich on loan this week and both are expected to play a part today. Two players who won't need any introduction are Jimmy Kelly and Mark Quayle. Both will no doubt be out to prove a point this afternoon, Quayle is the top scorer at Scarborough with seven goals while ex-City midfielder Kelly signed recently after a successful loan spell and scored a last minute winner in the surprise LDV Trophy win over Port Vale. The teams last met back in January when an 88th minute goal from Daryl Clare gave Chester a 1-0 win at Scarborough.