The last two League meetings between the sides, in the 1961/62 season, were deleted from the records when Accrington resigned from the league. Strangely, this is not the only example of games between the sides counting for nothing. On Boxing Day 1914 Accrington beat Chester 2-1 at Sealand Road in the Lancashire Combination but they lost the points later in the season when Chester disbanded and withdrew from the league. Here are ten games that did count.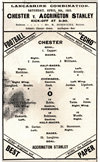 1) Accrington Stanley 3 (Jones, Winterhalder (pen), Noble) Chester 2 (Matthews, Cook)
11 September 1911 Lancashire Combination Division One
The first meeting between the two sides and Accrington come from 2-1 down to snatch a narrow victory. Chester, without regular full backs Jones and Grundy, are unlucky to lose this game between two well-matched teams. In those days Accrington played at Moorhead Park which remained their home until the end of World War One when they moved to Peel Park.

2) Chester 2 (Cook, Jordan) Accrington Stanley 2 (Noble, Fazackerley)
6 April 1912 Lancashire Combination Division One
The first meeting at Sealand Road and Chester throw away a two goal lead in a game they should have won. Most of the pressure comes from Chester but Stanley prove dangerous on the breakaway. Chester's first goal is a fortunate deflection off Cook from a Langford volley. The second a solo run and shot from Jordan. At the end of the season Chester finish sixth and Stanley ninth.
3) Chester 1 (Jennings) Accrington Stanley 0
17 October 1931 Division Three North
The first Football League meeting between the two sides in front of 7094 at Sealand Road. The only goal is scored by captain Tommy Jennings who finishes the season as leading scorer with 30 goals. Accrington include two players who later make the move to Sealand Road, Ron Viner and Danny Ferguson.

4) Chester 7 (Armes (2), Mantle (3), McLachlan, Cresswell) Accrington Stanley 0
2 December 1933 Division Three North
Chester are in unstoppable form as they sweep aside Stanley with ease. It continues a remarkable sequence of home results which had brought 24 goals in 4 games. Prior to the Accrington game Chester had hammered Barnsley (4-2), Rochdale (7-1) and Darlington in the FA Cup (6-1). In their next game at Sealand Road the floodgates open again as Darlington conceded eight goals without reply.
5) Chester 4 (Wallbanks, Cresswell (2), Hughes) Accrington Stanley 0
1 September 1934 Division Three North
Another comfortable win for Chester as they maintain their 100% start to the season with victory over bottom of the table Stanley. Chester score three goals in the first 12 minutes and the result is never in doubt. There are glimpses of brilliance from the home side who take things easy when they could have gone on to score more. Chester finish the season in third place while Stanley finish eighteenth.
6) Accrington Stanley 0 Chester 3 (Williams, Kelly, Wrightson)
2 September 1935 Division Three North
A poor Accrington side have no answer to Chester's clever football and the game is settled by three goals in eight first half minutes. Stanley give a debut to Bob Mortimer who goes on to score 56 goals in 76 appearances. The Chester reporter is very critical of the Peel Park ground complaining about the pronounced slope from goal to goal, the uneven turf and the cramped atmosphere. 4,227 spectators pay gate receipts of £162.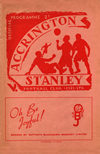 7) Accrington Stanley 1 (Watkinson) Chester 2 (Fletcher, Kirkpatrick)
24 November 1951 FA Cup 1st Round
The first FA Cup meeting and Chester recover from Bill Watkinson's seventh minute goal to secure a dramatic victory. With ten minutes to go manager Frank Brown switches centre forward Bill Jones and outside right Jimmy Fletcher and is rewarded when Fletcher immediately takes a pass from Geoff Coffin and hooks the ball past George Turnbull. There are only seconds remaining when Roger Kirkpatrick sends in a terrific shot which goes into the net off the post to earn Chester a tie with non-league Leyton.
8) Chester 5 (Jepson (2), Richards, Bullock, Pearson) Accrington Stanley 1 (Mulkerrin)
30 April 1958 Division Three North
The final Division Three North side played by both teams and Chester secure a shock victory over second placed Stanley who go into the new Division Three while Chester are consigned to Division Four. The game marks the last game in charge for Accrington manager Walter Galbraith who resigns during the summer after differences with the directors over economy measures following two years of heavy losses.
9) Accrington Stanley 2 (Hudson, Swindells (pen)) Chester 0
10 September 1960 Division Four
The first Division Four game between the sides and a straightforward victory for Accrington. Chester show no sense of urgency or enthusiasm and are deservedly beaten. George Hudson catches Bill Brown flat-footed to score the first and Jack Swindells scores the second from the penalty spot after a tussle with Brown over a Devine cross.
10) Chester 2 (Davies, Cooper) Accrington Stanley 3 (Marshall, Swindells, Duff)
21 January 1961 Division Four
Accrington complete the double over Chester who only have themselves to blame after failing to make the best of a number of first half opportunities. In a similar scenario to the first ever meeting between the sides Chester throw away a 2-1 lead. Accrington's first goal is scored by Alex Marshall on his league debut and the winner is secured in the 75th minute when Brown fails to hold a David Sturrock cross and Billy Duff snaps up the rebound.