31 May 2003
WRIGHT EYES TARGET MAN
Manager Mark Wright has stated that a target man is his main priority as he looks to boost the squad through the summer. "I've received a list of players form the PFA who are on the transfer list and I've drawn up a list of four or five players who I'd like to sign. I still believe a target man is of major importance to the team. We send in plenty of crosses and create plenty of chances for our forwards, and I think we need a big striker to get his head on the end of them. I suppose it's just a case of wait and see at the moment, because we need to see players going out. Players like Dave Cameron, Jimmy Kelly, Lee Woodyatt and Steve Brodie are available to other clubs and we need to see them leaving the club." he told the Evening Leader.

Meanwhile Wright is still keen on signing Morecambe midfielder Adriano Rigoglioso and has faxed in a second offer for the player: "I have spoken to my chairman, who has been extremely supportive and backed my second offer. Adriano is the sort of player who would strengthen our squad, and hopefully we will be successful with this latest bid. The bid is cash plus a player, but I'm not prepared to reveal the name of the player."
---
24 May 2003
ENGLAND LIFT TROPHY
Captain Scott Guyett lifted the Four Nations Trophy following England's 1-1 draw against Scotland at Carmarthen Town. Aldershot Town's Roscoe D'Sane scored a second half equaliser after Scotland had opened the scoring in the first half from the penalty spot. Ben Davies played for 85 minutes in the other match at Haverfordwest which saw the Republic of Ireland defeat Wales 2-0.

• Match report and pictures.

| | | | | | | | |
| --- | --- | --- | --- | --- | --- | --- | --- |
| Final Table | P | W | D | L | F | A | Pts |
| England | 3 | 2 | 1 | 0 | 7 | 1 | 7 |
| Scotland | 3 | 1 | 1 | 1 | 6 | 6 | 4 |
| Republic of Ireland | 3 | 1 | 0 | 2 | 5 | 8 | 3 |
| Wales | 3 | 1 | 0 | 2 | 2 | 5 | 3 |
| | | | | | | | |

The next game for the National Game X1 is against Belgium in November.
---
SEASON TICKETS
A reminder that this Friday 30 May is the last day for existing season ticket holders to buy next season's tickets at promotional prices.
---
DANNY SIGNS NEW DEAL

Danny Collins has signed a further 12 month deal that will keep him at Deva Stadium until 2005. Collins was voted ISA Young Player of the Season and has been catching the eye of several League club scouts following a succession of fine performances in the centre of City's defence.

Manager Mark Wright said: "Danny has a great future in the game and his performances for us, particularly at the end of last season, were outstanding. We now have what I consider to be the best set of central defenders in the League, with Danny, Phil Bolland, Scott Guyett and Wayne Hatswell all signed up."

Also signing new contracts this week were Phil Bolland, Paul Carden and Jon Brady. "Paul and Phil both had good seasons for us last year and they both deserve the new deals, while Jon showed us what he is capable of," added Wright.

Meanwhile Morecambe midfielder Adriano Rigoglioso won't be coming to the Deva after the Lancashire side refused City's recent five figure offer.
---
22 May 2003
ENGLAND WIN AGAIN

England beat Wales 2-0 in tonight's semi-pro international at Merthyr Tydfil. Scotland beat the Republic of Ireland 4-3 in the other match. Scott Guyett again captained the England side for the full 90 minutes with Wayne Hatswell coming off the bench for the final 20. Ben Davies played the full game for his second cap for Wales.
"It has been a very good week, but obviously with one game left against Scotland we can't afford to sit back. Wales was always going to be the top game and myself and all the players were over the moon with the 2-0 win." said Guyett.
The final games in the tournament take place on Saturday, they are:

Scotland v England – Carmarthen Town (13:00hrs)
Wales v Republic of Ireland – Haverfordwest (15:30hrs)
---
PRE-SEASON FRIENDLIES
The following pre-season matches have been provisionally confirmed by Chester City, all away to non-league clubs. "I believe it's better to play against local non-league clubs and try to notch a few goals to give the players confidence ahead of the season. I know my players will be fit enough to play against Football League teams but I've decided to face non-league sides before the season starts, apart for a game against Liverpool the week before the season starts, which the club are currently trying to arrange." said manager Mark Wright.
| | | | | | | |
| --- | --- | --- | --- | --- | --- | --- |
| S | Jul 19 | Connah's Quay Nomads | (A) | | | |
| M | Jul 21 | Cammell Laird | (A) | | | |
| W | Jul 23 | Buckley Town | (A) | | | |
| S | Jul 26 | Runcorn | (A) | | | |
| M | Jul 28 | Droylsden | (A) | | | |
| W | Jul 30 | Nuneaton Borough | (A) | | | |
| Th | Jul 31 | Flint Town United | (A) | | | |
| S | Aug 2 | Vauxhall Motors | (A) | | | |
| | | | | | | |
---
SAME AGAIN FOR ENGLAND
England manager Paul Fairclough has named an unchanged team for tonight's vital Four Nations Tournament match against Wales at Methyr Tydfil: Team: 1.Weale (Yeovil Town), 2.Kennedy (Canvey Island), 3.Guyett (Chester City), 4.Skiverton (Yeovil Town), 7. Rose (Hereford United), 9.Johnson (Yeovil Town), 10.Way (Yeovil Town), 11.Drummond (Morecambe), 14.Elam (Halifax Town), 15.Jackson (Yeovil Town) and 16.D'Sane (Aldershot Town).
---
21 May 2003
DEBUTS FOR BEN AND WAYNE

The results from last night's semi-pro games were: Republic of Ireland 0 England 4 (at Merthyr Tydfil), Wales 2 Scotland 1 (at Carmarthen Town). Ben Davies (pictured) made his debut for Wales playing for the full 90 minutes. Once again Scott Guyett captained the England side in his second full international and he was joined 20 minutes from time by Wayne Hatswell who made his international debut.

"It was a great experience to be playing for England and I was proud to be there. They played the national anthem before kick-off and the team played really well. We were 3-0 up at half-time. I'll never forget pulling on the England jersey and coming on as a substitute with 20 minutes left. It was a great feeling to play for my country." he told the Evening Leader.

City's trio of players may well go head to head tomorrow night when Wales entertain England at Merthyr Tydfil, kick-off 19:30hrs.
---
SENIGALLIA TRIP OFF

Plans by the Supporters Trust and the football club to rearrange the friendly game against Italian side Vigor Senigallia to a pre-season date in July/August have been abandoned. Hosts Vigor Senigallia are currently unable to commit to a new date so plans have, unfortunately, been dropped.

The Supporters Trust have issued the following statement:
Following the announcement by Chester City FC that they would not be going to Senigallia to play the friendly game arranged by the Trust with Vigor Senigallia on the 8th June (the date previously confirmed in writing by both clubs) as they wished to play the game closer to the new season, the Trust has been liaising with both clubs to try to organise a fresh date. Whilst Stephen Vaughan has confirmed to Graham Ross, Trust chairman, on the 19th May that Chester City FC still wish to play the game if a date can be found, unfortunately the Secretary to Vigor Senigallia told the Trust yesterday that they will not be able to confirm a date until after their AGM in the second week in July. Since Chester City FC will have confirmed their pre-season games well before July, it is now not going to be possible to rearrange this game.
The Trust very much regret this outcome especially as a number of fans have already arranged bookings for flights and accommodation for the original date. The Trust will be discussing this problem with the club. A group of fans will, in any event, be travelling to Senigallia for the week-end of the 7/8th June. In the spirit of camaraderie between the two twin towns, we are pleased to report that the Senigallia Council have asked for the fans to make contact as they wish to offer hospitality to all those making the trip. In addition it has been agreed that if those fans travelling can muster a team together, that a match between both sets of fans will be arranged at the club's stadium. The Trust is going to make contact with all those it knows are travelling to put them in touch with their hosts in Senigallia. If anyone travelling wishes to have the contact details, please call Graham Ross on 0151 336 3000.
---
20 May 2003
RESERVES SWITCH
City's home reserve game tonight against Farsley Celtic has been switched from Flint Town United to Deva Stadium. Unlike the last game this will be open to the public and kick's-off at 20:00hrs.
---
NEW DEALS AGREED
Three City players have signed new deals for next season. They are Phil Bolland, Paul Carden and Jon Brady.
---
19 May 2003
DARYL'S HAPPY TO STAY
Striker Daryl Clare has stated his desire to remain at City following rumours last week that Aberdeen had made an offer for City's top striker. "I'm very happy with Chester and my family have just settled in the area. So as long as Chester want me I'm going to stay here. The interest from Aberdeen is flattering and it would probably be a great career move, but at the moment it's not an issue. I spoke to Mark Wright and he confirmed there had been contact from Aberdeen, but as I say it's not an issue. It's nice to have been linked."
---
FA TROPHY
Congratulations to UniBond Premier League side Burscough who beat Tamworth 2-1 in yesterday's FA Trophy Final in front of 14,265 at Villa Park. Shaun Teale's outfit were quoted at 400/1 for the Trophy earlier in the season.
---
15 May 2003
WRIGHT AFTER MIDFIELDER
Itís been reported that the club have tabled a five figure offer for Morecambe midfielder Adriano Rigoglioso. Manager Mark Wright told the Daily Post: "Adriano has the qualities we are looking for. He is fast and strong and has the sort of quality that will enhance our squad. I have a hit-list of four players and we will leave no stone unturned in our quest to move the quality of our squad even higher." The club had expressed an interest in signing the player, who still has a year on his contract to run at Morecambe, last February.
---
ON THE BORDERLINE UPDATE PAGES
Club historian Chas Sumner has produced the On The Borderline Update pages – containing first and youth team details for 2002/03. Reserve stats will be available when the Lancashire League season is complete.
---
14 May 2003
RETAINED LIST ANNOUNCED

Two players have been released by Chester City and four more placed on the transfer list as manager Mark Wright builds his squad for next season. The players released are Chris Blackburn and Jon Worsnop (pictured), while Jimmy Kelly, Dave Cameron, Steve Brodie and Lee Woodyatt have been placed on the transfer list.

Manager Mark Wright said: "This is one of the hardest tasks of a manager's job, but its part of football I'm afraid. Chris Blackburn sees his future in America and we will monitor his progress closely. We wish him well. I have also placed three other players on the list. Iím expecting to name another four or five players to be released soon.

Iíve drawn up a list of ten players who Iíd like to sign, and Iím aiming to make four or five new signings, but I wonít be bringing in any players who arenít any better than I already have."

It's reported in the local press that Droylsden have offered £10,000 each for Dave Cameron and Jimmy Kelly. ďIíve been told that Droylsden have bid £10,000 for me, but Iím not aware of that, and people have linked me with a move to newly-promoted Conference club, Accrington Stanley, but I havenít heard anything.Ē said Kelly (the following Monday).
---
BROWN AND COLLINS OUT OF ENGLAND SQUAD
Both Wayne Brown and Danny Collins have withdrawn from the England National Game X1 squad. Matt Baker of Hereford United replaces injured 'keeper Wayne Brown, whilst Nick Crittenden and Danny Collins have also withdrawn from the squad. Jason Goodliffe comes in from Stevenage Borough to replace Danny Collins, and Manager Paul Fairclough will be aiming to name a replacement for Crittenden in the next day. Collins was released after telling England officials he'd be unavailable for the final game against Scotland due to long-standing holiday commitments.

"I thought I might've been able to play in the first two games against Ireland and Wales and just miss the last one, but they won't let me do that. It's disappointing but there's not too much I can do about it. I still want to play for England and hope to get back in the squad in future." said Danny.
---
WOODYATT OUT
Lee Woodyatt has withdrawn from the Wales semi-pro Four Nations squad because of holiday plans.
---
LIVERPOOL RESERVES TO CONTINUE AT THE DEVA
Liverpool have confirmed that they will again play their reserve team fixtures at the Deva Stadium next season.
---
13 May 2003
SEASON TICKET PRICES FOR 2003/04
The club have announced that Season Ticket prices for 2003/04 have been frozen.
Current Season Ticket holders have until Friday 30 May, to renew their current tickets at discounted prices which are the equivalent to five league games free of charge.
Please check with the club on (01244) 371376 for confirmation on all prices and dates.
Season ticket prices for the East Stand and West Stand, and the North Terrace up to and including 30 June are:
East and West Stand: Adults, £192.00; Concessions, £144.00; and Under 16s, £96.00;
North Terrace: Adults, £160.00; Concessions, £112.00; and Under 16s, £80.00.

From 1 July
Season tickets will be sold at the following prices.
East and West Stands: Adults, £216.00; Concessions, £162.00; and Under 16s, £108.00
North Terrace: Adults, £180; Concessions, £126.00; and Under 16s, £90.00.
Turnstile admission next season will be at the following prices:
East and West Stands: Adults, £12.00; Concessions, £9.00; and Under 16s, £6.00.
North Terrace: Adults, £10.00; Concessions, £7.00; and Under 16s, £5.00.
Existing Executive Lounge season ticket
Current holders have up to and including Friday 30 May, to renew their current tickets.
Tickets will then go on general sale at £352.00 up to and including Monday 30 June. And from Tuesday 1 July, tickets will cost £396.00.
Executive Lounge tickets on the day, subject to availability, will cost £25.00 (that's a 25% increase!).

Prices have been based on five and three league games free of charge. Senior citizens will be entitled to a 10% discount on the Executive Lounge prices.

Car park season ticket
Will cost £40.00, and the daily car parking fee will be £3.00 (that's a 50% increase!).
---
11 May 2003
NATIONWIDE CONFERENCE PROMOTION FINAL
A Golden Goal by Francis Tierney gave Doncaster Rovers a 3-2 win in yesterday's Nationwide Conference Promotion Final in front of a crowd of 13,092 at the Britannia Stadium, Stoke. Dagenham & Redbridge had bravely fought back from 2-0 down in the final 30 minutes to force extra-time only to just miss out on promotion to the Football League for the second season running.
---
7 May 2003
FOUR NAMED IN ENGLAND SQUAD
Congratulations to Wayne Brown, Danny Collins, Scott Guyett and Wayne Hatswell who have all today been named by manager Paul Fairclough in the England National Game X1 squad for the forthcoming Home International Tournament in Wales.
The full squad is:
1. Wayne Brown (GK) – Chester City
2. John Kennedy – Canvey Island
3. Scott Guyett – Chester City
4. Terry Skiverton – Yeovil Town
5. Danny Collins – Chester City
6. Wayne Hatswell – Chester City
7. Michael Rose – Hereford United
8. Nick Crittenden – Yeovil Town
9. Lee Johnson – Yeovil Town
10. Darren Way – Yeovil Town
11. Stewart Drummond – Morecambe
12. Paul Terry – Dagenham & Redbridge
13. Chris Weale – Yeovil Town
14. Lee Elam – Morecambe
15. Kirk Jackson – Yeovil Town
16. Roscoe D'Sane – Aldershot Town
17. Junior Agogo – Barnet
18. Scott Rickards – Tamworth
Manager Fairclough said: "For the Chester players, the Tournament will give them the chance to try and put the disappointment of their play-off defeat to Doncaster behind them for a while. Playing for your country is a tremendous honour, and I would not have selected any of those lads if I didn't think they had the necessary character to focus fully on the Tournament."
---
CLARE NO TO IRELAND
Daryl Clare has had to turn down the chance to play in the Four Nations Tournament through injury. City's star striker has told the new Republic of Ireland semi-pro manager Tony Cousins that he wouldn't be fit enough. "I was offered the chance to play last year but I was struggling with an injury and had to pull out. Since Christmas I've been struggling with a knee injury and I've been told I need six weeks rest. I've not trained properly for months and have just been playing games. My aim is to get fit for the new season."
---
RETAINED LIST
The club are expected to announce their retained list next week sometime. Paul Carden, Phil Bolland, Jon Worsnop, Chris Blackburn and Jon Brady are the only members of the squad out of contract this summer. "This is a tough time of the season for me because I've got to decide who stays and who leaves. I'm going to let players go who I believe haven't performed, but I want our better players to stay. I've already spoken to our better players and I'm hoping they will stay with us." said manager Mark Wright.
---
7 May 2003
SCOTTISH SIDE ENQUIRES FOR CLARE

Today's Daily Post states that Chairman Steve Vaughan has received and enquiry and a financial offer for striker Daryl Clare from a Scottish Premier League side. The club has not been disclosed and the chairman added: "Yes we have received an enquiry for Daryl and a financial offer was proposed, but we are building for the future at this club, not selling our assets. I reiterate that after Monday's disappointment we are more determined than ever to push for the Conference championship next season than we have ever been. Obviously at the moment we see Daryl as part of that push."

The chairman added: "We would only take the matter further if it benefited and improved Daryl's career and frankly that decision would be left to him. If Daryl does decide to leave there will be a 25% sell-on clause payable to his former club, Boston United. We have to keep hold of what we have, but at the same time we have to look at all the options. The Chester team towards the latter part of this season has been built around Daryl Clare. He has been our main centre forward and it's just been a case of who has played alongside him in attack. I couldn't let Daryl Clare go from Chester for anything less than £300,000."
---
WALES CALL-UP FOR BEN AND LEE
Tommi Morgan has announced his Wales semi-professional international squad for the Four Nations Tournament to be held in Wales later this month and it includes both Ben Davies (born Walsall – Welsh Father) and Lee Woodyatt (born Bangor), congratulations to them both.
Tournament Schedule:
Tuesday 20th May:
Wales v Scotland – Carmarthen Town (19:30hrs)
England v Republic of Ireland – Merthyr Tydfil (19:30hrs)
Thursday 22nd May:
Wales v England – Merthyr Tydfil (19:30hrs)
Scotland v Republic of Ireland – Haverfordwest (19:30hrs)
Saturday 24th May:
Scotland v England – Carmarthen Town (13:00hrs)
Wales v Republic of Ireland – Haverfordwest (15:30hrs)
Ticket prices:
Adult: £4.00, Children/OAP: £2.00.
---
6 May 2003
HEARTBREAK FOR CITY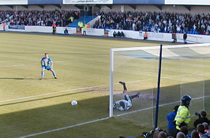 City's attempt to return to the Football League via the play-off's is over after the Blues lost out to Doncaster Rovers 4-3 on penalties yesterday after the two teams couldn't be separated after another pulsating 120 minutes of football in front of a packed Deva crowd of 5,702 who gave the side fantastic support throughout to create an atmosphere like none before at the ground.

As in the first leg it was City who struck first as Wayne Hatswell scored from close range following a Kevin McIntyre free-kick on the half-hour. The Blues, all of whom who gave 100% throughout, had a golden opportunity to increase their lead, as Daryl Clare, just four yards from goal couldn't quite connect with his shot and four minutes Paul Barnes equalised for the visitors.

The sides battled through 30 minutes of golden goal action, with both Clare and Dave Cameron going close in the dying minutes before the cruel lottery of penalties decided the tie.

Wayne Brown saved the first kick from Jamie Paterson but Clare missed City's opener and with it the advantage. Mark Quayle, Ben Davies and Kevin Mcintyre all dispatched their spot-kick's (as did Rovers' Gregg Blundell, Jason Blunt, Dave Morley and Tim Ryan) before Dave Cameron saw his effort saved by Warrington and the dream was over for another 12 months.

Manager Wright told the local press: "Obviously we will now take stock and start preparing for next season. There are certain players that we are interested in. I know the positions that we need to strengthen and after a short break we will start analysing who is available and then hopefully make a move. This is never an easy time for a manager because there are certain players who you must tell possibly don't figure in your future plans but this is football and we have to progress. We know what we want and we know the way to go and obviously we will make moves in the near future."

"The two goals yesterday were scrappy, but we had three chances that I still can't believe their keeper saved. He had a great game. We knew when we changed around at half-time that the wind was going to play a part, but we couldn't afford to miss the gilt-edged chances we had. The one difference in our game yesterday was their keeper. He had a marvelous game and did ever so well, and we missed our chances, but how he got to Dave Cameron's shot at the death I'll never know. Our crowd were fantastic. It just goes to show that there is a fan base out there that can help us get what we want. If we can turn in performances like yesterday's and get the crowd with us then that would be absolutely fantastic. We're not asking for sell-out crowds every week, but we'd like to have 3,500-4,000, and I think the fans are there and I think we can achieve that." he added.
Supporters Club chairman Barry Hipkiss said: "Considering what we have achieved in such a short period since all of the problems with Terry Smith we have achieved miracles. Everyone at the club, from the manager and the players to the chairman and all the rest of the staff at the Deva should hold their heads up high because we have come a long way. Penalties are always a cruel way to end a game. It is unfortunate and it is a sad way to go out but there has to be a loser and this time it had to be us. Credit has to go to the manager, the players and the chairman, who has stuck through it all, given the team time to gel. They are a young side and we have yet to see the best of them. Next season we have high hopes."

Doncaster Rovers will now play Dagenham & Redbridge in Saturday's Promotion Final at Stoke City. The Daggers beat Morecambe 3-2 on penalties after the aggregate scoreline at 120 minutes was locked at 3-3.
---
HELP SUPPORT THE JUNIORS
The club are holding a Casino fun night taking place this Friday 9 May 20:00hrs start at the Deva Stadium all are welcome pay on the door £10 includes buffet and funny money and a great night out with lots of prizes up for grabs and a 2003/04 season ticket for the west stand going for auction. All proceeds from the event will go to this seasons Juniors presentation night and also for next seasons kit, insurance registrations etc. Please help to support this cause.
---
4 May 2003
DEVA SELL-OUT
The House Full signs are up for tomorrow afternoon's eagerly awaited play-off decider against Doncaster Rovers at Deva Stadium. All tickets were sold out by Friday night with a near capacity crowd (I expect segregation seats will prevent a full house) in attendance in front of the SKY Sports cameras. There will be a strong police presence, both through the City and in and around the ground, to lessen the opportunity for any crowd disorder. Needless to say fans should get down to the ground as early as possible to avoid congestion. The game kick's-off at 15:30hrs.
In the other semi-final tie Dagenham & Redbridge take a 2-1 advantage to Morecambe.
Today's Non-League Paper states that City will have Mark Quayle available for selection on Monday after a specially conveyned FA Disciplinary Panel ruled on Friday after viewing video evidence that the red card should stand but no ban handed out.
---
EXETER CITY JOIN CONFERENCE
Exeter City will join Shrewsbury Town in the Conference next season after being relegated from the Football League yesterday.
---
2 May 2003
LAST GASP EQUALISER DENIES BLUES

A second goal in a week from Kevin McIntyre tonight had appeared to give City a one goal advantage tonight going into Monday's play-off semi-final second-leg at Deva Stadium until Tristram Whitman stepped up to force a 94th minute equaliser for Doncaster Rovers to leave the tie, effectively, level at half-time. The Blues looked in control for most of the game but will point to a controversial moment five minutes from time when substitute Mark Quayle was harshly given a straight red card for a tackle on Ravenhill that the TV replays appeared to show he'd won the ball. "I thought we deserved to be in the lead because we had worked hard, but at times we drop a little bit too deep and bring pressure on ourselves, but we live to fight another day. We've still got everything to play for on Monday, and I'm proud of my players. I'm proud that they went out big and strong, cleared their lines and did everything right, except finish Doncaster off. We had to respect Doncaster because they are a really good side, and on their day they can beat anybody". manager Mark Wright said after the game.

Monday's game will be shown live on SKY, kick-off 15:30hrs. London based Exiles who can't get to the game can view it at the Famous Three Kings (F3K) on the North End Road in west Kensington (right next door to West Kensington tube station on the District Line, turn right on exit).
---
PLAYER OF THE SEASON
There will be no Player of the Season awards presentation ceremony on the pitch prior to Monday's match. The management, understandably, want the players minds focused on the important job in hand. However the presentations will be made following the game in the Social Club.
Explained poll organiser Barrie Hipkiss: "Having consulted with Mark Wright, we thought it would better not to have any distractions for the players as they concentrate on this important game."
For those who can't attend, the results as follows:
Official Player of the Season 2002/2003: Scott Guyett
Away Supporters Club Player of the Season: Ben Davies
Young Player of the Season, (chosen by the Chester City F.C. management team): Ben Davies
Tony O'Brien memorial award: Phil Bolland
Congratulations to all the winners.
---
1 May 2003
TEST OF NERVES FOR CITY
City go into tonight's Nationwide Conference first-leg play-off game at Doncaster Rovers knowing they are just three games away from a possible return back to the Football League. A crowd close to capacity will pack Belle Vue for what will be a tight, tense, game. The Blues will have following of over 1,000 fans who will make the trip from all parts of the country to support their side against the team that finished one place above them in the final table.
Chester have the upper hand in games between the sides this season, drawing 0-0 at Doncaster earlier in the season and recording a 1-0 win last month in front of the SKY cameras at Deva Stadium, Michael Twiss scoring the winning goal on that occasion.
City manager Mark Wright will be keeping his team selection close to his chest, but both Scott Guyett and Daryl Clare who missed Saturday's 1-1 draw at Yeovil are expected to play. Mark Quayle is also available following his three match suspension. Tonight's game kick's-off at 20:00hrs and those fans who couldn't get a ticket in the short time allowed can see the game live on SKY Sports.
---