31 May 2005
LAST CHANCE FOR SUPERSAVER SEASON TICKET OFFER


Supporters have until 16:00hrs to apply for the first phase of Season Tickets, which give an equivalent of 5 free games. Existing season ticket holders have until then to renew their tickets, after which time seats will go on general sale.

Season Ticket prices before 31 May 2005
East (main) & West stands: adults £270.00, concession £180.00, under 16's £108.00.
North Terrace: adults £234.00, concession £144.00, under 16's £90.00.
Executive Lounge: adults £504.00, senior citizen £453.00.
Car Park: £40.00.

UNDER 16'S OFFER.
Where and adult season ticket is purchased before 31 May 2005, the season ticket holder can purchase up to a maximum of 2 child season tickets at the extra discounted price of £75.00 each.

The full list of 2005/06 admission prices is as follows.
Matchday prices
East (main) & West stands: adults £15.00, concession £10.00, under 16's £6.00.
Terrace: adults £13.00, concession £8.00, under 16's £5.00.
Executive lounge matchday: adults £28.00, senior citizen £25.00.
Car Park: £3.00.
Matchday and Car Park prices remain the same as for 2004/05.
---
Season Ticket prices before 31 May 2005
(equivalent to 5 free games)
East (main) & West stands: adults £270.00, concession £180.00, under 16's £108.00.
North Terrace: adults £234.00, concession £144.00, under 16's £90.00.
Executive Lounge: adults £504.00, senior citizen £453.00.
Car Park: £40.00.
UNDER 16'S OFFER. Where and adult season ticket is purchased before 31 May 2005, the season ticket holder can purchase up to a maximum of 2 child season tickets at the extra discounted price of £75.00 each.


Existing season ticket holders have until 31 May to renew their tickets, after whiich time seats will go on general sale.
---
Season Ticket prices from 1 to 30 June 2005
(equivalent to 4 free games)
East (main) & West stands: adults £285.00, concession £190.00, under 16's £114.00.
North Terrace: adults £247.00, concession £152.00, under 16's £95.00.
Executive Lounge: adults £532.00, senior citizen £478.00.
Car Park: £40.00.
---
Season Ticket prices after 1 July 2005
(equivalent to 2 free games)
East (main) & West stands: adults £315.00, concession £210.00, under 16's £126.00.
North Terrace: adults £273.00, concession £168.00, under 16's £105.00.
Executive Lounge: adults £588.00, senior citizen £529.00.
Car Park: £40.00
---
WRIGHT NAMED POSH MANAGER
Former Chester manager Mark Wright is back in football having this morning been named as the new manager at League Two rivals Peterborough United with a three year contract.

Wright was chosen from nearly 100 applicants, including another former City boss Ian Rush, and succeeds Barry Fry who stepped down at the end of the season to begin a new role of director of football.
---
SUPPORTERS TRUST AGM
The Chester City Supporters Trust hold their 2005 Annual General Meeting tonight at The United Services Club, Crook Street, Chester. 19:30 for 20:00hrs start.

Past members may attend if they rejoin beforehand. New members may join tonight.
---
27 May 2005

DOUBLE AWARD FOR CAPTAIN CARDEN
Captain Paul Carden has been named Player of the Season for 2004/05, he also won the Away Supporters Player of the Season award as well. Midfielder Carden was released by Chester manager Keith Curle this month after making almost 200 appearances for the club.

• Previous winners
---
24 May 2005

CITY STEP UP BLUNDELL QUEST

City have made an undisclosed six figure bid for 29-year-old Doncaster Rovers striker Gregg Blundell. Blundell is no stranger to City fans, he was always a thorn in the side for Northwich Victoria against the Blues in recent Conference seasons.
Blundell began his career as a trainee at Tranmere Rovers before moving to Vauxhall Motors where a prolific scoring record saw a step-up to Northwich Victoria. He moved to the Drillfield for £8,000 in January 2001 and went on to make 93+1 appearances for the Vics, scoring 40 goals. Blundell signed for Doncaster Rovers just over two years ago and has scored 32 goals in 96 appearances for the Belle Vue side. It is understood that he is after a return to the north west and has attracted interest from another club in the area.
City chairman, Steve Vaughan said: "I have spoken to John Ryan, Doncaster Rovers Chairman, and he has in principle accepted a six figure offer. There are still further negotiations to be held. The player apparently is also the subject of interest from another club, and of course we will have to sit down with Gregg and discuss his terms."
This afternoon club secretary Tony Allen told Teletext: "A fee has been agreed between the two chairmen and we hope to have everything sorted within the next 24 hours. It is a six-figure fee and will be a club record paid out by the club if everything goes ahead"
---
EXILES PREDICTION COMPETITION RESULT
Congratulations to Sarah Spencer who has won this years Prediction Competition and with it £100.00. The final placings were decided following Arsenal's dramatic win in the FA Cup on Saturday. Chris Forwood takes the second prize of £50.00, and Rebecca Cantle the third prize of £30.00. Thanks to all who took part in the competition.

• Competition prizes and final placings
---
23 May 2005

CHAIRMAN IN EVERTON SHARE BID

After the speculation late on Friday chairman Steve Vaughan has admitted he is in talks about the possible purchase of a large number of shares in Everton FC. It is believed that he will have £20m available to make the purchase.

Mr Vaughan told the Daily Post that he was negotiating to buy millionaire Everton director Paul Gregg's 23.2% shareholding in the club, however Gregg said his discussions with Mr Vaughan were about his buying Mr Kenwright and fellow director Jon Woods's shares, not his own.
Talks are at a very early stage but if he's successful then Vaughan would not be able to remain major shareholder at the Deva.

He said: "Currently I am the major shareholder and creditor of Chester City, and if the negotiations progressed sufficiently for me to take a stake in Everton, then my interests would be passed into the capable hands of my chief executive, David Burford. Chester will not be disadvantaged at all if I am successful."
---
17 May 2005

ON THE BORDERLINE UPDATES
Following on from the recently released reserves details, Chas Sumner has produced On The Borderline update pages for the 2004/05 first team and youth team which can be downloaded here.

'On The Borderline' the official history of Chester City FC was published on 1 November 1997 and is now out of print. To complement the book, update stats pages have been produced to cover the seasons 1998/99 to the present day and are all available to download in PDF format from this site.
---
BURTON FRIENDLY
Chester will travel to play a pre-season friendly game at Burton Albion on Saturday 16 July. The game will be the first to take place at the new Pirelli Stadium with The Brewers having left Eton Park this month.

• 2005/06 Pre-season friendlies | July Deva Diary
---
16 May 2005

CORTEZ ACCEPTS OFFER

Striker Cortez Belle is the first player to accept City's severance packages offered last week. Belle did not feature in the plans of manager Keith Curle and was released with 19 other players at the end of the season.

Belle, 21, was signed last summer by Mark Wright for £1,000 from Merthyr Tydfil initially as a defender, but was pushed up front at the start of the 2004/05 campaign. He made 19+5 first team appearances for City scoring two goals (Leyton Orient (H), Stafford Rangers (A)) but his poor disciplinary record of six yellow and three straight red cards let him down forcing him to miss several games through suspension.


Towards the end of the season Belle had been on loan at Newport County and is expected to sign a permanent deal with the Conference League South club in the coming weeks.


• 2005/06 transfer activity
---
12 May 2005

SEASON TICKET SALES INCREASE
Despite a disappointing season, the club have reported increased season ticket sales on the corresponding time last year for the forthcoming 2005/06 campaign. City are running a Super Saver incentive through May and this appears to have been a popular move. Chairman Steve Vaughan told the Daily Post: "This is great news, and shows that the fans are looking forward, like me, to next season, and the prospects for the forthcoming campaign which look extremely bright. Of course, the effect that Keith Curle appears to be having is also a positive one."

Details of the offer currently available are shown below.
Season Ticket prices before 31 May 2005 (equivalent to 5 free games)
East (main) & West stands: adults £270.00, concession £180.00, under 16's £108.00.
North Terrace: adults £234.00, concession £144.00, under 16's £90.00.
Executive Lounge: adults £504.00, senior citizen £453.00.
Car Park: £40.00.

UNDER 16'S OFFER. Where and adult season ticket is purchased before 31 May 2005, the season ticket holder can purchase up to a maximum of 2 child season tickets at the extra discounted price of £75.00 each.
Existing season ticket holders have until 31 May to renew their tickets, after which time seats will go on general sale.


• Full 2005/06 Season Ticket and Deva admission prices.
---
SEASIDERS PRE-SEASON FRIENDLY
League One side Blackpool will visit Deva Stadium on Saturday 30 July, a week before the start of the new season, for a friendly game. Kick-off is at 15:00hrs.
---
11 May 2005

RETAINED LIST ANNOUNCED
Details of the nine players retained by Keith Curle for next season have been released. The players staying are: Chris MacKenzie, Phil Bolland, Sean Hessey, Stewart Drummond, Ryan Lowe, Ben Davies, Stephen Vaughan and Michael Branch. Carl Regan is to be offered a new deal.

All other players have been given free transfers including the two most experienced players captain Paul Carden and goalkeeper Wayne Brown (with almost 500 appearances between them) and youngsters who broke into the first team this season Robbie Booth and Michael Walsh. Good luck to them all.
---
TRUST REPRESENTATIVE RESIGNS
Chester City director Richard Lynes has resigned from the board for personal reasons after spending three years as the representative of the club's Supporters Trust. I'm sure all supporters would like to thank Richard for all the work he has done representing their views at board level. After discussion the Supporters Trust have decided not to appoint a replacement on the board at this moment in time.
---
9 May 2005

TWENTY PLAYERS SHOWN THE DOOR


Manager Keith Curle has wielded the axe on City's squad by retaining only nine of the current 29 first-team, reserves and third year scholars. Some players are still under contract and will be offered a severance packages if they don't find a club by the end of June. All 20 players will be released as free transfers. No names have yet been released as Curle still has to talk to two players, but the retained list will be out on Wednesday.

Curle said: "I want to sit down face to face with the two players before I talk about it publicly. These have been very big decisions and I've not taken them lightly. It's difficult for the young lads and the same thing happened to me when I was 16. I've made an honest decision and it's up to them to have the right attitude and belief in themselves to prove me wrong."


Players under contract: Wayne Brown, Chris MacKenzie, Richard Hope, Phil Bolland, Sean Hessey, Stephen Vaughan, Stewart Drummond, Ben Davies, Andy Watson, Andy Harris, Cortez Belle, Michael Branch, and Ryan Lowe.

Out-of-contract players: Paul Carden, Kevin Rapley, Darren Edmondson, Carl Regan, Robbie Booth, Michael Walsh, Danny Ventre, Shaun Whalley and Ian Latham.
---
8 May 2005

CITY SIGN OFF WITH A WIN


A goal in injury time from Ryan Lowe gave City their fifth away win of the season to leave the Blues in 20th place in League Two following this victory at Oxford United. With Keith Curle taking a seat in the Directors Box for his first game in charge, he will have been pleased to see a well organised City, with an effective offside trap marshalled by ex-U's player Phil Bolland, gave a good account of themselves in a good end-of-season game.
Curle said: "I thought it was very important for the football club to finish the season on a high. There has been a lot of turmoil, and a lot of unrest going on behind the scenes at the football club, but the important thing is that the players gave an organised and disciplined performance, and they got their reward for a lot of effort on the day and during the week in the run-up to the Oxford match."
There were chances at both ends before Lowe, in torrential rain, jinked his way through into the box on the right before slotting the ball past 'keeper Tardif at the near post to the delight of the 374 City fans nearby.
Curle will be meeting up with Steve Vaughan this week and will be informing the players who he does and doesn't want for next season before issuing a retained list.
---
ON THE BORDERLINE
For those who like to update their copies of On The Borderline, Chas Sumner has produced details of the 2004/05 reserves season which can be downloaded here. Youth and first team pages will be available soon.
---
HELLO AND GOODBYE!
Several promotion and relegation matters were decided yesterday. Coming down from League One to play City next season are Stockport County, Peterborough United, Wrexham and Torquay United while we lose trips to Yeovil Town, Scunthorpe United and Swansea City who have all been promoted, and Cambridge United and Kidderminster Harriers who have been relegated.


Contesting the League Two promotion play-off's are Southend United, Macclesfield Town, Lincoln City and Northampton Town.
We will once again renew acquaintances with Barnet who were promoted as champions from the Conference while Carlisle United and Stevenage Borough will contest the play-off final next Saturday night.
---
6 May 2005

BELL IN CHARGE TOMORROW


Former caretaker manager David Bell
and assistant manager John Gannon will take charge of City's final game of the season at Oxford United as City make a first-ever visit to the Kassam Stadium tomorrow.
Manager Keith Curle will once again view the match from the stands as he takes his last chance to cast an eye over the players before announcing his retained list for next season.
Curle has take his first week of training this week and seemed impressed by the effort put in by his squad no doubt hoping that can take that hard work into tomorrow difficult game. Curle said: "I'll be looking for attitude, application, and enthusiasm from the players, especially after the training sessions I took this week. I think it's fair to say that all the players have worked really hard – harder than any other players in the division – the players attitude on the training ground has been superb."
Curle already has an idea of players he wants to bring in for next season. "We have 13 players still under contract and I have a budget to work to, but I will be talking to the players next week and they will be told who will figure in my plans and who will not. I don't want players still on contract to be missing a year out of their careers if they are not in my plans, so it would be in their best interests to look for other clubs. I know the players I would like to bring to the club. I want to turn the squad into one which would put Chester City into the top seven in League Two next season, but that can't be done with some of the players who are already here. I can't guarantee anyone a place at the club."
The two sides last met in late November when a Kevin Ellison goal wasn't enough to save the Blues who lost 3-1 at Deva Stadium. Oxford have an good home record that has seen them win 11 matches, they've also lost 7 though, and saw former Argentinian international Ramon Diaz resign this week, his son Emiliano Diaz also left. Brian Talbot was announced today as his replacement at Oxford.
Once again the Blues will be without suspended duo Sean Hessey and Joe O'Neill while striker Michael Branch also sits the game out. The Blues also have fitness doubts over goalkeeper Wayne Brown, midfielder Stewart Drummond and striker Robbie Foy.
• The last time we met.
---
4 May 2005

OPERATION FOR BRANCH


Striker Michael Branch will undergo a knee operation soon in an effort to rid an injury that has plagued the striker all season. Branch has been troubled with knee, hamstring and calf injuries for a lot of the season, something that manager Keith Curle is well aware of.

He said:
"I know what Michael can do having watched him for a while. He has scored 11 goals for Chester this season but his progress has been hampered by injuries. I need to see more improvement from him. I want to see him playing more games and scoring more goals for Chester next season."

The former Everton player made 34+3 appearances for City scoring 13 goals last season.
---
1 May 2005

DEVA ANTI-CLIMAX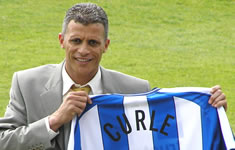 The Blues ended a disappointing home 2004/05 campaign with a 2-0 defeat at the hands of play-off chasing Northampton Town on Saturday.

The Cobblers, backed by about 1400 fans, proved too strong for the Blues taking the lead midway through the first half and doubling their advantage just after the restart.

To add to City's misery, Ben Davies sent an awful penalty yards wide with ten minutes remaining after the midfielder had been upended in the area.


Prior to the match manager-elect Keith Curle, he takes charge from tomorrow, was introduced to the City faithful. Watching from the back of the stand Curle will have been left under no illusion regarding the size of the task he has in rebuilding a squad for next season's campaign. Lightweight up front and sluggish at the back, it's clear that fresh blood, and plenty of it, will need to be drafted in over the summer months at the expense of those there now.
---
NEW APPOINTMENTS
The match programme on Saturday named a new director on the board in the name of Mark McMillan.
Meanwhile ex-Sheffield United and Wimbledon player 38-year-old John Gannon has been appointed Keith Curle's assistant. He was present at Saturday's match will now be working alongside Curle and David Bell.
---
PLAYER OF THE SEASON
For the third successive year there were no Player of the Season presentations at the final home game of the season. In fact, last season there was no presentation whatsoever to a player from our championship side. Forms were available to vote for the main player of the season and the presentation is due be made to the winner at the start of next season. There has been no word regarding any other awards previously awarded to the Away Fans Player, Young Player and ISA Player of the Season.
The omens aren't good for the main winner, on more than one occasion the recipient has departed the Deva in the summer.
Previous Players of the Season:
1973/74 Chris Dunleavy
1974/75 Trevor Storton
1975/76 Grenville Millington
1976/77 —
1977/78 Brian Lloyd
1978/79 Derek Jeffries
1979/80 —
1980/81 Grenville Millington
1981/82 Grenville Millington
1982/83 John Thomas
1983/84 Andy Holden
1984/85 Andy Holden
1985/86 Bobby Coy
1986/87 Milton Graham
1987/88 Graham Abel
1988/89 Carl Dale
1989/90 —
1990/91 Chris Lightfoot
1991/92 Chris Lightfoot
1992/93 Billy Stewart
1993/94 Colin Greenall
1994/95 Roger Preece
1995/96 Peter Jackson
1996/97 Ronnie Sinclair
1997/98 Nick Richardson
1998/99 Ross Davidson
1999/00 Luke Beckett
2000/01 Paul Beesley
2001/02 Gary Brabin
2002/03 Scott Guyett
2003/04 None presented
---
WARTIME FOOTBALL
This summer, a series of public events will be held to commemorate the 60th anniversary of the end of the Second World War. The Football League will also be marking the occasion by looking at football's contribution during the war years. You can read about Chester's wartime football exploits in Chas Sumner's article here.
---
OXFORD UNITED TICKETS
City fans are able to pre-purchase tickets for Saturday's last game of the season at Oxford United at a discount rate. Tickets will be available from the club office Tues-Fri this week during normal office hours (10:00-16:00hrs).

Seat prices in advance are: Adult £15.50 (normally £18.50), Concessions for students on production of an NUS card £12.00, under 16s and senior citizens £9.50. Wheelchair users will be charged £15.50 in advance, concessions £9.50.