29 March 2002
ANDY PORTER
Midfielder Andy Porter has joined Cheshire neighbours Northwich Victoria, initially for a loan period, according to soccerbase.com.
---
MORE BOARD RESIGNATIONS?
Chairman Steve Vaughan has hinted that two more directors at the club are about to resign. The two, as yet unknown, are expected to follow other directors Alan Case and Sheelagh and Michael Horne out of the boardroom in the next few days. It is believed that Vaughan's public announcement of the club currently being insolvent is the reason and all seem to have left on good terms.
---
28 March 2002
TOUGH EASTER FOR CITY
Chester face two tough games over the Easter period as they continue their efforts to pull away from the relegation drop zone.

On Saturday the Blues travel to Doncaster Rovers and manager Mark Wright must wait on the fitness of midfield playmaker Shaun Carey (groin) and striker Chris Tate (knee) after both players sustained their injuries during Tuesday night's match at Hereford Untied.

On Monday Chester entertain promotion hopefuls Yeovil Town at the Deva. Yeovil have the best away record in the Conference (just ahead of City's) and will be smarting following their home 1-0 defeat to Boston United on Tuesday. Both games kick-off at 15:00hrs.

In between, on Sunday, the Chester City Ladies have a Northern Combination home game to Chester-le-Street at the County Officers, Upton, kick-off 14:00hrs.
---
27 March 2002
NEW BOOK NOW OUT
The new book 'Images of Sport – Chester City FC' by club historian Chas Sumner has now been published.

From tomorrow it is hoped to have the book on sale at the following outlets:
•Bookland, Bridge Street, Chester
•Club Shop, Deva Stadium
•Tourist Information Centre, Town Hall Square, Chester
•WH Smith, Foregate Street, Chester
•WH Smith, Witton Street, Northwich
•Tesco, Broughton Shopping Park, Chester
•Waterstones, Bridge Street Row, Chester
•Borders Bookshop, Cheshire Oaks, Ellesmere Port
•Sportspages, Caxton Walk, 94-96 Charing Cross Road, London

Additionally the book will be available online at Amazon and Sportspages (use 'chas sumner' as the search criteria)
Chas will be signing copies of the book in Bookland on Saturday 13 April between 12:00 and 13:00hrs. It is hoped that club record goalscorer Stuart Rimmer will be present along with Iain Jenkins. There will also be a signing session in the club shop at the Deva later prior to the match against Dover Athletic.
'Images of Sport – Chester City FC' is priced at £10.99.
---
26 March 2002
PEACOCK TRIBUNAL
After giving seven days notice to Stalybridge Celtic regarding their intent Chester signed midfielder Richard Peacock on Friday. Peacock made his Blues debut at Boston and keeps his place for the visit to Hereford United tonight. However Stalybridge are demanding a transfer fee for the player who was on non-contract terms at Bower Fold and the matter has gone to a Conference tribunal to be held in Wilmslow today with club secretary Michael Beech attending. "Stalybridge are claiming a transfer fee for Richard which seems a bit silly, as he is a non-contract player, and we gave the club the required seven days notice of our interest," said manager Mark Wright.
---
RESIGNATIONS
Directors Sheelagh Horne, Michael Horne and Alan Case are reported to have all resigned from the board of directors at the Deva Stadium. No reasons have yet been given.
---
25 March 2002
HEREFORD NEXT UP
Chester travel to Hereford United tomorrow night looking for their eighth Conference away victory of the season following Saturday's win at Boston. City now occupy 17th place with 41 points from 34 games, eight points clear of the drop zone. With five defeats in the last eight Hereford's fortunes have taken a dip recently and they currently lie just one point ahead of the Blues.
---
22 March 2002
TEAM NEWS
City face a tough task tomorrow as they visit York Street home of Conference leaders Boston United. Manager Mark Wright is expected to welcomes back Mark Williams and Shaun Carey to the side that lost at Burton, and also hopes to have Stalybridge midfielder Richard Peacock in the squad. Peacock is still negotiating a deal to join City. The Blues probably still need another six or seven points to maintain their Conference place next season and still have to play the top three sides (Boston, Yeovil and Dagenham) in their nine match run-in. Boston have doubts over Mark Monington and Ross Weatherstone and will be expecting another bumper crowd. On Wednesday 4,500 passed through the turnstiles for the 4-1 home victory over Nuneaton Borough. The crowd were admitted free of charge then following the original fixture being abandoned.
---
TRUST BUY SHARES
City chairman Steven Vaughan has agreed to sell 7% of his shareholding in the club to the Chester City Supporters Trust. The Trust will be represented on the board of directors by Richard Lynes.
---
21 March 2002
FOURTH CAP FOR WAYNE BROWN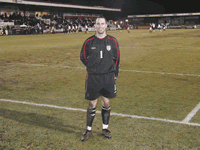 City goalkeeper Wayne Brown received his fourth cap for the England semi-professional side (or National Game X1 as they are now called) last night at Stevenage Borough. Brown played for the first 62 minutes before being replaced (unscathed) by Scarborough's Andy Woods.

England came from behind to beat the USA 2-1 with a goal by Yeovil Town's Nick Crittenden and a late penalty from Doncaster's Tim Ryan. In truth Wayne didn't have a great deal to do against a well organised USA side. He made one great save from close range to deny Mark Shulte and had little chance with the goal, a powerful header into the top corner that eluded the defender on the post.
England play their second full international of the season on 24 April at Huish Park, the home of Yeovil Town when they entertain The Netherlands.
England: Brown (Woods 62), Travis, Tonkin, Skiverton, Goodliffe, Ryan, Drummond (Watson 54), Stimson, Jackson, Braithwaite (Moore 85), Roddis (Crittenden 66).
---
HEREFORD UNITED COACH
Supporters wanting to secure their seat on the club's official supporters club coach to Hereford United next Tuesday should phone Barrie Hipkiss on (01244) 379011 between 18:00hrs and 20:00hrs before Sunday night's deadline. Places will cost £10 and the coach leaves Delamere Street on Tuesday at 16:30hrs.
---
20 March 2002
NEW SIGNING?
Chester are expected to hold talks today with Stalybridge Celtic midfielder Richard Peacock. Manager Mark Wright said: "I'm having talks with Richard Peacock. I know what he can do and who he is. He is a very useful winger, and he'll be a bonus for us. I'd like to get him at Chester as soon as possible." The club have also announced that Michael McElhatton has been re-signed for another one month loan period from Rushden & Diamonds. However Diamonds have a 24hr recall on the player.
---
ENGLAND CALLING
Wayne Brown is expected to get his fourth England semi-pro cap tonight when the host team take on the USA at Stevenage, kick-off 19:30hrs. Manager Mark Wright isn't happy about the call-up though as City are deep in a relegation battle and an injury to Brown, at this late stage of the season, could have disastrous consequences.

Wright said: "Wayne Brown's selection is wrong as far as Chester City are concerned. Words can't really express how disappointed I am that one of our players has been called up for a meaningless game. Wayne is paid by Chester City Football Club, not by England. I tried to get him withdrawn because if he gets injured we're in lumber. Chester are still fighting off the threat of relegation, so playing a game like this at this stage of the season is wrong as far as the club is concerned. We should have our better players around us at all times – this game means nothing to anyone and I feel let down."
---
18 March 2002
DEFEAT FOR CITY
Two goals in as many minutes midway through the second half brought a quarter-final trophy defeat for City in front of a bumper crowd at Burton Albion. An even first half saw The Brewers have a goal disallowed for offside and both Gary Brabin and Paul Carden go close for City. Mark Beesley hit a post and saw his rebound saved minutes before the home sides double strike after the break. City, who were unable to raise their game following the goals were kept in their dressing room by manager Mark Wright long after the match. Wright's side can concentrate on keeping their place in the Conference now. Saturday's 3-1 win for Woking over Doncaster Rovers has closed The Cards' gap behind Chester to one point with a game in hand.
---
BOSTON UNITED COACH
Supporters wanting to secure their seat on the club's official supporters club coach to Boston United on Saturday should phone Barrie Hipkiss on (01244) 379011 between 18:00hrs and 20:00hrs. Places will cost £11 and the coach leaves Delamere Street at 10:00hrs.
---
ROGERS ARRESTED
The chairman of the ISA George Rogers was arrested on Saturday after a fight broke out in the Chester crowd towards the end of the match. Rogers and another as yet unnamed man, were taken by officers to Staffordshire Police Station shortly after the incident. Staffordshire Police press officer Alison Hughes said: "There was an altercation and a 38-year-old man was ejected and arrested by police outside. As a result of the fracas, a man from Chester suffered facial grazing and a cut to his nose and was attended to inside the ground. Both men involved in the incident were questioned and the 38-year-old man made counter allegations. Both have been given police bail."

ISA Committee Statement
Many members may be aware of a regrettable altercation which involved George Rogers near the end of the game at Burton Albion and which has been reported in the local and national press. At an ISA committee meeting on 23 March, George offered to stand down as Chairman as a result of the incident. The ISA Committee fully accepted George's description of events and unanimously rejected his offer of resignation. We do not intend to make any further comment other than to express our recognition of the work put in by George for the ISA and Chester City Football club over the past four years.
Les Smith (on behalf of the ISA Committee).
---
15 March 2002
JUST ANOTHER GAME

Around 500 Chester fans are expected to make the trip to Burton-upon-Trent tomorrow for City's FA Umbro quarter-final tie. Two official supporters' coaches are heading for Staffordshire as City aim to reach the semi-finals of the competition for the second year running. Defender Mark Williams and midfielder Shaun Carey are unavailable for selection so manager Mark Wright will have to shuffle the team that won in style 4-0 at Stalybridge Celtic last Saturday. Burton are expecting a near capacity crowd at their Eaton Road ground. Wright has made no secret of the fact that Conference survival is his only target at the moment. Wright said: "I'm treating the tie as another game, and I've not changed my opinion about our priority. I just hope none of our players receive silly sending's off or bookings, and that none of my players pick up any injuries. We've just got to keep doing the things that we've been doing since I've been here. We've got into a good habit of winning, and I hope that continues. Staying in the Conference this season is my main aim, but I know the fans and our chairman are looking forward to tomorrow's match. I'd enjoy the FA Trophy tie more if I knew our league position was safe, but I know that's not the case."
---
TRUST TO LAUNCH MESSAGE SERVICE
The Chester City Supporters Trust have announced that they are launching an SMS message service to mobile phones next week, news reports and goal flashes will be available from their website as will Chester City logos and ring tones for downloading. They've also announced they they will be broadcasting City matches on the internet soon. Details of costs have yet to be announced.

"We will be opening an e-commerce facility for purchase of shop items and providing live broadcasts of all Chester's games over the Internet, and the Trust are currently trialing a unique online system that will make Chester City the first football club to invite fans into a virtual boardroom. All these ventures will open up entirely new revenue streams for the club," said Supporters Trust chairman Graham Ross.
---
14 March 2002
RESERVES WIN
Goals from a trialist Steve Guinan and David Brown gave City Reserves a 2-1 victory at home to Ossett Town Reserves at the Deva Stadium last night to take the Blues to the top of the Division.

According to soccerbase.com Birmingham-born Guinan's currently registered at Plymouth Argyle and his previous clubs include: Cambridge United, Scunthorpe United, Halifax Town, Crewe Alexandra, Burnley, Darlington, and Nottingham Forest.
LANCASHIRE LEAGUE DIVISION ONE
As at 14 March 2002
P
W
D
L
F
A
GD
Pts
Chester City Reserves
25
18
4
3
81
24
57
58
Morecambe Reserves
23
17
4
2
101
24
77
55
Marine Reserves
24
11
6
7
51
41
10
39
Burscough Reserves
23
11
5
7
41
33
8
38
Southport Reserves
19
11
1
7
52
26
26
34
Accrington Stanley Reserves
22
11
1
12
47
34
13
34
Guiseley Reserves
17
11
1
5
39
31
8
34
Ossett Town Reserves
18
11
1
6
29
33
-4
34
Lancaster City Reserves
22
9
4
9
32
39
-7
31
Rossendale United Reserves
19
8
6
5
37
34
3
30
Ashton United Reserves
23
8
1
14
38
49
-11
25
Northwich Victoria Reserves
20
7
2
11
36
52
-16
23
Barrow Reserves
18
6
0
12
43
53
-10
18
Leigh RMI Reserves
19
5
3
11
30
26
-26
18
Altrincham Reserves
20
4
5
11
22
44
-22
17
Bamber Bridge Reserves
22
3
2
17
30
91
-61
11
Colwyn Bay Reserves
18
1
2
15
16
61
-45
6
---
ALEX HIGGINS
Stalybridge Celtic have signed former City player Alex Higgins. Higgins made just one first team appearance for the Blues as a substitute and had his contract cancelled a few weeks ago.
---
13 March 2002
BURTON SUPPORTERS COACH
City fans have their last chance to book a seat on a Chester Supporters' Club bus tonight for Saturday's FA Umbro Trophy tie at Burton Albion. Anyone wanting to secure a seat should contact Barrie Hipkiss on (01244) 379011 between 18:00hrs and 20:00hrs tonight. Seats will cost £8 and the bus will leave Delamere Street at 11.30hrs.
---
RESERVES AIM TO GO TOP
Chester City reserves are at home to Ossett Town reserves at the Deva Stadium tonight, kick-off 19:45hrs, aiming for a victory that will take them clear at the top of the Lancashire League. First team players including Jimmy Haarhoff, Dean Spink, David Brown and Paul Carden, are all expected to be involved in the match.
---
12 March 2002
CUP-TIED
Central defender Mark Williams and midfield player Sean Carey are both ineligible to play for City in Saturday's FA Umbro Trophy quarter-final at Burton Albion on Saturday, while loan players Michael McElhatton and Chris Tate will need permission from their clubs (Rushden & Diamonds and Leyton Orient respectively) to play. The Brewers have only lost two matches all season in the UniBond Premier League and with City currently on an unbeaten run in both Conference and Trophy of 12 games Saturday's tie looks like being a cracker. Burton Albion's official website states that due to Wayne Brown's international call-up, any replay necessary will now take place at the Deva on Tuesday 26 March, kick-off 19:45hrs.
---
CITY INTERESTED IN MIDFIELDER
It's reported in the press that Chester are looking at 29-year-old Stalybridge Celtic midfielder Richard Peacock. Peacock has played in the football league with Hull City, Lincoln City and Sheffield United. The player, who is on non-contract terms with Stalybridge Celtic, made 242 football league appearances, scoring 27 goals. Chester have given Stalybridge seven days notice that they wish to approach the player.
---
BURTON SEAT TICKETS
Fifty stand tickets for Chester's FA Umbro Trophy quarter-final tie on Saturday at Burton Albion will go on sale to City season ticket holders at the Deva Stadium from 13:00hrs tomorrow (Wed). And any unsold tickets will remain on sale from 18:00hrs at the club. With a large number of Chester City supporters expected at the game we will have all of the Gordon Bray terrace (covered end behind a goal) for Saturday's tie.
---
COMPREHENSIVE WIN FOR CITY
Chester turned on a stylish second-half performance on Saturday to beat Stalybridge Celtic 4-0 at Bower Fold. Around 400 appreciative Blues fans made he journey across Cheshire and backed the team throughout in a game City needed to win to continue their slow pull clear of the relegation zone. Four quality goals from Mark Beesley, Chris Tate (his first for the club) and two quality strikes by Michael McElhatton (also opening his City account) gave the Blues a comfortable victory after a fairly even opening 45 minutes.
A delighted City manager Mark Wright said: "We are a confident side – Scarborough and Leigh came and did a job in our last two games. I was very impressed with our support at Stalybridge, and that's what we want to try and generate at home. If we get that kind of support at home for the boys then they'll get better and better. To a man, when we went in at half-time, we all knew we were up without playing really well – we knew we could play a lot better. And in the second half the boys went out and played the way they knew they could."
City did pick up four bookings though, those of Phil Bolland, Gary Brabin, Michael Rose and Mark Williams.
---
8 March 2002
CALL UP FOR WAYNE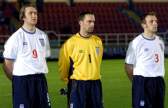 Congratulations to City goalkeeper Wayne Brown who has been called up for the England semi-professional squad who play the United States of America at Stevenage Borough on Wednesday 20 March. If picked it will be Brown's fourth cap for his country. A delighted Wayne said: "I thought I might have a chance of an England call up after the way Chester have been playing lately, but there was absolutely no chance of news like this around Christmas time. The defence at Chester have had a lot to do with our clean sheets, but I'd like to think I've played my part too – we've looked solid at the back. The manager, Mark Wright, said he was happy for me after hearing news of my call up, and he's helped me a lot since he was appointed at Chester."

Meanwhile City appear to have no injury worries ahead of tomorrow's important clash with Stalybridge Celtic at Bower Fold. Celtic, manager by former Chester player Paul Futcher have to former City favourites in their ranks in Mattie Woods and Paul Beesley. They lie two places and two points behind City but also have two games in hand. Back in September the teams fought out a goalless draw at the Deva though Celtic returned two months later to win a Cheshire Senior Cup match 2-1.
---
TOP CITY KEEPERS
Wayne Brown's recent run of five blank sheets prompted club historian Chas Sumner look back to find the record length of time that Chester had played without conceding a goal. Check the history pages here for a list of the Top 10 City keepers.
---
7 March 2002
CHESTER LADIES
Tonight Chester City Ladies FC will be entertaining a touring team from Grenville College, Ontario in Canada. The school is close to the St. Lawrence River in a town called Brockville and is a preparatory christian school where older kids are readied for entry to University. The match is being played at the Deva Stadium and the kick-off time is 19:00hrs. Entry is by programme at a cost of £1. Ange & Mickey Clifford from the ISA are organising a buffet and the club will be open from 21:00-23:00hrs. The Grenville College team are managed by Steve Pulford. Originally from the Chester area before emigrating, Steve still has a soft spot for Chester after following the Blues in the "David Durie, Micky Metcalfe era" and the match was set up after Steve enquired about the possibility to this website back in November.
---
4 March 2002
CITY TO SIGN TWO?

Chester City are expected to sign 24-year-old central defender Phil Bolland (left) today from Oxford United for a fee believed to be in the region of £15,000. Bolland has impressed on his month's loan at the Deva, and has performed consistently well in City's back line, he's also scored two goals.

Meanwhile manager Mark Wright has also hinted that his search for a much needed striker may be completed before Tuesday's home clash with another of Chester's relegation rivals Scarborough. The striker in question is Leyton Orient's Chris Tate. "Chris is hopefully the final piece in the jigsaw that Mark Wright has been creating. We expect to have Chris in our side for the game against Scarborough tomorrow," said chairman Steve Vaughan. "I've spoken to Orient chairman Barry Hearn and he is agreeable, so everything appears to be in place."

If the Bolland deal goes through it frees up a loan position at the club which Tate would fill. Although other results went City's way on Saturday, they could only manage a point from the home match with Leigh RMI which extends the Blues' unbeaten run to ten matches. City face Scarborough and Stalybridge Celtic this week in two crunch matches.
---
WRIGHT BLASTS BOO BOYS
City manager Mark Wright has criticised the supporters who shouted abuse at striker Chris Malkin at Saturday's match: "Chris Malkin is part of this club and will remain so until something happens, and so to abuse someone is not going to enhance or help our cause, and I don't understand the mentality of some of those people. He nearly scored a winner, and if he'd scored the winner they'd have been singing his name, and then all of a sudden they're having a go at him. I don't care what really went on beforehand, I don't care what he's done in the past. The bottom line is that he's out there for us, he's working hard, wanting to do it, and fully committed to Chester City, doing a great job for us on the physio side as well with Joe Hinnigan, and I'm disappointed with what's going on there. We're in a dogfight and we need every man, and to take someone's confidence away, or have a go at him is not right."



Striker Malkin said: "When I played for Tranmere I gave my best for Tranmere, but now I play for Chester City and I'm giving my best for Chester City. And the next time the gaffer asks me to go on I'll give my best again, and if the supporters give me the same reaction it's down to them, because I can only give my best. I was linked with the whole Gordon Hill regime, and the Tranmere thing with Steve Mungall, but I've signed a contract and I just want to do well for Chester. I don't think I'm in Chester's long term plans as their big striker, but they're down in the dogfight and every point is needed.

I'm a battling sort of player, and I will give my all. I might not have the most skill, but I'll always give my best, and I don't think they can accuse me of not giving my best. I still think I've got a lot to offer and the managers who have been here have chosen me in their teams because they think I've got something to offer. Other teams in this league would probably be pleased to have me. I didn't get any stick at Telford, or other clubs I've been at. Whether it's a Tranmere thing, or something to do with the start of the season I don't know."
---
1 March 2002
NEW BOOK OUT SOON

The eagerly anticipated new book featuring archive photographs of Chester City Football Club by club historian Chas Sumner is due to be released towards the end of March.
The 128 page book contains over 220 images illustrating the history of Chester City, a club that has suffered more than its fair share of misfortune in the last few years. Team groups, player portraits, action shots, programme covers and other club memorabilia are all included in this pictorial collection, which covers the story of City from their early years to the present day. Chester Football Club was formed in 1885 (the name Chester City was adopted in 1983) as an amalgamation of Chester Rovers and Old King's Scholars, and this book traces the progress of the club from its pre-League days, through its sixty-nine years of Football League membership, to the disastrous day when the club were relegated out of the League, in May 2000.
Some memorable cup matches are recalled, including photographs of the 1952 FA Cup encounter with Chelsea, and the incredible League Cup campaign of 1974/75, when Fourth Division Chester reached the semi-finals, defeating the First Division Champions, Leeds United, on the way. Promotion and relegation seasons are all remembered in a selection of fascinating pictures, and many memories will be jogged by photographs of the sorely missed Sealand Road ground, as well as the 1964/65 team that scored 119 League goals and gave Manchester United an FA Cup fright at Old Trafford.
The compilation contains superb pictures of many famous former Chester players, including Stan Pearson, Ron Davies, Ian Rush and Lee Dixon, as well as lesser-known stalwarts who served the club with distinction, such as Ray Gill, Gary Talbot, Grenville Millington and Stuart Rimmer.
Compiled by Chas Sumner, a supporter of more than thirty years, this book is certain to revive memories for Chester supporters both past and present.
Published by Tempus Publishing as part of their 'Images of Sport' series the book is priced at £10.99
ISBN: 0 7524 2420 3
---
BIG MATCH FOR CITY
Manager Mark Wright welcomes back Michael McElhatton, Shaun Carey and Mark Williams to tomorrow's squad that face fellow Conference strugglers Leigh RMI at the Deva Stadium. All three were cup-tied for last Saturday's trophy victory over Hereford United. Midfielder Andy Porter is also back in contention after serving a two match suspension but defender Mike Rose is serving the second game of his two match ban. Manager Wright checked out tomorrow's opposition in midweek and said: "I went along to watch Leigh play Stalybridge in the week and I thought they deserved their 1-0 win. Leigh are strong, quick and organised and they get on with the job of playing football. We can expect a tough game. But we're getting stronger and more positive and we must build on that."
---
PAUL BERRY
City forward Paul Berry has left the club and signed for Leek Town today after completing a month's loan at Rhyl.
---
REARRANGED MATCH
Chester's home fixture with Farnborough Town, postponed due to FA Trophy commitments on 16 March, will now take place at the Deva Stadium a month later on Tuesday 16 April, kick-off 19:45hrs.