29 April 2002
SEASON ENDS IN DEFEAT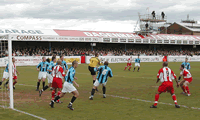 A disappointing end to the season saw City lose 3-0 at Conference runners-up Dagenham & Redbridge yesterday. Despite having the greater share of the play in the opening period, two second half goals from Mark Stein and a third from Tim Cole wrapped up the points for the home side.
Following the game manager Mark Wright said: ďI know we have to be stronger and better, but Dagenham have only lost three times in 15 games and they deserved a lot of credit, and when it came to the crunch I thought they deserved to win on their second half performance. But we more than matched Dagenham on our first half display and we had the better of the scoring chances".
So, City finally finished the season in 14th place with 54 points (eight less than last season), a great achievement considering they were bottom in January when manager Mark Wright took over.
The club is expected to announce the retained list in the next week or so as they begin preparations for 2002/03.
•Final Nationwide Conference League table and leading scorers
---
RESERVES IN ACTION
City's reserve side play their two final matches of the season this week. On Wednesday they entertain Marine Reserves at Deva Stadium and just 24 hours later Accrington Stanley Reserves visit to conclude the season. The Blues currently lie in second place behind Morecambe who have a game in hand. Manager Mark Wright is expected to field two strong teams as several fringe squad players will be looking for a contract for next season.
LANCASHIRE LEAGUE DIVISION ONE
As at 29 April 2002
P
W
D
L
F
A
GD
Pts
Morecambe Reserves
29
22
5
2
129
32
97
71
Chester City Reserves
30
21
6
3
98
26
72
69
Ossett Town Reserves
29
18
3
8
67
44
23
57
Burscough Reserves
28
16
5
7
63
36
27
53
Guiseley Reserves
29
16
3
10
77
69
8
51
Marine Reserves
30
13
10
7
61
44
17
49
Southport Reserves
29
15
2
12
70
43
27
47
Accrington Stanley Reserves
28
14
2
12
65
46
19
44
Rossendale United Reserves
26
12
8
6
53
43
10
44
Lancaster City Reserves
29
13
4
12
48
52
-4
43
Ashton United Reserves
32
11
2
19
54
77
-23
35
Northwich Vic Reserves
29
10
4
15
51
67
-16
34
Altrincham Reserves
27
9
5
13
47
55
-8
32
Leigh RMI Reserves
28
7
4
17
43
83
-39
25
Barrow Reserves
29
7
2
20
58
84
-26
23
Bamber Bridge Reserves
30
3
2
25
35
153
-118
11
Colwyn Bay Reserves
27
2
3
22
22
89
-67
9
---
MANCHESTER CITY FRIENDLY
Manchester City have confirmed their pre-season programme and the Chester game isn't mentioned! They have a friendly against Kevin Keegan's former side Hamburg scheduled for Saturday 3 August (the date mentioned for the Chester game) so it looks like a reserve team will be heading for the Deva.
---
27 April 2002
NEXT SEASON
Congratulations to Kettering Town (Dr Martens Premier) and Gravesend & Northfleet (Ryman Premier) who join already promoted Burton Albion (UniBond Premier) in the Nationwide Conference next season. Woking's point at Telford United keeps them safe and relegates Hayes along with Stalybridge Celtic and Dover Athletic.
---
26 April 2002
TEAM NEWS
Central defender Phil Bolland misses Sunday's final match of the season at Dagenham & Redbridge with a knee injury. Bolland is one of five first-team players that are either injured or suffering from flu. Midfielder Shaun Carey picked up a thigh injury last Saturday in the 5-1 victory over Stevenage Borough and is very doubtful, while striker David Brown sustained a calf injury in the same game. Goalkeeper Wayne Brown came through Wednesday's National Game X1 1-0 victory over The Netherlands unscathed and Paul Carden should also return following suspension.
---
GARY WANTS TO STAY
Player of the Season Gary Brabin has expressed his hopes of playing at City next season: ďIím hoping to stay at Chester but I still havenít agreed anything yet. Iíve enjoyed my time at Chester and hopefully I can be at the club next season. Itís great to come back home after being down at Torquay. Iíve done a lot of travelling, so itís nice to be back home and Iím really enjoying it. Iíve not been surprised about how quickly Iíve settled into the team. Iíve always known I could play at the back, and Iíve always had faith in my own ability, and I know Iíll always give 100%. There are some good players at Chester and maybe they just needed a bit more belief. I think Mark Wright coming to the club has helped. I personally prefer to play in a four-man defence, but a three-man defence has been quite comfortable, particularly alongside Phil Bolland, and I think Martyn Lancaster has come on loads, and when we have had any injuries itís been good to see Mark Williams come in and do a good job.Ē
---
25 April 2002
RESERVES ROMP HOME
Striker Danny Collins hit five goals for the reserves against Guiseley Reserves in the Lancashire League Division One match at the Deva last night. This comprehensive victory keeps the team neck and neck with Morecambe Reserves at the top of the table. The Blues fielded a strong side including Lee Woodyatt, Richard Peacock, and Michael Rose and ran out 11-1 winners against a Guiseley side that only fielded ten men! Other scorers for Chester were Lee Reece, Lee Woodyatt, Carl Ruffer, Richard Peacock and two, including a penalty, for Jimmy Haarhoff. City have two remaining home fixtures in the league, details are on the Fixtures pages.
---
RATCLIFFE DEAL
Chairman Steve Vaughan revealed today that he has struck a deal with former City boss, Kevin Ratcliffe. Vaughan thanked Ratcliffe for his patience and understanding after agreeing an undisclosed settlement to the benefit of everyone at the club.
---
BUSINESS NETWORK MEETING POSTPONED
The CCFC Business Network Meeting scheduled for this Monday 29th April (evening 19:30hrs) at the Deva Stadium has been cancelled because the main speaker Gerard Burke has had to pull out at short notice. Details of the next meeting/s will be posted on www.supportchester.co.uk as soon as they are available.
---
24 April 2002
CITY NOT LIVE ON SKY
SKY TV have announced that they will be showing the Hayes v Boston United match live on Sunday and not the Dagenham v Chester City game.
---
IT'S UP FOR GRABS
City go into the last match of the season on Sunday knowing they will play a big part in the destiny of the Conference championship. Although Boston will be favourites to win at Hayes on the same afternoon, any slip-up by the Lincolnshire club will give Dagenham the opportunity to lift the trophy although the Blues will have something to say about that. Dagenham's 2-0 win at Woking last night and Boston's goalless draw at Morecambe brought both sides level at the top of the division although United a have a far superior goal difference.

Meanwhile Boston manager Steve Evans hasn't taken too kindly to reports he's heard about Mark Wright playing fringe players again on Sunday. "I have a source at Chester who has told me they are planning to field a weakened side against Dagenham in the final match. We will more than likely send a report to the Conference and the Football League to make our feelings known. We will want to see a video of the Chester game to see the way they go about the game. I will be asking for a meeting of my board of directors on Wednesday and we will, I would suggest, be making a full report to the Conference and the FA. But I would like to place on the record that Mark Wright and Ted McMinn are top-class professionals. Certainly when I've managed teams against them their players have given everything they had."

City chairman Steve Vaughan has since hit back saying: ďSteve Evans will receive a piece of Mark Wrightís mind and a piece of my mind when we next see him. We are a professional outfit and we will do what we will do to try and win our match at Dagenham. There is no sentiment in this game, and weíre annoyed about Steve Evansí remarks. This is the same person that wanted Mark Wrightís job at Oxford after Mark had been suspended. Evans has accused us and Iím going to take legal action against him.Ē

Nationwide Conference chief executive John Moules said: "I have every confidence that Hayes and Chester will play their strongest available teams as all of the Conference sides have done over the past 460 games this season, because they still both want to win."
---
THE NON-LEAGUE PAPER DISTRIBUTION DIFFICULTIES

We were unable to use our print site in Chester to service the north on Sunday, April 14th. As a consequence, we had to print all supplies of The Non-League Paper in London and all areas north of Wolverhampton and Lincoln, received supplies on Monday.
Last Sunday, April 21st, we used Trafford Park print site in Manchester, but due to transmission problems with the negatives, we didn't start printing until 2.00am Sunday morning. The following areas did not receive supplies until Monday: Shrewsbury, Mid-Wales, North Wales, Chester, The Wirral, Kendal, Carlisle, Newcastle, Durham, Stockton, Hull, York, Sheffield and Scarborough. Supplies for Sunderland were lost in transit and they didn't receive supplies at all.
If any disappointed reader wants a copy, please e-mail me with address details and I will get back to you asap. We hope to reach all areas this coming Sunday.
Brian King – Circulation and Distribution Manager Brian_C_T.King@virgin.net
---
ENGLAND CALL
Once again City goalkeeper Wayne Brown is in the squad for tonight's England National Team X1 match against The Netherlands and Yeovil Town's Huish Park Stadium (ko 19:45hrs). Scarborough's Andy Woods is the other named stopper.

•National Game X1 announce Four Nations tournament
---
21 April 2002
END OF SEASON AWARDS
Congratulations to the following who all picked up end-of-season awards on Saturday.
Player of the Year: Gary Brabin
Young Player of the Year: Chris Blackburn
Away supporters Player of the Year: Mark Beesley
ISA Player of the Year: Mark Beesley
ISA Young Player of the Year: Lee Woodyatt
ISA Goal of the Year: Michael McElhatton (Stalybridge)/M.Rose (Nuneaton)
Tony O'Brien Memorial Award: Martyn Lancaster
Evening Leader Supporter of the Year: Chas Sumner
---
SEASON TICKET PRICES
Season Ticket and turnstile prices for next season are to remain the same, except for a 50p matchday reduction for senior citizens, but there is still a 10% discount for season tickets bought before 28 June. There has however been a £25 charge introduced for those who wish to reserve their seats in the stand.

Season Ticket prices
Terrace: adult £152, senior citizens & unwaged £121, under 16's £90.
East & West stands: adult £190, senior citizens & unwaged £140, under 16's £100.
Executive lounge: adults £350, senior citizens £250.
Seat reservations: £25 per seat which must be paid for before the season starts, this is a new charge.

Matchday prices
Terrace: adults £10, senior citizens & unwaged £7, under 16's £5.
East (main) & West stands: adults £12, senior citizens & unwaged £9, under 16's £6.
Executive lounge matchday: adults £20, senior citizens £15.
---
COMPETITION WINNER
Congratulations also to Robin Barnes of Prescot on Merseyside who has won the competition to win a copy of the latest Chester City book. No person named all three players but Robin, along with several others, named two correctly and his entry was drawn out of the hat by Chas on Saturday. The players pictured were:

1. Neil Griffiths
2. Ian Richardson
3. Dennis Wann

The unlucky entrants losing out in the ballot were: Robert Fellows, John Pritchard, Philip Hodgson and Ian Riley.
---
TRUST LAUNCH E-COMMERCE SITE
The Chester City Supporters Trust has also launched today an e-commerce affiliate site. At present the goods and services are general but shortly we will have CCFC related items available to buy online. All online purchases raise money for both the Trust and the club. Since the retailers are all major High Street names, this presents an easy way to help the club and the Trust. For example, if you are booking a holiday from Airtours, Cosmos, Thomson, First Choice etc, then doing so on this site earns cash for the Trust and the Club. It costs you nothing more than you would pay anyway. Every time you encourage someone else to use the site you help the club.
---
19 April 2002
TEAM NEWS

Manager Mark Wright has hinted that several squad fringe players may get a run out tomorrow as the Blues take on Stevenage Borough for the last home game in another traumatic season.
Three players, Gary Brabin, David Brown, and Richard Peacock have been suffering from flu this week and are doubtful, though expect Brabin to shake that off. Danny Collins and Dean Spink are likely to lead the attack and there may be a recall for Mick O'Brien (left) in midfield to replace the suspended Paul Carden.
With Phil Bolland just one booking away from a suspension (that would carry over to the start of next season) it looks as though he'll take no part tomorrow either. Prior to the game on the pitch there will be the annual awards presentations which include the supporters club Player of the Year and Young Player of the Year as well as the away supporters and ISA awards.
---
ANOTHER BOOK SIGNING
Actor, comedian, and life-long Chester City fan, Hugh Lloyd, will be signing copies of his autobiography 'Thank God For a Funny Face' in the Deva Stadium club shop before tomorrowís match. The book contains a chapter on the football club.
---
DAGENHAM SWITCH
Chester's final Conference match of the season has been moved to accommodate SKY TV who may broadcast the game live along with Hayes v Boston on Sunday 28 April kick-off time is 15:00hrs. Only one of the two games will be shown live, a decision on which will be taken by SKY on 25 April.
City chairman Steve Vaughan said yesterday: "With Boston and Dagenham both chasing the title, Sky have had discussions with the Conference regarding the viability of moving the games forward 24 hours and, as such, we have been requested to be on standby. Sky's coverage of the Nationwide Conference this season has been first class and, with an extended TV deal for next year nearly agreed, the League are keen to accommodate the television people."
Accommodating the television people is fine but it's not so fine for those fans who've pre-booked overnight accommodation and expensive train tickets from Chester, no doubt the numbers travelling to the game will now be reduced greatly, just as well we're safe from relegation then!
The football club are offering refunds to those who have already bought tickets but are now unable to make the rearranged date.
---
LAUNCH OF DEVA TXT

Chester City Supporters Trust in conjunction with Chester City FC and MPP Global Solutions are pleased to announce the launch of Deva Txt, an SMS alerts service bringing you all the latest news and match day action from the Deva Stadium.
To celebrate the launch of the service we are offering SMS alerts at the ridiculously low price of only 1p to subscribers for the last two games of the season against Stevenage and the Daggers. Team news, goals as they go in plus half time and full time scores! We also have a general news SMS service which will bring you all the transfer and pre-season friendly news that you need during the close season straight from our representative at the club. Each SMS alert will cost just 20p. You can subscribe for as little as £4.99, and as the match day alerts will cost you only 1p until August, you may also want to take a look at the Chester City ring-tones and logos available to you, as your service credits can be used to purchase these too.
Logos and Ring-tones can also be purchased without subscription – click on the menu on the main page on the Supporters Trust website for further details. If you have any questions, comments or suggestions, please email us at sms@supportchester.co.uk
---
PRE-SEASON FRIENDLIES
Chester have agreed two pre-season friendlies for next season. They are to play Premiership sides Everton and a Manchester City at Deva Stadium. The Manchester City match is Saturday 3 August but no date as yet for the Everton fixture.
---
AWARDS NIGHT CANCELLED
Please note that Saturday's ISA End of Season Awards Night has been cancelled. The presentations will now be made on the pitch before the Stevenage Borough match on Saturday.
---
17 April 2002
WHITTAKER'S GOAL ENSURES CONFERENCE SAFETY
Stuart Whittaker's first goal for the club gave the Blues a 1-0 victory over Farnborough Town last night, and that result, coupled with Stalybridge Celtic's 1-0 defeat at Northwich Victoria guarantees Conference football at Deva Stadium next season. Not many would have thought that possible when manager Mark Wright and his assistant Ted McMinn took over at the start of the year but the transformation under Wright, as his record shows, has been remarkable and they and the players should be congratulated on a houdiniesque escape from the Conference basement.
After the match a delighted City manager Mark Wright enthused: "When we came here in January we knew it was going to be a difficult task to achieve safety. But the staff and the players here at Chester have been magnificent. It has been a team performance all round and that is most pleasing. Tonight's victory was satisfying because we have beaten an extremely good team, and one who is at the top of their form at the moment. That augers well for the future."
| | | | | | | | | |
| --- | --- | --- | --- | --- | --- | --- | --- | --- |
| Conference record [17.4.02] | P | W | D | L | F | A | Pts | |
| Gordon Hill | 14 | 2 | 3 | 9 | 13 | 25 | 9 (from 42) | |
| Steve Mungall | 10 | 3 | 2 | 5 | 12 | 13 | 11 (from 30) | |
| Dean Spink/Andy Porter | 1 | 1 | 0 | 0 | 3 | 1 | 3 (from 3) | |
| Mark Wright | 15 | 8 | 4 | 3 | 21 | 8 | 28 (from 45) | |
| | | | | | | | | |
---
16 April 2002
DAGENHAM TICKETS
The 600 tickets for City's last match of the season at Dagenham & Redbridge on Saturday 27 April are now on sale. Priced at £8 (£5 child/oap) they are available at the club office and may be purchased before tonight's home match with Farnborough Town and before the Stevenage Borough game at the weekend.

Exiled fans who can't get to the office should apply direct in writing to: The Secretary, Chester City Football Club, Deva Stadium, Bumpers Lane, Chester CH1 4LT and enclose a stamped self-addressed envelope.
---
TOUGH TEST FOR CITY
Chester face form team Farnborough Town at the Deva Stadium tonight (ko 19:45hrs) knowing that a win will almost certainly guarantee them Conference safety. The Blues will once again be without top scorer Mark Beesley whose elbow injury again keeps him sidelined. "It looks as though Mark will be out for the rest of the season, so again we will have to look at our attacking options," reflected manager Mark Wright. Farnborough have won their last five matches scoring no less than 21 goals in the process. "Farnborough are a very well organised side, and we will have to be at the top of our game to compete with them. They are a big, strong outfit, who posses good players and I expect a very stern test for my team." added Wright.

Midfielder Michael McElhatton missed the Dover game with a knee injury and is rated at 50/50 for tonight's game, while Paul Carden sits out tonight's game and Saturday's through suspension.

---
15 April 2002
BOOK SIGNING
Around 100 City fans attended the book signing at Bookland on Saturday morning. Sixty copies of the book were sold in the shop during the hour as fans eagerly queued for the signatures of author Chas Sumner, record scorer Stuart Rimmer and defender and former Northern Ireland international Iain Jenkins. More copies were signed and sold later in the club shop prior to the game with Dover Athletic.
---
ALMOST THERE
Following on from Saturday's 3-0 victory over Dover Athletic, City are back in action tomorrow night with Farnborough Town visiting the Deva for the penultimate home match of the season. City got off to a dream start against Dover with David Brown finding the net after just two minutes. The Blues wasted numerous chances before Gary Brabin struck twice from close range late on to seal the points and pick up yet another Man-of-the-Match award. City can't relax yet though, with both Forest Green Rovers and Woking winning away to ensure it's one of the tightest finishes for years at the bottom of the Conference.
---
RESERVES GO TOP
A Mick O'Brien penalty gave the reserves a 1-0 victory at Barrow to take them back to the top of the Lancashire Football League Division One.
---
WAYNE CALLED UP AGAIN
England National Game XI manager John Owens has included City goalkeeper Wayne Brown in his squad to face the Netherlands at Yeovil Town's Huish Park on Wednesday 24 April. The National Game XI, formerly the England semi-professional side, are unbeaten in 11 games under Owens and are preparing for the Home Internationals at the end of the season.

England National Game XI squad:
Wayne Brown (Chester City), Andy Woods (Scarborough), Simon Travis (Forest Green Rovers), Greg Heald (Barnet), Jason Goodliffe (Stevenage Borough), Tim Ryan (Doncaster (Rovers), Neil Moore (Telford United), Simon Wormull (Stevenage Borough), Nick Roddis (Margate), Mark Gower (Barnet), Aaron Webster (Burton Albion), Darren Stride (Burton Albion), Tim Hambley (Havant and Waterlooville), James Taylor (Havant and Waterlooville), Wayne Purser (Barnet), Kirk Jackson (Stevenage Borough).

• National Game X1 announce Four Nations tournament
---
12 April 2002
TEAM NEWS
Striker Mark Beesley is doubtful for tomorrow's match with Dover, he may play however with a protective cast over his elbow. Midfielder Shaun Carey has resumed training this week after being sidelined with a groin injury and may be fit for selection. Dover boss Clive Walker will definitely be without three key players for the trip while a fourth, Neil Le Bihan (back), is rated only 60/40. Midfielder Jamie Day sits out the last of a three-game suspension, right-back Tony Brown has a heel injury and Darren Davies is struggling with medial ligament damage.
---
ALL-TICKET
Dagenham and Redbridge have announced, unsurprisingly, that the last game of the season against Chester is to be all-ticket. City have been allocated 600 terrace tickets at £8 and £5 child/oap. More details will be available next week.
---
10 April 2002
BOOK SIGNING
Club record goalscorer Stuart Rimmer and current City player and former Northern Ireland international Iain Jenkins will be joining Chas Sumner at the book signing of his new book 'Images of Sport – Chester City' in Chester on Saturday. The event will take place between 12:00 and 13:00hrs at Bookland, 12 Bridge Street, Chester.
---
FREE MATCH OFFER
As a thank you to the clubs loyal fans the board are offering the chance of free entry for the final home game of the season against Stevenage Borough on Saturday 20 April. Vouchers will be issued at Saturday's home game with Dover Athletic and a different coloured one again the following Tuesday night for the game with Farnborough Town. Anyone showing these two vouchers at the turnstiles for that final game will be admitted free. Those just using Saturday's voucher will receive a 50% reduction. Stevenage supporters and those without vouchers will pay the normal admission.
Commenting on the offer City chairman Steve Vaughan said: "This has been a dreadful season for this great little club, and the offer has been made to ensure that as many fans as possible come to the Deva to shout the lads on as we strive to guarantee our safety in the Conference. It is also our way of saying thank you to the supporters, who have stayed loyally with us through thick and thin this season. We appreciate everything they have done for us during this rollercoaster campaign.
I cannot think of a group of fans who would have stayed as loyal as the Chester supporters have when you consider what has gone on here. Everything considered they must be the most loyal set of fans in football."
---
VOTE NOW
Chester Official Supporters Club chairman, Barrie Hipkiss, is requesting nominations from Blues fans for this seasonís Player of the Season Awards to be presented at Cityís last game of the season on Saturday, April 20. Fansí postal votes should reach Barrie at 2 Cop Cottage, off Sealand Road, Chester, CH1 4LJ, by April 17.
---
ISA END OF SEASON SOCIAL/AWARDS NIGHT
The ISA annual end of season social and presentation will take place on Saturday 20 April from 19:30hrs with a a disco & buffet at the Deva Stadium. Tickets at £4 are now on sale from any of the ISA committee or from the club shop at the Deva Stadium.
Nominations are now required for the end of season awards. Please vote, by 17 April, for your:
1. City Player of the Year
2. City Young Player of the Year
3. Goal of the Season
You can either vote by email to Les Smith, on a piece of paper to any ISA committee member, at the club shop or post to the Chester City ISA, PO Box 308, Chester CH1 5ZX
---
NEXT ISA MEMBERS MEETING
The next ISA members meeting will be held on Monday 22 April, at the Deva Stadium starting at 19:30hrs. The guest speakers for the night are City players Iain Jenkins and Gary Brabin.
---
CITY WAIT ON BEESLEY

Striker Mark Beesley is nursing a hairline fracture in his elbow during the run up to Saturday's home match with Dover Athletic. Beesley, who scored both of City's goals at Forest Green Rovers on Saturday, has missed training this week. City manager Mark Wright said: ďMark Beesley has a crack in his elbow and weíre all hoping he responds to some rest this week, but I donít really know what will happen. Iíve already lost Chris Tate because he returned to Leyton Orient yesterday, and I canít really afford to lose another striker like Mark Beesley. I know Mark is sore, and he didnít train yesterday because he went to get a sling for his arm. Weíll have to see what happens this week. I know heís in pain but his arm isnít badly broken, and Iíve known players to play with broken noses and bones in the past. Weíll see if Mark can have his arm padded and get him to play, but heíll be guided by Joe Hinnigan this week.Ē


Should Beesley not be fit then either David Brown or Jimmy Haarhoff could possibly line-up alongside Dean Spink in the forward line on Saturday.
---
CARDEN SUSPENDED
Midfielder Paul Carden has been suspended for two matches and will sit out the home games with Farnborough Town and Stevenage Borough next week.
---
9 April 2002
BOOST FOR CITY
Most of City's relegation rivals were in action last night and the results went Chester's way. Both Forest Green Rovers and Stalybridge Celtic lost while Woking drew with City's opponents next Saturday Dover Athletic. At the top Boston and Dagenham & Redbridge are level with the same number of games played. Before last night's matches City manager Mark Wright reckoned the Blues would need another three or four points for safety. "With three home games to come, we must take a win out of those, or four points out of them and think of safety. There is still a hell of a lot to do, there's still a lot of work to be done. What we need is to win our next game, then it would be unlikely that we'd go down. We've now got 45 points and nobody has gone down with 45 points, and I don't see that happening this year, if it does somebody is going to collapse. We need one more win from our last four games, and it would be hard if we went down on 48 points, but we feel we can get something out of games every time we play."
---
5 April 2002
TEAM NEWS
Such is the importance of tomorrow's Conference match at Forest Green Rovers City chairman Steve Vaughan is paying for his players and management staff to stay in the Gloucestershire countryside tonight to make sure their preparation goes smoothly. The Blues have injury worries over three key players; Shaun Carey (groin) and Michael McElhatton (knee) are all currently receiving treatment and Tate is seeing a specialist later today and, depending on the results of the scan, City's management will make a decision as to whether to extend his loan spell from Leyton Orient.

One player who won't feature tomorrow is striker Chris Tate. He's set to return to Leyton Orient after his recent injury. ďChris Tate wonít be fit for the Forest Green game and heíll be going back to Leyton Orient after doing a great job for us on loan. Chris has picked up a knee injury which will probably keep him out of action for the rest of the season.Ē
---
KEEPER QUITS
Reserve goalkeeper Andy Hughes has left the club. His father has written to the Nationwide Conference complaining that Andy hasn't been paid for the last two months.
---
3 April 2002
MANAGER WRIGHT IN COURT

City manager Mark Wright is to appear in Chester Magistrates Court at 14:00hrs this Friday on a charge of harassment with violence. He was questioned by detectives last week before being charged with harassment with violence. He has not been accused of any form of assault.
It is believed the charge relates to Wright's estranged wife Sarah, who still lives in the couple's marital home in Willaston, Cheshire.
Club Chairman Stephen Vaughan today gave his backing to Wright. "Mark has done a fantastic job at the club since he took over. He has the full support and backing of all the staff and we are confident that his name will be cleared."
---
2 April 2002
RELEGATION DOGFIGHT
With just one point from six over the Easter period City have been dragged into the relegation dogfight once again. Along with Chester, Stalybridge Celtic, Woking, Scarborough and possibly Forest Green Rovers are battling out for the third from bottom spot. City's game on Saturday at Forest Green has now taken on extra importance. The Blues simply must pick up something from the game which will then take them into three successive home games against Dover, Farnborough Town and Stevenage United before the final match of the season at championship chasing Dagenham and Redbridge.
Manager Mark Wright, along with everyone else, hopes that things will be sorted before that last match. "I've said since I came to Chester in January that we may not be safe until the last day of the season. I hope it doesn't come to that, but we must try and get something from our trip to Forest Green Rovers next weekend, and our home games before we face our final match at Dagenham and Redbridge. We've got five games left, and if we win five games that's the bottom line Ė we'll be safe. But we've got a big game at Forest Green next weekend. Certain things are out of our hands, but we really need to start taking our chances, because at Hereford we had a number of chances, and at home to Leigh RMI we should have wrapped the game up. When you draw games like Scarborough, Leigh, and Yeovil, and play as well as we did at Hereford, we should be safe now".
City's inability to convert their chances cost them dear at Hereford United last week and the same could be said for Monday. Three guilt-edged chances were missed against Yeovil. The Blues looked dead and buried at the break on Monday but bounced back with great character and probably did enough to win the game in the end.
Wright went on to say: "We can't afford to miss chances like we had against Yeovil – you miss them and you don't get anything, and yet we give teams chances and then get punished and beaten. The bottom line is that when Mark Beesley went through in the first half and he was one on one with their keeper, and he's got to score. And that's so important – he has to hit the target. You can't have a touch like he had and then it goes out for a goal kick. It just needed touching to the side and slotted home, or lob the keeper. Chances like that are gilt-edged. He had another chance in the second half where he tried to knock the casing off the ball, and he should have passed it into the net because it was an open goal. David Brown had a one on one, we had a header in there, lots of pressure and lots of chances Ė but I'm talking about three or four chances when we had to score. There's no excuse for those chances being missed, and everyone saw them. If we get two one on one's in a game and an open goal we have to score".