31 July 2002
HOME TEST FOR BLUES

Everton are to bring a strong squad to the Deva tonight for the first home pre-season friendly, however the squad is not as strong as we were led to believe. City fans can expect changes from the side that lost to Colwyn Bay on Monday. This will be first look many fans will have had at Mark Wright's new-look squad and a good attendance of around 3,500 is expected for the all-ticket match.

Manager Wright said: "What right have Chester got of beating Everton? Everton are bringing their first team so it should be a really good game and we should expect some good football. I just hope the fans can enjoy the match because our pitch has come on leaps and bounds. Our players are good footballers, but they're on a different level to Everton. I should be able to gauge a little bit from our display, but the players still need to knit together – they can't possibly knit together in a month."
Michael Twiss must still be doubtful following an ankle injury in training on Friday, however, there may be a first appearance from Steve Harkness and former Southport midfielder Lee Elam who is currently on trial at the Deva.
City squad: W.Brown, Harkness, Ruffer, Bolland, Hatswell, McIntyre, Kelly, Blackburn, Carey, Brodie, Elam, Whittaker, Beesley, Cameron, Twiss, M Brown, Carden, Woodyatt, O'Brien.

Everton squad: Steve Simonsen, Sean O'Hanlon, Gary Naysmith, Peter Clarke, George Pilkington, Keith Southern, Scott Brown, David Carney, Mike Symes, Steve Watson, Kevin McLeod, Steve Beck, Alex Cole, Alan Moogan, Steve Schumacher, Robert Southern.
Chairman Steve Vaughan said: "I was originally told Everton were sending a full strength side to play against Chester, but all we can do now is just get the game out of the way – I did expect a full Everton team. But Everton have been good enough to send a side to play against us and they will be receiving 50% of the gate receipts, so it's their loss as well as ours."
---
GUYETT NOT COMING TO CHESTER
Defender Scott Guyett has been released by Oxford United but the player won't be moving to Chester. The official Oxford United website states that he's heading back to Australia with his girlfriend (whose UK work permit is about to expire) and is intending to be playing his football in Australia from September.
---
29 July 2002
CITY LOSE AT COLWYN BAY
A goal two minutes from time sank City at Colwyn Bay tonight, just how many of those who turned out for the Blues start the opening Conference game on 17 August remains to be seen though.
---
BLUES ON THE ROAD AGAIN
The Blues drew their third pre-season friendly 1-1 at Bangor City on Saturday. Steve Brodie gave City the lead through a long-range effort only for it to be cancelled out after the break. Next up for the Blues is a trip to Colwyn Bay tonight. Manager Mark Wright is expected to field a strong team again at Llanelian Road, with the exception of Michael Twiss who injured an ankle in training on Friday. On Wednesday night Everton are bringing a full squad to the Deva for what promises to be an exciting all-ticket match. Tickets for the Everton game will be on sale until 19:00hrs tomorrow. No tickets will be sold on the day of the match.

Directions to Colwyn Bay's Llanelian Road ground.
The Colwyn Bay FC football ground is easily located just off the A55 which spans the length of the North Wales coast. Turn off the A55 at the Old Colwyn turning and go down the slip road. Turn left at the junction and travel up the hill to a mini round-a-bout, directly opposite will be ´The Marine' public house take the turning next to it (Llanelian Road) and continue up until you see the ground on the right.
---
26 JULY 2002
WRIGHT SATISFIELD WITH BUILD-UP

City's pre-season campaign continues well with a convincing 7-0 victory at Holywell Town last night. The Blues got off to a great start as two goals from David Cameron and others from Michael Twiss and Mark Beesley gave the Blues a 4-0 interval lead.
Unusually, both goalkeepers swapped sides following the break as Mark Wright continued his search for a deputy to Wayne Brown. John Worsnop started for the Blues but changed with Holywell keeper David Walsh on 45 minutes. "We wanted another goalkeeper for the match at Holywell, and Wayne Brown knew David Walsh's number, so we gave him a call. We knew David Walsh had been released so we were keen to get him in and to have a look at him. He'll be in at training tomorrow and we'll take another look and see what happens. He's a good keeper, and John Worsnop also looked good. John Worsnop has been on the bench for Bradford City, so that shows what they thought of him, and that means we've got two keepers fighting for a place, and we had Andy Ralph in action at Denbigh, so there's plenty of competition, but I won't bring in another keeper until I'm sure." said manager Mark Wright
City also brought on trialist John Keegan in the second half for Phil Bolland. Keegan has made a handful of appearances for both York City and Scarborough in the last two seasons.
The Blues continued to dominate following the break and added further goals through Steve Brodie and Ryan Sugden (pictured), who bagged a brace before being denied his hat-trick when Worsnop saved his penalty kick.
Manager Wright was happy with the overall performance: "We are starting to knit together, although we do need a lot more time, but we are stepping forward and doing well. I think supporters can see the lines, and our shape, is geared to play football and do it the right way."
City's next outing is tomorrow at Bangor City where the game at Farrar Road kick's-off at 15:00hrs.
---
25 July 2002
ANOTHER NEW FRIENDLY
Manager Mark Wright will be taking a team to play at Flexys Cefn Druids on Wednesday 14 August, kick-off time 19:00hrs.
---
24 July 2002
NEW-LOOK PROGRAMME
City fans will see a new-look matchday programme when the Blues play Everton in their home pre-season match next week.

Various contributors are putting lot of work into next season publication. Details are still being finalised though the issue will be a 32-pager selling at £2. The pre-season programmes are to be 16-pages, selling at £1.00. The club also have a new photographer on board. We'll have more content details a bit nearer the time.

Tickets, meanwhile are selling well for all of City's pre-season fixtures, fans are urged to buy tickets from the club as soon as possible (especially the Liverpool game where only 1,000 tickets remain) to avoid disappointment. Entry to the home match with Manchester City reseves will be by cash at the turnstiles. Tickets will NOT be sold on the day of all-ticket matches.
---
NEW FRIENDLY
At short notice the club have arranged a first-team friendly for tomorrow night at neighbours Holywell Town. The game will kick-off at 19:30hrs at the Halkyn Road ground. The reserves are due to play a fixture at Denbigh Town tomorrow.
---
MORE YOUTH SUCCESS
A goal from Gethin Lloyd gave City's youth team a 1-0 victory away at Denbigh Town reserves last night. Like the first team, the players are training during the day and following this with an evening match.
---
23 July 2002
WINNING START FOR BLUES
Around 300 City fans turned out to see the Blues kick-off their pre-season campaign with a 4-1 victory at Buckley Town last night. City led 1-0 through a Dave Cameron penalty at the interval but the home side equalised soon after the break. Mark Beesley restored the lead from the penalty spot soon after. Michael Twiss added a third before Steve Brodie wrapped up the scoring with two minutes remaining.

"It was a good workout, the team spirit is extremely good and, whilst we need more games, this was an ideal way to start our pre-season campaign. I was impressed by Buckley. They weren't a bad outfit at all. We now will try some new formations in the forthcoming friendly games, and of course it must be remembered that the main objective of these matches is to ensure that you are ready for the start of the new season on August 17." said a satisfied manager Mark Wright following the game.

• Match report
---
22 July 2002
SQUAD NUMBERS ANNOUNCED
| | |
| --- | --- |
| 1 | Wayne Brown |
| 2 | Steve Harkness |
| 3 | Kevin McIntyre |
| 4 | Shaun Carey |
| 5 | Phil Bolland |
| 6 | Wayne Hatswell |
| 7 | Chris Blackburn |
| 8 | James Kelly |
| 9 | Michael Twiss |
| 10 | Mark Beesley |
| 11 | Steve Brodie |
| 12 | Micky Brown |
| 13 | – |
| 14 | Paul Carden |
| 15 | Ryan Sugden |
| 16 | Marytn Lancaster |
| 17 | Carl Ruffer |
| 18 | John Worsnop |
| 19 | David Cameron |
| 20 | Ben Davies |
| 21 | Stuart Whittaker |
| 22 | Lee Woodyatt |
| 23 | Jimmy Haarhoff |
| 24 | Danny Collins |
---
NEW TEAM ON SHOW
Mark Wright will be taking a strong team to Buckley Town tonight as the Blues kick-off their pre-season campaign against their Cymru Alliance neighbours. Most of City's summer signings will be on parade, though Steve Harkness will not take part. The game is scheduled to kick-off at 19:15 and a large turn-out of Blues fans is expected to see Wright's new-look side. This match is part of the deal that brought striker Danny Collins to Chester back in December 2001. "It's a real game, but I'm not bothered about the result. When we play bigger teams like Liverpool I'm expecting the players to really step up. I know spectators will be wanting us to beat Buckley tonight, but our performance matters more than winning a friendly match. The only result that matters to me is our first league fixture against Kettering. Our players will be training this afternoon ahead of tonight's friendly match, and everything is being geared to their fitness for the start of the season." said manager Mark Wright.

Probable squad: W.Brown, Ralph, Carden, Bolland, Hatswell, Ruffer, McIntyre, Davies, Blackburn, Twiss, Kelly, Carey, Whittaker, M.Brown, Beesley, Sugden, Cameron, Brodie, Woodyatt.

Admission prices are: Adults £3.00 Under 16's £1.00

Directions to the Globe Way Ground.
Off the A55 signposted Buckley, turn instead at the last exit prior to rejoining the A55 into Drury Lane, and follow the road through Drury. After exactly one mile turn right by The Parrot pub and within 300 yards turn left opposite The Burntwood pub (on the right) into Mount Pleasant Road. Then within 250 yards turn right into Standard Road for the Industrial estate, beyond the weighbridge, you will see the new clubhouse and high fence at the ground on left (within 800 yards).

Alternatively, continue on the A55 (for about 1 mile) to the Ewloe junction (the one with the St David's hotel on), come off there and follow the signs for Buckley from the roundabout. Pass through the village of Ewloe, up the hill and you will then see the Red Lion pub on the left (opposite a petrol station). After passing the pub, first left into Globy Way. Buckley Town FC. is signposted when you turn left into Globe Way and is about a further 200 yards drive.
---
"WE'RE READY TO GO"
There is an unusual breeze of optimism floating around the Deva Stadium. Twelve months ago supporters were picketing the entrance gates in discontent yet now the atmosphere has dramatically changed full circle. Read Steve Vaughan's interview with Rob Ashcroft here.
---
YOUTH TEAM'S WINNING START
The youth team kicked off their pre-season friendlies with a 5-2 home victory over Flexys Cefn Druids youth on Saturday morning. Goalscorers were Tom Leonard, Danny Ventrie, Kevin Towey & Gethin Lloyd (2).
---
20 July 2002
VAUGHAN SEVERS DROYLSDEN LINK
Chairman Steve Vaughan has sold his shareholding in UniBond side Droylsden and has resigned from his position on the board there. "It is a similar situation to the one I faced at Barrow last season I was contacted by the Football Association and to avoid another problem like the one we faced last year, I speedily and willingly disposed of all my financial interests in Droylsden," said Vaughan.
---
19 July 2002
LIVERPOOL TICKETS ON SALE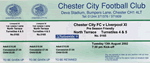 Tickets for the pre-season friendly against a Liverpool X1 on Tuesday 13 August (19:30hrs) are on sale to season ticket holders today. The balance of the tickets will go on general sale from tomorrow between 10:30-16:00hrs.

Tickets are priced at £12.00 (adult), £9.00 (oap), and £6.00 (u-16) for stand seats, and £10.00 (adult), £7.00 (oap), and £5.00 (u-16) for terrace tickets. These are the same prices as for the Everton and Manchester United matches.

And don't forget if you want a chance of winning two tickets with a pre-match meal for this game (donated by chairman Steve Vaughan) it's your last chance to do so by voting for your favourite goal scored by Chester at the Deva Stadium. You have until 24:00hrs on Sunday to cast your vote, the winner will be drawn from all entries received after then.

• Cast your vote here
---
MEETING FOR CLUB STEWARDS
Chester City stewards are being reminded about a refresher meeting which is due to take place on Sunday at the Deva Stadium, from 11:00hrs. Stewards will be told about pre-match checks and arrangements ahead of Chester's first home friendly match against Everton to be played on Wednesday 31 July, (19.30hrs kick-off).
---
18 July 2002

MANCHESTER UNITED TICKETS

Tickets for the forthcoming home friendly against Manchester United reserves on Tuesday 6 August (19:30hrs) are now on sale at the club.

Tickets are priced at £12.00 (adult), £9.00 (oap), and £6.00 (u-16) for stand seats, and £10.00 (adult), £7.00 (oap), and £5.00 (u-16) for terrace tickets. These are normal matchday prices.

Tickets are available from the club during the following times 08:30-17:00hrs. Tickets for the Liverpool X1 friendly are not on sale at the moment.
---
16 July 2002
BOYS IN BLUE – MICHAEL TWISS
City new-signing midfielder Michael Twiss has spoken about his delight at becoming a full-time footballer with City, and he's set his sights on 20 goals for the Blues next season. Read his full interview with Rob Ashcroft here.
---
HARKNESS SIGNS
City's new signing Steve Harkness is expected to start training with the rest of the squad at the end of the week. The ambitions of the club that both Steve Vaughan and Mark Wright had was the telling factor in the former Liverpool star's decision to join the Blues although he hasn't as yet signed a contract. Harkness had been interesting both Tranmere Rovers and Wigan Athletic since he was released by Sheffield Wednesday at the end of last season.

The signing of Harkness is a great coup for City and his experience of playing at the highest level in three or four positions is a great bonus to the club. "It took me just half an hour to decide to join Chester, after I had discussions with Mark Wright and City Chairman Stephen Vaughan. Some people will possibly be surprised that I've moved from a club in the first division to one in the Conference, but I have no qualms about it at all. There is no reason at all why Chester can't be up there, and possibly overtaking Wrexham and then Tranmere in the next few years, and it would be nice to be a part of that progress."

It is believed that Harkness may contribute to the coaching of the squad for the coming season as well. "Coaching is a stepping stone for me, but I'm also hoping to play for Chester in a three-man defence. Mark has told me he'd like to see me play as a sweeper, the same role I played when I was with him at Liverpool. Stephen Vaughan and Mark Wright have both been doing a great job at Chester and I'm optimistic we'll get back into the Football League after talking to them both." added Harkness.
---
EXILES AGM POSTPONED
Due to a 24hr strike on the London Underground on Thursday it's been decided to postpone the Exiles AGM planned for that date. A new date for the same venue will be set in the next few days and will probably now be around the start of the new season.
---
WRIGHT CONSIDERS BOARD POSITION

Chairman Steve Vaughan has hinted that manager Mark Wright may be offered a place on the Board at Deva Stadium. Vaughan has stated: "Mark is looking to get heavily involved with myself at Chester City. We have got a plan, together with my partners, to move this club forward as far as possible. This is ideal for Mark and for me. The set-up is looking good, the players are making the right noises, the supporters are getting behind us and we've got a brand-new stadium. It's all systems go. We're just waiting now for kick-off."

Manager Wright added: "If the opportunity arises to become a director I would be thrilled and excited by that prospect. I love it up here. My family, children and friends all live in this area and I'm very happy. The chairman and I have had talks about me becoming a director and it is an option."
---
15 July 2002
RESERVES CUP DRAW

The draw for the Avon Insurance League Cup has been made and the Blues will play in Group 4. Just like last season, there will be four groups, with two teams from each qualifying for the quarter-finals, which will then be played as a straight knock-out.
Other teams in City's group are Macclesfield Town, Oldham Athletic, Rotherham United and Stoke City.
Each club plays the others once, either home or away. The draw for the other three groups saw them end up as:
1. Barnsley, Huddersfield Town, Hull City & York City
2. Boston United, Doncaster Rovers, Scunthorpe United, Sheffield United
3. Wrexham, Chesterfield, Mansfield Town, Tranmere Rovers
---
YOUTH TRIALS
Chester City FC Youth are running trials for new players for the coming season. Trials are due to start on Thursday, July 25, between 18:00 and 19.30hrs, at Clifton Drive training complex, Sealand Road. Chester are looking for players aged up to 16 to play for the club. All trials are free of charge and are run by fully qualified UEFA coaches. Contact David James on (01244) 377408 to register a place and receive further details.
---
LADIES TRIALS
Pre-season training started this week and continues tomorrow night from 18.45hrs at Cheshire County Sports Club, Upton. Any interested women footballers are invited to attend the training session.

Meanwhile the Chester Ladies are organising a Junior Football Award for All course for seven to 14-year-olds from Tuesday, 2 September, at Cheshire County Sports Club, Upton. Anyone wanting to attend the course can contact Wayne Gresty on (01244) 383201.
---
TWO MATCHES OFF
City's scheduled pre-season friendly at Connah's Quay Nomads and the home fixture with Bury have both been postponed. The Blues have now arranged to play at Colwyn Bay on Monday 29 July, kick-off is at 19:45hrs.

---
9 July 2002
EVERTON TICKETS

Tickets for the forthcoming home friendly against an Everton X1 on Wednesday 31 July will go on sale to Chester season ticket holders tomorrow (Wednesday) between 10.00 and 19:00hrs, and tickets will then go on general sale on a first-come, first-served basis on Thursday.

Tickets are priced at £12.00 (adult), £9.00 (oap), and £6.00 (u-16) for stand seats, and £10.00 (adult), £7.00 (oap), and £5.00 (u-16) for terrace tickets. These are normal matchday prices.

The club have commented that they cannot guarantee season ticket holders purchasing tickets to secure their normal seat in the stands.
---
8 July 2002
NEW APPOINTMENT AT CITY
Chester City have appointed a new chief executive at Deva Stadium. He's 32-year-old Darren Liversage and he will take charge of all non-football staff at the stadium. Liversage has previous experience with two large multi-national companies and has been known to chairman Steve Vaughan for some time.

Chairman Vaughan said: "I have known Darren for a number of years, and I have always been impressed by his abilities. He will bring a professional business attitude to the club, which can only be good for us. Already, while working in an unofficial capacity, he has extended our existing sponsorship agreement with Pentagon Glass from one year to two, and has also brought in sponsors for our forthcoming pre-season matches against Manchester United and Everton. While I still intend to remain very much a hands-on chairman, Darren's appointment will allow me to have more time to devote to my other business interests."
Helsby based Liversage said: "My first aim is to help get Chester City back into the Football League alongside manager Mark Wright who is building a very good squad of players. The potential at Chester is astronomical. The stadium is getting revamped at the moment and we're starting to get more of a fan base."
"I've been with a number of marketing companies in the past and I've known Stephen Vaughan through sporting events. "Companies I've been with have generated turnovers of £6-8 million, but this is the first time I've worked for a football club, and it presents a new challenge to me."
"I'm a red! I used to watch Liverpool regularly, but now I'm looking forward to following Chester home and away. "I'm confident Chester City are going to be the new Tranmere Rovers – hopefully the biggest three teams in this area will be Liverpool, Everton and Chester City. Why can't we be up there? We have tremendous potential, we have the staff to do a job, and if we get the crowds in here there is no reason why we can't be up there."
---
MALKIN LEAVES

Chris Malkin, City's assistant physio has left the club.
Malkin made 7+4 appearances for City but failed to establish a regular spot in the side. He scored one goal in the Cheshire Senior Cup.
---
CLUBCALL CORRECTION
News issued on this site last month that ClubCall were to end their service of supplying news for football fans was incorrect. Indeed, ClubCall will not only be continuing next season but will be introducing new products and services to compliment the existing ClubCall telephone service. The number for the Chester City ClubCall service is 09068 121633. Apologies for the mistake.
---
4 July 2002
NEW STRIPS REVEALED

City's will have three new playing strips for next season. The first strip will be blue and white striped shirts with blue shorts and blue socks, the second choice kit will be all-white and there will also be a third shirt which will be red and will be mixed with either the blue or white shorts and socks should it be needed (Hereford and Nuneaton away). The kit is once again made by Virma but will be of a better quality than last seasons. There is no date of delivery in the club shop as yet, or the cost, though it is hoped to sell the shirt at the same price as last season's.
---
PLAYERS IN TALKS
The Non-League Paper website reports that Stuart Whittaker is thinking over a move to Lancaster City. Tony Hesketh, manager of the UniBond Premier League side, tried to sign Whittaker on loan from Southport before the forward moved to the Deva. They were given permission by Mark Wright to approach 27-year-old Whittaker and it's believed he has been made an offer. Player-of-the-season Gary Brabin is reported in the Chester Chronicle to be having talks with Halifax Town.
---
2 July 2002
WRIGHT ISSUES CAUTION
With City fans eagerly anticipating the new season for the first time in many years, manager Mark Wright has sensibly told supporters not to get too carried away with their expectations. The manager himself is aiming fop a top-six finish but dismisses talk of winning the championship. Wright said: "Our fans' expectations are high after the number of signings I've brought in since last season. But I have a big job on my hands to gel the new players into our team. The coaching staff will do whatever they can to make things work because the new players we have are good, quality players. But I may have nine new players in a starting line-up, and our supporters may be asking a lot of a side that is totally new."
Wright is enthusiastic about the new players signed: "Our latest signing, Steve Brodie, plays in the hole as well as in attack; Dave Cameron is a big centre forward who can ruffle a few feathers; and Michael Twiss is quick and can play off other players' shoulders. And Micky Brown and Ryan Sugden will be other players to watch, but it's all about choosing the right squad."
The Blues have signed no fewer than nine new players over the summer and the shopping hasn't finished there. City are still expected to sign a central defender in the coming weeks with Gary Brabin, Mark Williams still stuck in negotiations. Scott Guyett's possible signing is believed to be close now with Oxford United wanting a fee in the region of £10,000.
The players reported back to pre-season training last week with Wright and his assistant Ted McMinn's, main aim to bring the players up to full fitness for what will be a grueling season. There's going to be plenty of competition in key areas within the squad next season. "We had the boys running yesterday morning and afternoon, and we saw a lot of enthusiasm when we brought a ball out for the final 15 minutes of the session. Wayne Hatswell, and Ben Davies both looked sharp, and it will good to see so much competition for places in attack, but those players need to stay on their toes – nobody has a God given right to keep a place. We'll certainly be fit enough when the new season kicks off, and I want us to be mentally strong, but I think the supporters are a little unrealistic to be saying we'll win the title, because if Manchester United brought in nine new players they'd be in the same position as us." said Wright.
---
CURRENT SQUAD FOR NEXT SEASON
Goalkeeper
Defence
Midfield
Attack
Wayne Brown

Phil Bolland
Wayne Hatswell
Martyn Lancaster
Chris O'Brien
Carl Ruffer
Lee Woodyatt

Chris Blackburn
Paul Carden
Shaun Carey
Ben Davies
Jimmy Kelly
Kevin McIntyre
Michael Twiss
Mark Beesley
Steve Brodie
Micky Brown
David Cameron
Danny Collins
Jimmy Haarhoff
Ryan Sugden
Stuart Whittaker

The Blues are currently giving a trial to Andy Ralph, a 19-year-old goalkeeper who was released by Tranmere Rovers last season.
---
FA YOUTH CUP DRAW
Chester's Youth team have been given a home draw against Northwich Victoria in the first round of next season's FA Youth Cup. The match must be played before 7 September.