28 August 2010

MATCH OFF
Monday's eagerly awaited homecoming match against Prescot Cables has been postponed due to the opponents being involved in an FA Cup replay. The match has now been rearranged for Saturday 2 October, kick-off 15:00hrs. Chester are next in action on Saturday when they travel to Wakefield.
---
27 August 2010

WAITING GAME
Chester fans face an anxious wait until around 17:00hrs on Saturday as to whether the opening home match with Prescot Cables is on or not. The visitors are involved in FA Cup action at Atherton Colleries tomorrow and should the tie end in a draw, Tuesday's replay will mean the postponement of the long awaited homecoming at Deva Stadium 24 hours earlier. With cup competitions taking precedent over league fixtures this could be a common occurrence through the early part of the season.
---
26 August 2010

DEVA CAPACITY INCREASED
The capacity of Deva Stadium has been increased to 3.598 (from 2,768) this is thanks to a number of volunteers coming forward to be trained as stewards. Should Monday's game go-ahead all parts of Deva Stadium will be opened. The club have also received help from Wrexham and Tranmere Rovers who will be able to lend more stewards should they be required.

Cheshire West and Chester chief executive Steve Robinson told the Chronicle: "The club has worked hard to achieve this progress over a relatively short time. I'm delighted that we been able to agree the improvement for the first home game. Help from the club's traditional rivals sends out a tremendous message for football at a time when many smaller clubs are struggling."
---
23 August 2010

SQUAD BUILDING CONTINUES
On the eve of the new season manager Neil Young has added another midfielder to the squad. He's Tom Field who was previously with Droylsden and before that AFC Telford and Vauxhall Motors. Anothet midfielder, ex Southport, is also expected to sign later in the week.
---
19 August 2010

200 MORE TICKETS
The club have a handful of tickets remaining for the Warrington Town match after their Cheshire neighbours made a further allocation of 200 available towards what will be a record attendance at Cantilever Park of 1,500 next Tuesday night. Remaining tickets will be available tomorrow from 10:00-16:00hrs, though best ring the club on 01244 371376 to check availability before setting out to the ground.
---
17 August 2010

SELL OUT
The 1,000 Chester tickets for the opening league game of the season at Warrington Town on Tuesday 24 August, kick-off 19:45hrs have now all been sold.
---
ROGAN JOINS ON LOAN
Chester have completed the one month loan signing of Fleetwood Town striker Nick Rogan.
---
16 August 2010

BLUES CRUISE TO VICTORY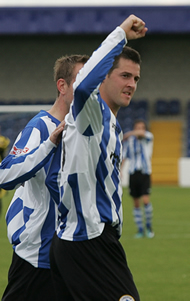 Chester completed their pre-season campain with a comprehensive 5-0 home win over a Nantwich Town side. Two goals fom Rob Hopley and others from Michael Wilde, Mark Peers and trialist Josh Macauley brought victory against a side that fielded only a handful of first team players. Manager Neil Young was disappointed at the quality of the opposition.
He told the Evening Leader: "It was a bit of a disappointment for me from a personal point of view because another team has come here from a higher division, they can say what they want to say, but that is not their first team. It was probably only two or three out of their first team, they may say they have got a squad but I don't understand it."
"If they are going to take the game then why because it doesn't give us a test, it probably gives their younger players an opportunity to play at the Deva Stadium, but it is a bit disappointing because it doesn't give us the test we require like Wednesday night."
"What do their young lads get from being beaten 5-0? If wasn't for their 'keeper it would have been nine or ten."
"I have been honest in all my interviews since I have been here and I don't understand why, that if they they are going to bring youngsters, they don't let us know. It doesn't really serve us a purpose a week before the season starts."
So Chester now prepare for the opening match of the season just over a week away at Warrington Town. Manager Young is still chasing a striker to add to the squad, and hasn't given up hope of signing a player currently with a Conferene club, though no names have been confirmed the Liverpool Echo believes it to be Southport striker Chris Simm.
---
13 August 2010

FINAL WARM-UP FOR BLUES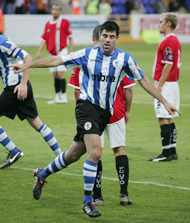 Chester entertain Nantwich Town at Deva Stadium tomorrow, kick-off 15:00hrs, in their last scheduled pre-season friendly. manager Neil Young may once again give a game to trialist Josh Macauley. Macauley has been offered a deal which he is currently considering, he has played under Young before when he went on loan from Tranmere Rovers to Colwyn Bay last season.

With just Michael Wilde and Rob Hopley, the two main strikers at the club ,Young is also keeping a close eye on an as yet unnamed Conference striker to provide more competition for the striking places.

Chester fought back from 0-3 to force a draw against FC United of Manchester (FCUM) in midweek. There was a great atmosphere on the night generated by the 1,700+ crowd and Young is expecting another test for his squad tomorrow, from a side who, like FCUM play in the Evo-Stik Premier Division.

Striker Wilde (pictured0 has now scored seven times pre-season and he told the Evening Leader that he's been pleased with the all round contribution from the team. He said: "One of the most noticeable things about pre-season so far has been the number of players who have been playing a big part in producing goalscoring chances."

"If Chester are going to get out of this division we have got to score plenty of goals as well as possess a solid defensive unit."

"It goes without saying that we have to score goals to accumulate points and I feel we have already shown how well we are playing together and we are certainly starting to fire on all cylinders."

"Ollie Ryan, Rob Hopley and Adriano Rigoglioso have all looked a threat in our forward line, but they have been supported by Chris Williams from the left, Mark Peers down the right, and midfielder Greg Stones.

"


---
11 August 2010

CHESTER ENTERTAIN FCUM
Another bumper crowd is expected tonight as FC United of Manchester visit Deva Stadium for a pre-season friendly, kick-off 19:45hrs. A great amount of help and advice was received by Andy Walsh general manager of FC United of Manchester, themselves a supporter run club, when the Phoenix Club route was first mooted by CFU. Many fans will remember his speaking passionately at the football club launch meeting at the Guildhall in May.

Admission tonight is:
Adults £7.00
Concession* / NUS card holders# £5.00
Under 18's* £3
Under 5's are free (With Paying Adult)

*Disabled supporters qualify for the Concession rate on proof that they are receiving Disability Living Allowance. Carers will receive free admission –please visit the ticket office on match days.
#Proof of ID will be required
---
WARRINGTON TICKETS
The club have released details of ticket arrangements for the first match of the season at Warrington Town on Tuesday 24 August, kick-off 19:45hrs.
Tickets for the match will go on sale to Season Ticket holders at the following times:
10:00-16:00hrs on Thursday 12th August
10:00-16:00hrs on Friday 13th August
09:30-12:00hrs on Saturday 14th August
Season Ticket holders will need to produce Voucher A from their book, and if collecting their season ticket at the same time, will need to bring the receipt received when the season ticket was purchased. Season ticket holders are able to purchase more than one ticket if they present the season ticket and Voucher A of friends or family.
Tickets will go on general sale after Saturday's match at Deva Stadium against Nantwich Town from 17:00hrs. In all cases above, tickets are strictly limited to one per season ticket holder, and are available at a cost of £7.00 (no concession rates).
---
10 August 2010

WIN FOR CHESTER
First half goals from Rob Hopley and Mark Connolly gave Chester a 2-0 win at West Cheshire League side Ashville last night.
---
9 August 2010

FLYPAST SALUTE FOR CHESTER
Manager Neil Young saw his side suffer their first home defeat on Saturday as Chester were beaten 1-0 at home by Marine. Young played a different eleven in each half as he gave his squad a run-out in front of another promising crowd of over 1,200.

Hundreds of supporters turned up early to witness the unique pre-match spectacle of the Red Arrows flypast over the stadium.

Following the defeat manager Young told the fficial website:"We were the better side for most of the game, but without being disrespectful to the Marine lads because I thought they worked their socks off, that was predominately fringe or reserve team players from them and we got out worked by them."

Chester are next in action tonight when they travel to Wallasey to play West Cheshire League side Ashville. Unlike Saturday, due to a number of injuries, there will be less shuffling around with the team.

• Pre-season matches

Picture © Evening Leader
---
FORMER PLAYER DIES
Former Chester player Norman Woof died recently in Ulverston. Norman played reserve team football for the club in the 1945/46 season and made one full wartime appearance, at Oldham Athletic in December 1945 the week after scoring in a friendly fixture at Bradford City. The centre forward also played for Barrow, Holker Central and Workington.
---
6 August 2010

MARINE NEXT FOR CHESTER
Chester continue their pre-season preparations tomorrow with a home match against Unibond Premier League side Marine, kick-off at Deva Stadium is 15:00hrs. Prior to the match, at 14:18 to be precise, their will be a flypast by the famous Red Arrows. Safety checks had grounded the Hawk T Mk 1 aircraft earlier in the week, but they have been given the all clear to resume flying.
---
5 August 2010

CFU MEETING TONIGHT

The latest City Fans United members meeting takes place tonight at 20:00hrs at the Blues Bar at Deva Stadium. It is hoped that Chester FC manager Neil Young, and players George Horan and Andy Burgess, will be along to answer questions and meet the fans.

There will of course be the regular updates from the City Fans United board, along with a Q&A session with the chief executive Steve Ashton, and of course the latest Seals Lottery winners will be revealed.


The meeting is open to members only but new membership can be achieved on the night for just £5.00. The bar opens at 19:00hrs and the club shop will also be open from 18:00-20:00hrs.
---
3 August 2010

WARRINGTON TICKETS

The club have announced that tickets for the opening match of the season at Warrington Town on 24 August will be on sale shortly. Prior to going on general sale, they will be available to season ticket holders first. It will be strictly one match ticket per season ticket holder and the cost of tickets will be £7.00, there are no concessions.
Fans have until Thursday 5th August to purchase a Season Ticket and qualify for an away ticket for the Warrington Town game. The ticket office remains open from 10.00-16.00 Monday to Friday for fans wishing to purchase season tickets (Please note payment methods are cash/cheque – cheques made payable to Chester FC).
Warrington ticket postal applications for Season Ticket holders will need to be received at the club by Thursday 12th August, together with a stamped addressed envelope in order for tickets to be sent out. To ensure that we action your application swiftly, please also include details of where your Season Ticket allocation is (ie Stand/Block/Row/Seat), if known.
---
2 August 2010
BARROW IMPRESSED WITH DEVA OUTFIT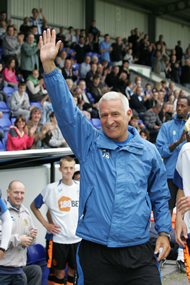 Former Chester favourites Graham Barrow (left) and Roberto Martinez returned to Deva Stadium with a young Wigan Athletic X1 yesterday and will have been impressed by what they saw. Chester ran out 4-0 winners with a side that's still only been together for several weeks under Neil Young as the pre-season enthusiasm and confidence continues around Deva Stadium.

Barrow told the Chester Chronicle: "I know some of the lads, like Carl Ruffer, and I would imagine they were well up for this game as it's a Premier League club. They wanted to show what they can do."
"That's what they did and if the way they performed today gives them a bit of confidence, well that's great. But if I'm putting my working head on I'd have to say it's been a very big lesson for our young players."
"The happiness that Wigan and Chester football clubs have given me over the years far outweighs any of the other clubs I've been at, so it was great to see the fans so happy again."
Martinez, a crowd favourite during his time at the club, had only been back in the country a few hours following a pre-season tour, but showed his class by turning up at the match and adding his praise of the occasion.
The Latics boss said: "Today was all about Chester Football Club. What happened to the old club was heartbreaking and it was a real test for the city and lovers of this football club. So it's great to come here and see the fans so happy and supporting their side, who look an impressive side both in terms of numbers and skill levels. Our youngsters were beaten by a better team today."

The pre-season build-up continues on Saturday with the arrival of Evo-Stik Premier side Marine, kick-off 15:00hrs – with the Red Arrows flypast at 14.18hrs.
•
Pre-season fixtures


---