27 June 2010

ANOTHER FRIENDLY ANNOUNCED

Chester will entertain FC United of Manchester at Deva Stadium on Wednesday 11 August, kick-off 19:45hrs. It promises to be a great night as the two sides, both owned by supporters meet up. Representatives from FCUM have given great support and advice over recent months as the CFU dream of reforming the club came to fruition at the recent official launch night.

• Pre-season matches
---
24 June 2010

SECRETARY APPOINTED

Chester have appointed John Davies as their new club secretary.
---
22 June 2010

MATCHDAY/SEASON TICKET PRICES

The club have released details of season ticket and matchday admission prices for next season, they are as follows:
Matchday prices
Standing Harry McNally Terrace
£9.00 Adults
£6.00 Concessions (Senior citizens and students with NUS card)
£5.00 16-17 year's old
£3.00 5-15 year's old
Free for under 5's.
Seating East and West stand's
£10.00 Adults
£7.00 Concessions (Senior citizens and students with NUS card)
£5.00 16-17 year's old
£3.00 5-15 year's old
Free for under 5's.

Please note that tickets for those under 18 years of age will need to be collected from the Chester FC ticket office on the day of the game, with proof of age. All non full price tickets require proof of qualification eg. proof of age, NUS card etc.
---
Season Tickets

Standing Harry McNally Terrace
£165.00 Adults
£115.00 Concessions (Senior citizens and students with NUS card)
£50.00 16-17 year's old
£25.00 5-15 year's old
Free for under 5's.
Seating East and West stand's
£180.00 Adults
£130.00 Concessions (Senior citizens and students with NUS card)
£50.00 16-17 year's old
£25.00 5-15 year's old
Free for under 5's.
Special offer
£80.00 16-17 year's old season ticket including replica home shirt
£45.00 5-15
year's old season ticket including replica home shirt

Tickets are on sale to existing season ticket holdres at Deva Stadium from Monday 28 June to Friday 2 July at 10:00-14:00hrs then 16:00-19:00hrs. They will also be on sale on Saturday 3 July from 09:30-12.30hrs.

Tickets will then go on general sale from Monday 5 to Friday 9 July at 10:00-14:00hrs then 16:00-19:00hrs.

---
21 June 2010

TWO MORE FRIENDLIES CONFIRMED

Chester will travel to play Rhyl on Saturday 17 July, kick-off 15:00hrs. Meanwhile Tranmere Rovers have confirmed they will play at Deva Stadium on Tuesday 27 July, kick-off 19:00hrs. The home match against Bangor City scheduled for the next date will be rearranged.

Manager Neil Young was delighted to secure the Tranmere firendly, he said: "I know Tranmere boss Les Parry and his assistant Shaun Garnett really well from my days at Cammell Laird and I'm really thankful for their support.
"I didn't know whether we would be able to fix up a game against them after being told that Tranmere's pre-season had been fully booked. But Les and Shaun have now managed to accommodate a match against us and they confirmed that they will be fielding a strong side.
"It is a great fixture for us before the season starts because they are a local club that we all know well and my assistant manager, Gary Jones, played for Tranmere for a number of years."

• Pre-season matches
---
18 June 2010

STEP FOUR PLACING FOR CHESTER


Following their appeal with the Football Association on Monday the club have now been placed at non-league Step 4 for next season, they will compete in the Evo-Stik First Division North League and not the Vodkat League originally recommended by the FA.

This good news (and congratulations to those involved in making it happen), will come as a great relief to the club who can now concentrate on Season Ticket sales and sponsorship, and manager Neil Young who continues to build a squad for the coming season.

The Blues will be competing with the likes of Skelmersdale United, Lancaster City, Warrington Town and Harrogate Railway Athletic. Young will know the division well as he managed Colwyn Bay to promotion (via the play-off's) from it last season. The fixtures are due for publication around 14 July.
FA Statement
Appeal decision reached for Chester FC.
An appeal by Chester FC against a decision made by The FA Leagues Committee to place the Club at Step 5 (North West Counties League Premier Division) of the National League System has been upheld.
An FA Appeal Board (meeting on Monday 14 June) decided that the Club should be permitted to play at Step 4 (Northern Premier League Division One) from this coming season.
The Appeal Board determined that the Leagues Committee misinterpreted or failed to comply with section 1(a) of the Regulations for the Establishment and Operation of the National League System which states: "To provide clubs with a level of competitive football appropriate to their playing ability, stadium/ground facilities, economic means and geographical location."
---
SEASON TICKET SALES

The club office is open for sales at the following times.

Monday 28 June – Friday 2 July 10.00-14.00hrs / 16.00-19.00hrs
Saturday 3 July 09.30-12.30hrs

Supporters wishing to renew their season tickets will be required to bring their 2009/10 Season Ticket to the ground as proof.

---
16 June 2010

BLUES LOOK TO THE FUTURE

Chester Football Club manager Neil Young was guest of honour at the Newton Athletic Youth Football Club awards presentation last Sunday, 13th June.

The club were invited along to help with the presentation by joint Newton Chairmen Stephen Jones and Bernard Concannon as part of their fun day, during which City Fans United Junior Blues were also present handing out leaflets and promoting the Club.

Newton Athletic are an FA Charter Standard club based at County Officers, Upton, and have over 250 boys and girls of all ages from under 6's to under 18's.

Closing the event, Stephen Jones stated "We all wish Neil Young and Chester FC all the best for the coming season, and for their future" to a great reception from the parents and children present. "It is a priviledge to be invited along to be part of such a big day for these children. Hopefully one of them will go on to pull on the blue and white stripes of their home town club." stated Mark Howell, Chester FC's Community Officer.

Pictured is Dave Johnson (founding Chairman of NAYFC) and Chester FC manager Neil Young present 7-year-old Ben Pleavin with his Mini Soccer Player of the Year award at the event.
---
14 June 2010

DECISION BY FRIDAY

Following today's meeting with the Football Association, the club have announced that they can expect a decision by Friday on which league they are to start in come August. Both the Unibond League and Vodkat League hold their AGM's on Saturday.

---
FA HEARING TODAY

Club officials meet with the Football Association today at Wembley to appeal against the recommendation that they be placed at non-league level 5 next season. Chester will claim that they are being treated as a new club as opposed to the continuation of the previous one and will site several previous precedents to back up their stance.
---
13 June 2010

125th ANNIVERSARY SUCCESS


Five hundred Chester supporters packed the Pavilion Suite at Chester Racecourse last night to celebrate the club's 125th anniversary. The disappointment on the England draw couldn't take the shine away from this very unique occasion that helped raise thousands of pounds for Chester FC.

Former players including Gary Talbot, Grenville Millington, Stuart Rimmer, Milton Graham, Graham Abel, John Kelly, John Butcher, Gary Bennett, Paul Carden, Bob Delgado and Colin Woodthorpe – as well as former chairman Ray Croft all turned up to help make the event the success it was.

The auction alone raised around £4,000 with unique items of memorabilia up for grabs that included a framed shirt from 1974/5 and a complete set of programmes from the League Cup run along with a signed team photograph.

Manager Neil Young along with coach Gary Powell and some of the new players were also in attendance for the evening.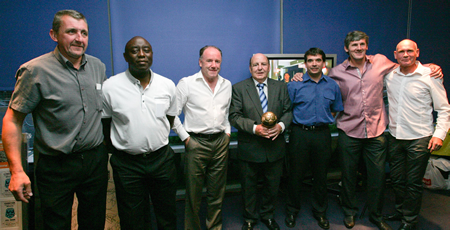 John Butcher, Milton Graham, John Kelly, Ray Croft, Stuart Rimmer, Graham Abel and Gary Bennett.


•
More pictures from the evening
---
11 June 2010

HELP RAISE FUNDS FOR CHESTER FC
City Fans United are holding a special event tomorrow evening at Chester Racecourse, which celebrates 125 Years of Chester Football Club. The event is a complete sell-out with 500 supporters in attendance for what promises to be a very special night. During the proceedings an auction is taking place to raise funds for Chester FC as it embarks on its journey back up the leagues following the supporter owned club's reformation. Among the items up for auction are the following:

• 1974/75 Replica Chester FC shirt and match programmes from League Cup run
• Framed David Beckham England shirt signed by 2005 England squad
• Framed trio of Chester City shirts 2005/06
• Replica Liverpool v AC Milan Champions League Final ball signed by both Liverpool and AC Milan prior to the start of the match
• Group Booking on the Captains Course at Chirk Golf Club
• Five Day membership for the rest of 2010 to Chirk Golf Club
• Framed and Signed 'Famous Five' picture supplied by Gary Talbot
• Signed Football Boots (worn by Gary Talbot)
• Signed Photo of Chester 1974/75 squad
• Two Weeks Holiday in South Goa (flights not included)
• Signed Bryan Robson England World Cup 1986 shirt
• Signed Everton football and Framed / signed picture of Phil Jagielka
• Signed Framed Photo of Harry McNally (Photographer Giles Park signature)
• Framed Picture of Dan Gosling's goal for Everton v Liverpool (FA Cup)
• Three Litre bottle of Barley Whisky to be signed by players on the Anniversary evening
• On the Borderline Book (signed by over 30 Chester players & managers)
• Signed Paul Carden shirt from 2004 Championship winning season
• Signed "Greenalls" Chester shirt (signed by Grenville Millington, Gary Talbot, Brian Croft, Billy Stewart, John Kelly, and the late Stuart Mason) – being auctioned for the CFU Junior Blues

If you wish to bid on any of these items you need to email your bid to auction@cityfansunited.com by 11:00hrs Saturday 12th June, and full contact details must be left in order for the bid to count. Winners will be notified on Monday 14th June.
---
10 June 2010

WIGAN ATHLETIC AGREE FRIENDLY

Former players Graham Barrow and Roberto Martinez will be bringing their Wigan Athletic side to play a pre-season friendly at Deva Stadium. The game will take place on Sunday 1 August, kick-off 13:00hrs.

Latics manager Martinez said: "Chester is a club close to mine and Graham's heart and what has happened to them is very sad. Hopefully this game will be a boost for the new Chester FC and attract a crowd into the Deva Stadium, somewhere that holds plenty of memories."

---
8 June 2010

VOLUNTEERS MEETING

A volunteers meeting will take place in the Blues Bar, Deva Stadium, on Wednesday (9 June) starting at 19:30hrs – the actual bar won't be open. The Football Club are looking for all kinds of volunteers to help during the coming season, especially stewards, but if you have a particular trade/skill, or just some time to spare and you want to help your club, please come along.

---
COACH APPOINTED

The club have appointed their first team coach. He's former Everton and Wigan Athletic player Gary Powell who joins the club from Rhyl FC.

Blues manager Neil Young said: "Gary is a great lad who I have worked with before and will be a great acquisition to our management team, and ultimately our club."


---
RUFFER RETURNS

The club have signed former player Carl Ruffer. The popular defender played for the Blues from 2000-04 making 90+16 appearances, scoring 7 goals helping the club to the Conference championship in the process. He left to join Morecambe and has also had spells with Runcorn, Rhyl, Droylsden and Witton Albion.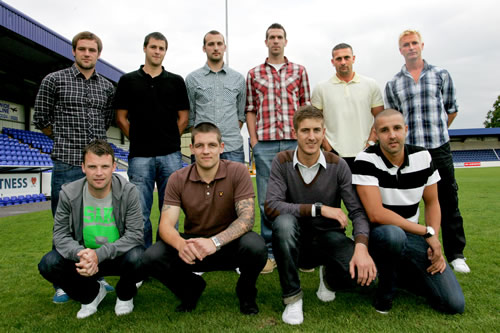 Back: Danny Mahoney, Rob Hopley, Danny Meadowcroft, Greg Stones, Carl Ruffer, Gary Powell (coach).
Front: Anthony Sheehan, Mark Connolly, Rich Foulkes and Adriano Rigoglioso.


---
6 June 2010

FOUR MORE PLAYERS SIGN

Four more players have joined Chester in recent days. Striker Adriano Rigogiloso, who has been the target of previous Blues managers, signs from Colwyn Bay. Two players have signed from Skelmersdale United, defender Michael White, who was club captain last season, and midfielder Kyle Armstrong. Completing the quartet is Cammell Laird defender Stuart Jones.

• Transfer activity
---
2 June 2010

STADIUM STEWARDS WANTED


Chester FC are also on the lookout for stewards for their home matches next season, with experienced stewards desirable but not essential as training will be given throughout the season.

The more stewards the club has, the higher the capacity of the Deva Stadium can be, and we ask all those interested in becoming stewards to attend a volunteers meeting at the Deva Stadium next week (please see www.cityfansunited.com for further details) where a variety of matchday roles will be discussed.

Please e-mail volunteer@cityfansunited.com if you are interested in helping Chester FC next season.
---
SHEEHAN SIGNS

Manager Neil Young has signed his eighth player Anthony Sheehan. The former Colwyn Bay and Cammell Laird's player can play in either a midfield or full back role.
---