29 April 2010

ANNOUNCEMENT NEXT WEEK

Blues supporters face a nervous waiting game now after the council stated that a decision will be announced early next week after this morning's meetings with both City Fans United and Fodbold Selskabe.

A statement following the meeting from CFU said: "This morning, CFU committee members Chris Pilsbury, Mike Vickers, David Evans, and Jim Green, met with officials from Cheshire West and Chester Council, at the HQ Building in Chester.
In that meeting, the CFU proposal for the lease to the Deva Stadium was put forward and will now be considered by CWaC officials. We have been advised that a final decision will be made early next week, which will be in time for our finalised application to be sent to the Football Association.
We would like to thank Cheshire West & Chester Council for their efficient handling of the matter and look forward to their decision.
City Fans United remain confident that our application will be successful, and a further statement will be issued as soon as we know the outcome."
---
DECISION DAY HAS ARRIVED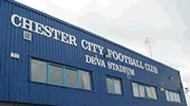 It's a massive day for the future of football in Chester as Cheshire West and Chester Council decide who will have the keys to Deva Stadium. Two consortiums are bidding to run football in the City come August. City Fans United (CFU) and a Danish consortium Fodbold Selskabe. Both groups have submitted business plans and both will get a chance to make a short presentation to back their bids this morning.

It's not clear when a decision will be announced but it is likely to be soon given the tight deadlines for applying to a suitable League for next season.

Since its formation only a few months ago, CFU have galvanised over 1,500 members, including a large junior section, and have the backing of local businesses in Chester, as well as former players and supporters, for their plans to set up a club owned 100% buy the supporters and beneffiting the local community.

Fodbold Selskabet will be represented by treasurer Kenni Hansen and vice-chairman Christoffer Baadsgaard at today's meeting at County Hall.

• Chester Chronicle plea to the Council

---
28 April 2010

CELEBRATE 125 YEARS OF HISTORY

Saturday 12 June promises to be a special night for Blues fans as City Fans United (CFU) have organised a celebration night to commemmorate the 125th anniversary of the forming of the football club. The event will be held at the Pavillion Suite at Chester Racecourse.

Many stars from the past will be attending the evening which coincides with the England v USA World Cup match that will also be shown on big screens around the venue. An auction and raffle on the night will help to raise funds for CFU. The evening is open to supporters whether they are CFU members or not. Tickets will cost £20 each and more details of these will be available soon.

Sponsorship of the evening is available, and will consist of a package of 10 tickets, advertisements on event tickets, as well as company logo on the event programme. Please contact Jeff Banks on 07925 519418 or Jeff.Banks@cityfansunited.com
---
26 April 2010

CFU MEMBERS MEETING
The next CFU members meeting will take place on Thursday night at The Home Guard Club atarting at 20:00hrs. For those who are yet to join the organisation, CFU membership applications will be accepted on the night. The evening will include the latest inductee to the CFU Hall of Fame, and time to salute a true legend!

---
22 April 2010

TWO HORSE RACE FOR CONTROL

Cheshire West and Chester Council will make a decision next week as to who they consider to be the best people to bring football back to the city of Chester. Two proposals are on the table, one from City Fans United (CFU) the other from Fodbold Selskabet, a Danish consortium. The council will look at both bids on Thursday 29 April before deciding who is the most suitable applicant to take control at Deva Stadium.

Steve Robinson, chief executive of the council, told the Chester Chronicle: "I anticipate a decision on the successful bidder would be made by the end of the month to meet the FA's registration deadline, believed to be in the second week of May.

"Business cases are being analysed and a report will be presented to the meeting. We are looking for a sound, sustainable business case with a vital community involvement which will ensure the future of league football in Chester."

"Obviously there may be some follow-up enquiries but we are aiming to make a decision in good time for the successful applicant to make the registration date."

CFU chairman Chris Pilsbury said: "We appreciate that the council is trying to ensure that, both for the future of the Deva Stadium and for the future of football in Chester, the right group gets the lease. The council is going exactly the right way about it and CFU fully support its approach."

"While we wait for their decision there is still a lot of work going on behind the scenes and, if we get the lease, everything will fall into place nicely and Chester fans will be absolutely made up with what we're doing."

Sitting at the meeting next week are council leader Mike Jones, Mr Robinson and Councilor Richard Short, executive member for culture as well as two independent senior local businessmen and an advisor with experience of establishing a 'phoenix club'

---
13 April 2010

FPA CONTINUES TO GROW
The Former Players Associaion recently passed the 50 membership mark with the signing of Noel Bradley. He was soon followed in the ranks by Darryn Stamp, Luke Beckett, John Kelly, manager Jim Harvey and Billy Windle. You can find out all the latest news on the Association's website.

• Former Players Association
---
6 April 2010

CFU FUNDRAISING CONTINUES

Following the success of the Exiles organised bucket collection last week's at AFC Wimbledon a group of CFU members raised money by the same means at the Easter Monday match between AFC Telford United and Gloucester City. The group collected £626.31 which was donated by supporters of both clubs at the New Bucks Head Stadium.

Lifelong Chester fan Ed Jones said, "Supporters of both AFC Telford and Gloucester City were a credit to their respective clubs", and City Fans United would also like to express its thanks to both clubs for the generosity displayed by both officials and supporters, and would like to extend its thanks to the Chester fans who helped raise the money on the day.

Meanwhile, CFU chairman Chris Pilsbury and the rest of the CFU are working hard behind the scenes, as the council dealine of 19 April for interested parties to come forward with their proposals to run a club at Deva Stadium looms.
Pilsbury said: "We've continued to talk to potential sponsors of the club and we're getting a really positive response from them. We're moving ahead with this and it's looking good. We're also beginning to work on getting the infrastructure of the club in place. We've started to do this in the hope that we get the go-ahead from the council, and if we do it will allow us to hit the ground running on the football side."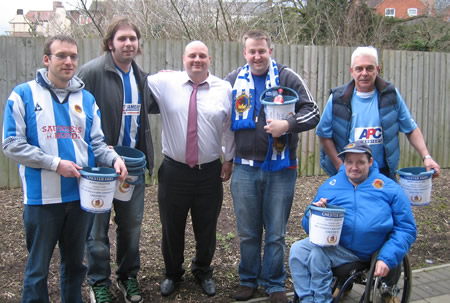 ---