30 September 2009

WADSWORTH EXITS DEVA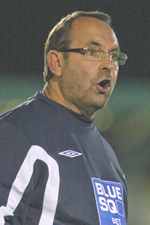 Manager Mick Wadsworth has left the club following last night's 2-1 home defeat by Forest Green Rovers, their fifth home defeat of the season. The Blues have won only two of their opening 13 games. Wadsworth has only been at the club three months and joins a long line of managerial casualties over recent years. Assistane manager Simon Davies has also left the club.

Wadsworth said: "This place is full of negativity and I've never known an environment like it and it's wearing. A lot of supporters won't come because they don't think we've got a cat in hell's chance of getting out of trouble, but all the players can do is fight."

"The fans have had such a tough period that there's very little hope, but hope is the last thing to die and the club has to try and build hope."

Club owner Steve Vaughan commented: "The appointment of Mick just didn't work out. Mick gave it everything and he put in a lot of time and effort into the squad he assembled. But it was clear that he wasn't winning enough games."
"I have the utmost respect for Mick Wadsworth, but it just hasn't happened and he has suffered the consequences. Previous managers have also struggled at this club in recent years and I'm lost for words when I'm asked why that should be."
"Mick lost one away game and Tuesday's defeat against Forest Green was the club's fifth home defeat of the season. He was working in a performance-related industry and unfortunately he struggled to turn things round after we had started the campaign on minus 25 points. As far as I'm concerned it's another Chester managerial casualty, but we didn't have the best preparation to our season."

Last night the Blues turned out a terrible first 45 minutes against a team also struggling at the wrong end of the table and could have left the field at half-time trailing by more that the two goals they already were. In front of a crowd of just over 1,000, Kevin Roberts did pull a goal back soon after the break but the Blues were unable to add to that effort and remain on -14 points having picked up just 11 in their 13 games to date.

Experienced player Tim Ryan and coach Billy Gerrard with look after the side for the weekend's visit to Hayes and Yeading United.

• Former managers
---
29 September 2009

BLUES BACK IN ACTION

City will be looking for maximum points when they entertain Forest Green Rovers at Deva Stadium tonight (19:45hrs). Manager Mick Wadsworth will be without young on-loan defender Chris Lynch through injury. Midfielder Clark Keltie is set to make a home debut after joining on a month's deal from Rochdale.

---
28 September 2009

WADSWORTH DELIGHTED WITH DRAW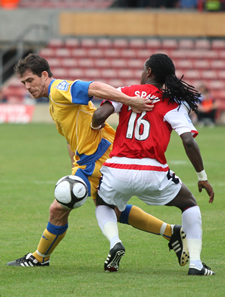 Blues manager Mick Wadsworth was delighted with the battling performance from his side in yesterday's cross-border derby with Wrexham. The game finished 0-0 with City striker Gregg Blundell missing a glorious chance from close range to take all three points.

City on-loan defender Chris Lynch picked up a bad injury during the match. The young Burnley player has been a hit at Deva Stadium since he arrived early in the season. It has since transpired that he has a cruciate ligament injury which will keep him out for the rest of the season.

Manager Wadsworth said: "I thought we were the better team and we created a couple of good scoring opportunities. We had the best two chances to win the game."
"Their keeper pulled off a great save to deny Gregg Blundell's header, and I know Gregg was beside himself for missing his close range chance in the first half. Gregg was very apologetic at half-time about missing his effort, but that's okay. That happens to strikers at times and I know he didn't miss on purpose and we'll have to live with those sorts of mistakes."
"I thought the game was a bit rough and tumble, but we stood up well to the physical aspects of the match. We also came out quite well on the fitness side of the game."
North Wales police made five arrests at the match and more are anticipated in the next few days.

The Blues are straight back in the action again tomorrow night when Forest Green Rovers visit Deva Stadium (19:45hrs) for a Conference match. Rovers have yet to win on their travels this season and sit in a relegation spot four places above City.

• Conference table
| Match highlights on S4C


---
YOUTH DEFEAT

The Youth Team were beaten 1-0 at home by Wigan Athletic on Saturday morning in the Football Alliance North West Conference..

• Match pictures | Youth team fixtures
| Youth table
---
25 September 2009

STRIKER SET TO SIGN

It is being reported that Chester are due to sign Rochdale's Clark Keltie on loan
in time for Sunday's local derby at Wrexham. Born in Newcastle, the 26-year-old has previously played at Darlington from 2001-08 where he made 145+35 appearances and scoring 11 goals. He has scored one goal in 30+6 appearances for Dale.

---
WREXHAM TICKETS

The Deva Stadium office will open between 10:00 and 12:00her tomorrow (Saturday), for the sale of tickets for Sunday's game at the racecourse against Wrexham. No tickets will be sold on the day of the game.
---
24 September 2009

FORMER PLAYERS ASSOCIATION

A Former Players Association has been set up following a series of meetings between two of the club's most popular players Grenville Millington and Gary Talbot (pictured) along with broadcaster Charlie Lambert and the club Historian Chas Sumner.

The Association's main objective is to provide a forum for former players of the club to meet and keep in touch with each other whilst, at the same time, enabling the club and the supporters to recognise its former heroes.

Initially membership of the club is free to all former Chester City first team players and managers.

More information and contact details can be found on the Association's website.

• Former Players Association

---
CUP VICTORY FOR YOUTH TEAM

A Sean Breen goal was enough to give the Youth Team a 1-0 victory at Marine in their FA Youth Cup first qualifying round match last night. The Blues will be now away at Lancaster City in the second qualifying round on Monday 5 October, kick-off 19:00hrs.

• More Pictures | Youth team fixtures


---
23 September 2009

DANBY INJURED AS BLUES PICK UP A POINT

The Blues failed to capitalise on a 79th minute Ben Wilkinson goal at Salisbury City last night as they were pegged back by their part-time opponents two minutes later as Sean Clohessy leveled following a goalmouth scramble. Before taking the lead City had Chris Lynch to thank for a goal line headed clearance that kept Chris Flood's goal bound header out.

City 'keeper John Danby had to be stretchered off after being injured in the build up to the goal giving replacement goalkeeper Andrew Murphy a debut from the bench for the last ten minutes. The home side thought they'd picked up all three points in injury time but saw a Darrell Clarke goal disallowed for offside.

• Conference table

---
21 September 2009

ANOTHER HOME DEFEAT FOR THE BLUES


City suffered their fourth home defeat in six matches as Stevenage Borough became the latest side to take three points from Deva Stadium.
Another early goal, City have conceded several this season, was enough to beat a City side who were once again out-muscled by their opponents

Manager Mick Wadsworth admitted his team were beaten by the better side on the day, he said: "I have to say that we were beaten by a better team. They were better than us in most phases of the game. I thought we did okay in the first half for 20 minutes, and we got forward and managed to send a few balls into their box."

"But Stevenage set their stall out in the second half by not allowing us to push them back. They were a very powerful team and really well organised. They are a team that has been built and that's a credit to them."
"But that's not being disrespectful to our players because everyone of my players worked their socks off. But my players put themselves on the line week in, and week out, and I'll never ever complain about them."

Wadsworth has stated that he needs three of four more players if City are to have any chance of escaping what looks an almost certain second successive relegation. He is turning to premiership side Wigan Athletic for help, where the management/coaching team of Roberto Martinez and Graham Barrow need no introduction to Blues fans.

Wadsworth confirmed: "We may get some help from Wigan. I've spoken to them in the last couple of weeks and they may be willing to help us out with a couple of players. I'm going to Wigan on Wednesday and I'm taking in lots of games but it's difficult because if I bring in players from a distance we have to arrange, financing, housing, hotels, etc."

The Blues are next in action tomorrow night when they play The Whites! Cheater travel to a Salisbury City side who lie two places above City after they were deducted ten points last week for enetering administration. They have two wins and two draws fro mtheir five home matches players at the Raymond McEnhill Stadium this season.
•
Conference table
---
YOUTH DEFEAT

The Youth Team were beaten 1-0 at Bury on Saturday morning. Their next game is Wednesday night when they travel to Marine for their FA Youth Cup first qualifying round match.

• Youth team fixtures
---
EXILES PREDICTION COMPETITION

The deadline for the latest competition is the end of the month. You can download the competition form from here.
---
18 September 2009

STEVENAGE TO PROVE TOUGH TEST

City entertain high-flying Stevenage Borough at Deva Stadium tomorrow looking for three more points following the midweek success over Gateshead. Borough currently lie third in the Conference with just one defeat in their five league games away from Broadhall Way this season and have won their last four matches including a fine 3-2 win at Mansfield last weekend.

With his squad stretched to the bare minimum, City manager Mick Wadsworth is expected to name an unchanged team from midweek. His opposite number Graham Westley has a couple of doubts as he prepares for the match with forwards Mitchell Cole and Lee Boylan both struggling to be fit following injury.

Both managers are expecting tough games and Westley told the BBC: "They are a useful enough side with experienced players, they play some decent football at times. They won a home game in midweek and are going to draw some confidence from that. We know full well that you don't go to Chester and walk away with the points without a battle. We know we have a tough job to do to make sure we come back down south with the three points that we so badly want."

Those who can't get to the game can hear BBC Three Counties Radio online commentary here.
•
Conference table
---
16 September 2009

THREE MORE POINTS FOR CITY


Goals from Gregg Blundell and Nick Chadwick were enough to give City three points though the home side made hard work of beating their part-time opponents from Gateshead who were reduced to ten men in the first period.

In front of their lowest home crowd for nearly eight years, 994, the Blues took the lead from the penalty spot after Blundell was hauled back by James Curtis after he'd chased through on goal from a Shaun Kelly pass out of defense and rounded 'keeper Jim Provett. Curtis was given a straight red card for the foul. Blundell sent Provett the wrong way to coolly convert the spot-kick.

The Tynesiders, who created good opportunities through the match, drew level on 51 minutes as Michael MacKay scored totally unmarked from close range following Christoph Ascherl's floated through ball.

Fourteen minutes from time City sealed their second win of the season when Nick Chadwick sent a looping header over Provett following a pin-point right wing cross from Neil Ashton.

City had some great goalkeeping from John Danby to thank as he saved from both Graeme Armstrong and MacKay in the closing minutes to preserve the three points.

---
14 September 2009

WADSWORTH: WE NEED WINS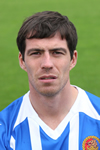 A hotly disputed penalty in first half injury time gave City a lifeline at Eastbourne Borough on Saturday. City were losing at the time from another poor conceded goal after five minutes after hesitation in defence, before Gregg Blundell (left) stepped up to send home goalkeeper Michael Jordon the wrong way after he was adjudged to have brought down Neil Ashton in the box.

Both sides had opportunities to grab all three points with the woodwork comiing to the escue for both sides late on. Firstly Anthony Barry saw a free-kick headed onto his oen bar by home player Neil Jenkins, then ten minutes from time Andy Atkin should have scored his secong goal of hr afternoon but hit the left post from close range when a goal seemed certain.

Manager Mick Wadsworth said; "It certainly looked to me a penalty and it gave us a chance to kick on in the second half. We haven't lost and that is important. We have only lost once in the last four, but we must try and get more wins under our belt. It was always going to be tough coming here, but these are the games we should really be winning. We have just got to keep working and fighting every game. The players are giving me everything they have got and I cannot ask for more that that."

City have the opportunity to get one of those elusive wins tomorrow night when they entertain Gateshead at Deva Stadium (19:45hrs). The Tynesiders lie four places (and 26 points!) above City and have one away victory so far this season, a 4-1 win at Crawley Town.

•
Conference table
---
WREXHAM TICKETS

Tickets for the derby match against Wrexham at the Racecourse on Sunday, September 27 (kick off 12:00hrs) will go on sale at the Deva Stadium from today between 10:00 and 16:00.

The price of the tickets are £17 for adults, £12 for concessions and £5 for under 16s and they willl be on sale after Saturday's home match with Stevenage Borough and at Deva Stadium ticket office next week between 10:00-16:00hrs Monday to Thursday and 10:00-12:00hrs on the Friday.
---
YOUTH DEFEAT

A 4-1 defeat at bottom side Port Vale has seen the youth team slip to 16th in the Youth Alliance North West Conference. City's consolation goal was scored by Gethin Maxwell (pictured).

• Youth team fixtures | Table


---
11 September 2009

TRIP TO THE COAST FOR CITY


Chester City make their first visit to Eastbourne Borough tomorrow as they look to get back to winning ways. Manager Mick Wadsworth is expected to make changes to the side beaten by Tamworth in midweek.

The City boss is already without striker Lewis Alessandra, while Shaun Kelly picked up a knock to his knee injury during Tuesday's defeat and may miss out on the trip to Priory Lane. Both Glenn Rule and on-loan Adam Kay could be recalled as City look for their first away win of the season.

Wadsworth said: "We have got to go and win at Eastbourne because I desperately want to see us get back on track, and then see us extend the run in our following game next week at home to Gateshead."

Borough are currently 15th in the Conference and have two wins over AFC Wimbledon and Barrow, a draw with Rushden & Diamonds and a defeat by Ebbsfleet United from their home games this season.

Those who can't get to the game can hear BBC Sussex radio's online commentary here.
---
CUP SUCCESS FOR YOUTH TEAM

A goal from Gethin Maxwell gave the youth team a 1-0 win at Nantwich Town in the preliminary round of the FA Youth Cup last night. The side now travel to Marine in the first round for a match scheduled to take place on Wednesday 23 September.

• More pictures | Youth team fixtures


---
9 September 2009

CITY RUE SLOPPY DEFENDING


Two moments of poor defending cost Chester dear as they were beaten at home 2-1 by Tamworth last night. City fell behind on 37 minutes as Richard Tait latched onto a through ball. Just before the hour Chris Smith was left unmarked to double the visitors lead. Nick Chadwick did pull a goal back with 15 minutes remaining but the Blues were unable to convert some late chances for an equaliser. Six players received yellow cards and this could well mean a fine from the FA.

Blues manager Mick Wadsworth (left) said: "Both goals were sloppy, and neither should have been conceded in the way they were. We did have chances near the end to at least get a share of the points, but I am annoyed about the way both their goals went in."

"I was heartened to see Gregg Blundell making his first start in attack for us alongside Nick Chadwick and I'm hoping they can start to produce an understanding as a partnership in the front line. Nick has scored three goals for us so far and it's been good to see him doing so well. But I'm hoping that Gregg can now start to score goals because I know that he will then gain in confidence."


---
8 September 2009

VAUGHAN JOINS VICS

Midfielder Stephen Vaughan has joined Cheshire neighbours Northwich Victoria on loan. He played in the first six matches of the season and was substituted during Saturday's win over Histon.
---
7 September 2009

BLUES BACK TO WINNING WAYS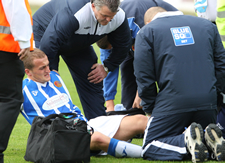 City recorded their first win of the season on Saturday beating Histon 2-0. Headed goals from Kevin Roberts and Nick Chadwick secured the points against a side who had much the better of the opening period. This was City's first win since the 2-0 defeat over Accrington Stanley on Boxing Day last year, ending a dismal 14 match winless run. On loan striker Lewis Alessandra picked up a bad ankle ligament injury just before half-time and is expected to return to Oldham Athletic.

The Blues will be looking to extend their undefeated run further on Tuesday night when Tamworth visit Deva Stadium (19:45hrs). The sides last met in December 2003 when a rampant City won in Staffordshire 5-1 with goals from Carl Ruffer, Alex Smith and a Daryl Clare hat-trick.

Manager Mick Wadsworth said after Saturday's win: "It"s good to know we've got something to cheer about on a Saturday night. The win was good for everyone, particularly for the players and the fans. For the lads who have been here longer than me it has been a very long and disappointing period. We've been close to getting a win on a couple of occasions, and I thought Histon gave us a really difficult game."

"I thought we were stoic and courageous in our defending, but Histon didn't created too many chances. I was particularly pleased to see us playing some clever and good football at times. We weren't at our best on the ball, but I think it's difficult in a game like Saturday's and I'm just delighted to see us win."

"The victory has got the monkey off our back in terms of 2009, but it means nothing now. We've got to make sure that we're now not left rearranging the deckchairs on the Titanic. We're now on minus 20 points which is better than minus 25 points, but we've got to have great heart and keep going."


---
GRAYS RESCHEDULED

The away fixture at Grays Athletic, postponed on the opening day of the season, has according to their official website been rescheduled for Saturday 7 November. This is also the date of the FA Cup first round proper.
---
4 September 2009

BLUNDELL SET TO RETURN?

Striker Gregg Blundell could make his first start of the season tomorrow when City host Histon. The is the first competitive match between the two sides. Blundell has come off the bench twice this season since recovering from injury, and played 80 minutes in the midweek friendly against Macclesfield Town. Anthony Barry will once again miss the match through injury.

The visitors currently lie in 18th place. They have seven points from their opening seven matches that includes an 3-0 away win at Gateshead for the Cambridgeshire side.

Ahead of the clash manager Mick wadsworth said: "We desperately need the win and not just for the reason that we haven't won at home in so long. We've shown good improvements in the last few weeks but now is the time to turn our improvement into results."

"It has been tough and it's going to carry on being tough because the points deduction is a monkey on everybody's back. But we've got to keep on fighting and we'll be doing everything we can to send the fans home happy on Saturday."

City have back-back home fixtures as Tamworth visit Deva Stadium on Tuesday night (19:45hrs).

• Conference table
---
3 September 2009

YANTORNO CONTRACT CANCELLED

Midfielder Fabián Yantorno (left) has had his contract cancelled by City before he even made a first team appearance. The 26-year-old Uruguayan played under boss Mick Wadsworth at Gretna and was the manager's first signing of the summer.

He's failed to recover from a knee injury picked up pre-season though and is believed to be heading back to South America. His one fleeting appearance in a City shirt came last week when he came off the bench for 15 minutes to play in a friendly match against Crewe Alexandra.


---
1 September 2009

FIRST WIN ELUDES CITY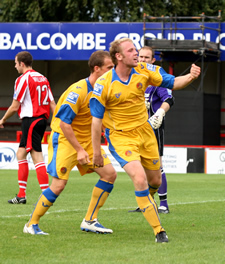 City are still searching for their first win of the season following the weekend's fixtures. Saturday's 1-0 defeat by Mansfield Town was followed yesterday with an away point from part-timers Altrincham. Ben Wilkinson scored his second goal of the season to equalise in the second period at Moss Lane after the Blues had fallen behind to a Colin Little goal midway through the opening half.

Manager Mick Wadsworth said: "My players got a bit of a rocket at half time because I thought their performance could have been better, and they responded in a very positive way."
"I'm aware that we've got a lot of young players and their chins are down at the minute, but we'll get there. Their goal was a strange goal. I think Michael (Lea) should have done better really, but he knows that and he held his hand up at half time."
"Lewis Alessandra had another great chance in the opening ten minutes which could have changed the game, but I truly believed that in the second half we were the better team."
"The trouble was that because Altrincham were at home and we hadn't won a game they were desperate to win and it made life very difficult."
"The game could have gone either way, but maybe if we had more points on the board we could have played differently and a little bit more cautiously."
On Saturday City's appalling home record, no win since Boxing Day 2008, continued as Rob Duffy scored the only goal of the game for Mansfield Town after just two minutes."
With today's 17:00hrs transfer deadline passing with no action Wadsworth has hinted that new faces may be brought into the squad. Another behind closed doors friendly has been lined up tomorrow to look at two out of contract players "one from abroad and one from down south" added the manager.

• More photographs | Conference table
---