30 May 2009

SEASON TICKETS

The club have extended the initial deadline for season tickets from 31 May to 4 June. However Bill Brandon, of Refresh Recovery, the administrators, said: "There is no income coming in, and the club has also been instructed not to sell season tickets." So the message appears to be hold on to your money for the time being!

• Ticket details

---
CREDITORS MEETING

A meeting has been set for 11 June where the creditors of the club will be given an update on proceedings by the administrators Refresh Recovery. They will also reveal details "of one potential bidder who has come forward." The meeting at Deva Stadium will start at 11:00hrs.

---
CONFERENCE FIXTURES

The 2009/10 Conference fixture list is scheduled to be released on Friday 3 July.

---
PRE-SEASON FIXTURE

The club will be making the trip to play NEWI Cefn Druids in a pre-season friendly on Saturday 8 August, kick-off is 14:30hrs.

• Pre-season friendlies
---
28 May 2009

SUPPORTERS MEETING TONIGHT

With the future of the club now uncertain, the Chester City Independent Supporters Association have urged all Blues fans to attend a meeting at the Divas Showbar (formerly the Royal Mail Social Club) in Station Road, Chester tonight at 19:45hrs.

The ISA. have received details as to what the administrator is proposing for a creditors meeting on 11th June and these details will be discussed tonight.

• ISA statement

---
EXILES MEETING

All City fans who work or live in the London area are invited to attend an Exiles meeting on Monday night when they'll be discussing the current situation regarding the club. There will also be a first-hand report from tonight's ISA meeting in Chester as well as latest news from the Supporters Trust.

The meeting will take place on Monday, 1 June at 19:30hrs in the Rugby Tavern (upstairs bar), 19 Great James Street, London WC1N 3ES (nearest tubes Holborn, Chancery Lane, Russell Square).

The following press release was issued by the Exiles today.

CHESTER CITY EXILES TO HOLD CRISIS MEETING IN LONDON

<start>The Chester City Exiles are among the growing band of City supporters who fear for the future of the Club. "It is nearly two weeks since the Club announced that it was going into voluntary administration but there has been precious little information since then and very few comments in the press about the seriousness of the situation. It is even worse for us fans living away from the Chester " said Exiles Chair, Pauline Meakins.

"We dreaded the 'A' word but most of us feel that if this is a stepping stone to a much securer future for the Club then we could take the pain and help get the club back to where it belongs in the League. However, there has been very few words of reassurance that this is the right step for the Club and that things are going to change significantly which is what most of the supporters hope for. All the press reports seem to be about what players are being off-loaded, which we appreciate maybe a financial necessity but it looks as though we will be down to a handful of youngsters and even the Manager seems not to be very sure about his future. It is a very sorry situation bearing in mind that we need to assure the Blue Square Conference administrators that the Club is secure by their AGM in June."

"We have organised an Open Meeting for all Chester City Exiles and any City supporters who are worried about the current situation at the Club and who live in the South-east or London. The meeting will take place on Monday, 1 June at 7.30pm in the Rugby Tavern, 19 Great James Street, London , WC1N 3ES a few minutes walk from Kings Cross and Euston. Obviously, those Exiles who live elsewhere will be unable to get to this meeting but the Committee members would be very happy to help Exiles around the UK and abroad to organise their own local meetings where there are significant numbers."

The Exiles are also working closely with other Chester City fans groups including the Chester City Supporters' Trust and ISA. They will be represented at the joint Fans Meeting being organised by the ISA tonight at the Deva Showbar (former Royal Mail Club) in Station Road, Chester on Thursday, May 28 at 7.45pm which is open to all Chester City supporters.<end>

---
21 May 2009

PRE-SEASON FIXTURES

The club have announced the first of their pre-season matches. They will travel to Marine on Saturday 18 July and host Airbus UK at Deva Stadium on Tuesday 31 July.

• Pre-season friendlies
---
DANBY OFFERED NEW CONTRACT
| | |
| --- | --- |
| | The club have offered goalkeeper John Danby a new two year deal. Danby, whose present contract runs out in June, came runner up in the Player of the Season last year, playing much of the season with an injury. He also broke a club record for the number of consecutive appearances during the season. |
---
19 May 2009

SUPPORTERS TRUST STATEMENT

Following the announcement that the club had entered into voluntary administration the Supporters Trust have issued the following statement.

<start>Chester City Supporters Trust, as shareholders and creditors of Chester City Football Club, is obviously looking at the current situation at the club.
Plans are already being made to hold a fans' meeting with other supporters' groups to determine what future action can be taken to save the club.
The Trust is in talks with other parties to gain support and sponsorship and to publicise the seriousness of the situation at the Deva Stadium.
The Trust asks that fans remain patient whilst these actions are ongoing. Obviously there will be an element of confidentiality involved in ongoing discussions but the Trust will always remain transparent – and answerable to all of its members for its actions.
Dialogue with the local council, the administrators, and other interested parties cannot be opened in 24hours – it will take a bit of time to engage with all of these parties and report back to fans of our discussions.
Unfortunately, the Board members all work full time and their own businesses remain a priority.
However, we would ask all parties interested in helping to secure the long term future of CCFC to contact us via our email address – press@supportchester.co.uk
The Trust would like to thank all of those who have already pledged their support to the cause and would welcome any fan or corporate body to approach us concerning the future of the football club with ideas and/or support.<end>

• Supporters Trust website
---
17 May 2009

CLUB ENTER VOLUNTARY ADMINISTRATION


The football club have today entered into voluntary administration. A very brief message on the official club website said: "Chester City FC directors today took the decision following approval from our debenture holders to enter into voluntary administration to safeguard the future of the Football club."

The administrators appointed are company called Refresh Recovery Ltd. They have issued the following press release.

<start>On the 14th May 2009 in the high court of justice, Chancellery division in Manchester, Martin Shaw of Refresh Recovery Ltd, West Lancashire Investment Centre, Maple View, Whitemoss Business Park, Skelmersdale, West Lancashire, WN8 9TG.

Was appointed administrator to Chester City Football club Ltd under court number 1347 of 2009.

Martin Shaw today commented "Supporters can be assured that our aim is to find a new owner for the club so that professional football continues to be played in Chester from the start of the new season."

In order to achieve this we need to find a new buyer able to invest heavily in to the club and then to obtain approval from the clubs creditors to the sale.

We are already talking to potential purchasers of financial substance and as time is short I would urge any other parties seriously interested in buying the business to make contact with us sooner rather than later.

Further announcements will only be made when it is appropriate to do so.

For further information please contact Refresh Recovery Ltd Mr Martin Shaw or Mr Bill Brandon on telephone number 01695 711200. <end>

As a result of this action the club are expected to start next season in the Blue Square Premiership on minus 10 points.

The club have been in administration before on 27 October 1998 when they were placed in administration by a judge at Salford County Court. On that occasion Begbies Traynor were appointed administrators and a secured a new owner for the club, Terry Smith, in July 1999.

---
15 May 2009

VAUGHAN CONSIDERS ADMINISTRATION


The club look close to going into administration for a second time after owner Steve Vaughan made it known that he has been considering the option.

Vaughan said: "We have been considering our options for a number of weeks. I have taken a decision, and when that decision is publicly confirmed, I know people will understand that it was taken to safeguard the future and in the best interests of the club."

"We have only seven contracted players at the moment and we have got the club by the scruff of the neck now. We are also taking stock of the finances and of the losses we have suffered over the last eight years."

The club had been waiting the outcome of the sale of League Two side Darlington, a club currently in administration. It has been speculated that should any proposed sale fall through then the Blues would receive a reprieve from relegation.

Vaughan added: "We have been told that Darlington FC have found an investor so we have accepted that we are now a Conference club."

Administration would mean that the Blues would start the coming season with a ten point deficit.


---
14 May 2009

SEASON TICKETS

The club have now released details of matchday/season ticket prices for the 2009/10 season. They are as follows:


Matchday

£15.00 Adults
£10.00 Concessions (Senior citizens and students in full time education)
£5.00 Under 16
These prices apply to the East stand, West stand and Harry McNally terrace.
Season Tickets bought before 31st May 2009 (Six games and car park pass free)
£255.00 Adult
£170.00 Concessions
£85.00 Under 16
These prices apply to the East stand, West stand and Harry McNally terrace.
Season Tickets from 1st June 2009 until 30th June 2009 (five games free)
£270.00 Adult
£180.00 Concessions
£90.00 Under 16
These prices are for the Vaughan, West and Harry McNally Stands.

Season Tickets from 1st July 2009 (three games free)
£300.00 Adult
£200.00 Concessions
£100.00 Under 16
These prices apply to the East stand, West stand and Harry McNally terrace.

Season car park pass
£50.00
Existing season ticket holders have until 31st May 2009 to claim their seats, after this date they will go on general sale.
Existing adult season ticket holders will receive a £30.00 discount
Existing under 16 season ticket holders will receive a free season ticket.
The club will also continue to run its "Fans of the Future " campaign of 1 adult and 1 under 14 child in the west stand at a cost £15.00 per ticket. Please note that this offer may not apply to all games.
---
13 May 2009

BARRY TOLD TO FIND ANOTHER CLUB


Anthony Barry is the latest player to be told he must find a new club for next season. Barry is still under contract after signing a two year deal last summer when he arrived from Yeovil Town.

Midfielder Barry said: "The gaffer told me that the club could no longer afford my wages and he advised me to look elsewhere for another club. It's disappointing to be told that you're no longer wanted, but unfortunately that's what can happen in football when you get relegated. It's been a bit of a financial struggle at Chester and there's always a knock-on effect."

"But I'm not the only player who has been told to find a new club. There are seven players in all who have been told they can move on – including some of the bigger names. It's been a bitterly disappointing time at Chester. We were just two wins away from safety, but at the end of the day we just weren't good enough."

Barry's former club Yeovil are believed to have enquired about the players availability.


---
ELLISON JOINS MILLERS

Kevin Ellison has agreed a two year deal with League Two side Rotherham United. Ellison had two spells at Deva Stadium and scored 31 goals in 111+0 appearances for the Blues.

Ellison confirmed: "The situation at Chester both on and off the field really affected me – particularly towards the end of the season. I didn't play many games towards the end of the season but Rotherham obviously saw something they liked and asked Chester whether they could talk with me."

---
12 May 2009

ELLISON ENQUIRY

League Two side Rotherham United have enquired about the availability of Kevin Ellison. Chester chief executive Bob Gray said: "We have received an enquiry from Rotherham and whilst we still hold Kevin's contract, we wouldn't stand in his way if Rotherham wished to take the matter further. We have started preparing for next season and obviously our manager, Mark Wright, only wants players at the club who want to play for us."

---
11 May 2009

TWO MORE TO LEAVE

The club are reported to have informed both Richie Partridge and Paul Rutherford that their contracts will not be renewed this summer. Partridge signed for the club from Rotherham United in June 2007 and scored 7 goals in 53+15 appearances. Rutherford, who was the clubs longest continually serving player, progressed through to the professional ranks via the youth team and scored 1 goal in 23+41 appearances for the club.

---
7 May 2009

SEVERAL PLAYERS ON THEIR WAY

As expected following their relegation from League Two several of City's players have left. Laurence Wilson, Damien Mozika and James Vaughan have all had their contracts terminated. Mozika was suspended by the club in late April due to disciplinary reasons and has returned to France, while Vaughan is expected to join Australian side Wollongong Community FC.

Three more senior players, top scorer Ryan Lowe, club captain Paul Linwood and Kevin Ellison have all agreed to terminate theirs and will be looking for new clubs in the summer. The club are said to be looking for fees for these three players.

Several more players are expected to leave shortly as they are out of contract. Chester owner Steve Vaughan said: "We're looking at a clear out and once that clear out is complete manager Mark Wright will want to bring in the players he has identified."


---
5 May 2009

THE MISERY IS OVER!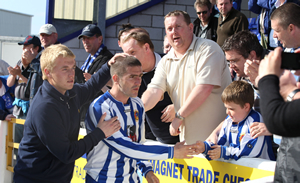 Chester ended their relegation season with a home defeat, their twelfth of the season, as Darlington scored a last minute winner at Deva Stadium on Saturday. The Blues fell behind on 71 minutes after Pawel Abbott scored a free-kick from six yards after goalkeeper Jamie Spencer handled a backpass from Glenn Rule.

The home side looked to have salvaged a deserved point though after Ian Miller had headed and Anthony Barry cross into his own net a minute from time. But, typical of the way the season has panned out, the Blues were unable to hold out for two minutes before conceding their 81st goal of the league campaign. As last season, the Blues ended up winning just two games between Christmas and the end of the season!

Manager Mark Wright has indicated that he would be prepared to manage the side in non-league next season provided owner Steve Vaughan remains at the club.

Wright said: "I think the next couple of weeks at Chester will tell people a lot. I've said all along that if club owner Stephen Vaughan stays then I'll stay, but if that doesn't happen then I'll seriously review it. I want to stay in football. If I'd have learned my lesson and kept my mouth shut at times then I could have been in the Championship by now."
"I don't want to go down and manage in the Conference because I've been there and done that one, but if Stephen Vaughan stays then we'll stay together."
"We've been working for the past six weeks to put a list of players together for either League Two or the Conference, so we've done a lot of homework together and we've earmarked certain players, spoke to agents, and received a lot of interest from the ilk of players that I would want at Chester. If we manage to get those players and things go well we would be a better side."


•
Final League Two table
---
1 May 2009

THE FINAL ACT


City bring their miserable season to a close tomorrow when Darlington visit Deva Stadium (15:00hrs). City could be without both Kevin Ellison and Richie Partridge for this last match in the Football League before non-league football comes back to Deva Stadium in August.

Despite the bitter disappointment of relegation, City will still be looking for a win tomorrow to complete the double after beating Darlington, who were second in the table at the time, 2-1 away in late November thanks to goals from Lowe and Shaun Kelly.

Ahead of the game manager Mark Wright said: "We have now got to be positive and endeavour to win our last match against Darlington. There were a couple of tears in the dressing room at Aldershot last week, so we have got to pick ourselves up and get on with things."


"This game will provide the players with a platform to show exactly what they can do. We have to put the memory of the probable relegation behind us, and show that we have the ability to bounce back."

Captain Paul Linwood (pictured) is hoping his players can end the miserable season on a high. "I just hope we can go out for our last game on Saturday at home to Darlington and show a bit of pride. Last Saturday was a very sad day for Chester City and for everyone connected with the club."
"It's a day I'll certainly never forget for as long as I live. It was a horrible feeling when we all realised our fate and anyone involved should never forget how it felt. Not a lot of people will probably agree with me, but I think we worked hard in every game we played during the course of the season."
"We've got a small squad and it's been proved that we just weren't good enough. But the luck was always against us and now it's hard to accept that we've been relegated."
The visitors have nothing to play for, the Quakers lie mid-table but would no doubt have been fighting for a play-off place had they not had ten points deducted for entering into administration in February. In charge of the Darlo side tomorrow will be assistant Martin Gray who takes over for the day following the departure of boss Dave Penney to Oldham Athletic. Defender's Alan White and Tim Ryan both miss out.

Prior to the match there will be the Player of the Season presentation. This year a joint award is being made from the Official/Away supporters Club, the Supporters Trust, the ISA and the Exiles. Needless to say top scorer Ryan Lowe must be the firm favourite to pick up the trophy.


---