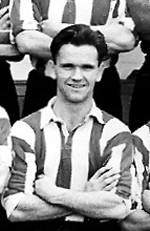 Chester FC are sorry to learn of the passing of former player Harry Smith who died in April at the age of 89. Harry made 73 league appearances for the club in the mid-1950s and also represented the reserves in the Cheshire County League on more than 100 occasions.
A local lad, Harry was the quintessential utility player who never established himself in a regular position but who could be reliably deployed as cover in a variety of roles. His own preference was half-back and it was in this position that he had his best run in the team, during the 1955/56 season, when he played 25 games. This run coincided with his move from amateur to part-time professional and he later admitted that he never had a desire to make the move to full-time because he played for enjoyment, a fact reflected in his appearances for other local teams in midweek cup competitions.
Harry first signed for Chester as an amateur, in 1944, straight from school. Two years later he joined Liverpool before joining the RAF during which time he remained on the Anfield books. When he left the RAF he signed for Connah's Quay and it was here that he was spotted playing by Chester manager Frank Brown who asked if he wanted to rejoin the club to play for the Reserves.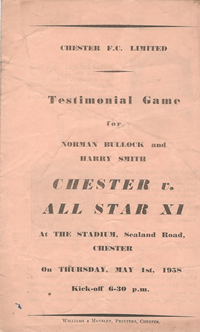 Harry made his Football League debut in the final home game of the 1952/53 game, against Barrow, and went on to become a familiar face over the next five seasons scoring seven goals. He also played in 3 Amateur International trials, between the North and South, and was a member of the Chester team beaten by Barry Town in the 1955 Welsh Cup Final.
Towards the end of the 1957/58 season Harry struggled to juggle the role of part-time professional with his own milk business and with no guarantee of a first team place he elected to move down into the Welsh League, first of all with Flint followed by Pwllheli and later Chester Nomads. His service at Chester was rewarded with a testimonial game against an All Star X1 in 1958.
The club send out their condolences to his family and friends