30 April 2004
WAYNE BROWN TESTIMONIAL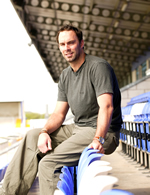 Wayne Brown's testimonial game on Sunday 9 May is just over a week away now and details have been released regarding admission. Gates will open at 12:30hrs with the game kicking-off at 14:00 hrs.
Admission prices have been agreed and are £7.00 for adults and £3.00 for concessions. Please note that only the main stand will be open. Admission to the car park is free though space may be limited.
There has been a terrific response from ex-City players wishing to take part in the testimonial. The game is between a current City X1 and a team comprising former players.

So far the following players have confirmed they will be there on the day:
Graham Barrow, John Barnes, Gary Bennett, Brian Croft, Ross Davidson, Bob Delgado, Nigel Edwards, Neil Fisher, David Flitcroft, Joe Hinnigan, Peter Jackson, Iain Jenkins, Grenville Millington, Roger Preece, Chris Priest, Kevin Ratcliffe, Cyrille Regis, Stuart Rimmer, Shaun Reid, Billy Stewart and Steve Vaughan.
The game is the first of a number of events that will be held to mark Wayne's testimonial year.
---
29 April 2004
TRIO ON THEIR WAY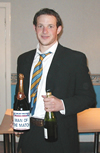 Three midfield players have left the club. Michael Twiss (pic left), who scored some crucial goals towards the end of the campaign, has rejected a new contract and looks set to stay in the Conference with a move to Morecambe. "Michael has chosen money above ambition and he seems a confused lad. He has chosen an easy life of playing games in the Conference instead of trying to make a name for himself in the Football League. I think his decision shows a lack of passion and real love for football and it's disappointing that he has chosen to leave us" said Mark Wright.
Alex Smith, looks set to leave after walking out on the day of the Scarborough match. Wright said: "Iím very disappointed with Alex Smithís attitude. I think heís been in the wrong. We had a big game on our hands and other players had done well when he was out of the side for four games. Nobody has a god given right to stay in any side, and thatís what I tried to explain to Carl Ruffer. Alex left the ground before our match against Scarborough and didnít pick up his championship medal. I thought that was well out of order, and I think a lot of our players feel the same way, so unfortunately it doesnít look like Alex will be coming back. My opinion is that if a player lets me down once I donít give them a second chance" said the manager.
Meanwhile Shaun Carey has not been offerend a new contract with the club for next season. Defender Chris Lane who was on loan towards the end of the season has also been released.
---
BUS TOUR
City have announced that their open top bus tour will take place on Friday 14 May starting from Deva Stadium at 18:00hrs (fine if you work in Chester!) then progressing to the Town Hall on a route as yet to be finalised.
---
27 April 2004
DUKE OF WESTMINSTER CUP FINALS DAY
Deva stadium played host to the chester and district cup finals day on Sunday and over 1,000 people packed into the stadium to celebrate local football's showpiece final's in glorious sunshine.
With a very early start the under 9s of Chester City took on close rivals Newton and produced a very exciting game that went into extratime. City were not to be outdone and scored a deseved winner through the industious Taylor Sheehan and take the prized Olympic Trophies Cup which caps of a memorable first season together for the young Blues, all credit to Newton as they have been hot on the heels and pushed City all the way this season.
In the under 9s sheild another exciting game had the crowd on the edge of their seats as Upton Pumas got the solitary winning goal against Westminster Park Wanderers.
At under 10s JFC Boughton took on Chester City and found the Blues in good form with Reece Spencer instrumental in City's 5-1 victory.
In the Sheild Competition between Blacon Tigers and Upton Jaguars the game was eventually decided on penalty's with Blacon winning 2-1.
The under 11s got under way between league champions Chester Cuty and second placed Waverton with Waverton taking a deserved lead after some periods of preasure but the blues battled back well and secured the double with a 3-1 win with goals from Ross Summner (2) and James Huxley (1).
In a very good game at under 12s BSS more than deserved their victory with a single strike aginst championship favourites Chester City, as BSS have been neck and neck with City all season.
The under 13s of Chester City secured their double triumph against Pulford in a 2-0 win with a deserved Man-of-the-Match award for Mike Gawthorpe who came on as sub and changed the shape of the game getting the second with a penalty. All credit to both teams who worked tirelessley in the afternoon sun as Pulford pushed the Blues all the way being the better side in the first period by far, but City's fitness carried them through in the latter stages.
Nathen Green produced a powerfull display for BSS in their game against the under 14s of Chester City and and got the winner in the 2-1 scorline.
At under 16s Chester City and Chester Nomads rounded of a faboulous day in front of the large crowd with a very gritty game that City eventually won 2-0 and with it taking the League and Cup trohies.
All credit for the day must go to the organisers at the Chester and District Junior football league, especially league secretary Karl Willimson and many thanks to Mark Wright, Ben Davies, Jamie Heard, Wayne Brown and Barry Hipkiss from Chester City Football Club for presenting the trophies, and Steve Vaughan, chairman at the club, for once again the use of the Deva Stadium that made so many young boys' year.

Mark Newman
---
26 April 2004
CURTAIN COMES DOWN WITH A PARTY
• Hereford pictures

There was a party atmosphere amongst the City fans at Edgar Street on Saturday as over 1,500 of them celebrated the clubs last game in the Conference following last Saturday's title clincher against Scarborough. The Blues, missing five key players lost 2-1 against a Hereford United side (also not a full strength) to record only their fourth defeat of the season, but few in blue and white really cared about the result as they enjoyed the celebrations that lasted long into the night.

Chairman Steve Vaughan along with players Danny Collins, Paul Carden, Wayne Brown and Kevin McIntyre joined the supporters on the Blackfriars Terrace, posing for pictures, signing autographs and even partaking in the occasional chanting! – as the season came to a celebratory end.

Manager Mark Wright reflected: "Our players deserve a well earned rest because they were tired at the end, but I think we need to bring a few players in if we're allowed to do that, and if we get the players we're looking for then we can have a go and compete with clubs in Division Three. I think we've got to find our feet first, but if we do anything more than that then it will be fantastic."
---
23 April 2004
BRING ON THE CHAMPIONS!

The Blues make their final appearance of the season tomorrow at Hereford United but City manager Mark Wright is struggling to name a squad of 15 players for the eagerly awaited clash. Daryl Clare and Danny Collins have been added to the injury list this week that also includes Paul Carden, Michael Twiss and Shaun Carey, while Kevin McIntyre misses the game through suspension. Iain Turner is expected to complete his twelfth and last game on loan for City, needing to do so to qualify for a championship medal. Chester sold their 1,800 ticket allocation for this game in a couple of days several weeks ago, and, despite the championship being decided a large crowd is expected at Edgar Street.
The home side will be looking for their eleventh straight win, a remarkable achievement, as they prepare for the play-offs next week.
That crowd will include City chairman Steve Vaughan who has accepted a fans invitation and will be traveling by train and taking his place in the terrace with supporters for tomorrow's game. "Tomorrow will be the first time this season that I'll be able to go to a match and relax. I'm looking forward to the day because we're going to Hereford to celebrate our title win and enjoy the day. It will be nice to watch a match and not have the pressure of knowing we need the points to win promotion." said the chairman.
---
2004/05 SEASON TICKETS
The club have announced increased Season Ticket and matchday prices for the 2004/05 season. Details here.
---
ISA AWARD SHARED
Danny Collins and Daryl Clare have shared the ISA Player of the Year award. The goal of the season, as voted for by members was Michael Twiss' winner at Woking.
---
20 April 2004
COLLINS RULED OUT
Defender Danny Collins will miss the final game of the season at Hereford United after breaking a bone in his foot against Scarborough on Saturday. Collins was forced to leave the field after 57 minutes, failing to complete a game for the first time this season. The highly-rated defender now looks set to miss the Four Nations Tournament that takes place in Scotland in mid May after being selected for the National Game X1 along with team mates Phil Bolland (his first call-up), Paul Carden and Scott Guyett as England prepare to defend the trophy.
The Four Nations match dates are:
18 May: Scotland v Wales (Keith) 19:45hrs, Ireland v England (Banff) 19:45hrs.
20 May: Scotland v Ireland (Fraserborough) 19:45hrs, England v Wales (Keith) 19:45hrs.
23 May: Wales v Ireland (Inverurie) 13:30hrs, Scotland v England (Banff) 15:30hrs.
Admission to the games is £5.00 for adults and £2.00 for children/concessions. Stand entry is an extra £2.00.
Also ruled out of the Edgar Street clash are Daryl Clare and Kevin McIntyre who is suspended.
---
CIVIC RECEPTION?
It looks like City's players and staff will be treated to a civic reception to mark their promotion achievement, and a victory parade around the City has also been suggested with 29 May the possible date. A civic officer said: "We are thinking about an open-top bus, but that is something that needs to be discussed with the police. The Lord Mayor (Cllr Barry Cowper) thought this would be a good idea given what the team have achieved; this is very much something for Chester to be proud of."
---
JUNIOR FINALS DAY
This Sunday sees the finals of the Olympic Challenge Cup, Shield and Duke of Westminster Cup at Deva Stadium. The schedule of matches is as follows.
Entrance fee to the Final's day is £2.00 for adults which includes a raffle ticket. Children will be admitted free. First team players Ben Davies and Jamie Heard will be on hand to present trophies and there will be a chance to view the conference trophy. Refreshments will be available.
| | |
| --- | --- |
| 09:15 – Under 9's Olympic Cup | Chester City Juniors v Newton Athletic YFC |
| 09:15 – Under 9's Olympic Shield | Westminster Park Wanderers JFC v Upton JFC |
| 10:00 – Under 10's Olympic Cup | JFC Boughton v Chester City Juniors |
| 10:00 – Under 10's Olympic Shield | Blacon Youth Tigers v Upton Jaguars |
| 11:00 – Under 11's Duke of Westminster Final | AFC Waverton v Chester City Juniors |
| 12:30 – Under 12's Duke of Westminster Final | Broughton Super Saints v Chester City Juniors |
| 14:00 – Under 13's Duke of Westminster Final | Chester City Juniors v Pulford JFC |
| 15:40 – Under 14's Duke of Westminster Final | Broughton Super Saints v Chester City Juniors |
| 17:20 – Under 16's Duke of Westminster Final | Chester City Juniors v Chester Nomads |
---
BBC ARTICLE
The BBC website has an article 'Fans treasure Chester success' written by Chester City fan Jonathan Legard. It can be viewed here.
---
ATTENDANCES UP
City's home attendances in the Nationwide Conference increased by 22.5% on last season. The average home gate was 3,064, compared to last season's 2,502. The highest attendance was for the final Scarborough game (5,987) and the lowest against Forest Green Rovers (1,881). Likewise attendances away from Deva Stadium also increased by 15.5% to average 2,462 (2,132). Highest away attendance was at Hereford United (7,240) and the lowest Margate (634).
---
19 April 2004
BLUES CLINCH CHAMPIONSHIP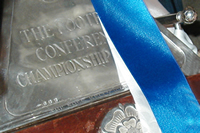 Chester City clinched the Nationwide Conference championship after a nail-biting 1-0 win over Scarborough at Deva Stadium. Darryn Stamp scored the all-important goal, his 20th of the season, midway through the first-half of a scrappy game played in front of a lock-out crowd at Deva Stadium. The victory sees City make a return to the Football league after a four year absence.
The Blues, who have lost only three league games this season, needed three points from Saturday's game to clinch the title and managed that through Darryn Stamp's goal on 19 minutes. The game, with so much at stake for the home side, was never going to be a classic – and the swirling wind around the Deva didn't help. There were nervous moment in the opening minutes as Iain Turner had to save at full stretch from Tony Hackworth (while lying on the ground) to keep the score level before good work by Daryl Clare on the left set-up Stamp, who beat a dallying defender to the ball before scoring from an acute angle against his former club to seal the victory. There were amazing scenes at the end of the game with the jubilant crowd invading the pitch before Bill King presented the Championship Trophy to a proud captain Paul Carden.
A delighted manager Mark Wright said: "We have shown a chartacter and team spirit this season that has been a credit to the players and we have deservedly taken the title. Of all the things you win and do as a player, this would probably beat them. To put together a squad of 20 players and keep them focused all season is a tough task. But in my opinion they deserve it, and it is a great day for Chester."
Chairman Steve Vaughan, who has transformed the club over the last two years, addressed the crowd after the match: "We intend to go on and win more titles – there is no reason why we can't emulate the success that Doncaster Rovers have achieved this season. When the dust has settled I will sit down with my manager and we will plan for the future, and strengthen where we need to strengthen."
Second-placed Hereford United have battled with City all the way to the end of the season and Bulls manager (and former Chester player) Graham Turner was generous in his praise for City's achievement: "It has taken a very good side to beat us this season – and Chester are a very good side. You can't take anything away from what they have achieved, but I think we can take a lot of pride from what we have achieved and run them close. To go as we have, 10 matches with 10 wins, has asked a lot of questions of Chester, but they have dealt with the pressure. We are disappointed, but all we can do is say well done to Chester and we will look forward to the play-offs.
• Championship pictures: 1 | 2 | 3
---
17 April 2004
CITY READY TO PARTY

Chairman Steve Vaughan, manager Mark Wright the City players deserve to see the House Full signs today for the last home game of the season. Three points against Scarborough will bring with it the Nationwide Conference Championship and a return to the Football League after a four year absence. A draw or defeat (providing Hereford don't draw or lose at Leigh RMI) will see the championship decided seven days later when City visit Edgar Street to play the Bulls.
Mark Wright will let Daryl Clare decide if he wishes to play tomorrow. Clare missed Tuesday's 0-0 draw at Shrewsbury Town after a health scare over his newly born son. There are also a number of injured players with Danny Collins, Alex Smith, Shaun Carey, Paul Carden and Phil Bolland are all carrying knocks.
The Seadogs, who currently occupy 16th place, are expected to field two former City players in Jimmy Kelly and Mark Quayle.
Fans are urged to get to the stadium early to avoid congestion for the game which is NOT all-ticket. City supporters will once again be able to stand on the south terrace with away supporters accommodated in the corner of the west stand.
• Chester v Scarborough Top 10 matches
GOOD LUCK LADS.....
---
16 April 2004
LIVE INTERNET COMMENTARY
Supporter's who can't make it to the Deva tomorrow can hear live internet commentary via the BBC website here. The link will go live about ten minutes before kick-off (and probably also be on the Chester City pages in the Non League football section). Commentary is by radio Merseyside's Neil Turner with summaries by Ian Bedford of the Chester Chronicle.
---
15 April 2004
SUPPORTERS TRUST MEETING
Chester City Supporters Trust are holding a Members Meeting tonight at the United Services Club, Crook Street, Chester starting at 20:00hrs (Doors will be open from 19:30hrs – Drinks available from main bar).
Agenda items will include a report from the Trust Director Richard Lynes, in addition to some feedback from the CCFC fans survey undertaken last year.
Lapsed and new members are also welcome but they will have to join on the night before the meeting starts. Membership and membership renewal forms are available to download from www.supportchester.co.uk and will also be available on the door.
For those who are not aware, the United Services Club is on Crook Street which is between Watergate Street and Hamilton Place, near to the back of the Gateway Theatre. Parking is available in nearby car parks in the Trinity Street Pay & Display.
---
HEREFORD COACH
Those City fans who want to travel on the supporters coach to Hereford should book their seat by Tuesday at the latest. To book please phone Barrie Hipkiss on 01244 379011 between 18:00hrs and 20:00hrs. Coaches will leave the Deva Stadium at 11:00 and the cost is £10.00.
---
14 April 2004
NEW SHIRT SPONSORS
The Football Club have announced that electronics company Truetone are to be shirt sponsors for next season. The company logo will appear on City blue and white striped kit.
---
14 April 2004
ONE WIN AWAY

Chester City are now one win away from a return back to the Football League after a three year absence following last night's battling 0-0 draw at Shrewsbury Town. City fought out last night's precious point without top goalscorer Daryl Clare (absent due to his son being taken ill), Kevin Rapley taking his place in the starting line-up as the Blues stretched their unbeaten run to twelve games. It was a tense game of few chances at Gay Meadow, Ben Davies and Michel Twiss shooting narrowly wide for City in the second half with Iain Turner at the other end having to dive at full stretch to deny Kevin Street. City have injury worries for Saturday's game with Scarborough as Alex Smith, Shaun Carey, Paul Carden and Phil Bolland are all carrying knocks. Manager Mark Wright has the option to recall Carl Ruffer and Ian Foster from their loan spells at Droylsden and Kidderminster Harriers respectively should the need arise.
---
12 April 2004
TARGET REMAINS THE SAME
Hereford United's 2-1 win at Aldershot Town yesterday narrowed City's lead to three points over The Bulls at the top of the Nationwide Conference. Despite that win, Chester's promotion target remains the same, four points from the remaining three games which start tonight at Shrewsbury Town. City's record at Gay Meadow is not one to write home about, in fact we've only won there on one occasion before in 1999/2000 when a Nick Richardson goal (designed by Terry Smith!) secured the points for the Blues. The last time the sides met was back in August when a last-gasp Phil Bolland goal gave City a 2-1 victory in front of their highest gate of the season at Deva Stadium.
---
11 April 2004
BLUES EDGE CLOSER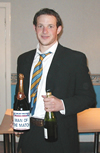 Chester City are four points away from a return to the Football League following Saturday's dramatic 3-2 win over Exeter City that was televised live on SKY TV. A win and a draw from their last three matches will now be enough to clinch the title.
After a goalless first-half in which City had enjoyed the greater possession without really threatening a goal, the Blues had fallen behind to a Sean Devine goal in the 59th minute following a rare error from Danny Collins but responded in style with two goals from man-of-the-match Michael Twiss and another from goal-machine Daryl Clare before Sean Canham pulled back a late goal for Exeter deep into injury time in front of over 4,000 fans at Deva Stadium.
Nearest rivals Hereford United had closed the gap to just three points earlier in the afternoon with a 2-0 victory over Barnet and have a tough away fixture at Aldershot Town tomorrow where they must look to pick-up maximum points.
City are in action on Tuesday night with an equally tough match at fourth placed Shrewsbury Town and will have the backing of up to 2,000 fans at the game which kick's-off a 19:45hrs.
---
9 April 2004
SAME AGAIN CITY
City manager Mark Wright looks set to name an unchanged side for tomorrow's SKY televised clash against fourth placed Exeter City at Deva Stadium (kick-off 17:35hrs). The Grecians are one of only three sides to beat City in the League this season when they won 2-1 at St James' Park way back in August. The Blues, who gave a debut to Darryn Stamp, had led through an Ian Foster penalty on the day, but goals from Martin Thomas and Reinier Moor gave the home side vistory. City's nearest rivals for the championship, Hereford United, are at home to Barnet in the afternoon. City fans will have the rare choice to watch the side from either end tomorrow as the away terrace is given over to home fans for the remaining two home games of the season.
---
EXTER CITY MATCH LONDON SCREENING
For those City fans living/working in the London area on Saturday and who can't make it to the Deva, the Exiles have once again arranged for it to be screened on the Mezzanine floor level at the Famous Three Kings (F3K) which is situated at 171 North End Road, Fulham, London W14 9NL, next door to West Kensington tube station in west London. Members of the Exeter Exiles have also been invited.
---
8 April 2004
BLUES TO APPEAL OVER RED CARD
Chester are to ask referee Booth to look at video evidence in an attemps to overturn the red card he gave to defender Kevin McIntyre in Tuesday's win against Aldershot Town. McIntyre was sent-off for violent conduct after 78 minutes when it was alleged to put his head into Shots' Dean Hooper face. Hooper, who was also sent-off in the incident with a second yellow card, has since left Aldershot by mutual consent.
McIntyre said: "I was bitterly disappointed that I got sent off. It is just one of those things when the ref thought I had butted their player, but I didn't. I was just disappointed about the way their player reacted because I thought it was a joke. We're going to appeal and the referee said he would have a look at the incident, but I don't think anything will come of it. I suppose I'll just have to take it on the chin and get on with it."
Should the card stand than the defender, who has been playing well recently, will miss the match at Hereford United and the first two games of next season.
---
7 April 2004
WRIGHT DELIGHTED WITH WIN

City manager mark Wright was rightly pleased with last night victory over Aldershot Town that edged City three more points towards the Championship.
"Both the Exeter City and Hereford United managers were both at the ground last night and they would have gone away thinking what they have to do to beat us. We played some great football last night and I was very pleased with the majority of the game. A lot of my players excelled and a win is a win. I could go on and on about our performance, but Aldershot, in my opinion, are the best side we've played. I hope Aldershot will now provide the same sort of performance against Hereford and really give them a game.
I think we are firmly in the driving seat now and it's up to us. Before we kick-off against Exeter City on Saturday we'll know what Hereford will have done against Barnet and I think that gives our boys a little bit of a lift. It will tell them exactly what they have got to go and do." said Wright.
---
6 April 2004
SIX POINTS CLEAR
Chester got off to a flying start tonight with two goals in the opening nine minutes from Phil Bolland and Dary Clare. The Shots pull a goal back before the break and start the second half the better side before Bolland and Clare get another goal each to ease City into a 4-1 lead. Lee Charles reduces the scoreline for the Shots before Dean Hooper and Kevin McIntyre and sent off late on. The 4-2 win lifts City six points clear of Hereford United with both sides having four matches left.

• Don't forget to update your computer Desktop Wallpaper here.
---
CHANCE TO EXTEND LEAD
City entertain play-off contenders Aldershot Town at Deva Stadium tonight (kick-off 19:45hrs), knowing that victory will take them six points clear at the top of the Nationwide Conference with just four games remaining. The Shots have had a hugely successful first season in the Conference and currently lie in third place but were surprisingly knocked out of the semi-final of the FA Trophy by Hednesford Town on Saturday. They also have a unique record of winning all their 11 Tuesday night matches this season. The two sides fought out an entertaining 1-1 draw when the sides last met back in November at a rain-soaked Recreation Ground, Darryn Stamp on the mark for the Blues that afternoon. The Blues have no fresh injury worries and manager Mark Wright looks set to name an unchanged team.

• Chester v Aldershot Town Top 10

For those Exiled fans in the Hampshire/Surrey area you can able to pick-up full live radio commentary tonight on BBC Southern Counties Radio 104-104.8FM & 95-95.3FM.

There are two other matches in the Conference tonight, Scarborough v Stevenage Borough and Telford United v Shrewsbury Town.
---
AWAY TERRACE
City fans will be able to use the South (Away) Terrace for the last two home games of the season against Exeter City and Scarborough with away supporters being accommodated in the West Stand seats. Chairman Stephen Vaughan commented: "Our crowd have been magnificent in recent weeks, and their encouragement has been a factor in our success. We have involved ourselves in a few initiatives, which have seen us involving different sections of the community and it is paying dividends."
---
SHREWSBURY TICKETS
Tickets for the forthcoming game at Shrewsbury Town go on general sale today with no restriction on numbers bought. 10:00hrs to 15:00hrs prompt from Turnstile 2. Strictly CASH ONLY (no cheques). Prices are: Seats: £14.00 adults, £9.00 concessions, Terrace: £12.00 adults, £7.00 concessions. The club have now announced that tickets will also be on sale AFTER tonight's game.
---
5 April 2004
CITY REMAIN TOP
Chester have retained their three point lead at the top of the Nationwide Conference after Saturday's round of matches. With the Blues winning 2-0 at Accrington Stanley second-placed Hereford United kept up the pressure coming from behind to win 2-1 at Halifax Town to remain three points behind City having played a game more.
---
SHREWSBURY TICKETS
Tickets for the forthcoming game at Shrewsbury Town go on general sale today at 1 ticket per person. 10:00hrs to 19:00hrs from Turnstile 2. Strictly CASH ONLY (no cheques). Prices are: Seats: £14.00 adults, £9.00 concessions, Terrace: £12.00 adults, £7.00 concessions.
---
2 April 2004
SELECTION PROBLEM FOR WRIGHT

City manager Mark Wright must decide tomorrow who to play in goal as City look to cement their lead at the top of the Conference with an away game at Accrington Stanley (kick-off 15:00hrs). Andy Woods had a confident debut at Telford in midweek and will be competing with Iain Turner for the 'keeper's jersey. Turner missed out on Tuesday night after being called up for the Scotland U21 squad, but drove all the way to the Bucks Head to be with the team on Tuesday night after being told he wouldn't feature in the Romania friendly.
Midfielders Alex Smith and Paul Carden are both carrying knocks after Tuesday's victory and will face fitness tests before tomorrow's match. The home side will miss two players through suspension, Rory Prendergast and ex-City defender Steve Halford.

Over 1,500 supporters made the midweek trip to Shropshire and the same number, if not more, are expected to be at the Interlink Express Stadium (Crown Ground) tomorrow afternoon for City's first trip to the Lancashire town since 1961.

The sides last met in November with a 3-3 draw at Deva Stadium after Ben Davies and Daryl Clare (2) had given City a 3-1 second-half lead in what was an entertaining open game.
• The last time we played at Accrington | Chester v Accrington Top 10.
---
1 April 2004
FLY THE FLAG
The ISA have had a batch of new improved City flags made for the final few games, price £3.50 available at the home games.
---
ISA ANNUAL GENERAL MEETING
The Annual General Meeting of the ISA will take place on Monday 19 April at Deva Stadium with a 19:30hrs start. Memberships for 2004 are now due and are £5.00 with a reduction OAP's students and the unwaged of £2.50. A guest speaker for the meeting will be announced nearer the time. Votes are also being sought for the annual ISA awards for the 'Player of the Season' and the 'Goal of the Season'.
---
STANDING ROOM ONLY AT ACCRINGTON
As at Telford on Tuesday night, City have been allocated standing room only at Accrington Stanley on Saturday. The away terraces will accommodate 2,000 visiting supporters. For those with standing difficulty, the advice is to contact Accrington FC direct 01254 356950 to arrange possible seating.