CHESTER CITY FC YOUTH TEAM 1998/99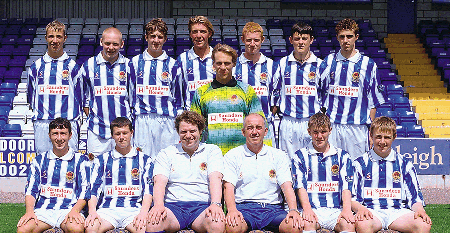 Youth Team Pen Pics by Kim Fair
Chris Blackburn Versatile first year apprentice and a product of the School of Excellence. Chris burst onto the scene last year and caught the eye with his attacking midfield play.
Danny Carson A midfield dynamo now in his second year with the club. Holds much promise for the future and has already figured this season in the first team squad.
Matthew Conkie Last season's Young Player of the Year. Conks has grown in confidence and is a consistent keeper who instils confidence in the defence.
Matty Doughty This young left sided player has demonstrated in his short period with the club that he is one to watch for the future. He has turned in some mature performances operating at left back and is not afraid to join in City's attacking moves.
Lee Hughes A first year apprentice who is yet to make his mark in the side. He has yet to start a game but has made several appearances as substitute in a defensive position. Another find from City's School of Excellence.
Wes Kilgannon A local lad who has also come through the School of Excellence route. An attacking player with lots of confidence and an eye for goal.
Carl Rendell Last seasons prolific striker has been dogged with a back injury which has kept him out of the side this season. Carl's striking power has been sadly missed and his imminent return to the side will be a welcome relief.
Martyn Lancaster Now in his second year with the club Martyn has matured into and excellent prospect. Originally playing on the flanks he has been converted to a superb centre back role where his pace and strength are his greatest assets.
David Lloyd A tricky little left sided attacking player now in his second year. Lloydy is returning to the good form showed last year after a series of niggling injuries.
Darren Moss Last season's Most Improved Player, Darren continues to demonstrate that he has a rosy future in the game. His consistent performances at right back and occasionally at centre back have been instrumental in insuring that City's defence has been solid this season.
Phil Patterson Now in his second year with the club this diminutive player can operate wide on the right but also his pace has been used effectively in a striking role. Phil has an eye for goal and his strikes are usually spectacular.
Paul Roberts Another product of City's School of Excellence. This attacking midfield player is yet to burst onto the starting line up. He has made a number of substitute appearances this season and shows promise for the future.

LATEST NEWS

MANAGERS DEPART CHESTER
Anthony Johnson and Bernard Morley have today left the club. Last night's 0-1 home defeat by Guiseley proved to be their last game in charge after 3½ years at Deva Stadium.
more »
LAST MATCH

TROPHY EXIT
Despite taking a first half lead through Charlie Jolley, Chester are knocked out of the FA Trophy at Curzon Ashton.
more »
CLUB HISTORY

Everything you need to know about the club's history, honours, records and kits. Complete list of fixtures from 1885 and much more.
more »
SUPPORTERS
EXILES BLOG
The Exiles have set up a blog to provide away match information and articles for Blues fans living away from Chester. You can read it here
Exiles » | ISA »