---
Wednesday 30 March
Chester 2 Curzon Ashton 2

Evo-Stik Division One North
Attendance: 2,201 Half Time 1-1
Booked: -.

Chester: Judge, Aspin, Horan, Ruffer, Stones, Booth (Barlow 89), Powell, A.Williams, Howard, Wilde, Simm (Mackreth 63). Subs not used: Taylor, Barnes, Beck.
Curzon Ashton: Carnell, Jones, Birch, Davis, Mortimer (Young 90), Lyons, Moses, Evans (Moore 79), Worsley (Wright 90), McDonagh, Edgehill.

Referee: J.Johnson (West Derby).

The evening ended in bitter disappointment for Chester as they dropped two more points in their quest for promotion. Twice they worked really hard to forge ahead against strong and well-drilled opponents only to be pegged back each time due to lack of concentration.

The pattern of scoring in each half mirrored the other with Chester taking the lead fifteen minutes after kick off and Curzon equalising five minutes before the end each time. City competed well in a tight midfield battle and forced their opponents onto the back foot. They took the lead through a bit of opportunism by Michael Wilde who was first to react to the knock down from a looping cross and flicked the ball towards goal. A wrong-footed Carnell could only help it into the net.

If the Ashton keeper was caught out for that one he made amends a few minutes later as he clawed Wilde's glancing header away at full stretch. Robbie Booth went on a mazy run and took the ball past three or four opponents before firing a shot straight at Carnell.

City's combative display was epitomised by a stupendous tackle by Ashley Williams. He tracked his man like an exocet missile and his timing was perfect as he won the ball whilst demolishing his victim. The Exacta was buzzing for ages afterwards.

The competitive nature threatened to boil over though when the referee had to lecture Horan and Evans for jostling for position too fiercely at a free kick. Both were lucky to escape without a yellow card. Perhaps distracted by this though, when Birch floated in the free kick it evaded all the onrushing forwards and crept in at the far post for a soft equaliser. Minutes later Judge tipped a rasping drive over the bar.

Kick off was delayed for the second half whilst a replacement official was sought. Despite all kinds of spurious offers from those on the Harry McNally Terrace, a genuine, registered referee was found and and the game could continue.

City continued to press. Wilde broke free on the right and centred for Simm but Carnell just palmed the ball away. Then Simm won a free kick on the right as a defender handled the ball. Howard whipped the ball in, debutant Powell flicked on and Wilde tucked the ball into the back of the net for his and Chester's second.

Neil Young, almost immediately changed the shape of the team. Off came the industrious Simm for young loanee Mackreth from Tranmere Rovers. Howard was then moved into midfield to provide some cover in an area where Curzon were threatening to dominate. Mackreth it was who came closest to extending City's lead when he met Wilde's header and knocked it towards goal only for Carnell to beat it away. Booth then picked up the loose ball on the edge of the area and shot low – this time Carnell stretched out a leg and keep the ball out again.

With hindsight, this double save proved crucial as Curzon Ashton stole another equaliser in the dying minutes. Stones and Judge combined to concede an unnecessary corner. The first kick was knocked out to the right again and from the resultant cross, substitute Moore glanced a looping header into the far corner giving Judge no chance. It was a cruel outcome for City who had all worked really hard to achieve the right result and Curzon Ashton were no mean side – but it felt like two points lost rather than one gained.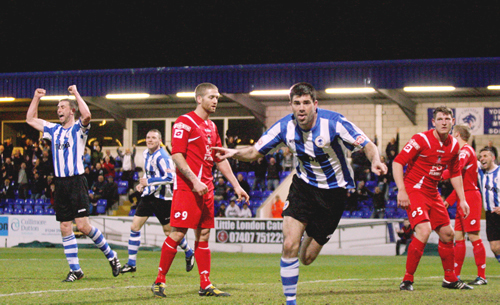 •
League table
Rate Chester's performance
---
Saturday 26 March
Chester 3 Harrogate Railway Athletic 2

Evo-Stik Division One North
Attendance: 2,137 Half Time 1-1
Booked: Barnes, McCready, Horan, Wilson.

Chester: Whiteside, Aspin, Horan, Taylor, Stones, Booth, Barnes (Beck 73), McCready (Wilson 57), Howard, Wilde (Barlow 88), Simm. Subs not used: Field, Ruffer.
Harrogate Railway Athletic: Parry, Thirkell, Hope, Harratt, McLean (Durham 75), Duckworth, Gray, Parkes (Danby 69), Hunter, Maloney, Barrick (Palfrey 46). Subs not used: Davey, Osbourne.
Referee: R.Johnson (Manchester).



Seen as Chester were playing Harrogate Railway Athletic, a team founded by locomotive workers, it seemed appropriate for me to make a rare pilgrimage by train for this early kick-off.

I must admit, I spent a fair proportion of the match wondering if my crack of dawn start had been worthwhile as Chester made heavy weather of this home win.

The opening spell was like several Chester matches I've attended, with the Blues having most of the ball and waiting for an opening to appear through the heavyweight Harrogate defence.

However, it was the Yorkshiremen who took the lead when one of those big defenders, much-tattoed Chris Harrett, found space for a goal-bound volley from about 30 yards out. His goal was a cracker and the handful of Harrogate fans who made the trip, including several in fancy dress, were deservedly delirious.

Chester responded immediately and both Iain Howard and Michael Wilde had half-chances, before the Blues finally equalised. It was a strange goal, which came after the Harrogate goalkeeper lost the ball in the middle of a melee of players in the box. As he flapped at the ball it hit George's Horan's back and rebounded into the back of the net.

There was a split second before the Harry Mac Stand celebrated as it wasn't clear there'd been a goal until the Chester players starting running back towards the half-way line for the re-start.

Not long after, Chester had the ball in the back of the net again, thanks to Wilde. But the linesman flagged for off-side to rule it out.

At half-time, you'd have thought the odds were definitely in Chester's favour. But that all changed just five minutes into the half when a header from Harrogate's Steve Palfrey went past Richard Whiteside and into the top corner to give the away side the lead again.

There was then a very nervy spell when I was decidedly regretting my early start as each Chester foray forward was stopped by the resolute Harrogate defence. Harrogate's number 3 looked like he had the turning circle of a number 93 bus, but he couldn't quite be beaten.

The match started getting a little ill-tempered and Harrogate's manager was sent to the stands from the dugout. His side started getting wound up, and goalscorer Harrett was red-carded for his second bookable offence.

I finally felt the tide was turning towards the Blues and Chris Simm was rewarded for his tireless effort. He had been seen all over the pitch – making himself a real handful for Harrogate. His 63rd minute goal came from a header after a cross from Chester man-of-the-match Robbie Booth.

And it was Simm who sealed the 3-2 win for Chester. His second goal followed a corner, when a pass from Bradley Barnes left him room to fire into the net through a crowd of players.

Simm actually had the chance for a hat-trick not long after, when he greedily had a shot on goal rather than cross the ball across the box.

But Harrogate, who by now were featuring a substitute who made number 3 look trim, were a beaten side by then. They did win a free kick towards the end, which set Chester nerves on edge again. But it missed the target and soon after another Chester win was chalked up. There was now the little matter of the Wales v England sideshow to watch before I could look forward to my rail journey back home.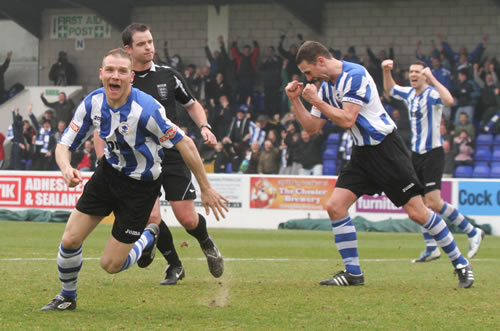 • League table | More pictures
Rate Chester's performance
---
Wednesday 23 March
Chester 3 Woodley Sports 0

Evo-Stik Division One North
Attendance: 2,004 Half Time 1-0
Booked: Taylor, A.Williams.


Chester: Judge, Aspin, Horan, Taylor, Stones, Booth, Barnes, A.Williams (McCready 73), Howard, Wilde (Barlow 87), Simm (Wilson 80). Subs not used: Beck, Ruffer.
Woodley Sports: Higginbotham, Russell, Liptrott, Bockarie, Richardson, Wellstead, Gee (Noon 90), Walker, Haslam (Blackshaw 56), Neequaye, Clarke (Woods 72). Subs not used: Wareing, Eiselt.
Referee: S.Copeland (Wallasey).



After a draw and a defeat in their last two games, Chester were anxious to get back to winning ways in this, the first of three home games.
But first and foremost there was a minute's silence before the game kicked off in memory of Trevor Storton – an inspirational centre-back in City's highest achieving side in the seventies – who died today.

Woodley took the game to Chester at the kick off and eyes were on Nathan Neequaye who has been in phenomenal scoring form since signing from Mossley in January. City's nerves were soon settled though when Woodley 'keeper Higginbotham took his eye off a long punt from Aspin and dropped the ball kindly for Booth to sidefoot home from the edge of the area.

The visitors responded strongly and as Booth stumbled, and their number eleven stole past him. As Booth tried to get up the winger went down in the penalty area – only to be booked for diving. Much of the first half was littered with offside flags, and the occasional injury and the game had a stop -start pattern. Referee Copeland produced more yellow cards for the visitors, first for Bockarie who strayed back onto the pitch after receiving treatment – he seemed to have been clamouring to come on for ages – and Woodley's number six for hacking down Simm in full flow. Bockarie and Wilde were having a continuous tussle for the ball and the match developed a niggling quality. A Woodley defender went down on the goal line but the referee, after consulting his assistant took no action.

Half time arrived then with City just edging a nervy affair. After the break the Blues came out determined to increase their advantage. Barnes and Williams redoubled their efforts in midfield and got the engine room going at full throttle as City pressed Woodley back.

Chester got the goal they craved soon after as Wilde capped a superb flowing move down the right with a diving header into the near corner of the goal. The celebrations after what must be one of the goals of the season were long and loud. Aspin, who had one of his best matches in a Chester shirt started the move, Simm flicked the ball out to Booth and his sensational cross was impeccably converted by Wilde.

As Simm broke down the left onto Howard's through ball, Bockarie came across and clumsily checked his run. It was a second yellow card for the Woodley centre half and, just to rub salt into Woodley's wounds, City scored a third from the resultant free kick. The ball was cleared to Howard who chipped a cross for Horan to nod back across goal and Wilde notched another headed goal.

The game was now over as a contest and City fans could breath more easily. New signing Barlow was given a run out and showed promise as he got behind the defence a couple of times. Woodley were a tough nut to crack but Chester's determination to stay ahead won the day in the end.

Colin Mansley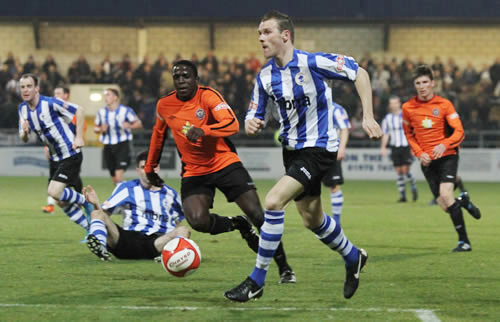 Picture © Evening Leader

• League table | More pictures
Rate Chester's performance
---
Saturday 19 March
Lancaster City 2 Chester 1

Evo-Stik Division One North
Attendance: 712 Half Time 1-0
Booked: McCready.


Lancaster City: Fearon, Henry, Duggan, Marshall, Nightingale, McKenna (Wilson 79), Kenyon, Hall (Rushton 55), Rothwell, Hattersley (Johnson 58), Swarbrick. Subs not used: Gregson, Kenworthy.
Chester: Judge, Aspin (Wilson 84), Horan, Taylor, Stones, Booth (McCready 61), Beck (Simm 61), A. Williams, Howard, Wilde, Gritton. Subs not used: Field, C.Williams.
Referee: D.McDonald (Widnes).



Chester's long unbeaten away league record came to an end on Saturday when they were beaten 2-1 by Lancaster City. It was the second defeat of the season at the Giant Axe following the extra-time President's Cup defeat last month.
Manager Neil Young welcomed back Michael Wilde, Iain Howard and Ashley Williams all from injury for the match which again attracted another large 500+ following of Blues supporters.
It was the home side that opened the scoring with their first attempt on goal after just six minutes as Billy McKenna headed home after goalkeeper Adam Judge has blocked his first effort on goal.
Chester struggled to find any rhythm in the opening period but still created chances to level as the half wore on. Wilde saw a goal bound header cleared off the line by Sam Nightingale and later good work by Robbie Booth set up Wilde whose shot was well saved by Martin Fearon in the Lancaster goal.
The Blues finished the half the strongest and carried that threat into the second period. Skipper George Horan went close as Chester forced a series of corners and Chester deserved to get on level terms when Michael Taylor, playing instead of Carl Ruffer, headed his first goal for the club in the 53rd minute.
It looked liked Chester would step up a gear and push on for a win but a mistake three minutes later gifted the hosts what proved to be the winning goal. Judge receiving a back pass drilled the ball straight at the onrushing Danny Hattersley who controlled the loose ball before slotting it into the empty net.
Young made changes bringing on strikers Chris Simm and Kyle Wilson but they couldn't force the breakthrough needed as Chester suffered a first league defeat for the first time in 15 matches.

• League table
Rate Chester's performance
---
Saturday 12 March
Chester 0 Witton Albion 0

Evo-Stik Division One North
Attendance: 2,716 Half Time 0-0
Booked: Stones.
Chester: Judge, Aspin (Jones 78), Horan, Ruffer, Stones, Beck (Wilson 78), Barnes, Field (C.Williams 63), Booth, Gritton, Simm. Subs not used: St Juste, Taylor.
Witton Albion: Cooper, Gardner, Pritchard, Kearney, Doughty, Hancock (Wood 88), Bennion, MacPherson, Botham, Foulkes, Harrison (Kinsey 82). Subs not used: Ablett, Tomkinson, Smith.
Referee: A.Scregg.



When we look back at the end of the season, I'm sure this will be one match most of us will want to forget as Chester were lucky to scrape a point from this Cheshire derby.

Play-off chasing Witton Albion looked most likely to score throughout the game and their backline, marshalled by hefty player-coach Brian Pritchard (veteran of 704 appearances), remained resolute to any Chester attack.

The first Chester attempt fell to Bradley Barnes after a pass from Chris Simm. However Barnes's strike just touched the crossbar. The next serious opportunity fell to Simm himself, when he was gifted a clear strike on goal in the box. But a Witton defender got back just in time and blocked the shot on the line.

There was little else to remember from the first half, as Witton seemed to pack midfield and any potential Chester advances seemed to be snuffed out in that area. You could certainly tell Iain Howard and Ashley Williams were missing and Chester were guilty of several mis-placed passes.

The half-time spectator chat seemed to centre around not worrying about the first half performance as we'd 'come good' in the final 45 minutes. But I'm afraid those predictions didn't come true.

The second half had barely begun when Witton had one of those opportunities that seemed harder to miss than score. The ball pinged about in the box between about three Witton players, with Chester not getting in to stop them, when Calum Botham finally pounced and somehow missed the target.

Not long after, the Chester defence were caught napping again and it led to another "how did he miss that?..." moment when Ben Harrison put the ball over from around three yards out.

Chris Williams came on for Tom Field on the 63rd minute, but he didn't make any serious impression. Chester did have another chance, through Simm, but his half-volley was well saved by Witton's Matt Cooper.

Michael Aspin was replaced by Stuart Jones on the 78th minute after a fulsome challenge left Aspin injured. Kyle Wilson also came on, in place of Steven Beck, but he didn't make any significant difference.

It was Richard Foulkes, a Chester player on-loan at Witton, who actually came closest to getting on the scoresheet. He had a great strike, which was well stopped on the line by Stuart Jones.

When the full-time whistle went it gave Witton the honour of being the first team to keep a cleansheet against Chester. I can't deny that they deserved their hard-won point and it's certainly not impossible we could be playing each other again next season.

Sue Choularton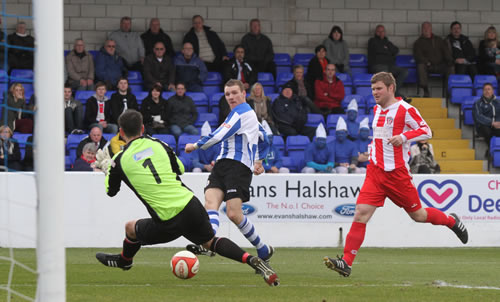 Picture © Evening Leader

• League table | More pictures
Rate Chester's performance
---
Wednesday 9 March
Chester 3 Salford City 1

Evo-Stik Division One North
Attendance: 2,104 Half Time 2-1
Booked: -.
Chester: Judge, Aspin, Horan, Ruffer, Stones, Beck, A.Williams (Barnes 28), Field, Booth, Simm, Wilde (Wilson 64). Subs not used: Jones, C.Williams, St Juste.
Salford City: Robertson, Gamble, Woodford (Cross 16), Ayres, Hockenhull (Tinker 90), Headley (Redhsaw 58), Morning, Andrews, Goodeve, Giggs (Thomas 83), Foster. [Four substitutes allowed!].
Referee: D.Gratton.



An entertaining game with ample chances at both ends eventually unfolded as another win for the Blues on their quest for the championship. Both sides made creditable efforts to play the ball on the ground as the blustery and unpredictable wind made playing conditions difficult.

City – though one hesitates to call them this with Salford's small but enthusiastic band of followers chanting "You're not City anymore" proving that there is still room for irony in football – attacked the Harry Mac end. Robbie Booth was the first to try his luck with a shot from the edge of the area – it was a taste of things to come as he put in a star performance as man of the match. His goal and Chester's third after an hour gave the home side some breathing space and capped a great display. Booth cut in from the left and let fly with a right foot shot from outside the area. It went in off the inside of the left hand post. Even then Chester's win was not completely secure as Salford had proved dangerous opponents, creating several clear cut chances in a more open game than Chester would have liked.

The first opportunity for the Ammies fell to Foster who capitalised on some dithering between defence and midfield and burst through on goal. Judge did well to save. Later Morning cut in from the right and shot against the right hand post in a mirror image of Booth's later goal. Unfortunately for Morning, the ball span across the goal but not into it. By this time the score was 2-1, Chester taking the lead with Beck's superb finish out of nothing on the edge of the box. His left foot shot was perfectly placed low inside the post. Giggs equalised when his free kick just beat the defensive wall and "yorked" Judge's dive. But Chester's lead was restored shortly afterwards when Bradley Barnes, fresh from replacing the injured Ashley Williams, skewered Salford's defence with a superb pass that had Simm skipping clear and holding his nerve to finish crisply past the advancing keeper.

Salford impressed with their relentless work rate and skilful forward play but couldn't add to their player-manager's solitary goal. Morning shot wide having carved open another chance in the first half and Foster looked likely to score when picked out by Giggs' tantalising pass after half-time but Judge – pushing Booth close for man of the match – saved brilliantly.

Despite signs of weariness in some aspects of their play, Chester can be pleased with this result, hard fought as it was. The game was so absorbing that even the referee did not notice Salford sneaking on a fourth substitute – aptly named Tinker – in stoppage time.

Colin Mansley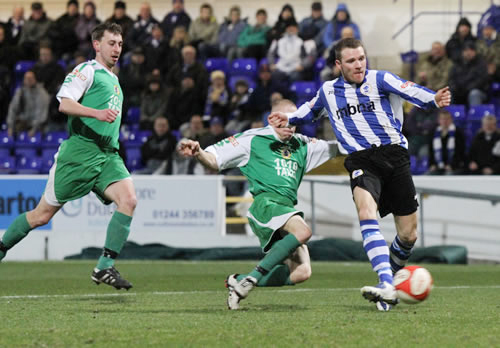 Picture © Evening Leader

• League table | More pictures
Rate Chester's performance
---
Saturday 5 March
Skelmersdale United 0 Chester 1

Evo-Stik Division One North
Attendance: 1,171, Half Time 0-0
Booked: Beck, Horan, Simm. A.Williams.
Skelmersdale: Brocklehurst, Strickland, Akrigg, Roberts, Peet, Woolcott, Parle, Armstrong, McGinn, Almond, Wade. Subs not used: Tuck, Mulvaney, Burke, O'Donnell, Paxton.
Chester: Judge, Aspin, Horan, Ruffer, Stones, Beck, A.Williams, Barnes (Field 66), Simm (Wilson 85), Wilde, Gritton (Booth 59). Subs not used: Taylor, Whiteside.
Referee: G.Stott.



This was a terrific result for Chester who completed the double over promotion rivals Skelmersdale United with captain George Horan heading the winner in the second half to the delight of another large away following in the 1,171 crowd, a record attendance for the ground.
Blues manager Neil Young once again adopted an attacking 4-3-3 formation that brought its midweek rewards at Clitheroe, making one change in the process as Bradley Barnes replaced Tom Field who took his place on the bench.

With the division's top two free-scoring sides meeting at Stormy Corner, is was perhaps inevitable, that it was a cagey opening period with both sides eyeing each other up, chances were few and far between. Chris Almond had a run at goal snuffed out by Horan who timed his tackle on the edge of the box well.

Skem came close to opening the scoring on 26 minutes when Matty McGinn hit the post with an angled cross shot that beat Adam Judge before the Chester defence cleared their lines.
Ten minutes later Chester saw their best chance of the half as Horan rose to meet a Stones corner but saw his header cleared off the line by Paul Woolcott.
Referee Stott waved away Chester's loud appeals for a penalty in the 43rd minute as Chris Simm fell under a Dave Roberts challenge in the box. Moments later Simm was in the action again when he saw a close range volley brilliantly saved by Tom Broadhurst in the home goal.
Skem started the second period well and once again Horan was on hand to break up a move involving Ryan Wade. It was the home fans that were appealing for a penalty on 52 minutes when Carl Ruffer clashed with Gareth Peet but play continued with Judge saving well from Almond.
Top scorer Michael Wilde saw an effort ruled out for offside, and the striker also saw another effort cleared by Roberts as the game began to open up a bit. Bradley Barnes was well placed to clear a Steve Akrigg effort off the line.
There was controversy in the 61st minute when Horan pulled back Wade as he moved in on goal at the edge of the area. Many referee's would have shown the Blues skipper a red card by Stott administered a yellow.
Horan took advantage of his good fortune ten minutes later when he scored the all-important goal. Stones swung in a right wing corner and as Wilde's clever run to the near post took two defenders with him it left Horan free to power a header over Brocklehurst and in just under the bar.
The Blues defence stood firm for the final fifteen minutes, Judge saved an Akrigg effort at the second attempt as Almond lurked for the free ball.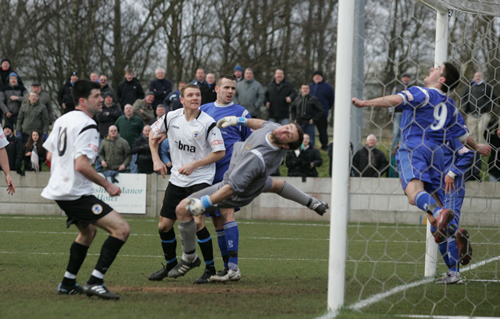 Picture © Evening Leader

• League table | More pictures
Rate Chester's performance
---
Tuesday 1 March
Clitheroe 0 Chester 5

Evo-Stik Division One North
Attendance: 527, Half Time 0-3
Booked: -.
Clitheroe: Hibbert, Heywood, Fisher, Higgins, Moran (Stanford 61), Parillon (Brees 46), Naylor, Eastwood, Hodgkiss, Williams, Turner (Green 54). Subs not used: Doherty, O'Brien.
Chester: Judge, Aspin, Horan, Ruffer, Stones, Field (Taylor 73), Beck, A.Williams (Barnes 61), Simm, Wilde, Gritton (Booth 63). Subs not used: Wilson, St Juste.
Referee: J.Price.



Goals from Steven Beck, Carl Ruffer, Chris Simm, Martin Gritton and Ashley Williams seal an impressive away performance from the Blues who inflicted another 5-0 scoreline over play-off chasing Clitheroe just two-and-a-half weeks after a similar result at home.
Manager Neil Young gave a full debut to Martin Gritton up front and his experience told as he scored one and set up three of the five goals. Gritton, along with Michael Wilde and Chris Simm formed a formidable front line and they got after their hosts right from the off with Simm lobbing over the bar after being set-up by Michael Aspin.

The Blues (in white) were soon on the scoresheet though as Gritton crossed for Beck who made no mistake from close range in the seventh minute.
The Blues continued to press and the second goal came just five minutes later as Carl Ruffer converted from six yards following good work from Gritton and George Horan following a Tom Field corner. It was the defender's second goal in as many games.
Adam Judge was called into action soon after collecting a Phil Eastwood effort at the second attempt as the hosts looked to get quickly back into the match.
There were shouts for a Chester penalty of the half hour but referee Price waved away the appeals following a push on Simm in the area. Michael Wilde almost added a third when he headed just wide following a quick break down the right involving Aspin and Simm.
Four minutes before the interval Chester added a third. Again Gritton played his part sending a defence splitting pass through to Beck, he was prevented from getting a shot in through a well timed tackle but the ball fell to Simm who slotted the ball home from the edge of the box.
Aspin forced a great save from Zach Hibbert before, at the other end, Judge maintained the Blues advantage at the interval when he denied Tom Williams with a great save following a rare defensive mix-up.
The home side started the second period well with Judge putting in another impressive performance, to denying both Rob Turner and Williams with fine saves.
On 55 minutes Gritton opened his Chester account scoring with a low close range shot following a fine right wing cross from Wilde. On the hour mark Chester added a fifth as Ashley Williams also scored his first goal for the club firing home from 15 yards after build-up play involving Greg Stones and Simm.
With the game over as a contest and another trick match on Saturday, Young made a series of substitutions bringing on Michael Taylor, Bradley Barnes and Robbie Booth for Field, Williams and Gritton.
The remaining chances were created by the home side but again Judge was on hand to keep another clean sheet and deny Clitheroe and consolation.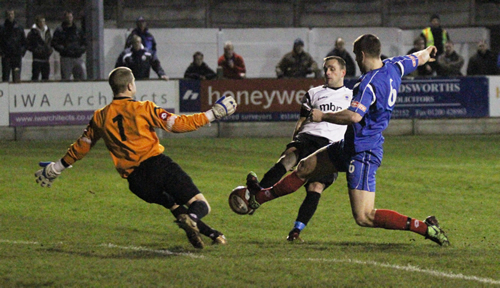 Picture © Evening Leader

• League table | More pictures
Rate Chester's performance
---