28 February 2007
WRIGHT PRAISES DEFENCE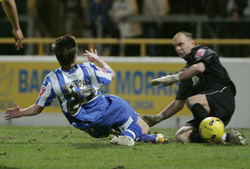 City had to be content with a point from hard earned draw with Hereford United last night. At a blustry Deva Stadium the Blues were given the lead through Simon Yeo with half an hour remaining. However the Bulls applied the pressure and forced an equaliser eight minutes from time.
A win would have lifted City above their opponents, instead the Blues swapped placed with Peterborough United.

Manager Mark Wright praised his defence after the game after they'd put in another slid display. "I still think we're not firing on all cylinders and it's hard to keep bouncing back. I don't think we're playing anywhere near as well as we did when we had all our players in. But we've got to adjust to the situation and we're still searching for new players. Definsively I can't possibly complain because we've only conceded two goals in our last five games. Our defenders have been big and strong, and they're at the races, but I feel we need to dictate a little bit more in midfield and have a bit of width."

Wright added: "It was nice to see Simon (Yeo) getting his goal. We know he's a goalscorer, but if we get a big man in and things drop down for him I'm sure you'll see him scoring more goals. Simon is a preditor, but it was also good to see young Chris Holroyd come on in the second half and I'm sure he would have scored if it hadn't have been for Wayne Brown who is one of the best keepers in the League."
City are next in action on Friday night (19.45hrs) when bottom club Torquay United visit Deva Stadium. It will mean a first return for Gulls coach Keith Curle following his departure from City last season.
All Match Day admission prices have been reduced by £2.00 for the match. The following admission prices will apply.
East Stand/West Stand
Adult £15.00, Concession £10.00, Junior £4.00
Harry McNally Terrace
Adult £13.00, Concession £8.00, Junior £3.00
South Stand
Adult £13.00, Concession £8.00, Junior £3.00


---
27 February 2007

TESTIMONIAL FOR GRAHAM BARROW
Assistant manager Graham Barrow is to be given a testimonial in recognition of his services as both a player and manager at Chester City. A Sportsman's Dinner and a match against Premier League opposition next summer are possible options. City chairman Steve vaughan told the Daily Post: "This is a well deserved accolade and we have awarded Graham this testimonial as a thank you for the service he has given to the club as a player, manager and assistant manager."
---
INJURY PROBLEMS MOUNT

City have injury problems ahead of tonight's rearranged home League Two game against Hereford United. Ashley Westwood, Laurence Wilson and Lee Steele are all carrying knocks and struggling to be fit.
Hereford have no fresh injury worries and goalkeeper Wayne Brown should make his first return to Deva Stadium since leaving the Blues to join the Bulls, initially on loan, in July 2005.

Hereford are currently three points ahead of City and occupy ninth spot. They have five League victories on their travels so far this season. The two sides last met in early August with the home side running out 2-0 winners at Edgar Street.


A reminder that the club are running a Kids for Free Scheme tonight.
Children aged 12 or under will be admitted free of charge in The West Stand if accompanied by a paying adult, this is on a one for one basis i.e.one free kid with one paying adult additional kids will be charged £6.00.
Tickets must be pre purchased from the ticket office prior to the kick-off.
---
26 February 2007

BARROW ENDS SPECULATION

There's good news for City fans as assistant manager Graham Barrow has ended speculation about him joining Roberto Martinez as his assistant at Swansea City, and stated that he's staying put at Chester. Speaking of his decision Barrow told the Daily Post:


"I was flattered to receive the approach from Roberto, and I know he will make a success of his career in management but my heart and affection is and always has been with Chester City. Mark and the chairman have always been fair to me, I have always been an extremely loyal person and I want to repay the faith that Mark and Mr Vaughan have shown in me."


"I believe that we have the makings of creating something extremely positive at Chester City. We have an enthusiastic chairman who backs his management team to the hilt and a progressive manager who has some excellent ideas about the game. That's why I have come to my decision."
---
25 February 2007

CITY PAY THE PENALTY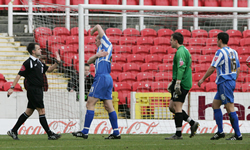 Chester suffered their first defeat in six matches on Saturday. An early Jack Smith penalty, given for a handball by David Artell, was all that separated the sides at the County Ground. City had goalkeeper John Danby to thank though for keeping the score down with a series of great saves to deny Swindon Town.
The win gave the Robins the double over Chester who slip to 13th in League Two after the weekend's fixtures.
Manager Mark Wright, obviously not happy at losing key players in recent weeks said after the Swindon defeat:
"When everyone seems to be improving, we seem to be depleting our resources. How can any side as small as us suffer the loss of our strike force, winger Stephen Vaughan, and now our skipper Roberto Martinez?
"I don't think we have replaced them, but we are looking. The question is how do I replace four key players like them? How can I keep pulling rabbits out of the hat at this stage of the season? Clubs aren't letting players go at this stage of the season which is disappointing for us because we want to improve and do things right. The players and I are frustrated. If we'd have had widemen against Swindon I think we could have hurt them big time.
"
---
23 February 2007

MARTINEZ LEAVES CITY
Good luck to Roberto Martinez who has left Chester City today to take the managerial job at his former club Swansea City. Martinez joined City in the summer from the Welsh club and scored 3 goals in 38+0 appearances for City this season. A compensation package is to be agreed between the two clubs.
---
REDUCED ADMISSION NEXT WEEK
Chester City are running reduced admission offers for the home games next week against Hereford United (Tuesday 27 February) and Torquay United (Friday 2 March)
Hereford United
Kids for Free Scheme
Children aged 12 or under will be admitted free of charge in The West Stand if accompanied by a paying adult, this is on a one for one basis i.e.one free kid with one paying adult additional kids will be charged £6.00.
Tickets must be pre purchased from the ticket office.
Hours of opening
Monday 26 February 10.00 –16.00
Tuesday 27 February 10.00 – kick-off.
Torquay United
Kids for Free Scheme
Children aged 12 and under will be admitted free of charge in The West Stand if accompanied by a paying adult, this is on a one for one basis i.e. one free kid with one paying adult, additional kids will be charged £4.00.
Tickets must be pre purchased from the ticket office and only after the 27th February.
Hours of opening
Wednesday 28 February 10.00 – 16.00
Thursday 1 March 10.00 – 16.00
Friday 2 March 10.00 – kick-off
Reduced Matchday Admission for the Torquay United game
All Match Day admission prices have been reduced by £2.00. The following admission prices will apply.
East Stand/West Stand
Adult £15.00, Concession £10.00, Junior £4.00
Harry McNally Terrace
Adult £13.00, Concession £8.00, Junior £3.00
South Stand
Adult £13.00, Concession £8.00, Junior £3.00
---
MARTINEZ DEADLINE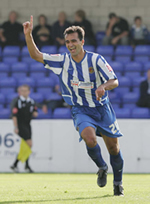 City captain Roberto Martinez has been given a 14:00hrs deadline today to decide whether he remains at Chester or moves back to Swansea. The popular player has been linked with the managerial vacancy at the Liberty Stadium but City want to bring an end to the speculation one way or another and have asked for an answer before the team set off for tomorrow's game at Swindon Town. Martinez has already been interviewed for the post.


Blues manager Mark Wright told the Western Mail: "Roberto has got a good rapport with the chairman down there, but it's got to be resolved by Friday at the latest because we'll be travelling to Swindon by 2pm. So, if it's not done by then, I'll be trying to speak to our chairman to say, 'Finish it, that's it, because it's unfair to us all.'"

"Roberto is one of those people who you would want to marry your daughter because he's so damn nice. I understand why they like him down in Swansea. But it has to be resolved one way or the other. If it's not resolved, he's staying here. Plain and simple. There is no way we can turn round and let it go on and on and on. The chairman and myself have been very fair in everything we've done and letting them (Swansea) speak to Roberto. If he goes, it will be a big loss. Then it would be up to us to pull a rabbit out of the hat from somewhere. I'm hoping Roberto stays with us because it's important to me that he's around."


---
TOUGH TASK FOR CITY
City travel to the west country this afternoon in preparation for tomorrow's match at fourth placed Swindon Town. The Robins, relegated last season, are looking to bounce back to League One at the first attempt. They currently lie in fourth place but have failed to win in their last four matches. Jamie Hand returns the the squad after serving a two-match ban, while Laurence Wilson looks to have recovered from an ankle ligament knock. The two sides last met back in September with Swindon running out 2-0 winners at Deva Stadium.

---
22 February 2007
BACK TO WINNING WAYS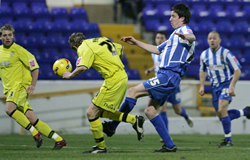 A last-gasp penalty from Simon Yeo brought three welcome home points for City who recorded their first League victory at the Deva since 9 December. The game was petering out to a draw before Dave Challinor fouled Yeo in the box and the striker, making his home debut, slotted away the spot-kick to secure the three points. After a lacklustre first-half City showed more determination after the break and Phil Bolland saw a header cleared off the line and Yeo shot over when well placed before the last minute drama.
City manager Mark Wright thought his side deserved the points: "I thought we deserved the victory, particularly after our second-half performance. You've got to remember that we are working with two new strikers and I thought tonight they began to look impressive which was a plus. Some of our football in the second half was a delight. We used the width particularly well, which was pleasing."

The Blues are next in action on Saturday when they travel to play fourth placed Swindon Town. This will be out first visit to the County Ground since September 1986 when a Graham Barrow goal secured a 1-1 draw.
---
MARTINEZ TALKS
Following speculation linking Roberto Martinez with the vacant manager's position at Swansea City, chairman Steve Vaughan and manager Mark Wright will be holding talks with the City captain today to ascertain his future plans.

Vaughan told the Daily Post: "We will talk to Roberto and ask him to give a decision to us. Do you want to go or do you want to stay? If he wants to move on, he can do so and will be allowed to go with our best wishes, but hopefully he will want to stay and see out the remaining 18 months of his contract with us. The one thing I won't allow is indecision or prevarication, it is unsettling for Chester City and its management and players and that is unacceptable. I want a decision one way or another, then we can all get on with our lives."


---
21 February 2007
SHAKERS RETURN

City entertain Bury at Deva Stadium in tonight's only League Two match (19:45hrs). The Blues will once again be without the suspended Jamie Hand while both Laurence Wilson and Ashley Westwood are struggling to be fit. Result last night saw City once again drop to 14th spot so they will be eager to record thirst first home league win for 5 matches to lift them three places.

Bury, who of course knocked City out of this season's FA Cup, only to be expelled from the competition, have not won for ten matches and lie just six points from the relegation trapdoor in 19th place. The Shakers have Brian Barry-Murphy returning from injury and manager Chris Casper, who signed a new contract with the club today, has no further injury worries.
---
20 February 2007

CHESHIRE SENIOR CUP DEFEAT

Chester failed to make their first Cheshire Senior Cup final appearance since 1932 when their youthful side were well beaten 5-0 at Cammell Laird in tonight's rearranged semi-final.

Chester City: Palethorpe, Rule, Newton, Roberts, Kelly, Smith, Rutherford, Gregory, Cadwallader, McManus, Carroll. Subs: Mitchell, Thorpe, Robson, Vernon, Inderjeet.
---
18 February 2007

DERBY STALEMATE
A point from today's scrappy match at Wrexham has lifted City back to 12th place on League Two. The Blues never really looked like getting maximum points at the Racecourse, indeed it was the home side struggling at the wrong end of the table who had the better of the first half with Chris Llewellyn heading against the crossbar.

There was more of a showing from City after the break but their only real threat came form a Sean Hessey header that was well saved by John Ruddy in the home goal. City had no less that six players shown a yellow card by referee Beeby.


---
FORMER PLAYER DIES
Former Chester player Don Weston has recently died. He played more than 250 Football League games in a 10 year career, with Chester being the last of six different sides he represented. Don also played for Wrexham and one minute's silence was held in remembrance before today's game.

• Obituary
---
16 February 2007

STRIKER SEARCH CONTINUES

The club are aiming to bring in another striker on loan in time for Sunday's all ticket cross-border derby at Wrexham. City chairman Steve Vaughan said: "We have missed out on a couple of targets in the last couple of weeks, but hopefully we will be successful with this attempt. I won't reveal the player yet but we are close to concluding a deal, and hopefully everything can be completed prior to Sunday's match."

For the game at the Racecourse City will be without defender Ashley Westwood and midfielder Lawrence Wilson through injury, while Jamie Hand serves the first a two-game suspension after picking up ten yellow cards this season. However both Simon Marples and Kevin Sandwith are expected to have recovered from knocks.

City's recent away League form has been impressive with four wins and a draw in their last five outings. They will be determined to carry that form into Sunday's passionate all ticket encounter where they will be backed by around 1,800 supporters.

The home side are struggling at the wrong end of the table and only Torquay United sit below them in League Two. The Dragons have not won a game for 11 matches, their last victory coming on 23 December. Juan Ugarte remains sidelined with a hamstring injury though there could be a debut for striker Mike Carvill who signed on loan last week from Charlton Athletic.

The two sides last met in August when a late Jamie Hand goal couldn't prevent the Blues losing 2-1 in a match at that saw Ricky Ravenhill red-carded. City haven't won a league game at the Racecourse since the 1977/78 season.


---
MARTINEZ SPECULATION
| | |
| --- | --- |
| | City captain Roberto Martinez is being linked with the vacant manager's position at his former club Swansea City following the departure of Kenny Jackett. Martinez has no previous managerial experience but is being touted as an early favourite for the role. The 33-year-old Spaniard is a huge favourite with the Swan's fans after three-and-a-half successful years with the South Wales club. |
---
14 February 2007

RESERVES DEFEAT

The reserves will remain bottom of the Pontins League after they were beaten 1-0 at home by Oldham Athletic tonight.
---
NEW DATE FOR HEREFORD MATCH
City have rearranged their home game against Hereford United for Tuesday 27 February (kick off 19.45hrs). The reserves were scheduled to host Rochdale at Deva Stadium at 14:00hrs on the same day but that game has now been moved.
---
KEARNEY COMPLETES LOAN MOVE

Alan Kearney has completed his emergency loan move Chester from Everton and will remain with the Blues for a month. The young midfielder is expected to make an appearance for the reserves in their home Pontins Holiday League match against Oldham Athletic at Deva Stadium tonight (19:00hrs). The Blues currently lie bottom of the league with opponents Oldham in third place.

Earlier in the day chairman Steve Vaughan told the Evening Leader: "I'm hoping that Alan Kearney can sign for Chester on loan by the close of play today.
I'm also hoping we can sign more additions including a right-sided midfielder because we haven't replaced my son, Stephen, we've only accommodated players in that position since Stephen signed for Boston."
---
SPECIAL TRAIN TO WREXHAM

A special train service will run to and from Wrexham from Chester on Sunday. The train, which can accommodate 300+ people, departs Chester at 10:37 and returns from Wrexham at 14:37. The fare is £3.70. Note that all other scheduled services on the day have been replaced by buses.
---
13 February 2007

CITY STEP UP LOAN SEARCH

Everton midfielder Alan Kearney is currently training with Chester as the Blues hope to complete an emergency loan deal with the 19-year-old Irishman. Kearney is a former Republic of Ireland under-18 international and has made 4+1 appearances for the reserves this season. The City management hope to sign the player in time for Sunday's noon derby match at Wrexham
.
---
10 February 2007

MATCH OFF

Despite the hard efforts of Gary Kent, his groundstaff and a number of volunteers, following a second pitch inspection at 10:45 today's game against Hereford United is postponed due to a waterlogged pitch.

Secretary Tony Allan said: "It's a shame that the game was postponed, because the ground staff had been here since 6.30am and of course we invested a lot of money for pitch coverings as well, but unfortunately the weather has conspired to defeat us. The police and the safety committee requested the noon kick-off, so presumably we will now have to re-schedule the match on a midweek date in April, when the lighter evenings are with us."


---
6 February 2007

CUP MATCH ABANDONED
Tonight's Cheshire Senior Cup semi-final match at Cammell Laird was abandoned at half-time due to a frozen pitch with Chester winning 1-0. Neil Carroll (left) scored the goal with a deflected shot from 25-yards five minutes before the interval. Moments later Chris Holroyd missed a great opportunity to double the lead.

Chester City: Palethorpe, Roberts, Newton, Allen, Kelly, Gregory, Rutherford, Smith, Cadwallader, Holroyd, Carroll. Subs: Vernon, Mitchell, Morgan, Barnes, Aujla.

The game has now been rearranged for Tuesday 20 February, kick-off 19:45hrs.


---
SEMI-FINAL ACTION TONIGHT

Chester will be sending a strong squad to Birkenhead tonight as they play UniBond League first division club Cammell Laird in the semi-final of the Cheshire Senior Cup, Northwich Victoria await the winners in the final after they overcame neighbours Witton Albion 2-1 in the other semi. Glenn Cronin may make an appearance for Chester in the competition that is usually contested by the reserve side. The Blues have not won the Cup since 1932 which was their last appearance in the final. Tonight's game will kick-off at Kirklands at 19:45hrs.
---
HAND SUSPENDED
| | |
| --- | --- |
| | Jamie Hand has been given a two match suspension after picking up his tenth yellow card of the season at Accrington Stanley on Saturday. He will miss the home game with Hereford United on Saturday and the match at Wrexham the following weekend. |
---
3 February 2007

DOUBLE FOR BLUES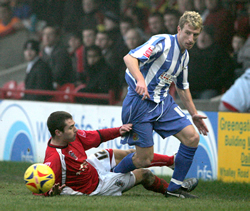 Paul Linwood's first ever League goal brought City their first double of the season as they beat Accrington Stanley 1-0 at a foggy Fraser Eagle Stadium on Saturday. The Blues could have won by a greater margin but had to be content with Linwood's first half effort. There was a debut for Simon Yeo who partnered Lee Steele up front and City's other signing of last week Alex Meechan came on after the break and almost added a second goal when he was put through one-on-one.

Chester's assistant manager Graham Barrow said: "We fully deserved the win, and that adds to our growing away performances. I'm disappointed we didn't get more goals. Now all we need to do is to get back into some sort of form at home."


The victory lifts Chester to 10th place in League Two, nine points behind Wycombe Wanderers who occupy the last play-off spot.

The Blues are next in action on Saturday when Hereford United visit City for a match that has a noon kick-off. The Bulls sit one place below Chester with the same points but have an inferior goal-difference. Former Chester goalkeeper Wayne Brown, now with Hereford, could make his first return to Deva Stadium.


---
YOUTH TEAM HELD
Despite taking the lead through an early goal from Andy Mitchell (left) the youth team were pegged back by rivals Wrexham on Saturday morning with the home mini-derby ending 1-1.



• Youth team: Fixtures | League table | Player stats | Team picture
---
2 February 2007

CITY FINED BY FA AGAIN

Chester and Shrewsbury Town have each been fined £3,000 by the Football Association following incidents at the match at Gay Meadow on 25 November. A mass brawl broke out at the final whistle after a controversial last minute penalty was awarded to the home side.

The two clubs admitted charges of failing to ensure that their players conducted themselves in an orderly fashion in relation to two separate incidents during and following the match. Both clubs were reprimanded and warned as to their future conduct.

Two weeks ago the club were fined £1,000 and warned as to their future conduct after admitting a charge of failing to ensure its players conducted themselves in an orderly fashion during the away match at Barnet on 28 October 2006.
---
DEFENSIVE DUO BACK FOR CITY
Manager Mark Wright will have both David Artell and Paul Linwood available at Accrington Stanley tomorrow after the two players served a one match suspension last week. City will be looking for their first double of the season in Lancashire having beaten Stanley 2-0 on the opening day of the season.

New signings Simon Yeo and Alex Meechan will also be available in attack as the Blues start with a new-look front line at the Fraser Eagle Stadium following the recent sales of Jon Walters and Gregg Blundell. Glenn Cronin played for the reserves in the midweek defeat by Wrexham and will also be in contention for the starting squad.
---
1 February 2007

BLUNDELL MOVES ON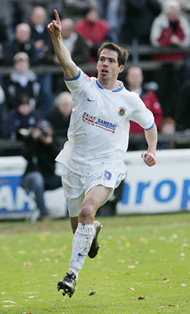 Good luck to striker Gregg Blundell who has joined Darlington for an undisclosed five figure fee. Blundell again joins up with Dave Penney who managed him during his days at Doncaster Rovers.

Blundell joined City as the club's record signing when the Blues paid a reported £100,000 for him from Doncaster in July 2005. He got off to a great start scoring 6 goals in his first 8 matches before a terrible neck injury received in the home game with Rochdale forced him on the sidelines for 14 matches. In all Blundell scored 15 goals in 52+15 appearances in a Chester shirt.

Chairman Steve Vaughan said: "We wish Gregg well with his new club, and obviously we welcome Simon to Chester City. Basically the fee we received from Darlington has financed the deal to bring Simon Yeo to the club. He is a strong type of player, and I am sure will be an asset to Chester City."
Blundell told the Evening Leader: "I didn't want to leave Chester, but I had three months left on my existing contract and Chester decided to accept an offer from Darlington. The deal at Darlington is good for me and offers me security because I've signed a two and a half year contract.
The move to Darlington is just one of those things. I was devastated not to make a success of my time at Chester in terms of scoring goals or helping the club win more games. The move is purely business for football clubs because players come and go – that's the nature of the beast.
I was genuinely disappointed about not making a success of my time at Chester because it was ideal for me – especially with me being a local lad. But I had a great time at Chester and I wish everyone there every success. It was disappointing to leave, but I'm leaving on good terms which is always good news.
It would now be great to see both Chester and Darlington winning places in the play-offs. I've played under Dave before during my Doncaster days and I was successful in his sides because of the way his teams play."

The sale of Blundell follows a week after the departure of his strike partner Jon Walters to Ipswich Town.


---