28 February 2006

CITY DROP TWO PLACES
As a result of tonight's two Leaue Two results: Leyton Orient 0 Barnet 0, and Rochdale 1 Bury 1, the Blues have dropped a further two places to a precarious 21st in League Two.

---
27 February 2006

LONG ROAD AHEAD FOR CITY

The Blues suffered their 12th defeat in 13 matches at Grimsby Town on Saturday, as a Gary Jones header just before the break was enough to see off a City side containing new signings Mark Albrighton and Paul Ellender. The Mariners also missed a late second half penalty with Curtis Woodhouse blazing over.

After the defeat new City manager Mark Wright said: "There's a long road ahead for this club and a lot of work to do, but I am confident I have the players to be able to succeed. There are a lot of positives to take from today's game. I though we showed confidence and desire in parts which I was pleased with. Every player is playing for his place each week and the longer I can keep that hunger throughout the team, the more beneficial it will be for the club. We have a lot of quality in this squad and it's now up to me to get the full potential from this side. I am confident we have what it takes to start pulling results together."

The Blues are next in action on Saturday when another of the division's strugglers Torquay United visit Deva Stadium.


---
26 February 2006

MINI DERBY POSTPONED
The Youth Team's match away at Wrexham on Saturday morning was postponed due to a waterlogged pitch.
No new date has yet been set.

---
WREXHAM ALL-TICKET
City's away match at Wrexham on Sunday 26 March will be all-ticket. The game has a 12:00 kick-off time.

---
24 February 2006

LOAN DEFENDERS SIGN ON
Doncaster Rovers defender Mark Albrighton has joined City on a one month loan. The ex-Telford United player has started 18 games for Rovers this season. Meanwhile Boston United central defender Paul Ellender has also moved to Deva Stadium until the end of the season. Both are expected to be cleared to play in tomorrow's match at Grimsby Town. City are also hopeful that Goalkeeper Paul Harrison will also sign after training with the squad this week.

---
TOUGH TRIP FOR CITY

Chester travel to fourth placed Grimsby Town tomorrow for their first game under Mark Wright's second Deva spell. David Artell and Luke Dimech are both fit for the trip and new loan signings Mark Albrighton and Paul Ellender are expected to compete for places in the starting lineup.

One City player who will miss out is midfielder Ben Davies who serves a one match suspension. The home side will miss a trio of players, Gary Croft, Jean-Paul Kalala and Michael Reddy, who also serve one match bans.

The two sides last met in September with the Mariners, one place below third placed City at the time, winning an entertaining game at Deva Stadium 2-1.
---
O'HANLON JOINS COACHING STAFF
Former Bury assistant manager Kelham O'Hanlon has joined City on a part-time coaching capacity. He will be at the Deva for three days a week.
---
22 February 2006

RESERVES DRAW
Manager Mark Wright saw the reserve side draw 2-2 with Tranmere Rovers at Deva Stadium tonight. The Blues had taken a 2-0 lead through goals from Abdel El Kholti and an own goal from Paul Martin but were pegged back after the break. Ex-Liverpool reserve goalkeeper Paul Harrison played and may put pen to paper after impressing in the match in which he saved a penalty.


Chester City: Harrison, J.Vaughan, Curle (Wade 77), Cadwallader (Roberts 69), Marsh-Evans, S.Vaughan, Rutherford, Dove, Richardson (Holroyd 62), Asamoah, El-Kholti. Subs not used: Brookfield, Scales.

• Reserve fixtures | Reserve table | Reserve stats


Wright took the players for training yesterday and declared: "It was an interesting session and thankfully most of the players responded well."

Four of the current squad: Ben Davies, Michael Branch, Stewart Drummond and Sean Hessey were all signed by Wright in his previous spell at Chester, only Davies however played first-team football under him.
---
21 February 2006

CITY APPOINT MARK WRIGHT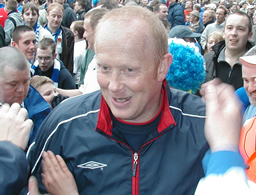 Chester City have announced that Mark Wright has returned as their new manager until the end of the season. Given the circumstances of Wright's departure in August 2004, on the eve of the clubs first season back in the Football League, this appointment will be seen as controversial.

Wright was first appointed manager at Deva Stadium in January 2002 when City were struggling towards the wrong end of the Nationwide Conference. Results soon improved and City finished the season mid table.

The following season City reached the play-off stages before losing on penalties to Doncaster Rovers. In 2003/04 the club went one better and lifted the Nationwide Conference title, Chester's first-ever championship.

However, on the eve of Chester's historic return to the Football League on 6 August 2004 Wright sensationally quit the club stating: "It was my decision. The position was untenable. I did not want it to happen, but it has. It's not the right time and I apologise for that. It's a very sad day. I know the side is a good side." His decision to go public forced the Chester board of directors at the time to issue the following statement.

After an absence out of the game Wright returned to management last summer at League Two rivals Peterborough United. However after guiding the team into the top ten, he was suspended by Posh in mid January pending an internal investigation and was dismissed at the end of the month for what Peterborough announced as "gross misconduct". Wright is taking legal action over the dismissal.

Wright's first game back in charge will be this Saturday when City travel to fourth placed Grimsby Town.

As City manager Wright's Conference record was P101 W57 D27 L17. Including all cups it was P121 W65 D31 L25 (that includes the Cheshire Senior Cup).

Chairman Steve Vaughan told the Daily Post: "I am not making this appointment to win any popularity contests; I am making it in the best interests of Chester City Football Club. The decision to relieve Keith Curle of his duties was also made in the best interests of the club. I hope our supporters accept both decisions."


Wright also told the paper: "It's a challenge but I am looking forward to it. My heart was always with Chester and I am proud of what we achieved when we won the Conference title. The memory of the joy on everybody's face at the club when we won the championship will stay with me for ever. Ironically I am returning to the club when it's in a similar position to the one it was when I originally joined last time."
---
20 February 2006

SUSPENSION FOR DAVIES
Midfielder Ben Davies picked up his fifth yellow card at the weekend and will be suspended for the visit to Grimsby Town on Saturday.
---
19 February 2006

NO APPOINTMENT FOR 48 HOURS
The football club have announced that 'Contrary to reports on local radio, Chester City wishes to confirm that no appointments have been made either on a permanent or temporary basis to fill the vacant manager's position.' Applications have been received for the post and these are currently under consideration and an announcement is not expected until Tuesday at the earliest.


The statement comes after it had been reported on Dee 106.3 radio at 14:00hrs that Ray Mathias was to return to Deva Stadium as caretaker manager until the end of the season with Ron Yeates as his assistant.

Mathias has been at the Deva before, he was appointed in a similar role in August 2004 following the shock departure of Mark Wright and before the appointment of Ian Rush, he was then made Director of Football, a post he left three months later.

• Previous managers
---
18 February 2006

KEITH CURLE LEAVES CHESTER

After nine months in charge of the team, manager Keith Curle has left Chester City following today's home defeat by Leyton Orient. The defeat today is Chester's 11 in the last 12 League Two outings that has seen the side slip from a play-off position to 19th, just four points above a relegation spot. A statement is expected to be made by the football club tomorrow.

Curle was appointed manager on 29 April 2005 from David Bell who had acted in a caretaker role following the departure of Ian Rush. Bell remained on as an assistant manager along with John Gannon until they were both dismissed following the five goal defeat at Carlisle United recently.

Curle was introduced to the City crowd prior to the last home game of the season against Northampton Town and actually took charge on 2 May.

A week later 20 players were shown the door with only nine of the 29 man squad remaining after the dramatic shake-up. Over the summer Curle started rebuilding a squad, adding record signing Gregg Blundell from Doncaster Rovers as well as several players who had played for him before at Mansfield Town. Pre-season City drew a home 1-1 with Stoke City and won seven other matches against non-league opposition, they were also thumped 6-0 at Blackpool.
City started the season in fine fashion with a 1-0 victory at Peterborough United managed by ex-City boss Mark Wright. Home wins over Mansfield Town, Bristol Rovers and Carlisle United kept City in touch with the early season pace setters at the top of League Two. Away from the Deva maximum points were picked up at Torquay United and Barnet while the Blues, who were scoring for fun, shared six goals at Wycombe Wanderers.
Curle's achievements hadn't gone unnoticed and he was tipped to become assistant to Neil Warnock at the vacant manager's job at Southampton. Warnock, a close friend of Curle's, ruled himself out of the running though after initial talks with the Hampshire club.

November saw City embark on a six game unbeaten run including the double over Posh and home FA Cup wins against Folkestone Invicta and League One side Nottingham Forest.
Chester maintained a play-off spot with a gutsy 1-0 victory at Leyton Orient in early December, that was 12 matches ago and six successive home defeats have followed in a run that has seen little success. A 2-1 win ironically at Curle's former club Mansfield Town, and a two goal fightback in the third round of the FA Cup at Cheltenham Town is all the Blues fans have had to cheer. With a home televised fourth round draw against Newcastle dangling in front of them City lost the Deva replay and around £250,000 in lost potential revenue.
With the transfer window set to close in January, and experienced heads needed on the pitch, Curle brought in three young defenders to debut at Carlisle. After the five goal thrashing all three were sent packing, joining them were Curle's assistant manager's David Bell and John Gannon, as well as the club physio Clive Goodyear.
Last weeks home defeat by bottom of the table side Stockport County saw City slip to just six points from a relegation spot, yesterday's defeat by the O's moved them two points nearer and proved to be the last straw bring an end to his Deva reign. What went wrong? Suspensions, injuries (Blundell in particular), players underperforming and tactical decisions have all unfortunately contributed to the club's spiral down the league.
His meeting with the Exiles prior to the victory at Barnet in October proved what a likebale man he was. Over an hour spent fielding questions on all sorts of Chester/football related matters was frankly delivered and warmly received, City fans will wish him well for the future.
Chairman Steve Vaughan said of Curle's sacking: "This was the hardest decision I have to make since I've been at Chester. I took stock of the situation after we went a goal down, and quite frankly I didn't think the side responded at all. Unfortunately that problem has been happening with momentous regularity recently. I certainly can't be accused of not giving Keith a chance, the side has only recorded one victory in 14 cup and league games, our attendance was down to just 2,200 on Saturday and it's obvious the support is slipping away whilst we are having this poor run. I would like to thank Keith for his efforts whilst he was with us, and obviously we wish him well in his future career."
---
YOUTH TEAM HELD BY SHREWS
The youth team draw 1-1 at home with Shrewsbury Town this morning. Conditions on the training pitch at Airbus were boggy but it was the Blues who adapted quicker to the conditions and took a first half lead through Chris Holroyd following good work from Paul Rutherford. Despite having much of the play after the break, City were made to pay for missed chances as the Shrews leveled three minutes from time.

• Match report
| Youth fixtures | Youth stats
---
17 February 2006

LOWE DOUBT FOR CITY

Ryan Lowe is in a race against time to be fit for tomorrow home clash against Leyton Orient at Deva Stadium. Lowe, City's top scorer this season, has a calf injury that would have ruled him out of the midweek match at Boston united. Fellow striker Gregg Blundell is also reported to be suffering with a hip injury. Midfielder Tom Curtis returns to the squad after missing the last two matches through suspension and defender Luke Dimech is also expected to be available after recovering from tonsillitis.

The O's come to Chester with an impressive away record that reads W8 D6 L2 F27 A22 and currently occupy fifth place in League Two, they haven't won for seven matches though. Goalkeeper Glyn Garner was called up to the Welsh international squad during the week.

The sides last met in early December when the Blues turned in a dogged performance to come away from the capital with a 1-0 victory, thanks to a Stewart Drummond goal on the stroke of half-time, despite being under tremendous pressure for the majority of the game. Since
then though City have lost 10 of their following 11 league matches and will be looking to reproduce the same battling qualities displayed at Brisbane Road if they are to get anything from tomorrow's clash.

• Leyton Orient 0 Chester City 1
---
16 February 2006

CLUB ANNOUNCE THEIR 'VISION FOR THE FUTURE'

The board of directors have announced ambitious proposals for the future of Deva Stadium entitled 'Our Vision for the Future'. The statement is reproduced below.
The club are using the example of the partnership between Widnes Vikings rugby club and Halton Borough Council as the way forward and are proposing a similar scheme at Chester.
The ground is currently owned by the football club on land owned by Chester City Council who we pay rent to and rates to Flintshire County Council. With the Deva Stadium currently having restrictions in place regarding non-football use, and with it bringing restrictions of income, the club propose to give the ground to the City council for free providing they develop the site "with the stadium as the focal point to house other sporting facilities, corporate hospitality/office suites, function rooms, crèche, cafe/bistro and further bar facilities."
As new owners of the facility the council would be responsible for the upkeep and repair of the facility. The club would then hire the facility back from the city council on match days for an agreed fee. Gate receipts and any income generated by corporate hospitality on match days would remain with the football club.
Staying with the Widnes link, the City players and the Vikings squad will be joining forces for training one day next week. Chairman Steve Vaughan, who joined the Vikings board towards the end of last year, told the Daily Post: "Both Keith Curle and Steve McCormack (the Vikings coach) have contacted each other, and next week we will spice up training a bit and hopefully make it a little more interesting. The squads will join together early next week in a one-off exercise, and we will put the players through 45 minutes of football training, and then a further 45 minutes of rugby league training. It's been designed to make training a bit different for both clubs. Hopefully the players will respond well and find it different as well as rewarding for themselves."

Picture © Evening Leader
Our vision for the Future
15/02/2006
From the board
Many of you will have read Chairman Stephen Vaughan's interview with Chester Chronicle Sports Editor, David Triggs.

As a follow up to that interview the board of Chester City Football Club would like to give you a glimpse of how we see our vision of the future of Chester City Football Club.

In the interview with David Triggs, Stephen Vaughan touched on the subjects of Widnes, Chester City Council and the long term plans for the future of the Saunders Honda Stadium.

Although all separate issues in their own right, they do form one common bond and that bond is that given the right backing and funding then a Community can benefit from a under used asset. Stephen has seen how the Widnes Vikings in partnership with Halton Borough Council have built a facility that benefits the people and businesses of that Borough and the local Rugby League Club.

Our vision is to take that model and replicate it at Chester.

At the heart of our vision sits the Saunders Honda Stadium which is owned by the football club; however it sits on land owned by Chester City Council who we pay rent to and rates to Flintshire County Council.

At present the football stadium has restrictive covenants on it that only allows for the stadium to be used to host football matches. Therefore Chester City FC can only generate a guaranteed income from the stadium on 23 days of the year which obviously equates to our 23 home league games.

This means that what should be an asset to the Football Club in some respect becomes a burden. The overheads attached to running the stadium hugely impact on the profitability of the Football Club.

Chester City FC is aware that the Northgate Arena is due to be demolished in the near future and we feel that a lot of these facilities could be accommodated within the "Deva Sports Village".

Therefore we will propose to Chester City Council that we will give them the Saunders Honda Stadium free of charge if in return they redevelop the site (Deva Sports Village) with the stadium as the focal point to house other Sporting facilities, Corporate Hospitality/Office Suites, Function Rooms, Crèche, Cafe/Bistro and further bar facilities. We also see the site as being adaptable as a Music Venue and able to host Trade Fairs due to its location.

As new owners of the "Deva Sports Village" Chester City Council would be responsible for the up keep of the stadium.

Chester City FC would then hire the facility back from the City Council on match days for an agreed fee. Chester City FC would retain the gate receipts and any income generated by Corporate Hospitality on match days.

As the club would no longer own the stadium ownership of it would pass to the citizens of Chester and by default the City would get a Sports and Entertainment facility that can be used as a genuine Community asset for the people of Chester and surrounding areas 7days a week almost 365 days of the year.

The Board of Chester City Football Club Limited

---
15 February 2006

MATCH OFF
Tonight's League Two match at Boston United has been postponed due to a waterlogged pitch. Match referee Eddie Ilderton took the decision at 14.40hrs as at least one third of the York Street playing surface was deemed unplayable due to waterlogging.

• Boston United
---
CLITY SLIP FURTHER
The Blues will have Tom Curtis available for selection following his suspension as they travel to Boston United tonight looking to pull clear of the drop zone. remains to seen if defender Luke Dimech who missed Saturday's defeat by Stockport County with tonsillitis is fit to play.

Results elsewhere last night have seen City drop to 18th place, just four points now from the second relegation place. The two sides last met just over a month ago with the Pilgrims winning 1-0 at Deva Stadium.
Manager Keith Curle believes his side are capable of victory at York Street tonight: "We lost narrowly to Boston in the reverse fixture last month and if we can return to the ruthlessness that we showed in the beginning of the season then there is no reason why we can't take all three points from this match. The players are showing great positivity in training, we just have to transfer that confidence and positive attitude to the match day situation and we will be okay."
Meanwhile City have failed in their attempt to bring experienced defender Dean Gordon to the Deva. Gordon's contract with Blackpool expired while he was training with City last week after the transfer window had closed.
---
13 February 2006

WREXHAM GAME SWITCHED AGAIN
Chester's home game with Wrexham has been switched again. It will now take place on Wednesday 12 April with a 19:30 kick-off. Tickets from the original date, 28 December, will be valid.
---
12 February 2006

DERBY DEFEAT FOR ANXIOUS CITY

The Blues were beaten at home 2-1 by bottom of the table side Stockport County on Saturday and now sit just six points from a relegation spot.

County hit the bar and saw a goal disallowed in the first half but after the break City pressed with more purpose. It was against the run of play when former Woodley Sports player Liam Dickinson gave the visitors the lead on 76 minutes sliding the ball past Gillet from a narrow angle.

The lead lasted only four minutes though as substitute Ryan Lowe soon brought City level with the Blues' first home league goal from open play in 554 minutes! The Blues looked to have taken the lead minutes later as well as the ball appeared to hit the underside of the crossbar and move the netting from a Justin Walker shot but referee Chris Foy waved play on. With the Cheshire derby heading for a draw Dickinson scored the winner after turning Sean Hessey and shooting past Gillet with two minutes remaining.

City had to make a late change as defender Luke Dimech was taken ill before the match and sent home by the club doctor.
Following the game manager Keit Curle said: "We were guilty of naive defending. The first one came from our own throw-in, the second from a short corner we try when we should be putting the ball in their box. For most of the game we played with good energy, commitment, and passed it well but we were a bit rushed in the final third. You have to earn everything you get in the game and if you don't take your chances you don't win. Winning was second nature for us early in the season but we have to turn in round quickly, the only place you can do that is on the field."

This latest Blues defeat, the tenth in eleven games, keeps Chester in 17th position but with other results going against them leaves them six points from a relegation space, and ten points from a play-off position!

City are next in action on Wednesday night when they travel to Boston United. Kick-off at York Street is 19:45hrs.
---
HOME WIN FOR YOUNGSTERS
A hat-trick from Chris Holroyd and a fourth goal by Freddie Potter gave the youth team an impressive 4-0 home League victory over Macclesfield Town at Airbus UK on Saturday morning.

• Match report
---
10 February 2006

TAIT SIGNS ON
Striker Paul Tait has completed his signing to Chester for the remainder of the season. The former Rochdale player has been training for City for the last week and scored twice for the reserves on Monday night. He's expected to go straight into the squad for the home game with Stockport County tomorrow. Meanwhile former Middlesbrough and Crystal Palace defender Dean Gordon, 33, is training with the Blues after leaving Blackpool.

David Artell is available for the important game against the Hatters having missed last week's mauling with a one match suspension. Tom Curtis will be sidelined again as he serves the last game of his two match suspension.
---
8 February 2006

WELCOME BACK JOE
Former Chester player and physio Joe Hinnigan has been appointed physiotherapist at Deva Stadium. Hinnigan was a popular figure around the club for many years as both a player and physio and was a member of the Conference championship winning staff in 2002. He joins Chester from a similar role at Bury and is also expected to help out with a coaching role.

Joe's delighted to be back at Chester and told the Evening Leader: "I'm coming back to Chester as a physio and I'm comfortable with that. I heard that Clive Goodyear, John Gannon and David Bell had been sacked while I was still working for Bury earlier this week, so I put in a quick phone call to Stephen Vaughan and told him to keep me in mind if he was looking for a physio. I was keen to come back to Chester because I feel I have had an affinity with the club since the 1980s. I have always got on well with Stephen Vaughan and we go back a long way. When I left Chester it was on amicable terms.
---
PLAYERS RELEASED
Just days after they were signed Chester have released four of their on-loan players Evan Horwood, Mark Roberts, Chris Robertson and Wayne Corden back to their clubs.

The Blues have also placed Marcus Richardson on the transfer list. Richardson (left) has made 26+9 appearances for City scoring six goals since his signing from Yeovil Town in June.

Picture © Evening Leader
---
7 February 2006

TAIT DOUBLE SECURES FIRST RESERVES WIN
Two goals from trialist Paul Tait and another from Gregg Blundell gave a strong Chester side a 3-2 victory at Shrewsbury Town in last night's Pontins Holiday League reserve fixture. This was Chester's first win of the season at the twelfth time of asking and lifts them one place up from the foot of the table, now occupied by Wrexham. The Blues have now made a bid for Tait, manager Keith Curle told TeamTalk: "We have made an offer for Paul and we are waiting to hear back from his representatives. We know there are other interested parties."

---
6 February 2006
STUART MASON 1948-2006

Sad to report that former Chester player Stuart Mason has died aged 57. Mason moved to Sealand Road from Wrexham in 1973 and went on to make 151+7 appearances for the Seals (as we were then), scoring 10 goals. He was a popular and major player during the famous 1974/75 season when Chester recorded their first-ever promotion from Division Four and reached the semi-finals of the Football League Cup.

Mason himself scored the goal at Crewe Alexandra in the must-win final game of the season that ultimately brought that famous promotion. His one goal in the League Cup was reserved for the semi-final at Villa Park, a 25-yarder in front of a crowd of nearly 48,000.

• Obituary
---
THREE AXED IN BACKROOM SHAKE UP
Three members of Keith Curle's backroom staff have paid the ultimate price of City's recent dismal performances culminating in a five goal thrashing at Carlisle on Saturday.

Following talks between chairman Steve Vaughan and manager Curle, assistant manager's John Gannon and David Bell (left) as well as physio Clive Goodyear have had their contracts terminated by the club with immediate effect.

The club have already identified replacements and there are expected to be announced in the next day or so.
---
5 February 2006

CITY THRASHED AT LEADERS

The Blues crashed to a 5-0 defeat at Carlisle United on Saturday. Manager Keith Curle chose to start the game with two of his latest loan signings. With David Artell suspended and Luke Dimech relegated to the bench, Mark Roberts and Evan Horwood stepped in. Roberts was replaced at half-time by another young debutant Chris Robertson.
City found themselves two down at the break after Adam Murray and Michael Bridges had scored for the Cumbrians. The Blues had a great chance to get right back into the game eary in the second period when they were awarded a penalty but Michael Branch's spot kick straight down the middle was saved by the feet of Kieren Westwood in the home goal.
Minutes later City conceded again this time after a penalty was awarded to the home side after Robertson was adjudged to have fouled in the box. Chris Lumsdon scored past Stéphane Gillet with ease. Further goals from Karl Hawley and substitute Ged Murray completed the rout.
Following this latest League Two defeat, the ninth in ten games, manager Keith Curle said: "It was men against boys. Carlisle started well but if we'd scored our penalty then things might have been different. The players are playing for their careers but you wouldn't have thought that at Carlisle. They know they've played against a better team. We can't let teams have the time and space we let them have."

Results elsewhere mean that City drop to 17th position, nine point from a play-off position, and nine from a relegation spot.
---
YOUTH DEFEAT
The youth team lost their latest North & Midlands West Youth Alliance match away at Blackpool on Saturday morning 1-0.
---
3 February 2006

TRIO BOOST SQUAD
All three of this weeks loan signings are expected to be in the City squad tomorrow that faces a tought trip to second placed Carlisle United. Evan Horwood and Chris Robertson both took part in the reserves match at Blackpool in the week while Crewe defender Mark Roberts will join them for the trip to Brunton Park tomorrow. Two players who won't be turning out are David Artell and Tom Curtis who are both suspended. City fans are advised that there will be no seated accommodation at Brunton Park tomorrow, only the terrace behind the goal will be open to visiting supporters.
---
2 February 2006

TAIT ON LOAN
Striker Paul Tait is currently having a trial at Chester, he was released by Rochdale recently. Tait bagan his career on 1993 as a trainee at Everton and went on to play for Wigan Athletic, Runcorn, Northwich Victoria, Crewe Alexandra, Hull City, and Bristol Rovers before moving to Spotland in June 2004.
---
1 February 2006

RESERVES LOSE
The reserves lost their rearranged Pontins Holiday League Division One West match at Blackpool this afternoon 2-0
.
Manager Keith Curle told the Daily Post: "Both Evan Horwood and Chris Robertson played for part of the game and both did well. They, and Mark Roberts, will be in the squad who face Carlisle United."

• Reserve team fixtures | Reserve league table
---