Unfortunately the Teletext pages are no longer being run.

10 May 2006
City's disappointing season ended in anti-climax with a home defeat by local rivals Shrewsbury Town.
At Christmas the Blues were flying high in a play-off spot, before a disastrous run dropped them to the foot of the table. Mark Wright replaced Keith Curle and did enough to haul the Blues to safety.
City fans are used to a Deva cull each summer, and the trend looks set to continue as Wright now plans for next season's promotion push.
---
3 May 2006
A patched-up City side suffered their first defeat in eight games as Northampton celebrated promotion to L1.
The Blues looked on at what might have been, having been pacesetters themselves at the turn 2006 before pushing the self destruct button.
A season that promised so much then comes to an end on Saturday with the visit of our Shropshire rivals. There's nothing to play for but local pride.
---
26 April 2006
City fans are breathing a sigh of relief after the Blues picked up a point against Barnet to preserve their League status.
A few weeks ago City were rock bottom but an unbeaten run of seven matches has lifted Mark Wright's side to 14th towards the end of a roller coaster season.
The last awayday sees a trip to promotion chasing Cobblers. With League safety assured the Exiles can fully concentrate on the annual cheese skittles challenge.
---
12 April 2006
Derek Asamoah was on the score sheet again notching the only goal at Oxford to bring a third successive victory to push Chester towards their 52 points minimum safety target.
Three more from Wrexham tonight would be more than welcome. It's 10 years now since a City home victory over their arch rivals.
The Exiles will be rubbing shoulders with their heroes on Saturday as we sponsor the match ball against Wycombe.
---
5 April 2006
What a difference a week makes! City fans are smiling again after the first back-to-back victories for four months.
Striker Derek Asamoah has emerged the Blues hero. He followed his midweek hat-trick at Boston with a brace against Cheshire rivals Macc, his last minute winner a candidate for goal of the season.
City travel to fellow strugglers Oxford next. Another three points would set up next weeks Wrexham game very nicely.
---
29 March 2006
City travel to Boston tonight for a match described as "massive" by Mark Wright. Three points could see City rise out of the relegation zone.
Wins are in very short supply at the moment though, just one in 19 matches sums up the decline since Christmas.
Despite Sunday's 2-1 defeat at arch rivals Wrexham, there were encouraging signs with a battling last 30 minutes that could have yielded a point.
---
22 March 2006

City's fall from grace was completed on Saturday as another home defeat saw the Blues hit rock
bottom just months after occupying a play-off place.
With just one win in 18 games City fans are hoping for a dramatic change in fortunes starting with immediate effect.
High Noon on Sunday sees the first eagerly awaited cross-border league derby against Wrexham for eleven years.
---
15 March 2006
Mark Wright has bemoaned a lack of width as a major factor in City's continued struggle that now sees then just a point from the drop zone.
As a result, the Deva Stadium revolving doors will be oiled this week with two players expected to move out to make way for a couple of loan signings.
Cheltenham ride into town on Saturday, another home defeat could see City propping up the table.
---
8 March 2006
It may have only been a point, but last night's draw against 10 man Torquay was enough to lift City a further two places above the relegation dogfight.
Striker Gregg Blundell equalised with his first goal since mid-October to bring an end a run of five straight defeats.
The Blues know they must build on last night's crumb when they visit play-off chasing Darlo on Saturday. Let's try to score first for once as well.
---
1 March 2006
A change of manager didn't bring a change of luck as Mark Wright, back in charge at the Deva, saw his City side lose at Grimsby.
Despite solid debuts for Albrighton and Ellender in defence, City's lack of firepower in front of goal once again let them down.
A classic six-pointer on Saturday as the Blues entertain bottom club Torquay. A defeat by the Gulls would leave the Exiles thinking the unthinkable!
---
22 February 2006
We've been groomed to expect the unexpected at Chester, but this even weeks events have caught many Exiles by surprise.
Defeat by Orient proved to be Keith Curle's swan song, as the Blues slipped to 19th and the board moved swiftly to halt the slump.
However no one expected the return of Mark Wright, just 18 months after he walked out on the club in acrimonious circumstances.
---
15 February 2006
Despite an improved performance, City couldn't prevent a sixth successive home defeat and an unwanted club record at the hands of Cheshire rivals Stockport.
In the play-off spots at the New Year, 11 defeats in 12 matches sees them languishing in 18th place just four points from the drop zone.
With other sides picking up points City must rediscover their early form soon, and a win at Boston is essential.
---
8 February 2006
City's latest humiliation, a five goal thrashing at Carlisle, was the swan song for three of the backroom staff.
Both assistant managers and the club physio were shown the door by chairman Vaughan with popular ex-player and physio Joe Hinnigan expected to return.
Saturday's Cheshire derby with lowly Stockport is a real six-pointer. The Blues simply can't afford to lose to another team below them in the table.
---
1 February 2006
Old habits die hard as City are finding to their cost. Manager Curle described the mistakes that gifted Notts two penalties as schoolboy errors, and promised changes in personnel.
He kept his word as a late transfer market dip brought three defensive loanees to keep the rest on their toes.
A trip to Carlisle, rarely a happy hunting ground, looms next for the Blues, who face a tough month ahead.
---
25 January 2006
City prevented a record eighth successive league defeat with a hard fought victory at Mansfield. Goals from Stags old boys McNiven and Asamoah ensured a happy first Field Mill return for Keith Curle.
Despite the recent poor run of results the Blues are only five points from a play-off place and have key players returning from injury.
The Magpies visit the Deva next, Notts County as opposed to Newcastle – oh what might have been!
---
18 January 2006
It was heartbreak at a packed Deva as City crashed out of the FA Cup to League two rivals Cheltenham and miss out on a bumper £200,000 Rd4 pay-day.
The Blues are finding it tough going at the moment and have now failed to score in 5 or the last 6 games.
Curle's takes his side to in-form Bristol Rovers next hoping for a change in fortunes against his home town club.
---
11 January 2006
Stewart Drummond's last gasp equaliser at Cheltenham sparked wild scenes of delight among the 800 travelling fans as City's comeback forced a cup replay.
A home tie against Newcastle awaits the winners of next week's rematch, and with possible tv coverage to boot, Drummie's late strike could bring a windfall.
Before then, three points from Boston are as important to stop City's recent slide into the bottom half of L2.
---
4 January 2006

City will be hoping to continue their push for promotion in the coming months as Keith Curle looks to boost his meagre squad in the January sales.
Suspensions and injuries to key players have taken their toll at the Deva as the year ended with five straight defeats.
But there's everything to play for as we enter 2006 as City are only 2pts off a play-off place and are still in the FA Cup – another Cheltenham awayday ahead.
---
21 December 2005
It's the season of good cheer and City entered into the spirit gifting Rushden a penalty and an own goal as a patched-up Blues side slipped to a Deva defeat.
The eagerly awaited clash with Wrexham is already sold out, before then though there's three points at stake with a Boxing Day visit to Cheltenham.
City will welcome back five players for the first of two clashes as the sides meet again in the Cup two weeks later.
---
14 December 2005
The Exiles have been rocked by the club chairman's threat to consider a relocation to Widnes. He sites a lack of city council co-operation as his reasons.
The Blues suffered their first defeat in seven at Lincoln and will now miss keeper MacKenzie with a broken thumb.
A loan stopper is hoped to be in place at the weekend for City who have nine players missing for the visit of Rushden.
---
7 December 2005
It feels like Christmas has come early for the Exiles who've seen two great wins for City this week.
The Blues moved fourth after a dogged victory at Orient. With the City goal under siege for most of the night, Stewart Drummond struck on half-time to grab three priceless points.
On Saturday Nottingham Forest were swept away as Cup fever hit the Deva. Ryan Lowe scored twice to send their L1 opponents packing.
---
30 November 2005
It was an unhappy return for Mark Wright as City brushed aside Posh 3-1 to record the double over his side.
The Blues were on top throughout and wrapped it up with a classy third goal from Ryan Lowe. More like that please!
City host Forest next but look certain to be without injured Michael Branch. However it was good to see a 200-yard queue for tickets for the FA Cup tie and a near full-house can be expected.
---
23 November 2005
For the second time this season Dale fought back to deny victory for the Blues, at an icy Spotland on Saturday.
Chester let a two goal lead slip but a point keeps them in the pack at 6th.
City look for their first double of the season next over Posh, as Mark Wright makes his first Deva return since his controversial exit on the eve of last season. Ex-captain Paul Carden will get a warmer welcome than his boss.
---
16 November 2005
The Exiles have expressed their dismay after the Football League sanctioned a worrying precedent this week.
City's festive derby with Wrexham must now KO at noon during a working day on 28/12, denying many fans the opportunity to see the long awaited League clash due to work commitments.
The Blues will be out for revenge at Dale on Saturday after losing a five goal thriller at the Deva last month.
---
9 November 2005
It took a half-time roasting from Keith Curle to kick-start Saturday's FA Cup win over a spirited Folkestone Invicta, watched by Tory leader Michael Howard.
A shock looked on the cards at one stage, with the part-timers leading before goals from Branch and Lowe after the break saved City's blushes.
It's back to L2 next with a visit from Cobblers, a fit-again Gregg Blundell should boost City's chances.
---
26 October 2005
Keith Curle counted his side lucky to pick up a point against Bury after a below-par Chester had looked second-best for most of the match.
City, who missed the services of suspended midfielder Stewart Drummond and injured Gregg Blundell, ground out a point that keeps them 5th.
Hopefully a huge Blues away crowd at Shrewsbury on Saturday will see Ryan Lowe put one over on his former club.
---
19 October 2005
The Exiles had a night to remember on Friday as they mingled with the players at the team hotel and chatted for over an hour to manager Keith Curle.

The following day the Blues continued their unbeaten away league form with a hard fought 3-1 win at Barnet.

There will be no LDV glory this season, after a second-string side were dumped out of the competition at Cambridge. It will have to get better against Bury.
---
12 October 2005
Bags more entertainment for a bumper Deva crowd on Friday night but City had nothing to show for their efforts following the 3-2 defeat by Rochdale.

The Blues were left to rue several missed chanced and an injury to Gregg Blundell who was hospitalised after being poleaxed in the second minute.

The Exiles will be mingling with the team on Friday after Keith Curle's invite to meet the squad before the Barnet game.
---
5 October 2005
Saturday's six goal thriller at Wycombe certainly lived up to Match of the Day billing as neither side deserved to lose out for their attacking spirit.
Good news for the Exiles with Keith Curle agreeing to hopefully meet up prior to our forthcoming Barnet match.
The Blues' management will be looking for a bumper crowd on Friday with a visit from Rochdale, who, like City are surprising a few pundits this season.
---
28 September 2005
A home victory over normally tricky Carlisle on Tuesday has lifted City to the lofty heights of third in L2.
Keith Curle's brand of attacking football is paying dividends and could be boosted as ex-Blue Kevin Ellison, now at Hull, is his next loan target. 'Super Kev' will be welcomed back.
On Saturday the Exiles go to Wycombe for what should be a mouth-watering clash with second-placed Wanderers.
---
21 September 2005
City turned on the style on Saturday to record their first win in 19 years against Bristol Rovers. The rout proved too much for two visiting fans who turned their backs on the second half!
The Blues could have won by more than 4-0, but what more can City do to bring in the fans after another sub-3,000 crowd?
Chester go to Stockport next to renew rivalries with their east Cheshire neighbours after a 10-year gap.
---
14 September 2005
City fans are delighted with the start Keith Curle's side are making to the League Two campaign. A deserved draw at leaders Notts County on Saturday keeps the Blues in touch with the early season pacesetters.
However, off the pitch things aren't so rosy. A High Court appearance is set for next week unless outstanding tax bills are paid.
Former manager Ian Atkins can expect a warm welcome on Saturday, from City fans at least!
---
7 September 2005
Keith Curle was left happy after City's win against his former club, Mansfield. The Blues didn't look back after taking an early lead with new strike force Blundell and Lowe on the score sheet.
Friday's victory set up an opportunity to top the table, but a home defeat by Grimsby ended City's unbeaten start.
Next it's another away day for the Exiles as Curle's charges aim to bounce back back at leaders Notts County.
---
31 August 2005
Never has the old cliché 'a game lasts 90 minutes' been more apt. Goals in the 89th and 90th minutes resulted in a 4-4 draw with Darlo when all looked lost.
Then in the Bank Holiday Monday sun, it was Ryan Lowe who netted past the superb Andy Marriott in added time to bring three points away from the Gulls.
Keith Curle meets old friends as the Stags visit next, with City aiming to maintain their unbeaten League start.
---
24 August 2005
There was no happy return to Molineux for Keith Curle and Michael Branch as City crashed out of the Carling Cup. Ben Davies' late goal gave some consolation for the noisy travelling support.
With record signing Gregg Blundell now fully fit, City will be hoping for a quick return on their investment as the Blues aim to stay unbeaten in L2.
Darlo visit the Deva next, then it's a seaside bank holiday trip to Torquay.
---
17 August 2005
Unseasonal torrential rain took its toll on Saturday as City's match with Grimsby fell foul of the weather.
Deva Stadium was awash following the morning deluge, and referee Singh was left with no option. So the Blues are still unbeaten – unusual at this stage.
The Exiles cheese skittles season get underway this weekend as City visit R&D. Wellingborough is the venue for the hotly contested pre-match event.
---
10 August 2005
Opening day away wins for City don't often come around – Margaret Thatcher had just come to power the last time Blues fans savoured such an occasion.
Stewart Drummond's goal for new-look Chester brought 3pts from the Posh on Saturday to send the Exiles home happy.
With a last-gasp penalty from Michael Branch securing a midweek point against the Imps, Grimsby visit the Deva next to take on Keith Curle's unbeaten team.
---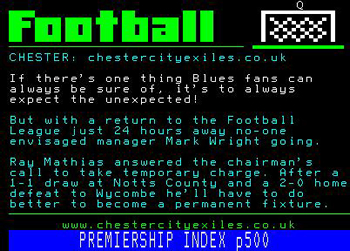 3 August 2005

With Keith Curle assembling a new-look team over the summer, City fans are looking forward to putting last season's turmoil behind them.
The Board have backed their manager's ambitions too with the £105k record signing of Gregg Blundell from Donny.
The fixture list has thrown up a tasty opener as City visit Posh, now managed by Mark Wright who controversially quit the Deva a year ago. Bring it on!
---
11 May 2005
Chester fans at last had reason to smile as Ryan Lowe's last minute goal brought victory at Oxford United to end a traumatic season in a bit of style.
Sadly, for some of the team it was their last appearance in a City shirt. Keith Curle has since wielded the axe and given free transfers to 20 players.
Stalwarts Wayne Brown and Paul Carden are amongst those leaving. The Exiles wish them well – thanks for the memories.
---
4 May 2005
New manager Keith Curle, watching from the stand, had his head in his hands as City ended their home campaign with a predictable defeat by the Cobblers.
Our disappointing season draws to an end on Saturday as the Exiles make a first-ever visit to the Kassam Stadium.
Still, Wrexham's relegation to L2 has given Chester fans something to relish, as we look forward to renewing league rivalries with our Welsh neighbours.
---
27 April 2005

City have announced they will unveil their new manager prior to Saturday's final home game. Ex-Stags boss Keith Curle appears a firm favourite.
Whoever takes on the job will have to tackle the awful disciplinary record, with 11 red and 101 yellow cards amassed in this season of turmoil.
Two more were dismissed at Orient, a match to forget for the Exiles who turned out more in force than hope.
---
20 April 2005
City showed their battling qualities on Saturday, pulling back a two-goal deficit to force a draw against Bristol Rovers and book next season's L2 spot.
Keith Curle was an interested onlooker. He was interviewed with two others on Monday for the Deva Stadium hot seat.
Leyton Orient are next up, and with nothing left to play for much earlier than we're used to, the Exiles are polishing their spoons for a Cockney knees-up.
---
13 April 2005
Chairman Steve Vaughan has been sifting through a pile applications for the vacant manager's job since the resignation of Ian Rush last week.
Technical Director David Bell has filled the caretaker role since, and was rewarded with three vital points following a 2-1 win over Boston at the Deva on Saturday.
After a disappointing season, the Blues know that victory over Bristol Rovers will at least guarantee League status for another year.
---
6 April 2005
So it's adios to yet another manager as Ian Rush resigns from the Deva Stadium hotseat a few days after the sacking of his assistant Mark Aizelwood.
Their exits came after a string of poor results and caretaker boss David Bell has the tricky task of picking the team up, starting with the visit by Boston.
He becomes the 10th incumbant in little more than five years. But odds are on the permanent role going to a Scouser.
---
30 March 2005
Former City heroes Graham Barrow and Joe Hinnigan received a great reception on their return to Deva Stadium on Saturday, but they left empty handed.
New signing Ryan Lowe couldn't have picked a better day to open his account with City. His brace against Bury gave us a vital win and moved us up to 19th.
City travel to Darlo's shiny stadium on Saturday knowing victory will almost guarantee another season in the League.
---
23 March 2005
A brace from Michael Branch helped the Blues to three vital points over Notts County to ease the relegation fears. He deserved his bizarre goal celebration.
Ian Rush believes two more wins will ensure safety in a season described by the chairman on TV as "disastrous."
Ex-City hero Graham Barrow brings his Bury side to the Deva on Monday, before that the Blues have a chance to pick up a win with a Friday trip to Mansfield.
---
16 March 2005
Despite taking the lead, Chester's alarming slump in form continued in front of a bumper crowd at Wycombe.
It was just as well the Chairboys gave us free entry as the Blues crashed to another heavy defeat, leaving them just six points from the drop zone.
City need to pick up wins fast, and with six-pointers against fellow strugglers Notts County and Bury at Deva Stadium coming up the chance is there.
---
9 March 2005
The position of manager Ian Rush is no clearer after he received a vote of no confidence from the chairman last week.
Despite their off-field troubles, the Blues gave a spirited performance at home to Southend, deserving more than a point from their 2-2 draw.
The Exiles will enjoy free admission at Wycombe on Saturday as the home club run a free game initiative to draw new fans. We will make our presence felt.
---
2 March 2005
The rumours are rife that last week's 5-0 drubbing at the hands of Shrewsbury was Ian Rush's last match in charge.
It was the biggest league defeat since the 7-1 thrashing by Brighton five years ago to the day. We were relegated to the Conference later that season.
City are 10 points above the drop zone, but have been in freefall. Any new boss will have his work cut out and the home game v Southend will be a challenge.
---
23 February 2005
Hats off to the 55 or so City fans who struggled through the snow to Blundell Park. For 81mins it looked like they'd be rewarded with a valuable point.
But a diabolical match saw the Blues squander all their chances and the only goal of the game was scored by Grimsby.
It's an all-ticket encounter at Shrews next. Both teams are on 37pts and will be looking to move up the table. Will our hearts stand another six-pointer?
---
16 February 2005
What a difference a week makes as six points gained moves the Blues back to their familiar 19th spot and a vital 13pts above the dreaded drop zone.
You've got to feel sorry for Kiddy. They've got a neat ground, top-notch cuisine (including Chinese takeaways!) and great nearby pubs. But the football lets them down and they look doomed.
Our next match – home to Yeovil – will be harder. We'd settle for a bore draw.
---
9 February 2005
The Deva fax has been busy with a record offer of £125,000 to QPR for midfielder Kevin McLeod. He declined the move, as did Morecambe's Michael Twiss the same day!
Three goals against R&D ended City's goal drought and prevented an unwanted club record after five successive blanks.
History will be made on Saturday though, as Chester make their first-ever visit to Kiddy. With Harriers one of the few sides below us – for another six-pointer.
---
2 February 2005
City's lowest crowd in nearly three years witnessed the latest shambolic offering as the Blues suffered a second 3-0 defeat in a week to leave them on the edge of the relegation trapdoor.
The pressure is on Ian Rush, whose side have won just once in three months and failed to find the net in six hours.
They say one man doesn't make a team, but City will be grateful to welcome back Paul Carden as Rushden visit next.
---
26 January 2005
City held their lead at the top of the table following Saturday's draw with Rochdale
–
the bad boys table that is!
Two more dismissals have brought this seasons total to five, add to that a mere 67 bookings and it's no wonder Ian Rush is finding his small squad pared to the bone by suspensions.
Up next is our last ever visit to the Vetch Field to play Swans. It should be a full house and a day to remember.
---
19 January 2005
Ian Rush was furious the League refused to postpone Saturday's match after a flu bug swept through the Deva Stadium forcing the club to shut the ground.

The Blues, with only seven fit first team players, managed a 0-0 draw at Cambridge to maintain the 19th position they've made their own for seven weeks.
Chairman Steve Vaughan is confident of squad additions before Saturday's visit from Rochdale – we wait in hope!
---
12 January 2005
Leading scorer Kevin Ellison looks set to leave the Deva this week in a cash plus players exchange with Hull City.
Ellison has been a revelation since his summer signing from Stockport, and was on the mark again in the narrow 2-1 cup loss at Bournemouth. City played their best football of the season and will rue missing a possible Anfield clash.
The Exiles will again be out in force for Saturday's Cambridge six-pointer.
---
5 January 2005
Kevin Ellison's stunning derby winner at Macc was the highlight of the festive season for Chester fans. With just five points gleaned from twelve the Blues find themselves stuck in a familiar 19th position.
City's lack of firepower has become all too evident and so a revised offer has been made for Bury's David Nugent.
Saturday sees the distraction of the FA Cup, as team and fans alike travel in hope of an upset at Bournemouth.
---
29 December 2004
This time last year all every Blues fan wanted was to see Chester enjoying at least mid-table obscurity in L2.
We're not quite there yet, but with two seasonal points from 7th placed Dale and table-toppers Scunthorpe, we could see our ambition fulfilled in 2005.
Ian Rush's New Year resolution should be to get rid of the 'hoofball', reduce the cards and show the strikers how to score. It's not "science rocket"!
---
22 December 2004
City fans can look back on 2004 with pride as the club won its first ever title and a return to the League.
Following the shock departure of Mark Wright on the eve of the season, the Blues and new boss Ian Rush have lately found the going tough in League Two.
Harry McNally, who would have relished the latest challenge, was laid to rest this week. Ex-players and friends from the football world paid their respects.
---
8 December 2004
After a bright start to his managerial career, Ian Rush is finding the going tougher as the Blues begin to struggle.
A depleted City earned a hard-fought victory at Halifax to reach the 3rd round of the FA Cup. But that delight was tempered with a heavy defeat at Bristol Rovers, and it's now five games since a League win.
Sadly, Saturday's visit from fellow strugglers Shrewsbury is already looking like a relegation six-pointer.
---
1 December 2004
With such a small squad to choose from, the last thing manager Ian Rush needed prior to Saturday's FA Cup match was a whole host of suspensions.
However, another six bookings during the Oxford defeat have taken its toll and the Blues will be without four key players for the tricky trip to Halifax.
We're still licking our wounds after the home LDV defeat by rivals Wrexham. An FA Cup win would salvage some pride
---
24 November 2004
The search is on for a loan striker after Cortez Belle's red card at Northampton and the departure of Daryl Clare have left City with one forward.
Kevin Ellison struck a wonder free-kick to glean a point from a tempetuous affair at Sixfields that saw five Blues players booked and assistant manager Mark Aizlewood also dismissed.
Tickets are selling fast for the LDV game with Wrexham. This is the BIG one!
---
17 November 2004
City safely negotiated their tricky FA Cup tie at Stafford Rangers on a day that saw several first round shocks.
A goal in each half set up a tie at Halifax, but most Blues fans at Marston Road had missed the first hour due to severe traffic delays on the nearby M6.
The switch of the Cobblers' fixture to Friday leaves the Exiles with little time for a pre-game cheese skittles match. The football must come first...
---
10 November 2004
Cortez Belle's first goal for City rescued a point against Leyton Orient and prevented the Manager of the Month curse striking at Deva Stadium.
Earlier in the day, City fans were given their dream LDV quarter-final tie that brings cross-border rivals Wrexham to Deva Stadium at the end of the month.
Before then, thoughts turn to the magic of the FA Cup on Saturday, and Blues fans will be hoping City avoid the potential of a first round upset at opponents Stafford Rangers.
---
3 November 2004
It's been a jittery week, but Blues fans are delighted Ian Rush has pledged his future to Chester after withdrawing from talks with the Welsh FA.
Rush, only in charge for 11 games, said he was flattered to be linked with the Welsh manager's job, but intends to stay at City for a "long time to come".
High-flying Orient visit the Deva next. Let's hope Rushie gets the victory he deserves after his oath of allegiance.
---
27 October 2004
High profile summer signing Michael Branch is beginning to show the kind of form City fans have been waiting for.
His brace against Grimsby, in a game sponsored by the Exiles (we voted him MOTM), and another against Kiddy on Tuesday helped continue Chester's form.
City have moved from bottom spot to within a point of a play-off position after a ten-match unbeaten run. Look out Yeovil - the Blues are on a roll!
---
20 October
The Exiles are sponsoring Saturday's match against Grimsby to mark their coming of age. It's also the Mariners' first visit to the Deva.
City will be looking to extend their unbeaten run to nine games after the Blues had their first ever win over Rushden & Diamonds to the delight of their noisy band of travelling fans.
The list of firsts will be completed by Tuesday's debut visit by Kidderminster.
---
13 October
City chairman Steve Vaughan is to hold a fans Forum at Deva Stadium next Tuesday following recent press speculation about the club's financial position.
Following last weeks goalless draw at Cheltenham, City fans will hope that striker Daryl Clare will return to the side as Chester look for an away win at Rushden on Saturday.
One player who won't be making the trip though is Danny Collins. The Blues received several offers recently for the promising defender who has now signed for Sunderland for a reported £140,000.
---
6 October
City manager Ian Rush gave debuts to three players last week as his side came back from behind to cause a shock 2-1 win at Sheffield Wednesday.
"Super" Kevin Ellison was on the mark again, scoring his second goal of the week to land a home tie with Rochdale.
Buoyed by that result, the Blues then held high-flying Swansea 1-1 at Deva Stadium. City have a six match unbeaten run under Rush and must build on that.
---
29 September
Blues manager Ian Rush faces his toughest match in charge tonight as City travel for an LDV Trophy match at Sheffield Wednesday.
They do so on the back of a four match unbeaten run following Saturday's 1-1 draw at Lincoln. Kevin Ellison appeared to score directly from an indirect free-kick! as City grabbed a point.
Meanwhile highly-rated player Danny Collins is the centre of transfer speculation. The Blues have confirmed that offers have been made for the 24-year-old defender who is out of contract in the summer.
---
22 September
City's unimpressive run against Cambridge United continued at the Deva on Saturday, though with the visitors hitting the woodwork twice, manager Ian Rush will have been grateful for the point.
Rush, who has been linked with the soon-to-be-vacated managerial role with Wales, has strengthened his back room team this week with the appointment of former England keeper Joe Corrigan in a coaching capacity.
Next up is a trip to Sincil Bank where three more points will lift City above their hosts.
---
8 September
Manager Ian Rush ordered extra training for the squad last week and the players responded with their first win of the season against Macclesfield Town.
A Danny Collins header deep into injury time was enough to seal three points against our Cheshire rivals as Rush, and his assistant Mark Aizlewood, tasted managerial success for the first time.
On Saturday it's a top versus bottom clash as the Blues travel to Scunthorpe United looking to inflict the Iron's first defeat of the season.
---
1 September
There were a few raised eyebroys when Ian Rush was unveiled as City's new manager at 7am on Saturday.
Rush, who began his illustrious playing carrer at Chester back in 1979 has impressive coaching qualifications but no management experience.
He's certainly given himself a challenge as he embarks on his managerial career! Two more defeats at the weekend leave Chester at the foot of League Two, and with Cheshire neighbours Macclesfield due at Deva Stadium on Saturday, Rush and his assistant Mark Aizlewood.
---
25 August
After the trauma of last week, City fans sang their praises for chairman Steve Vaughan at Gigg Lane.
Manager Ray Mathias has looked to his former club Tranmere for help and on-loan signing Alan Navarro gave a performance in midfield that suggested he could fit the bill.
A hard-earned draw at Bury wasn't enough though to stop City slipping to the foot of the table. Next up is a mouth-watering trip to the Stadium of Light on Tuesday.
---
18 August
Chairman Stephen Vaughan is "considering his position" following Saturday's 3-0 home defeat by Mansfield Town which leaves City without a win under caretaker manager Ray Mathias.
Colin Larkin's 25-yard third goal for The Stags proved too much for a small section of the Deva crowd who booed Vaughan's son Stephen Jnr, City's young right back.
Let's hope for a mood swing on Saturday when Chester make the short trip to Gigg Lane to face Bury, managed by former City hero Graham Barrow.
---
11 August
If there's one thing Blues fans can always be sure of, it's to always expect the unexpected.
But with a return to the Football League just 24 hours away no-one encisaged manager Mark Wright going.
Ray Mathias answered the chairman's call to take temporary charge. After a 1-1 draw at Notts County and a 2-0 home defeat by Wycombe he'll have to to better to become a permantent fuxture.
---