EXILES GO BOWLING FOR CITY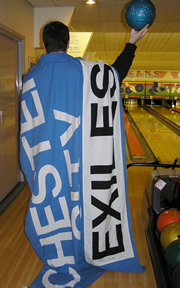 Every Chester City supporter knows that there are many different ways of showing your loyalty to the club. Some spend their time and money travelling to all parts of the country by coach or train, hoping they will see a win. Others suffer taunts and jibes at work all week, from people who support the 'giants' of the football world like Manchester United, Liverpool and – if you believe their hype – Shrewsbury Town! But when five intrepid Chester fans were asked to pull on their blue and white shirts and 'bowl for City' last week, they could hardly refuse the offer.
The venue was the 'prestigious and glamorous' Rowan's Tenpin Bowl and Pool leisure complex in Finsbury Park, a John Danby goal kick away from Arsenal's Emirates Stadium. The team were all members of the Chester City Exiles supporters club. We arrived early to get some practice, both at the bar and on the bowling lanes. In opposition were supporters from nine other teams, including West Brom, Sheffield Wednesday and Derby County. But the team to beat on the night were definitely those giants of the bowling world, Exeter City. The Grecians were the reigning champions and clearly taking things more seriously than most. Their captain brought two of his own bowling balls and had a shuffling, dancing run-up like Fred Flintstone. Yabba-dabba-don't!
To everyone's surprise, City got off to a good start in the tournament, scoring a 'strike' with their first ball. As the things warmed up, it was Steve Mansley who kept us going, with an awesome display of 'power bowling'. Steve's score of 160 in the first game proved to be one of the highest of the night. Unfortunately, the rest of us were struggling to match his level of consistency. It quickly became obvious that a mid-table finish was the best we could hope for (does that sound familiar?) Perhaps the Chester team were put off by the plastic glasses and the weak beer. At least, that is what we told ourselves afterwards.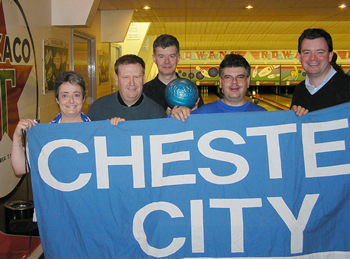 The main highlight of the night was definitely Robert Evans' first 'strike'. Like Barry Butler's first goal for the Blues, it was a long time coming but well worth waiting for. It was also the slowest ball I have ever seen bowled – it was a relief to see it knock down the pins rather than bouncing back off them! My own performance was less impressive. After a storming start, I was soon keeping the gutters clear of debris by spraying the ball around like Roberto Martinez on a good day. Maybe that beer wasn't so weak after all? Just as well that Sue Choularton and Alan Parry-Jones kept the scoreboard ticking over. In the end we came 8th out of 11 teams, taking revenge on Ipswich for our FA cup exit and also beating Nottingham Forest and Hearts. True to form, Exeter City were clear winners. Congratulations are also due to Ipswich and Norwich, who left their local rivalries at the door – along with their wellies and the keys to their tractors!
Chester City Exiles organise lots of other social events, besides playing in the annual bowling competition. We meet in a pub before and after most away games – perfect if you want to meet up with other Blues fans for a drink, something to eat and to talk about Chester! We also play in a football supporters' darts league in central London throughout the winter, with some skill and plenty of enthusiasm. We have already won a game this season – so the pressure is off on that front – and we are still in the cup.
Full Exiles membership costs £12; £15 for non-EU members; £9 for concessions; £20 for family. Contact Steve Mansley at 20 Fairmead, 9 Epsom Road, Leatherhead, Surrey, KT22 8ST, email steve@chester-city.co.uk or print out a form from the website: www.chestercityexiles.co.uk.
---