With Chester being drawn to play Barrow in this (2000/01) season's fourth qualifying round of the FA Cup, Chas Sumner looks back at previous encounters between the two sides.
The first meeting between Barrow and Chester took place on September 10th 1910, in the Lancashire Combination Division Two, when goals from Matthews, Blackburn and Lipsham gave Chester a 3-0 victory. Barrow won the return match, in February, by four goals to one with Chester's consolation goal being scored by Tommy Gordon. Both clubs were promoted at the end of the 1910/11 season and met six times in Division One with Chester winning one, losing two and drawing three before the outbreak of the First World War.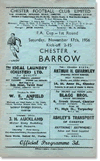 It was 15 years before the two clubs met again, following Chester's election to the Football League. On October 10th 1931 goals from Frank Cresswell, Andy Thompson and Tommy Jennings (2) gave Chester a 4-2 victory in Division Three North. Barrow gained their revenge later in the season with a 4-0 victory at Holker Street. In the 1933/34 season Chester suffered their heaviest league defeat, 9-0 at Barrow, an unwanted record which remained until the 11-2 defeat at Oldham in 1952.
The clubs remained regular opponents until Barrow's promotion in 1966/67. By 1970/71 Barrow were back in Division Four and the final meeting between the clubs took place on March 25th 1972 when the Bluebirds won 2-0 at Holker Street with goals from Eddie Garbett and Mick Hollis. At the end of the season Barrow lost their place in the League while Mick Hollis joined Chester.
In the FA Cup the two clubs have been drawn together twice with Barrow going through on both occasions. In the 1956/57 season a goalless draw at Sealand Road (programme left), in front of 8,311, was followed by a 3-1 Barrow victory at Holker Street. Chester's goal in this First Round encounter was scored by Phil Turner. In the 1963/64 season the clubs met again at Sealand Road, this time in the Second Round, with Barrow coming out on top by two goals to nil
Other players to have played for both clubs, besides Hollis, include Barry Butler, Neil Morton, Dave Nolan, Jimmy Collins, Ron Viner, George Summerbee, Matt Robinson, Rod McDonald, Malcolm Edwards, Stuart Parker, Andy Wharton, and Steve Finney.
Chester v Barrow
1963 FA Cup Rd 2
Barrow v Chester
1956 FA Cup Rd 1 Replay