---
Saturday 17 August
Chester 4 Gloucester City 0
National League North
Attendance: 1,612 Half Time: 2-0
Booked: Taylor.

Chester: Griffiths, Grand, Livesey, K.Roberts, Taylor, Jackson, G.Roberts, Stopforth, Dudley (Mahon 72), Hughes (Asante 66), Waring (Elliott 72). Subs not used: Burton, Jones.
Gloucester City: Jeacock, Thomas, Harper, Hamilton (Richards 80), Avery, Knowles, Parker, Hanks, Kotwica (Spruce 68), Robert, Russe. Subs not used: Hainault, Smith.
Referee: Richard Aspinall.
On a sunny afternoon, Chester made the brightest of starts against Gloucester. Blues began by kicking off into the right wing corner and the visitors could not get it away. The ball was rolled back to Livesey on the half way line and his speculative long ball – what Eddie Waring would have called an "up and under" swirled above Jeacock and dropped straight into the goal by his far post. Gloucester had not got the ball out of their own half in the first minute and Chester were a goal to the good.

A few minutes later it was two as Matty Hughes – making his first start of the season – trapped a high ball, turned and fed it to Waring who was running through on goal. He stroked a left footed shot past Jeacock and into the other corner. Gloucester wondered what had hit them and Blues fans thought "how are we going to hold on for another eighty five minutes?"

Last Tuesday the Tigers had recovered from a two-goal deficit to win away at Kidderminster and brought an impressive away record with them to the Deva. Gloucester's existence has been nomadic since floods forced them out of Meadow Park in 2007. They did respond as half time approached with Fabien Robert's shot clipping the bar. But Chester had been dominant – out-tigering the Tigers in midfield and Hughes, whose fluid mobility had added a new dimension to the Blues going forward, really ought to have capped a fine first half display when put through by Gary Roberts but finessed his shot just wide of the post.

Shortly into the second half Hughes was through again – latching on to a long ball from Grand – this time his shot was parried by Jeacock to Waring who passed sideways to Jackson. The winger took a touch and then drilled the ball in for Chester's third.

Gloucester continued to battle on but were lightweight in attack due to the absence of the experienced Marlon Jackson. Hanks let fly with a good effort that Griffiths did well to turn over the bar. Hughes was replaced to a standing ovation by Asante. Later, Elliott and Mahon came on too.

In the dying moments a quickly taken free kick caught Gloucester on the hop and Elliott was brought down at the by-line resulting in a penalty. Asante grabbed the ball and thumped it firmly into the corner – repeating the timing and the manner of his equaliser on Tuesday night.

It had been a perfect "retro day" for the Chester faithful – many of them sporting shirts from yesteryear. Today's performance gave them another batch of good memories to put in the collection.
•
Latest table
Rate Chester's performance
---
Tuesday 13 August
Kettering Town 1 Chester 1
National League North
Attendance: 973 Half Time: 0-0
Booked: Waring, Stopforth, Asante, Grand.

Kettering Town: White, Stohrer, Skarz, Graham, Cartwright, Richens, Meikle, Kennedy, Nti, Hodge, Kelly. Subs not used: O'Connor, Solkhon, Milnes, Carta, Brighton.
Chester: Griffiths, K.Roberts, Taylor, Grand, Livesey, G.Roberts, Stopforth, Mahon (Hughes 64), Jackson, Dudley (Asante 73), Waring (Elliott 64). Subs not used: Burton, Waters.
Referee: Sam Mulhall.

Substitute Akwasi Asante rescued a point for Chester with a stoppage time penalty after the Blues had fallen behind through another own goal at Latimer Park.

The opening period was a cagy one of few chances, it wasn't until the 16th minute that Chester created their first opening with Anthony Dudley hitting over following a flick-on by Simon Grand.
Managers Anthony Johnson and Bernard Morley made a double substitution nine minutes into the second period, bringing on Matty Hughes and Danny Elliott for Craig Mahon and George Waring as they looked to create more openings.

Six minutes later though Chester found themselves a goal behind as Gary Roberts inadvertently diverted Lindon Meikle's cross past Russ Griffiths into his own net.

Fifteen minutes from time the Poppies were awarded a penalty after Gary Stopforth had fouled in the area. To the relief of the Blues supporters, Daniel Nti's spot-kick hit the post.

Moments later the home side were reduced to ten men after Marcus Kelly received a second yellow card.

With the game entering added time Hughes was fouled inside the area and Asante stepped up to send Paul White the wrong way from the penalty spot to equalise.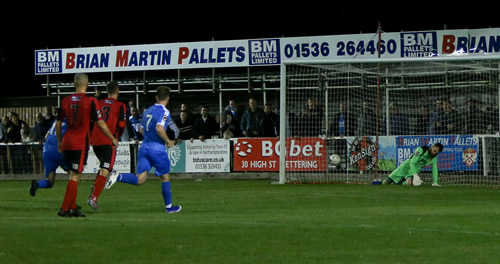 Picture © Rick Matthews

• Latest table
Rate Chester's performance
---
Saturday 10 August
Chester 2 Farsley Celtic 1
National League North
Attendance: 1,601 Half Time: 0-0
Booked: Livesey, Waring.

Chester: Griffiths, Grand, Livesey, K.Roberts, Taylor, Mahon (Hughes 83), Stopforth, G.Roberts (Burton 57), Jackson, Waring, Dudley (Elliott 84). Subs not used: Morgan, Waters.
Farsley Celtic: Wynne, Richards, Baldwin, Higgins, Ellis, B.Atkinson (Parkin 63), C.Atkinson, Walton (Syers 75), Spencer, Cartman (Walker 63), Hayhurst. Subs not used: Trenerry, Boateng.
Referee: Michael Barlow.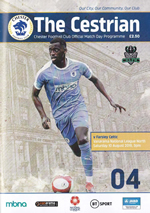 Farsley Celtic's first visit to Chester began with a swirling wind reverberating around the stadium. In a lively first half, the unbeaten and newly promoted side in green hoops with socks to match moved the ball around intelligently and openly. A raking ball out to Farsley's right looked to have been caught by the wind but full-back Richards did well to keep it in and then cross dangerously.

City had to concentrate to defend and were nearly undone by hesitation a couple of times. Livesey had to issue a wake-up call. Later Griffiths couldn't decide whether to stick or twist as the ball approached his goal. Ellis tried to capitalise by prodding the loose ball past him but – after a scramble Griffiths grabbed the loose ball – only to receive a whack on the head from Spencer's boot. The Celtic forward was booked and made sure to apologise to Griffiths as they left the field at half time.

At the other end it was Blues who went closest to opening the scoring in the first half. Livesey's header from Gary Roberts' inviting cross crashed against the cross bar. Kevin Roberts glanced a header from a right wing corner against the post.

The teams emerged from the break to the strains of "I am the resurrection" by the Stone Roses – a reference to both clubs going into liquidation at the same time in 2010 and reforming to thrive again. Within a minute of the second half Chester went ahead. Waring and Higgins tangled for the ball and it fell loose to Jackson who crashed it into the back of the net from the corner of the six yard box.

Chester settled into a rhythm and began to dominate. Farsley struggled to play from the back as City pressed them. Stopforth latched onto a hurried clearance and set Jackson through on the right. He drilled it across to an unmarked Waring who steadied himself before side footing it past Wynne with all the precision of a snooker shot – which Waring then re-enacted with the corner flag.

In between the goals Gary Roberts picked up a strain and was replaced by Burton. City continued to play in fluid style with both Jackson and Taylor providing real threat down the wings.

Farsley, buoyed by a couple of substitutions, refused to give up however and when Livesey conceded a free kick on the edge of the area after his swirling clearance had returned the ball back to him, Griffiths was called upon to make a fine save from Hayhurst's left footed effort. Walker, one of the Celtic subs proved to be a thorn in Chester's side and Blues were pushed back more and more. Burton made a reckless challenge on Hayhurst and conceded a penalty. Hayhurst picked himself to convert – sending Griffiths the wrong way.

Richards sent another free kick over and home fans began to fret. As Celtic won a free kick on their left (Despite everyone around urging City not to concede a foul) they launched one last salvo into the box. City cleared and broke quickly with Jackson (By now Man of the Match) again. His shot was parried by Wynne and fell to Elliott – on as a sub – on the edge of the box. He snatched his chance and scooped it over the bar. That proved to be the end of the action as City made harder work of holding on for a first win of the season than they should have done.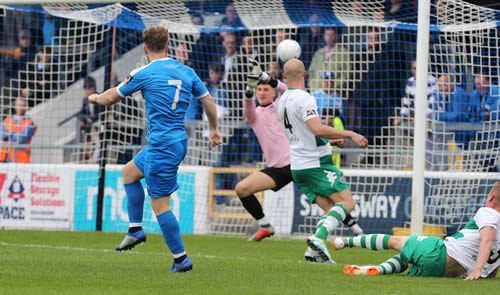 Rate Chester's performance
---
Tuesday 6 August
Chester 1 Altrincham 1
National League North
Attendance: 2,153 Half Time: 0-1
Booked: Waring, Grand.

Chester: Griffiths, Taylor, K.Roberts, Livesey, Grand, Stopforth, Jackson, G.Roberts, Dudley, Elliott (Mahon 60), Waring. Subs not used: T.Roberts, Burton, Waters, Morgan.
Altrincham: Drench, White, Hampson, Jones, Hannigan, Branson, Johnston, Williams, Hulme, Harrop (Mullarkey 89), Walters (Peers 68). Subs not used: Richman, Densmore, Thompson.
Referee: Richard Holmes.

After a hard earned point at Boston Chester began their home campaign this season against another side expected to do well – our near neighbours , Altrincham. The visitors from the other end of the M56 took to the field in a kit described on the teamsheet as "grey, grey, grey." It was enlivened only with a red and white sash across the shirt.

The game kicked off on a warm night with Grand's long ball into the far corner. Waring rose to meet it challenged by Hampson with the latter ending up in a heap on the ground as a result. The visiting fans, under whose nose it occurred, screamed at the referee to send Chester's number nine off. But Mr Holmes, tall enough to look at Waring eye to eye, admonished him only with a yellow card.

It was a cagey opening with Chester, all in blue, having the lion's share of possession. But on eleven minutes Blues were undone. Dudley's headed layoff in midfield ran loose, Johnston picked it up and ran into space and towards the Chester goal at speed. Cutting to the by-line his low cross was met at the near post by the unfortunate Livesey who crashed it into the roof of his own net.

Chester were able to respond almost immediately to a similar setback at Boston but this time their efforts drew a blank. Elliott had a pot shot from the edge of the area which was dealt with comfortably by the keeper. Too often for the home crowd's liking, Chester's moves broke down with a misplaced pass or being a bit too predictable. As Altrincham broke away again Grand was booked for a scything tackle on Harrop. Again the Alty players and fans pressurised the referee for more.

Griffiths hardly had a shot to contend with yet Alty maintained their lead at half time. When City got the opportunity to run at the Robins' defence the prospects of a goal seemed greater. Bradley Jackson offering Blues their most consistent threat down the right.

As the second half wore on and the clock was run down by the visitors it seemed like they would frustrate Chester once again. Mahon was brought on for Elliott in the hope of correcting Chester's misfiring attack. He crossed dangerously into the box but beyond Waring.

Deep into the four minutes of added time (Much of it accrued by Alty's time-wasting tactics) Joel Taylor wiped the ball with a bath towel before launching a throw from the right into the penalty area. The ball was half cleared to Gary Roberts on the edge of the box who lashed a shot goal-wards. It deflected off a defender's shin to send it past a despairing keeper and the home faithful into delerium.

Overall a draw was probably a fair result in a hard fought and competitive game of few chances – with both sides cancelling each other out to a large extent. But as the clock ticked down it looked less and less likely until Gary Roberts' inspired intervention.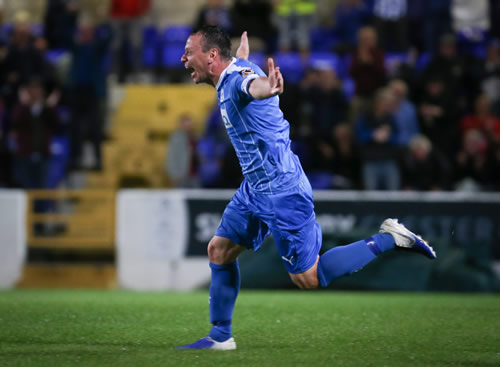 Rate Chester's performance
---
Saturday 3 August
Boston United 1 Chester 1
National League North
Attendance: 1,393 (223 Chester) Half Time: 1-1
Booked: Jackson, Elliott, G.Roberts.

Boston United: Crook, Middleton, Whittle, Thanoj (Green 75), Ainge, Shiels, Platt, Abbott, Wright (Tuton 67), Thewlis (Walker 84), Rollins. Subs not used: Jackson, Willis.
Chester: Griffiths, K.Roberts, Livesey, Grand, Taylor, Jackson (Mahon 63), G.Roberts, Stopforth, Elliott (Burton 79), Dudley, Waring (Hughes 79). Subs not used: Waters, Morgan.
Referee: Aaron Bannister.

Chester picked up a well deserved point from Boston United through a George Waring equaliser towards the end of the first period.

Managers Anthony Johnson and Bernard Morley opted for a back four of Danny Livesey, Simon Grand, Joel Taylor and Kevin Roberts.

Just over 200 fans made the trip to York Street and they saw Chester have the better of the opening exchanges. Just two minutes were on the clock when Anthony Dudley was sent through by Waring only to see his effort blocked by home 'keeper Peter Crook.

Summer signing danny Elliott also forced Crook into a save as the Blues looked for an early goal.

Seven minutes before the break the Pilgrims took the lead as Jordan Thewlis effort on goal sliced off defender Simon Grand and past Russ Griffiths giving the Chester shot-stopper no chance.

Chester responded and within 60 second were level as Bradley Jackson's cross was headed powerfully home by Waring. Despite plenty of possession the Blues were finding it hard to crack a determined home rearguard.

Jay Rollins missed an opportunity to give the home side the lead early in the second half heading wide with just Russell to beat. At the other end an long Joel Taylor throw-in caused problems for the home defence with the ball finding Dudley 20 yards out only for the striker to fire wide of goal. The game was becoming more scrappy as time passed by.

If Chester had had the better of the first half, it was the home side that dominated in the second. Chester brought on Craig Mahon, Scott Burton and Matty Hughes and despite late pressure from a last minute corner.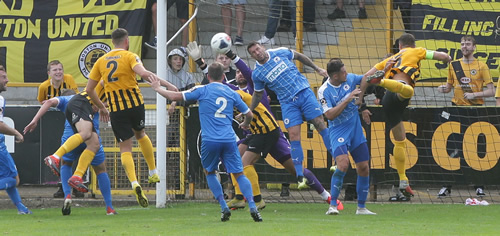 Picture © Rick Matthews
Rate Chester's performance
---

LATEST NEWS

BOOST FOR ACADEMY
The Chester FC Youth Academy has been awarded National League status.
more »
LAST MATCH

BLUES MOVE FIFTH
Matty Hughes stars for the Blues who score twice in the opening five minutes before running out comfortable winners over Gloucester.
more »
CLUB HISTORY

Everything you need to know about the club's history, honours, records and kits. Complete list of fixtures from 1885 and much more.
more »
SUPPORTERS

EXILES BLOG
The Exiles have set up a blog to provide away match information and articles for Blues fans living away from Chester. You can read it here
Exiles » | ISA »