---
Saturday 28 September
FC Halifax Town 2 Chester 1

Conference Premier
Attendance: 1,805 (454 Chester) Half Time 1-1
Booked: Horan, Linwood, N.Turner, Mahon.
FC Halifax Town: Glennon, Toulson , McManus, Pearson , Roberts, Maynard (McReady 46), Ainge , Smith, Gardner (Carver 77), Gregory, Wilson (Marshall 46). Subs not used: Senior, Lowe.
Chester: Danby, Kay, Heath, Horan (Linwood 56), L.Turner, Higginbotham, Harrison, N.Turner, Lindfield (Mahon 73), Seddon (Mills 67), Titchiner. Subs not used: Jarrett, Chippendale.
Referee: Peter Banks.



Missed chances and the failure to defend set pieces were once again the downfall of Chester who lost their latest match 2-1 at The Shay against FC Halifax Town.
Like Tuesday at Gateshead, Chester got off to a slow start and found themselves a goal down in the opening five minutes as an Adam Smith corner was met by Lee Gregory who scored from close range with a back-heel.
The Blues responded well to the early set back with the pacy Alex Titchiner seeing a shot blocked on seven minutes. Titchiner turned provider to cross for ex-Shayman Gareth Seddon but his shot was pushed over by ex-Blue Matt Glennon in the home goal.
Chester's efforts were rewarded in the 18th minute with an equaliser. Craig Lindfield's in swinging corner from the left was met by Danny Higginbotham whose goalbound header was touched home by Seddon.
The visitors were getting on top now and ten minutes later Glennon made a double save from close range to deny Lindfield scoring the second following good approach work from Titchiner. Lewis Turner also found himself with plenty of time and space outside the box but sent a weak effort straight to Glennon.
A timely tackle from Joe Heath in stoppage time denied Gregory a goalscoring chance as he raced through on Danby.
The early stages of the second period were punctuated with a series of yellow cards. Paul Linwood replaced Horan who picked up a yellow moments before. Danby produced a great save tipping over for a corner to deny the dangerous Gregory. However from the resulting Dan Gardner flag-kick, Marc Roberts headed home past Danby to restore the Halifax lead.
Manager Neil Young brought on Ben Mills for Seddon but the striker made little impact as once again the Blues failed to match their efforts of the first half and succumbed to their eights defeat of the season.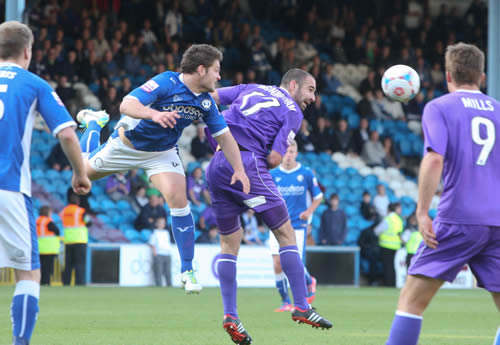 Picture © Rick Matthews (Chester Leader)
• Table after this match | More pictures
Rate Chester's performance
---
Tuesday 24 September
Gateshead 3 Chester 2

Conference Premier
Attendance: 610 (140 Chester) Half Time 1-1
Booked: Kay, Chippendale. Sent-off: McIntyre.
Gateshead: Bartlett, Magnay, Curtis, Clark, Larkin, Turnbull, Cummins, Brown (Maddison 60), Marwood, Hugill (Hatch 76), Lelan. Subs not used: Boyes, Baxter, Ramshaw.
Chester: Danby, Kay, Higginbotham, Horan, Pugh (Chippendale 46), L.Turner, N.Turner, McIntyre, A.Williams (Mills 65), Harrison, Seddon (Titchiner 81). Subs not used: Linwood, Lindfield.
Referee: Richard Wigglesworth (Doncaster).



Kevin McIntyre became the fourth Chester player to receive a red card in the opening 11 matches as the Blues lost by the odd goal in five at Gateshead.

Manager Neil Young made a couple of changes to the side that drew with Grimsby on Saturday, recalling nathan Turner and Ashley Williams at the expense of Aiden Chippendale and Ben Mills.
The home side got off to a dream start with Carl Magnay thumping home a 40-yarder into the top corner after just 52 seconds latching on to George Horan's clearance from a corner. Chester bit back though through Nathan Turner, whose long-range effort skimmed the crossbar following a Lee Pugh free-kick.
Chester came more into the game and drew level on 27 minutes as Michael Kay sent Lewis Turner through and his cross was met by Danny Harrison ten yards out to score his second goal of the season.

Josh Lelan and Jordan Hugill both saw efforts go just over the bar as the Heed responded to Harrison's equaliser. At the other end good work by Gareth Seddon set up Lewis Turner but he was unable to control the pass and the chance was gone.
Chester continued to press before the break with Nathan Turner seeing an effort saved, Seddon shooting high and wide when well placed and Horan's volley blocked.
Gateshead had the better of the exchanges after the break with James Brown and Hugill going close before they hit Chester with two goals in as many minutes. A Phil Turnbull shot was partially saved by Danby but the ball fell to Hugill to score on his home debut on 54 minutes.
Two minutes later James Brown set up Colin Larkin who chipped a shot over the advancing Danby to make it 3-1.
Mills replaced Williams before Danny Higginbotham pulled a goal back for Chester - his first for the club, controlling the ball with his chest before dispatching it past Bartlett in the home goal.
The Blues had two chances to draw level with both Kay and Nathan Turner going close with shots just over the bar. As the game entered stoppage time McIntyre was given a straight red card for a foul on James Marwood.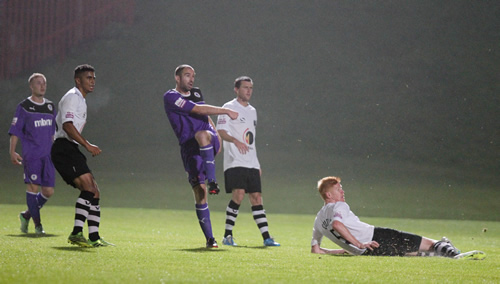 Picture © Rick Matthews (Chester Leader)
• Table after this match | More pictures
Rate Chester's performance
---
Saturday 21 September
Chester 0 Grimsby Town 0

Conference Premier
Attendance: 2,363 (350 Grimsby) Half Time 0-0
Booked: Kay, Mills.
Chester: Danby, Kay, Horan, L.Turner, Higginbotham, Pugh, Harrison, McIntyre, Chippendale (Mahon 83), Mills (Titchiner 68), Seddon. Subs not used: Linfield. N.Turner, Linwood.
Grimsby Town: McKeow, Pearson, Doig, Bignot, Goodall, Kerr, Colbeck, Jones, McLaughlin, John-Lewis (Cook 69), Hannah (Hearn 78). Subs not used: Thomas, McDonald, Neilson.
Referee: Ben Toner (Darwen).



The Mariners arrived still smarting from their midweek shipwreck at Halifax and adopted a very cautious approach to the game. City likewise, despite their victory over Macclesfield, are still finding their way this season, confidence wise. As a result, discretion won a handsome victory over valour and, easy to say with hindsight, the match had nil-nil written all over it.

Balmy weather coupled with the tentative attitude of both sides combined to make this a game of lethargic pace. City's most common line of attack was to launch Pugh's long throw into the box from either wing. Grimsby were well organised however and repelled these aerial forays. Mills' header set Seddon off behind the defence but his cross cum shot came to nothing. Mills then got behind the right back only to go down too easily in the box and see his appeal for a penalty brushed aside by the referee.

Grimsby's sole effort of the first half was a long range shot from the forward with corporate-sponsorship potential – John-Lewis. His attempt had Danby scrambling but passed narrowly wide.

The prospects for a lively encounter improved when right-back Colbeck was shown a straight red card for appearing to lash out following Pugh's clumsy tackle. But City were unable to cash in on their numerical advantage. Chippendale was the only midfielder to offer a more pacy option whilst McIntyre and Harrison held back.

The last time Chester faced opponents reduced to ten men they had capitulated to Woking. This time there was to be no repeat but no gung-ho either. Mahon was introduced instead of Chippendale but the game continued to drift into the afternoon.

Both teams seemed reasonably happy to share the points and fans of both sides convivially shared the pints in the Blues Bar Beer Festival after the game.

Colin Mansley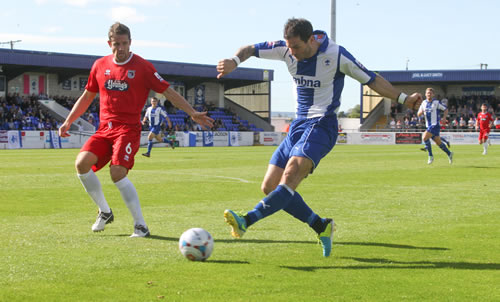 Picture © Rick Matthews (Chester Leader)

• Table after this match | More pictures
Rate Chester's performance
---
Tuesday 17 September
Chester 2 Macclesfield Town 1

Conference Premier
Attendance: 2,012 (190 Macclesfield) Half Time 2-1
Booked: Kay, Chippendale.
Chester: Danby, Kay, Higginbotham, Horan, Pugh, (Heath 84) L.Turner, N.Turner, McIntyre, Chippendale (Harrison 65), Mills, Seddon, (Titchiner 65). Subs not used: Mahon, Linwood.
Macclesfield Town: Taylor, Connor, Andrew, Martin, Mackreth (Kissock 67), Holroyd, Sodje (Williams 81), Boden, Whitaker, Rowe (Winn 75), Halls. Subs not used: Turnbull, Branigan.
Referee: Darren Handley.



The Blues withstood terrific pressure in the second half to ground out their first home win this season against fellow strugglers Macclesfield.

Neil Young had asked for attitude and commitment following the disappointing defeat to Salisbury. He made some changes too. Horan came back in to partner Higginbotham for the first time, Pugh replaced Heath at left back, Chippendale returned in place of Harrison and Seddon started alongside Mills in attack.

The Silkmen went close early on with Rowe crossing invitingly for Holroyd, formerly of this parish. He missed his kick but still had time to retrieve and turn with the ball before Danby gathered it. City replied with a cross from the left falling to McIntyre – his shot was saved at full stretch.

McIntyre played more centrally and effectively as City got in the faces of their Cheshire neighbours. A series of long throws from either flank by Pugh caused consternation in the visitors' defence and cracks began to show. Chances fell to Horan and Higginbotham whose efforts were blocked. The latter hammered a free kick from the edge of the box straight into the defensive wall.

City reaped reward for their pressure when they were awarded a free kick on the right. Chippendale whipped the ball in and it kicked off the turf to bounce high into the top corner without anyone claiming a touch on the way.

On the half hour Chester went two up as Seddon pounced on a mistake by the veteran Sodje and left him floundering in his wake as he bore down on goal and lifted the ball over the advancing Taylor. It was a brilliant finish delivered with elan and just reward for City's dominance at that stage.

Macc got themselves back into the contest crucially just before the break. Blues' defenders were slow to react as Danny Whittaker was left with plenty of space to pick his spot and drive the ball past Danby from the inside left position. The visitors, always lively on the break, scented an equaliser and Chester seemed to wilt alarmingly after the break.

Ironically it was City who had the clearest chance to score in the second half. They were awarded a penalty when substitute Williams wrestled Higginbotham to the floor in the area. Mills' body language did not inspire confidence, however and though on target, the ball was punched clear by Taylor.

As the half wore on City seemed more and more inclined to sit back and invite pressure from their opponents. At times it looked like they could not venture over their own half way line as they became more and more gripped by a siege mentality. Yet despite almost continuous pressure in the last twenty minutes or so Macclesfield could not carve out a clear opportunity.

The Blues defence, with Danby, Horan and Higginbotham outstanding, held firm until the referee's final whistle signalled relief. The result was all important, taking City out of the bottom four for the first time by dint of having scored more goals than Dartford.

Colin Mansley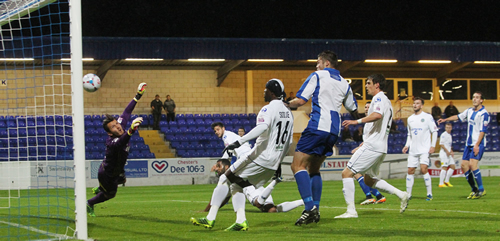 Picture © Rick Matthews (Chester Leader)

• Table after this match | More pictures
Rate Chester's performance
---
Saturday 14 September
Salisbury City 3 Chester 1

Conference Premier
Attendance: 925 Half Time 1-1
Booked: Seddon. Sent-off: McDonald.
Salisbury City: Puddy, Ruddick, (MacDonald, 87) Brett, Clarke, Wilson, Mc Phee, Wellard, Frear, Kamdjo, Sinclair, Fitchett (White, 65). Subs not used: Thomson, Wright.
Chester: Danby, Higginbotham, Linwood, Kay, L.Turner, Heath, (Chippendale, 72) N.Turner, McIntyre, Harrison, Mills (Seddon 54), Titchiner (McDonald, 62). Subs not used: Horan, Pugh.
Referee: Richard Martin (Frampton Cotterell).



Manager Neil Young made just one change to the side that drew with Dartford last week, bringing in defender Joe Heath at the expense of Aidan Chippendale who took a seat on the bench, along with new signing Shaquille McDonald who started a three month loan spell with the Blues yesterday.
Heath made an immediate impact, as after an initial spell of opening possession and pressure that saw Kevin McIntyre curl a free-kick just wide, he gave Chester the lead on 14 minutes. Danny Harrison's long free-kick, following a foul on Lewis Turner, found the head of Ben Mills who headed across goal for Heath to nod home from close range.
The home side hit back with Elliott Frear forcing a good save from Danby and Danny Higginbotham blocking another Frear effort as the home side looked to draw level.
Just after the half hour the Whites got the equaliser they had been threatening as Christopher McPhee crossed for Daniel Fitchett to send a header, that took a deflection off Paul Linwood, past Danby.
Danby made another fine save to deny Fitchett a second soon after, and bettered that to pull of a one-on-one save to deny Clovis Kamdjo a certain goal before the break.
Gareth Seddon, on for Mills, sent a header over the bar ten minutes after the restart before the home side took the lead in the 67th minute as the dangerous Frear met a James White cross to give Danby no chance with a smart volley.
The Blues worked a great chance for the equalsier as Seddon and substitute McDonald set up Lewis Turner but the Leeds loanee saw his shot go high and wide.
Chester were punished for failing to take their chances as they conceded a third goal five minutes from time as Kamdjo headed past Danby from a near post corner.
Both sides were reduced to ten men in the closing stages. First Angus MacDonald was shown red for a tussle with seddon before Chester's McDonald received a similar punishment for lashing out at James Clarke.
There was a bizarre ending to the game as a parachutist descended onto the pitch in the closing stages.

• Table after this match
Rate Chester's performance
---
Saturday 7 September
Chester 0 Dartford 0

Conference Premier
Attendance: 2,587 (122 Dartford) Half Time 0-0
Booked: -.
Chester: Danby, Higginbotham, Linwood, Kay, L.Turner, McIntyre, N.Turner, Chippendale (Reed 60), Harrison, Mills (Seddon 81), Titchiner (Lindfield 85). Subs not used: Pugh, Horan.
Dartford: Julian, Clark, Noble, Bradbrook, Harris, Hayes (Rogers 89), Collier, Birchall, Fry, Burns, Woodyard. Subs not used: Monger, Vint, Ibermere, Prior.
Referee: Adrian Holmes (Castleford).



After the euphoria of the first win of the season at Wrexham last Saturday Chester began this game brightly. They swept forward towards the Harry Mac End and won a flurry of corners. Mills and Tichiner were lively, with the latter having the best of the earlier efforts, firing goal-wards from twenty five yards to be saved at full stretch by Julian.
Dartford were resilient opponents, however, and played the ball around well coming forward. The Londoners, who finished a creditable eighth position last year dominated the next period of play. They went closest when Hayes, a left-footer playing on the right, twice tried to curl an effort inside the far post but was narrowly wide on each occasion.
City began to build fresh momentum as half time approached. Tichiner's back heel made space for Nathan Turner to fire on target but Julian was well positioned to catch it. But the best chance of all came on the stroke of the interval as the same Turner twin headed narrowly wide following good play by Kay on the right.
After the break Dartford were marginally the more threatening of the two sides and Chester appeared to wilt a bit as the game went on. Chippendale, who had replaced the injured Laidler in the starting line-up was replaced himself on the hour by Jamie Reed. In the last minutes Seddon and Lindfield were thrown on as Young tried to get the vital breakthrough. Seddon thought he had clinched it when his header appeared to cross the line but was ruled offside in any case.
At the other end City were rescued in similar fashion as Harris tapped in from Danby's parried save only to see the linesman's flag raised.
A winner would have been cruel on either side as a draw seemed the fairest result. Having shored up the defence with Danny Higginbotham's manifest skill, City now need to develop more of a cutting edge. At least they seem to be making steady progress.

Colin Mansley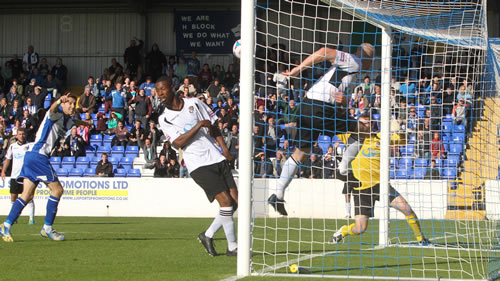 Picture © Rick Matthews (Chester Leader)

• Table after this match | More pictures
Rate Chester's performance
---