---
Monday 5 May 2003
Chester City 1 Doncaster Rovers1
Nationwide Conference Play-off semi-final 2nd leg
Attendance: 5,702 Half Time 1-0
Booked: McIntyre.
Chester City: W.Brown, Bolland, Guyett, Hatswell, Davies, McIntyre, Collins, Brady (Quayle 118), Clare, Carden, Sugden (Cameron 76). Subs not used; Kelly, Twiss, Ruffer.
Doncaster Rovers: Warrington, Beech (Blunt 67), Ryan, Morley, Foster, Paterson, Ravenhill, Green, Barnes (Watson 111), Whitman, Tierney (Blundell 78). Subs not used: Nelson, Doolan.
Referee: M.Atkinson (Leeds).

Like two punched drunk heavyweights City and Doncaster slugged it out in this tense but absorbing match. In the end only penalties could separate the two of them. Doncaster delight, Chester devastation but mutual respect as both sets of supporters could be justly proud of their teams.
For the second time in the tie Doncaster pegged City back after they had taken the lead. Whitman's turn and surging run caused the damage and he fed Paterson on the right. His cross shot was parried by Brown, a Doncaster forward shinned it on to the bar and Barnes bundled the ball over the line. If that was a messy goal then Chester's was equally scrappy. Hatswell notching his first goal at the Deva after Foster's header had come back off the post.
The game ebbed and flowed all afternoon with first Doncaster, then City dominating play. Rovers' lively midfield prompted their attacking play, City's defence magnificent. City's best chances seemed to come from set pieces but in the end it was from open play that they came closest to forging ahead again.
Chances were few and far between but the majority of them fell to the home side. Clare had a golden opportunity to make it 2-0 having been set up by Sugden's header. He seemed to want too long and his shot was saved by Warrington's leg. Then, with the scores level, Clare was put through by Carden, he beat his marker but saw his shot saved at the post by Warrington when he might have squared it for the unmarked Sugden. McIntyre's header was narrowly wide of the post but the closest City came to regaining the lead was in the dying minutes when Cameron's clipped shot was tipped round the post at full stretch by Warrington.
Extra time was nervy affair as all knew that a golden goal would mean sudden death. Players were edgy and even the crowd, both sets of fans in fine voice, went quiet at times – so huge were the stakes. The game was there for the taking but no-one could quite manage to take it.
And so it came to penalties. Brown gave City a brief advantage, saving Paterson's kick, but Clare – worn out by his heroic efforts all afternoon saw his kick saved too. Quayle, McIntyre and Davies all scored clinically. Brown almost saved the penultimate kick but in the end Warrington's save from Cameron's penalty proved decisive.
It's a bitter way to lose but, if anything the bond between players and fans was strengthened and deepened yesterday. All the players, management and staff can hold their heads up high. As soon as it was over the North Terrace began applauding knowing that every player had given their all. Mark Wright came over to haul a visibly dejected Brown up off the floor. He will no doubt be trying to lift the spirits of all of them during the summer – they can all be sure that no-one let the side down yesterday.
Thanks lads – we're proud of you.

Colin Mansley
•Chester City v Doncaster Rovers Top 10.
•Wayne Brown, closing in on a double century.
---
Thursday 1 May 2003
Doncaster Rovers 1 Chester City 1
Nationwide Conference Play-off semi-final 1st leg
Attendance: 6,857 Half Time 0-1
Booked: None. Sent Off: Quayle.
Doncaster Rovers: Warrington, Beech, Marples, Ryan, Foster (Morley 84), Ravenhill, Paterson, Doolan (Blundell 61), Barnes, Whitman, Watson (Green 61). Subs not used: Tierney, Nelson.
Chester City: W.Brown, Bolland, Guyett, Hatswell, Davies, McIntyre, Collins, Brady, Clare (Quayle 82), Carden, Sugden (Cameron 82). Subs not used: Kelly, Worsnop, Ruffer.
Referee: Nigel Miller (Middlesbrough).

Just how deflated City will be following this game remains to be seen. The Blues were in control for much of the game and deservedly led at half time only to concede an injury time equaliser to leave the scores level going into Monday's second leg.
Too add to City's late misery Mark Quayle was given a straight red card following a challenge on Ravenhill though TV replay's appeared to show he'd got to the ball first.
Daryl Clare, Ben Davies, Danny Collins and Scott Guyett all returned to the City starting line-up for the first-leg game played in front of a large Belle Vue crowd.
It was a generally scrappy first half. Simon Marples had the first real shot of he game when his direct free-kick was caught above his head on the line by Wayne Brown. City were busy with Clare and Sugden chasing up front though the two best chances in the opening half hour fell to defenders Scott Guyett and Danny Collins, the latter saw a stooping header fly high and wide from six yards out following a Jon Brady corner.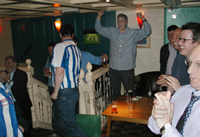 After dominating much of the play in the opening half hour, with defenders Phil Bolland and Guyett coping easily with the home side's long ball tactics, City deservedly took the lead on 37 minutes. Ryan Sugden sent a ball through to Clare, the striker showed some neat control to turn two defenders on the right of the box and lob a cross to the unmarked Kevin McIntyre who steadied himself before lashing a left footed shot home from 12 yards. This was the defender's second goal in a week.
Minutes later the home side had two great chances to level as Ravenhill hit the crossbar after the ball broke to him from a challenge 18 yards out, and the lively Tristram Whitman skilfully turned three defenders on the edge of the box but dragged his shot wide of the left hand post.
Doncaster forced a flurry of corners following the break all cleared by City, Paul Barnes headed wide when well placed and at the other end Daryl Clare shot wide from 18 yards before the home side changed things bringing on Gregg Blundell and Andy Green up front.
Still City looked solid at the back coping with everything thrown at them but the game took a dramatic course of events in the final ten minutes. City brought on Dave Cameron and Mark Quayle for Sugden and Clare and just four minutes later Quayle was heading straight back down the tunnel after receiving a harsh red card.
Three minutes of extra time were added, and in the fourth! City were finally undone by a swerving shot from Whitman that beat Wayne Brown for a last-gasp equaliser.

"We went to Doncaster with a bit of a plan, and we were only 30 seconds from pulling it off. We feel a little bit disappointed because we feel we should have been going away with a 1-0 win. We need a little bit of luck now and we need to score a couple of goals to kill the game off, but I don't think home advantage counts for anything in cup games and semi-finals. I just think it's all about whose got the bottle and holds their nerve on the day". said manager Mark Wright.