30 July 2012

COLLINS INJURY SCARE
Defender Dominic Collins (pictured) looks set to miss tomorrow's friendly at Airbus UK Broughton (kick-off 19.00hrs) after suffering a shoulder injury on Saturday. The Blues were cursed with three collarbone injuries last season and as a precaution may rest the defender this week. Paul Linwood, Sean Clancy and Michael Taylor are also suffering various knocks ahead of the match.

Young said: "Dominic's shoulder came out after a tackle in the first half, but luckily for us it went back in, so we'll have another look at that this week because we all thought it a case of the same problem as we experienced with three players last season who broke their collarbones. Hopefully Dominic will be fine and we may rest him tomorrow to give him a bit more time to recover."


---
29 July 2012

BACK TO WINNING WAYS

Second half goals from Nathan Jarman and a screamer from Antoni Sarcevic gave Chester a 2-1 victory over an Aston Villa youth development side on Saturday. The Villians had taken the lead on the stroke of half-time through Michael Drennan.
---
26 July 2012

BLUES LET TWO GOAL LEAD SLIP

Chester raced into a two goal lead through Iain Howard and Marc Williams before a young Liverpool side drew level before the interval and added a winner early in the second period. A crowd of just over 1,700 saw the Blues continue their pre-season build-up.

Manager Neil Young is set to make some decisions soon regarding his trio of trialists: Cliff Moyo, Danny Ting and Stephen Connor. All have featured in the friendly matches with Moyo picking up the Man of the Match against Southport. Young said: "We will be making a decision this week because if they are going to stay, they will get in with the group."

"If they're going to be leaving the football club they need to be given the option of joining another football club as soon as possible. It's like anything with part-time football – everything comes down to money."

Chester are back in action on Saturday at home against an Aston Villa X1, kick-off 15:00hrs. Admission prices are: adult £10.00, concessions £7.00, under 16's £1.00.

• More pictures

Picture © Rick Matthews (Chester Leader)
---
21 July 2012

KILLIE DEFEAT

Scottish Cup holders Kilmarnock scored the only goal of the game as Chester's pre-season continued with this latest defeat in front of a crowd of 1,099. The Blues started brightly and hit the woodwork twice in the opening half through Matty McGinn and Marc Williams before a defensive error from Michael Taylor 14 minutes from time allowed Matthew Kennedy the chance to run through on goal and beat John Danby to secure victory for Killie.
---
19 July 2012

LATE SHOW LIFTS BLUES

Three goals in the final ten minutes gave Chester a deserved victory over a Southport X1 in the first home pre-season friendly of the season. Nathan Jarman, Dave Hankin and George Horan were the goalscorers for the Blues in front of a crowd of 762.



Chester are back in action on Saturday with a home game against Kilmarnock, kick-off 15:00hrs. Admission prices are: adult £7.00, concessions £5.00, under 16's £1.00.

• More pictures


---
16 July 2012

DEFEAT FOR CHESTER

Chester's pre-season campaign continued yesterday when they were beaten 1-0 at AFC Fylde. The Blues failed to create any chances of note with the only goal of the game coming through Michael Barnes on 76 minutes.

Manager Neil Young said: "We're trying to get the ball and play it out from the back more because we think we've got the players to do it and hopefully in the league we're going into the pitches will be more conducive to that."

"It's just getting the balance right because at the moment the midfield are dropping too deep so went it does go forward to the front lads, they are isolated. There is plenty to work on and we'll keep working on it."

Chester are back in action on Tuesday night with a home game against Conference Premier side Southport, kick-off 19:45hrs. Admission prices are: adult £7.00, concessions £5.00, under 16's £1.00.

• More pictures

Picture © Rick Matthews (Chester Leader)
---
13 July 2012

BLUES DRAW A BLANK
Chester drew 0-0 at Buckley Town last night as the pre-season campaign got underway. Manager Neil Young fielded several of his summer signings and there were four trialists on show in Danny Tring, Tom Smith and Cliff Moyo who played in defence and forward Stephen Connor. The Blues fielded a almost different X1 in each half.

Chester (first half): Danby, Moyo, Horan, Taylor, McGinn, Baynes, Powell, Mackin, Booth, Connor, M.Williams.
Chester (second half): Fearon, Smith, Linwood, Collins, Ting, Hankin, Mackin (Powell 65), Sarcevic, Clancy, Jarman, Proudlock.

Following the match manager Neil Young told the Chester Chronicle: "We kept the ball quite well for a lot of the time but there were times in the first half when we gave it away too cheaply, under-hitting passes on the long grass."

"Buckley worked hard and we could have got the ball to the front lads a little quicker but I thought we were better second half in our overall play. It wasn't spectacular but it was exactly the type of performance I would have expected at this stage of pre-season."

Chester are next in action on Sunday when they play at AFC Fylde, kick-off 14:00hrs.

• More pictures


---
10 July 2012

DIRECTOR STANDS DOWN

Mark Howell has stood down from the CFU board of directors. Mark took on the role of Community Director at the club, a position that saw him oversee the youth development set-up and the formation of the new ladies team that will start next season. Mark was also involved in many successful community schemes run by Chester FC and played a major part in establishing the new club. He has left due to increasing work commitments but will continue in a voluntary role for the club.
---
EXILES AGM

The Annual General Meeting of the Chester Exiles will take place in London on Thursday 12 July at the Rugby Tavern (upstairs room) 19 Great James Street, London WC1N 3ES. 7.30pm prompt start.
AGENDA
1. Apologies for absence
2. Minutes of the 2011 Annual General Meeting
3. Matters arising
4. Chairman's report
5. Treasurer's report and accounts
6. Secretary / Membership report
7. Committee reports:
7a. Press and Sponsorship
7b. Darts
8. Election of officers
9. Any other business
Please feel free to bring family and friends along for the evening. We would envisage getting through the 'business' side of the meeting fairly quickly allowing plenty of time to reflect and celebrate on another great season for Chester FC, and to exchange ideas and suggestions of how the Exiles can help those supporters living away from Chester for the coming year.
---
4 July 2012

BACK IN TRAINING

The players reported back for training last week and amongst there were the five new signings made so far this summer.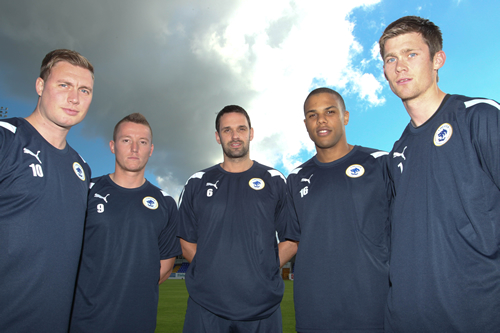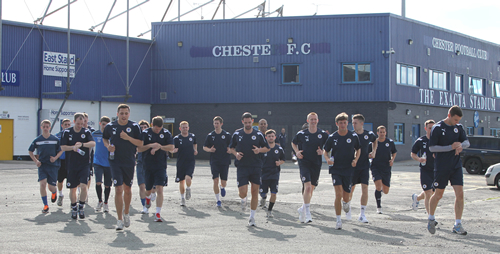 ---
3 July 2012

FRIENDLY SWITCH

The pre-season friendly at Ashville on Thursday 12 July has been cancelled. Chester have now arranged an away match at Buckley Town for the same night, kick-off 19:00hrs.

• Pre-season matches
---
2 July 2012

BLUES KICK-OFF AT OXFORD

Chester will begin life in the Conference North with an away trip to Oxford City on Saturday 18 August, they follow this with a first home game of the season the following Wednesday against Workington. Over the festive season of Boxing Day and New Year the Blues play Droylsden home and away whilst the Easter holiday period sees an away trip to Colwyn Bay followed by a home game against Altrincham. Chester will conclude their season on April 27 at Worcester City.

• Fixtures 2012/13
---