---
Tuesday 30 January 2001
Port Vale 2 Chester City 0
LDV Vans Trophy Round 2
Attendance: 2,507 Half-time 1-0
Port Vale: Goodlad, Cummins (Briscoe 80), Walsh, Carragher, Tankard (Burns 46), Smith, Brammer (Minton 80), Widdrington, Bridge-Wilkinson, Naylor, Brooker. Subs not used: Delaney, Twiss.
Chester City: Brown, Fisher, Doughty (Ruscoe 60), Woods (Haarhoff 60), Lancaster, P Beesley (Moss 75), Carden, Blackburn, M Beesley, Wright, Ruffer. Subs not used: Berry, Woodyatt.
Referee: M.Ryan (Preston).
There was little doubt that Port Vale deserved to win this game and the result was a formality once they had taken the lead, in the 21st minute, with a fortuitous goal. City, without the injured Steve Whitehall, lined up with Carl Ruffer playing just in front of Matt Woods, Paul Beesley and Martyn Lancaster while Matt Doughty and Neil Fisher played as wing-backs. This left Chris Blackburn and Paul Carden holding the fort in midfield while Mark Beesley and Darren Wright struggled manfully up front. Unfortunately Port Vale gave the impression that they wanted to win this game, an unusual phenomenon for an LDV game, and consequently the wing backs were occupied with defending while the depleted midfield was completely overrun. Meanwhile Wright and Mark Beesley were left chasing hopeful punts upfield. Even with Luke Beckett we would have lost this game.
Port Vale pushed forward from the first whistle and, although they had plenty of the ball in the early stages, made few clear cut chances as City defended well. Vale's best chance came in the 17th minute when Matt Woods cleared off the line. Considering it was his fault in the first place, letting the ball run past him to a Vale striker, it was the least he could have done. Two minutes later Vale had a goal disallowed when a free kick was taken before the referee blew his whistle but they didn't have long to wait for a legitimate goal – and what a lucky goal it was. A long cross to the far post was met by Matt Doughty who unluckily headed the ball against the onrushing Marc Bridge-Wilkinson. The ball bounced off Wilkinson's body giving Wayne Brown no chance.
Even after conceding this goal Chester struggled to make any progress. Although they tackled well they seemed incapable of clearing their own lines. When any balls down the wing found Wright or Beesley there was little support in the middle and City's only opportunities were half chances to Darren Wright and a cross which almost found Matt Doughty at the far post.
Something must have been said at half time as City had their brightest spell shortly after the interval as Doughty and Fisher finally got the opportunity to push forward. First of all Doughty had a good run to the bye-line and crossed for Blackburn, whose shot was blocked, then the two Pauls, Carden and Beesley, had shots scrambled away. With Chester finally showing signs of life Graham Barrow made an adventurous substitution on the hour with Scott Ruscoe replacing Matt Doughty and Jimmy Haarhoff taking over from Matt Woods. The change allowed Carl Ruffer to return to his more natural position at the centre of defence while the introduction of "Big Jimmy", as he seems to have been christened, gave City more attacking options. Unfortunately the substitution seemed to disrupt City and Vale quickly increased their lead when a mistake by Paul Beesley let in Dave Brammer whose cross was converted by Tony Naylor. Memo to Paul Beesley – don't try and beat players in your own half when there are no defenders behind you.
At this point Chester seemed to realise the game was up and Vale continued to have most of the possession although Ruffer had a header well saved from a City corner. There was a further shuffle in the formation when Darren Moss came on for Paul Beesley but it had little effect. Without Steve Whitehall the attack was very lightweight and Haarhoff had few opportunities to show his pace although one exciting run, close to the finish, ended when he was hauled down on the edge of the box.
All in all a fair result and at least it alleviates the fixture congestion. Perhaps too much was expected of City, having beaten three League clubs already this season, and bearing in mind recent results against Vale. It shouldn't be forgotten that there are two divisions between the sides. Pick of the Chester players was probably Martyn Lancaster.
---
Saturday 27 January 2001
Chester City 1 Morecambe 0
Attendance: 1,717 Half-time 1-0
Chester City: Brown, Fisher, Doughty, Woods, Lancaster, P.Beesley, Carden, Blackburn, M.Beesley, Whitehall (Wright 79), Ruscoe (Haarhoff 59). Subs not used: Moss, Woodyatt, Berry.
Morecambe: Smith, Fensome, Brown, McKearney, Hardiker (Walters 50), Lee, Drummond, Quayle (Eastwood 79), Lyons, Thompson (Black 53). SUbs not used: Takano, Banks.
Referee: A.Penn (Kings Winford).

Martyn Lancaster's first senior goal for Chester brought three points and City 's first double of the season following their win at Christie Park back in September. A scrappy match was settle in the 13th minute when Lancaster pounced from six yards following-up Steve Whitehall's blocked shot.
City were having all the play but it wasn't until after the break that they created the better chances. Steve Whitehall almost doubled the lead on 49 minutes when he sent a shot crashing against a post, and Paul Carden also went close but should have done better than direct a shot straight at visiting 'keeper Smith when well placed.
Not long after and Carden was red-carded for a second bookable offence after two challenges on Stewart Drummond in as many minutes.
Morecambe's best effort came minutes later when debutant David Lee tested Wayne Brown from 20 yards but the City 'keeper saved well.
Two minutes from time and Ryan Black was sent off for the visitors after a lunging tackle on Neil Fisher.
---
Sunday 14 January 2001
Liverpool Ladies 3 Chester City Ladies 0
AXA Ladies FA Cup Round 4
Attendance: n/a Half-time 2-0
The girls went the way of their male counterparts in the AXA sponsored Ladies FA Cup last Sunday. Although they gave a spirited performance especially in the second half, they eventually down 3-0 to Liverpool.
Not able to get out of first gear, they were behind after only 5 minutes. An error at the back allowed a Liverpool forward to latch on to a badly cleared ball which left her with a simple one on one with Laura Edwards in the Chester goal which she coolly took. Minutes later Laura was again called into action. This time she pulled off what can only be described as a 'world class' save diving quickly and athletically down to her left. The second goal brought more heartache.
As the ball was running through with the Chester keeper odds on to collect, she lost her footing on the thawing surface to give an advancing Liverpool striker the advantage. The striker couldn't believe her luck and was quick to recognise the opportunity. She made contact first and pushed the ball home past the stricken keeper for the reds second.
Half time: Liverpool 2 Chester City 0
The adage, a game of two halves certainly applied here. Gresty, the Chester Manager was quick to recognise that Leigh Broadbent on the right side was not being utilised and substituted her with Lisa Pritchard who was fresh back from ankle ligament damage.
The tempo of the Chester game improved dramatically and they penned, the now tiring Liverpool team, back in their own half for long periods of time.
A goal looked on the cards but, only a series of half chances was all the girls had to show for their efforts and when the ball eventually broke out into the Chester defensive third Liverpool again capitalised on the fact that Chester had thrown all but the 'kitchen sink' forward.
As the final whistle approached, the game became a little scrappy and ill tempered. Clare Reynolds was sent from the field of play for foul and abusive while Sass also received a yellow for decent.
After a respectful and proud 6 game run in the competition, the girls can now turn their attention to the remaining competitions, League title (considered most important by the girls themselves), League Cup and the County Cup competitions.
It all starts again in the County Cup first round game this Sunday away at Stockport Hatters.
---
Saturday 13 January 2001
Chester City 2 Doncaster Rovers 0
FA Umbro Trophy Round 3
Attendance: 1,479 Half-time 2-0
Chester City: Brown, Moss (Woodyatt 89), Ruscoe, Lancaster, Ruffer, P Beesley, Carden, Porter, M Beesley, Whitehall, Blackburn (Woods 85). Subs not used: Wright, Berry.
Doncaster Rovers: Richardson, Marples (Alford 83), Shaw, Hawkins, Stone (Price 26), Kelly (Watson 75), Patterson, Penney, Campbell, Whitman, McIntyre. Subs not used: Caudwell, Carrington.
Referee: G.Salisbury (Preston).

Predictably the 3200 Chester fans who came out of the closet for the Blackburn game vaporised down to 1000 in a paltry crowd of just over 1400 (including about 300 visitors). This was potentially the match of the round but the game failed to ignite, at least in a footballing sense, and Chester cruised to a straightforward victory. Doncaster couldn't re-create the form they showed in their victory at Belle Vue last month and after Chester took a 2-0 half-time lead the result was never in doubt It is perhaps fortunate that the game did not result in a draw as any replay could have turned into a bloodbath as one or two personal vendettas on the pitch continued in the tunnel after the game.
Chester started the game with Scott Ruscoe and Darren Moss as full-backs in place of Matt Doughty (injured) and Neil Fisher (suspended). Neither player was put under much defensive pressure by Rovers which gave them plenty of time to push forward, indeed Ruscoe was at the heart of most of Chester's best moves in the first half with a series of penetrative runs down the left flank.
The match got off to a niggly start, a pattern that continued throughout the game, and Shaw was booked in the first ten minutes after petulantly kicking the ball away. City found plenty of room in the early stages and Ruscoe shot over from the edge of the box following a low right wing cross. On two occasions Mark Beesley found himself with time to spare on the edge of the box but his low crosses remained unconverted. At the other end Wayne Brown was fortunate to escape unpunished when Jamie Patterson beat him to a ball on the edge of the area. Fortunately Patterson was hustled off the ball before he could put the ball back into the centre.
Chester's best opening came after 27 minutes when Andy Porter chipped the ball over the Donny defence. Carl Ruffer, who had mysteriously materialised in an attacking position, found himself in acres of space but after chesting the ball down his powerful shot was brilliantly saved by Barry Richardson. Although Richardson saved well Ruffer could have scored had he shown more composure. Two minutes later Richardson had turned from hero to villain when his horrendous mistake led to City's opening goal. A harmless pass from Porter ran slowly towards the Rovers keeper with Steve Whitehall making a token chase for the ball. Richardson wound himself him to blast the ball into orbit but totally missed his kick and a grateful Whitehall walked the ball into an empty net. A wonderful moment. Perhaps the ball took a nasty bobble on an uneven pitch but its more fun to blame Richardson.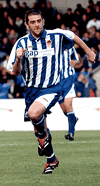 Five minutes later City put the game beyond Rovers reach. Porter brilliantly won possession of the ball on the edge of the area and fed a pass through to the hard-working Mark Beesley. His cross was met by Whitehall whose clever header found the corner of the net. A fine goal. With a two goal lead Chester started to play their best football of the game and Blackburn and Mark Beesley both had good opportunities shortly afterwards. With Chester cruising Doncaster had their best chance just before the break but Tristan Whitman fired over. Whitman was Rovers most dangerous player although he was susceptible to the "I've been shot by a sniper" syndrome.
When the players came out for the second half the unfortunate Richardson received the best reception for an opposition keeper for many years. The second 45 minutes proved an anti-climax as City defended in depth while Doncaster lacked the ability and ideas to break down a solid defence. Perhaps this is unfair on Rovers but they had shown far more promise in their League defeat earlier in the season. City failed to create many chances in the second half and struggled to put any decent moves together. The best moment came when Mark Beesley crossed for Whitehall but his spectacular volleyed effort lacked direction.
There were a series of bookings in the second half for some bad fouls and it was perhaps surprising that no-one was sent off. Moss was booked for a scything tackle on Patterson, who always seemed to be at the centre of the trouble, and Campbell was booked for a spectacular dive in the 18 yard box in a dismal attempt to win a penalty. Shaw should have been sent off for a disgraceful tackle on Carden but the referee played the advantage and by the time the ball had gone out of play Mr Salisbury had lost interest. After 65 minutes the game exploded into action as a Doncaster tackle from behind was missed by the referee. Paul Carden went in with a two footed challenge and a general free for all ensued which saw bookings for Ruffer, Brown and Patterson. Mark Beesley was fortunate not to be booked for a bad tackle on McIntyre who was promptly booked for swinging at the City forward in retaliation.
Martyn Lancaster was probably Chester's man of the match as he continued his recent good from with another confident performance.
After the game Graham Barrow commented:
"I was pleased with the first half and although we defended well after the interval I thought we could have got more out of the game. The second half was very scrappy and there was a definite physical edge to the game. However the most important thing is that we won the match. The first goal was lucky but it is the first lucky goal we have had this season. I thought the second goal was a beauty and well set up by Mark Beesley who really deserves a goal at the moment. I think we have a real chance in the FA Trophy especially as we have beaten one of the favourites for the cup."
---
Saturday 6 January 2001
Blackburn Rovers 2 Chester City 0
AXA FA Cup Round 3
Attendance: 15,223 Half-time 0-0
Blackburn Rovers: Friedel, Curtis, McAteer, Bjornebye, Taylor, Dunn, Mahon, Dunning (Douglas 45), Hignett (Hughes 71), Jansen, Ostenstad (Bent 58), Subs not used: Kenna, Filan.
Chester City: Brown, Fisher (Woods 76), Doughty (Moss 67), Lancaster, Ruffer, P.Beesley, Carden. Porter, M.Beesley, Whitehall, Blackburn (Wright 79). Subs not used: Ruscoe, Woodyatt.
Referee: S.Baines (Chesterfield).

The 2-0 scoreline may not come as a surprise to anyone who wasn't at Ewood Park but it doesn't do justice to a fantastic City performance, which, had we taken our chances (and there were many) could have earned a draw at least.
Such was the size of the away following (over 3,000) that congestion outside the ground forced the kick-off to be delayed by 15 minutes. City's fans, packed into half of the upper and lower tier of the Darwen End stand sang and banged their drums non-stop for two hours, the atmosphere created was electric and the players responded superbly.
Chester playing in a smart black and white striped kit got into the thick of the action right from the start. Fisher sent over a right wing cross that tantalisingly eluded Steve Whitehall at the far post. Rovers responded but Ruffer mopped up the danger tackling Matt Jensen and bringing a neat move to an end. Indeed City's defence of Beesley, Ruffer and Martyn Lancaster remained composed throughout.
Matt Doughty was causing all sorts of problems with his probing runs down the left wing. Several times he got round the defence only to see his teasing crosses evade everyone in the box. Just before the break Whitehall tried his luck from distance but two long range efforts passed well wide of the mark.
The nearest Rovers came to opening the scoring came on 22 minutes when former Crewe player Craig Hignett, with the City defence backing off, shot against the outside of the post with Brown beaten. Goalless at half-time you had a feeling that City really could get something from the match.
It was Rovers who had more of the play following the break. Ostenstad headed straight at Brown, and the keeper also saved well from Hignett.
City suffered a setback on 67 minutes when a hamstring injury robbed them of the services of the impressive Doughty, Darren Moss replacing the defender.
A minute later came the turning point of the tie. Neil Fisher, in front of the massed ranks of City fans, swung over a right wing corner. The ball was headed goalwards by Paul Beesley only for 'keeper Friedel to palm the ball out; it fell to Steve Whitehall who calmly slotted the ball home from six yards, cue jubilant chaos on the away end. However, referee Steve Baines disallowed the 'goal' claiming a push by the defender.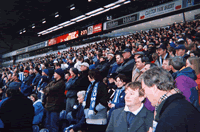 Three minutes later the ball was in the net at the other end. Martin Taylor heading home Rovers debutant Alan Mahon's letf wing corner, Brown having no chance in the City goal.
Substitute Marcus Bent doubled the lead six minutes from time heading home an inswinging kick from close range.
The City fans turned up the volume as Chester pressed forward looking for a goal. Whitehall had two efforts on target, one superbly saved following a flowing move, and substiture Darren Wright had two glorious chances for a goal, the first shooting tamely from eight yards and the second a free header which went straight to keeper Friedel. Mark Beesley could have also done better when given time on the right of the six yard box he hastily shot across goal.
So City's gallant cup run came to an end as they left the field to a standing ovation from both sets of fans.
"I'm a bad loser," said Barrow. "I was as a player and am as a manager and after the game instead of going to the fans, I just wanted to get in the dressing room." Chairman Terry Smith said: "I was tremendously proud of the players. They worked so hard and the support we had at Blackburn was unbelievable."
---
Monday 1 January 2001
Hereford United 2 Chester City 0
Attendance: 2,321 Half-time 0-0
Hereford United: Cooksey, Lane, Sturgess, Clarke, Wright, Wall, Robinson, Snape, McIndoe, Elmes, Williams. Subs not used: Quiggin, Baker, Gardiner, Giddings, Rodgerson.
Chester City: Brown, P.Beesley, Ruffer, Fisher, Doughty, Lancaster, Carden, Blackburn, Ruscoe (Wright 85), Whitehall, M.Beesley (Moss 44). Subs not used: Woodyatt, Kerr, Berry.
Referee: A. Williams (Kingstone).

City can have few complaints after a lacklustre performance. They dominated the first half territorially but Brown had to make the more saves. Early on he dived at the feet of Williams to cut off the danger but after twelve minutes was rescued by Matt Doughty clearing off the line after City failed to clear a corner. Beesley had City's only effort on target of the first half – saved at full stretch by Cooksey.
Barrow made a strange substitution as half time approached. Mark Beesley was withdrawn and defender Moss thrown on. Possibly Beesely was carrying an injury but the half time whistle sounded only seconds after the change was made.
The home team raised the tempo after the interval just as they did at the Deva six days ago. City appeared to be weathering the storm until Moss made a reckless challenge and Williams went sprawling. A penalty was awarded and Lane converted easily. The annoying thing was that Moss had no need to make a tackle Williams was heading away from goal – but how many penalties has the lad given away now?
Two minutes later the game was over as City conceded a second, killer blow. Elmes headed home at the near post from a corner.
City, with Fisher playing in a strikers role for the second half, never looked like scoring one let alone the two goals needed to rescue a point.
Any thoughts of the championship have surely gone now. Not just because of today's result but because City have very little firepower up front or a wide player to unlock some of these Conference defences.