29 February 2008

LEADERS AWAIT CITY

City make their first appearance at stadium:mk tomorrow when they visit League Two leaders Milton Keynes Dons (15:00hrs). Not content with topping the table, the home side also booked a place at Wembley in midweek with a win on penalties over League One leaders Swansea City in the Johnston's Paint Trophy, the two-legged semi had ended on aggregate 1-1. Former Chester player Drewe Broughton netted the winning penalty.

Despite their lofty position The Dons have not won at home since the New Year's Day 1-0 defeat of Mansfield Town, drawing two and losing two of the four games played since. They will be without both captain Keith Andrews and defender Dean Lewington who are suspended.

Chester will have to do without midfielder Mark Hughes (left) who is also suspended for the game after picking up his tenth yellow card of the season in last week's 3-1 victory at Mansfield Town. Defender Paul Butler picked up a knock in the same game and must be rated as doubtful for tomorrow's clash against his former club. That win, the first for City in 13 games will have boosted confidence in a team that was sliding dangerously towards the wrong end of the table and a possible relegation battle.

Ahead of the game manager Bobby Williamson said: �Confidence is a big thing in football. You can tell when a player is playing with confidence and when one is not. We�ve had quite a few for a few weeks now playing without any confidence. It�s been very, very hard for them and, to be fair, the fans have been great. They�ve stuck behind them. It doesn't concern me where we go and play or who we go and play. This is a difficult division and anybody can beat anybody."

The two sides last met at Deva Stadium in mid November when the Blues missed a host of chanced before eventually going down 2-0. Williamson added: "I thought we played well on that occasion and had chances to score goals in that match, but unfortunately their goalkeeper made a few good saves. Our performance was good and I think we showed Dons that we're not a bad team and. Hopefully if we can play like that tomorrow the result will be different."


•
Bobby Williamson's weekly Evening Leader bulletin
---
DUO LOANED OUT

The club loaned midfielder Stephen Vaughan and defender Sean Newton to Blue Square Premier club Droylsden initially for a one month period.
---
27 February 2008

BAN FOR HUGHES
Mark Hughes picked up his 10th yellow card of the season on Saturday and now faces a two match ban. He will miss Saturday's trip to MK Dons and the game the following Tuesday at Darlington.
---
WREXHAM TICKETS
Tickets for the forthcoming home game against Wrexham on Sunday 9 March (kick-off 12:00) are still on sale at the Deva Stadium ticket office. You can collect the during the following times.

Thursday 28 February 2008 – 10.00 until 16.00hrs
Friday 29 February 2008 – 10.00 until 16.00hrs
Monday 3 March 2008 – 10.00 until 16.00hrs
Tuesday 4 March 2008 – 10.00 until 16.00hrs
Wednesday 5 March 2008 – 10.00 until 16.00hrs
Thursday 6 March 2008 – 10.00 until 16.00hrs
Friday 7 March 2008 – 10.00 until 16.00hrs

Prices are:
Adults (seated) £16.00
Concession (seated) £11.00
Under 16 (seated) £ 5.00

Adult (home standing) £14.00
Concession (home standing) £9.00
Under 16 (home standing) £4.00

A Concession must be either a Senior Citizen (aged 65+), a junior (aged under 16) or a student (in full time education with NUS Card). All claims for a concession MUST be supported with suitable proof of qualification.

For postal applications, please send a stamped and self addressed envelope with appropriate remittance to:
Chester City Football Club
(Wrexham Tickets)
Bumpers Lane
Chester
Cheshire CH1 4LT
---
26 February 2008

DEVA DEVELOPMENT OUTLINE PLAN UNVEILED
The club have released outline plans on their official website for the development of the land surrounding Deva Stadium in an effort to generate more income. The plan makes provision for both grass and all weather training pitches in the farmers land behind the West stand. Also included is a business centre on the car park behind the home end and a potential hotel next to the main and away stands.

The plan has been drawn up by a company called Robson Lloyd Consultancy Limited a company that includes former footballers Bryan Robson and Len Cantello amongst its directors.

• The outline plan
---
23 February 2008

WINNING FEELING RETURNS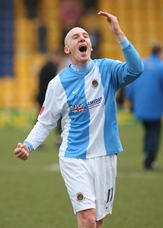 The Blues came from behind to win 3-1 at Mansfield Town on Saturday to register their first victory in 13 matches, and with it their first of 2008
. Having fallen behind to a John Mullins goal on the stroke of half-time, City replied after the break with a brace of goals on his birthday from Kevin Ellison (left) either side of a Tony Dinning penalty, to ease any relegation fears and increase those of their hosts who have now lost seven home games on the run.
A delighted manager Bobby Williamson said after the win: "It will take a while for us to enjoy it, it is a great three points in what was always going to be a difficult game and it seemed that way when we lost a goal just on half time, well just after half time as far as I was concerned as two minutes were added on. We said to the guys, that wasn't a goal in it, there was nothing separating the teams and if we went out and applied ourselves and looked out for each other we would get a result and is exactly what they did."
He continued: "They have worked really hard for each other and we have got the breaks, the penalty decision was a great shout for us and it has been long overdue, as I have been saying, we needed a break and we got that today."

The City boss also had praise for defender Paul Linwood who earnd City's second half penalty. He said: "Paul Linwood was immense in the second half. He dominated everything in the air. Their big striker never won a header. Credit to Linny, he stood up and took the captain's armband and stood up to be counted, just like most of them did."
The Blues were forced into a change at the break with Chris Holroyd replacing injured Paul Butler. The much needed win lifted City up one place in League Two to 15th. They are next in action on Saturday when they travel to play League leaders Milton Keynes Dons (15:00hrs).


---
22 February 2008

ANOTHER BIG GAME FOR CITY

City travel to Mansfield Town tomorrow looking for their first win in 13 games. The Stags, who currently lie one place above Wrexham at the foot of the table, have lost their previous six home matches at Field Mill. By stark contrast they've won their last five away games including a 1-0 win at Deva Stadium on 12 January. Defeat for Chester tomorrow would leave them just six points above their fellow strugglers who also have two games in hand.


Ahead of the crucial game manager Bobby Williamson said: "They're all big games for us at this moment in time. We've got to get the monkey off our back by actually going out and winning a football match. The longer that continues, the harder it gets. But I do believe it changes very, very quickly in football and we're getting close to getting all our players back to match fitness and I think you'll see a different Chester City in the coming weeks."
Following last weeks absence through a hamstring injury, Williamson should be able to call on the services Kevin Ellison for tomorrow's clash, however there is still a doubt over defender Laurence Wilson who was injured in Saturday's defeat to Notts County but was expected to return to training. Mansfield have a doubt over striker Simon Brown.


•
Bobby Williamson's weekly Evening Leader bulletin
---
20 February 2008

RESERVES FROZEN OFF
Today's reserve match at Morecambe has been postponed due to a frozen pitch.
---
WHAT HAPPENED TO...
Angus Eve, Martin Nash and John Keister? All were internationals in their time at Chester and you can find out where they ended up reading Chas Sumner's article here.

• Other history articles
---
LINDFIELD RETURNS
19-year-old Liverpool striker Craig Lindfield has returned to Anfield following his period on loan at Chester. In all he made 5+2 appearances for City.

Blues manager Bobby Williamson said: "Craig Lindfield has returned to Liverpool and we wish him well. He did well during his time with us but his loan deal has finished and we can't extend the loan or replace him with another loan player because we are still restricted by the salary-capping rules. There was nothing I could do to try and keep Craig, but I wish him well in his career."


---
19 February 2008

MATCH OFF

Tonight's League Two match at Darlington has been postponed due to a frozen pitch. This is the second time the fixture has fallen foul of the weather with the original match suffering the same fate in mid December. The game will now take place on Tuesday 4 March, kick-off 19:30hrs.
---
17 February 2008

BLUES SUFFER TENTH HOME DEFEAT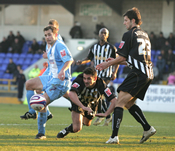 A second half header from Danny Crow was enough to give Notts County the double over Chester following a 1-0 win at Deva Stadium. City dropped a further place to 16th following this tenth home reverse of the season and extends their dismal run to just two points from a possible 36. The crowd on Saturday, 1,798, was the lowest at home this season and contained 311 away supporters.

Manager Bobby Williamson said after this latest home defeat: "Once again we are disappointed. We have not troubled them enough. We have not created enough goal scoring chances as we would like and we got caught. I don't think we deserve to lose, but we never done enough to win it. When you look at their goal, the boy has miskicked it, it flies out wide and their boy gets on the end of it and puts a decent ball in the box and it has cost us. Their guys had a desire to get on the end of it."
"We are not getting the bounce of the ball. I keep saying to the lads that that bounce of the ball will come our way if we keep working hard for each other. We got to keep doing that and that's the only way we will get through this. I've experienced this before as a manager and I've experienced it again, that's for sure. It is not great feeling when everything is going against you."

"We are bitterly disappointed with that result, and we have got to lift our heads and get on with it and look to Tuesday, which is going to be another hard one."

Kevin Ellison was forced to miss the match after picking up a hamstring injury in training.

Tuesday sees City make the trip to third placed Darlington for a fixture originally postponed in mid-December due to a frozen pitch. The Quakers currently were surprisingly beaten 2-1 at home on Saturday by Mansfield Town.


---
16 February 2008
WREXHAM TICKETS

The club have announced details of ticket arrangements for the home game against Wrexham on Sunday 9 March (kick-off 12:00). Tickets will go on sale at the club office after the game against Notts County. They will then be sold as follows:
Monday 18 February 2008 – 10:00 until 16:00hrs
Tuesday 19 February 2008 – 10:00 until 12:00hrs
Wednesday 20 February 2008 – 10:00 until 16:0hrs0
Thursday 21 February 2008 – 10:00 until 16:00hrs
Friday 22 February 2008 – 10:00 until 16:00hrs
Prices are:
Adults (seated) £16.00
Concession (seated) £11.00
Under 16 (seated) £ 5.00

Adult (home standing) £14.00
Concession (home standing) £9.00
Under 16 (home standing) £4.00

A Concession must be either a Senior Citizen (aged 65+), a junior (aged under 16) or a student (in full time education with NUS Card). All claims for a concession MUST be supported with suitable proof of qualification.

For postal applications, please send a stamped and self addressed envelope with appropriate remittance to:
Chester City Football Club
(Wrexham Tickets)
Bumpers Lane
Chester
Cheshire CH1 4LT
---
15 February 2008

ELLISON RETURNS FOLLOWING SUSPENSION

Kevin Ellison returns to the City squad tomorrow for the home game against Notts County having served his three match suspension. The Blues have no fresh injury problems as they must somehow put Tuesday's 6-2 thrashing at Dagenham behind them and stop a terrible string of results that has seen them pick up just two points from the last 33 available! The last home win was against Bury back on 22 December.
The two sides met at Meadow Lane in January with the Magpies running out 1-0 winners. The visitors look to be without Tim Sanderscombe, Gavin Strachan and Stephen Hunt through injury tomorrow as they chase only their second away win of the season. The midweek defeat against Darlington was County's first loss in six matches however. They currently lie 18th, five points above a relegation spot.

Manager Bobby Williamson said ahead of the game: "We could quite easily get beat by anyone in this division at this moment in time but we could quite easily win a game. It's a terrible run we're on. It's the longest I've been involved in and it's a test of character for everybody. Its a time for everybody to stand up and be counted and that's what we're looking for on Saturday."
---
FRANK WAYMAN 1931-2008

Former Chester forward Frank Wayman died recently after being struck by a motor cycle in Ferryhill, County Durham. Our condolences go out to his family and friends.
•
Obituary
---
13 February 2008
BONE DEPARTS AS CITY AIM TO STOP THE ROT

Following a terrible run of results culminating in last night's 6-2 thrashing at Dagenham & Redbridge, assistant manager Jimmy Bone (left) has left Deva Stadium today following discussion's between club owner Steve Vaughan, manager Bobby Williamson and several senior players. The club have acted quickly and replaced him with former manager Steve Mungall.
Williamson said: "We can't hold anything against Jimmy – he's not the reason why we're not winning football matches but we just found we needed to shake things up a bit. Jimmy did a good job for me. He's a great lad and a very loyal coach. But it was very difficult for Jimmy coming in because Malky new the players so well. During pre-season he was with them morning and afternoon, getting in and about the lads. He got to know them really well and he was hard to follow."

City owner Steve Vaughan commented: "We had to take action following the recent poor run of results, and it was felt that we needed to change things around. Everyone at the club, nobody more than me, has been disappointed with the recent run of results, there is no doubt that we have missed the input and character that Malcolm Thompson brought to the dressing room, and hopefully Steve Mungall can give us that type of input."
He continued: "We have to be united, whether it be directors, management, players or supporters. What we need to do is all pull together and I know we will progress and arrest this current sequence of results."
Steve Mungall

Born: 22 May 1958 at Bellshill, Scotland
Playing career:
Chappenhall (1 June 1975 – 1 January 1976),
Motherwell (1 January 1976 – 3 July 1979) Appearances 39+9 Goals 0
Tranmere Rovers (3 July 1979 – 31 May 1997) Appearances 582+40 Goals 17

Mungall has been at the club before and was appointed caretaker manager at Chester following the departure of Gordon Hill in October 1991, he was given the full-time role soon after. After 70 days and just 13 games in charge he was axed after picking up one point in 18 and was replaced for a brief period by Owen Brown.

---
WHERE NOW FOR CITY?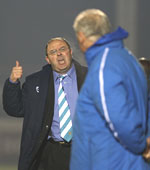 Chester season reached a new low last night with a 6-2 thrashing at the hands of Dagenham & Redbridge.

The Daggers, without a home win in two months, looked the more positive team from the off and hit City with a brace of goals early on through Ben Strevens (13) and Anwar Uddin (15). Dave Rainford added the third on 23 minutes and the home side could easily have extended their lead before half-time. Kevin Roberts pulled a goal back for the Blues six minutes after the break as City finally stirred themselves into looking for a second.

Despite a ten minute period of pressure the Blues fell further behind as Strevens added his second and Jon Nurse headed in the fifth goal on 83 minutes. John Murphy pulled a goal back in injury time only to then see Ryan Hall complete the rout at the other end a minute later.

City manager Bobby Williamson said after the latest debacle: "It is unacceptable, we had too many players out there who didn't perform tonight, who didn't do their jobs properly and I have never been so angry, it is the angriest I have been for a long, long time. There were exceptions, not many, but we continue to lose concentration in games and it is costing us. To lose by six goals tonight was an absolute disgrace, I'm disappointed for the fans who paid good money and time to come down here, who will not get home until 3 or 4 am in the morning. They may have work to go to the next morning too, but I can assure them that these lads will be in tomorrow as well. It was disgrace, I'm so angry and I want to apologise again to fans who turned up and also those who didn't."

"I'm not going to single out any individuals, it was very much a team effort and I'm part of that team, but I'm angry that we never performed as well as we can do.
We can't be accepting results or performances like last night's. I as a manager do my best to work as hard as I can do, but the players have got to work harder and do more when the games come around, and I'm not seeing that at this moment in time."

Following this defeat Chester remain 15th in League Two, next up a visit from Notts County to Deva Stadium on Saturday, kick-off is at 15:00hrs.


---
12 February 2008
CITY LOOK FOR ELUSIVE WIN

Chester travel to Dagenham & Redbridge tonight for a League Two game (19:45). The home side, competing in their first league season, slipped into a relegation slot along with Wrexham following Saturday's comprehensive 4-1 defeat at Hereford United.

In an attempt to bolster their back-line they have signed former Peterborough United and Barnet defender Mark Arber on loan from Stevenage Borough. The Blues, rocked by a last minute defeat on Saturday, are still looking for their first win of 2008 and will be hoping Paul Linwood can pass a late fitness to return to the squad.

The two sides last met in August when two goals apiece from Simon Yeo and John Murphy saw City run out comfortable 4-0 winners.

---
10 February 2008

McATEER GIVEN COACHING ROLE
| | |
| --- | --- |
| | The club have brought in Jason McAteer to join the coaching staff and work under Bobby Williamson and assistant manager Jimmy Bone. McAteer, who will be working on a part-time basis, took his place in the bench at Saturday's 3-2 home defeat by Accrington Stanley. He retired from playing with Tranmere Rovers last year and has since been working to gain his coaching badges. McAteer began his career as a player in 1992 at Bolton Wanderers and went on to play for Liverpool, Blackburn Rovers, Sunderland and Tranmere Rovers. He was also capped 55 times by Ireland and played to two World Cups. |
---
LATE WINNER SINKS CITY

Chester suffered their ninth home defeat of the season on Saturday as a last minute Ian Craney goal gave Accrington Stanley a 3-2 victory. The Blues had fallen behind to an early goal but City fought back well and Paul Butler's header and John Murphy's close range tap-in gave the Blues a half-time lead. Stanley leveled on 68 minutes as Aswad Thomas scored from close range and John Danby could only parry a shot from Craney. The Blues had a chance to win the game in the last minute as John Murphy saw a header from a corner well saved by Ian Dunbavin in the visitors goal before Accrington swept to the other end to deliver the Killer blow.

A disappointed manager Bobby Williamson Williamson said after this latest defeat: "We're getting punished at every opportunity but you've got to believe in yourself. I certainly believe in the players and the players have to believe in themselves and put it into practice. I feel sorry for a few of them in there who give their all and have a desire. "Some of their heads have gone down and we can't have that, we can't accept that. We really need strong players out there."

---
8 February 2008

VAUGHAN RE-SIGNS
The club have re-signed 22-year-old midfielder Stephen Vaughan who has been training at Deva Stadium in recent weeks. Vaughan left Chester to join Boston United in January 2007 where he made 6+1 appearances for the Lincolnshire side before sustaining an Achilles injury. In his first spell at Chester he made 52+23 appearances.

City manager Bobby Williamson told the Daily Post: "I am delighted that Stephen has agreed to rejoining us. I had to persuade him to return to the club. He has good awareness and a great deal of ability, and will prove to be an asset to the squad, and provide extra competition for places."


---
ELLISON MOVE OFF

The loan move of Kevin Ellison to Stockport County is off after the player failed to agree personal terms with the east Cheshire side.

Club owner Stephen Vaughan said: "Kevin Ellison is a Chester City player and he'll just get on with the contract he has at this football club. It's gone. The deal's dead in the water. We've told the player, told the agent and had a conversation with Stockport County."
---
STANLEY IN TOWN

Chester entertain Accrington Stanley at Deva Stadium tomorrow (14:00hrs) looking to build on last weeks point gained at Chesterfield and claim their first win of 2008. Laurence Wilson returns to the squad following suspension but winger Kevin Ellison is out sidelined for the second game of his three match ban.


Accrington will be without both captain Peter Cavanagh and Robbie Williams who are both sidelined through injury. It's reported that David Mannix has received international clearance to play, while keeper Kenny Arthur is back after recovering from a broken leg.

Stanley currently lie two places and four points below Chester and, like City, have won six times in the League on their travels this season. They come to Deva Stadium on the back of four successsive defeats including an 8-2 drubbing at Peterborough United.

The two sides fought out a 3-3 draw just over a month ago with Chris Holroyd (2) and Wilson on the scoresheet for the Blues.
---
6 February 2008

ELLISON TO DECIDE
The club have told winger Kevin Ellison to decide himself whether his proposed loan move to Stockport County goes ahead or not. The two clubs have agreed terms but the decision on the proposed move rests with the player. It appeared yesterday that the move could be off after the player raised objections. The loan transfer window opens on Thursday.

Club owner Steve Vaughan said: "All we want is a yes or a no. We had agreed the details with Stockport, as had Kevin, so now all we want is a resolution to the proposed move one way or the other. If Kevin wants to stay with us then that would be positive news, but if he decides to go to Edgeley Park, he would go with our best wishes. All we want is a decision and I don't think that's too much to ask."

Stockport boss Jim Gannon said: "I think Chester are happy enough to let him go and he's happy to come to Edgeley Park. He'll have looked at the Bury result and will be thinking he can't wait to be part of the journey we are on."


---
5 February 2008

DAGENHAM TICKETS

Tickets for next Tuesday's League Two game at Dagenham & Redbridge can be purchased in advance at a discount price. They can be bought by ringing Dagenham on 0208-592-1549, waiting for the options to get the switchboard, then asking for the ticket office. Tickets can be paid for by credit card and collected from the ticket office on the night. You MUST state you want AWAY tickets.

The prices are £13.00 for adult terrace instead of £15.00, and £16.00 for adult seats instead of £18.00. You will need to confirm concession prices.
The Daggers are obviously expecting a big turn out all the way from Chester as they say they've sent 100 seat and 200 terrace tickets to the club for them to sell at the discount price!


Tickets will also be on sale at Deva Stadium folllowing the match on Saturday, these will be cash sales only.

---
4 February 2008

BATTLING CITY EARN A POINT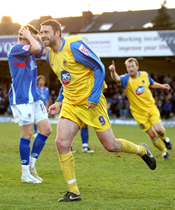 City picked up a welcomed point from their 1-1 draw at play-off placed Chesterfield on Saturday.

The Blues were forced to replace Paul Linwood midway through the first period as the defender suffered a recurrence of a groin injury, Shaun Kelly deputising from the bench.

Manager Bobby Williamson was able to recall midfielder Tony Dinning folowing injury and his experience was a needed boost to a side yet to win this year. Holding their opponents at the break City fell behind to a goal from top scorer Jack Lester but replied within five minutes with a well taken effort from John Murphy.

Williamson is hoping that Saturday's draw can act as a springboard to get the season back on track. He said: "I'm hoping this draw will be the catalyst to start us on a run. If we can start a run right now and keep winning games then we won't be far away from the play-off positions and that's the aim."
"People have been talking about survival and all that nonsense. The side hasn't changed much from the start of the season – the only problem has been that the pitches have been heavy and the training facilities have deteriorated, but we're back on track now."
"I've got great belief in the guys and if they keep working hard and keep responding then they will win football matches."
"It was also pleasing to hear our fans getting behind the players for the whole match, even when we went a goal down they still got behind us. I knew the lads wouldn't let them down and they didn't by getting back into the game, but it perhaps would have been hard on Chesterfield if we had won."
---
2 February 2008

IS ELLISON STOCKPORT BOUND?
The official Stockport County website states that a deal has been agreed with Chester City to take Kevin Ellison back to Edgeley Park, initially on a loan before signing a permanent contract in the summer. Ellison previously played for the east Cheshire side in November 2001 having signed from Leicester City for £55,000.

Ellison, in his second spell with Chester this season has scored 8 goals in 30+0 appearances for the Blues, and has netted 19 goals in 60+0 appearances in his two spells at the club. He is currently serving a three match ban.

There is no confirmation on this deal yet from Chester.


---
1 February 2008

DINNING SET FOR RETURN

Midfielder Tony Dinning could return to the City squad tomorrow. The experienced 32-year-old has been sidelined since picking up a knee injury at Wrexham in November. He played a part in the reserves match this week and now looks set to be included in the team who travel to high-flying Chesterfield tomorrow. Manager Bobby Williamson must make do without the services of Kevin Ellison and Laurence Wilson who both begin three match suspensions.

The Spireites lie sixth place, 11 points above City and also have two players, Peter Leven and Jamie Lowry, suspended for the match at Saltergate. Leven was the subject of a £50,000 bid this week from Brighton that was rejected. No doubting tomorrow's dangerman is Jack Lester who has already notched 22 league and cup goals this season.

On Dinning's possible return manager Bobby Williamson told the Chronicle: "There's every chance. It's the communication factor with Tony. He talks to people, he organises and I don't think we've got enough of that in the team. Paul Butler does it at the back, but apart from Paul there's not many who take on the mantle and organise players in front of them. Tony can bring that to us."

The two sides last met on the opening day of the season in an entertaining evenly contested game that ended 0-0. This will be our first league trip to Saltergate since February 1994 when goals from Graham Lancashire and Mark Leonard brought a 2-1 victory in our promotion season.
---