---
Tuesday 28 December
Chester 2 AFC Fylde 2
National League North
Attendance: 2,075 Half Time: 0-0
Booked: Roberts, Weeks, Hardy.

Chester: Gray, Horsfield (Morgan 81), Williams, Grand, Askew, Roberts, Glendon, Weeks, Hardy (Livesey 86), Dudley, Stephenson. Subs not used: Smith, Cowan, Lacey.
AFC Fylde: Jones, Whitmore, Tollitt, Philliskirk, Hulme (Osborne 84), Haughton (Obi 90), Sampson (Walker 66), Perkins, Pike, Stott, Lloyd. Subs not used: Gregson, Robinson.
Referee: B.Atkinson.

After a welcome winning start to Steve Watson's reign as Blues boss on Boxing Day, Chester drew this entertaining game with high-flying Fylde. In truth most Blues fans will have gone home feeling split between disappointment at the visitors' late equaliser and encouragement at an assured performance against one of the favourites for the title.

There was a confidence about City's play which has been lacking on occasions this season. The defence had a solid feel with Grand's experience blending well with Williams' youthful energy and astute anticipation. Kevin Roberts added a defensive shield in front of the back four with Weeks, Glendon and Hardy forming a creative combination in midfield. Stephenson and Dudley led the attacking line.

City began on the front foot with Stephenson making inroads on the left and firing in a low shot which Jones saved desperately with his feet. Glendon and then Hardy had good chances in the box but again Jones got in the way of their efforts. The Coasters gained some composure and began to settle in possession. Winning a succession of corners they troubled City's defence with dangerous whipped deliveries. One even skimmed against the bar and back in to play.

Jordan Hume broke forward but Gray beat him to the ball and referee Atkinson was not impressed with the former Altrincham forward's attempt to feign injury in the tackle. Hume had a better opportunity to score when on the stroke of half-time Tollitt crossed from the right. The Fylde number nine dived goalwards but only succeeded in knocking the ball wide.

Although the Coasters took the game to City after the break it was the Blues who took the lead. Persistent play down the right ended with Stephenson crossing first time into the box. Glendon controlled the ball then pirouetted to smash his shot past Jones for the opener.

Things got even better for the Blues when Perkins was shown a straight red card for his fore-arm smash into Hardy's face. But it only served to deepen Fylde's determination as they levelled matters on the scoresheet. Tollitt twisted and turned Askew on the right and his looping cross was met by Haughton who was able to steer it past Gray.

Chester enjoyed more possession with their man advantage and patiently tried to forge a scoring opportunity. Weeks with a cross shot and Hardy on the right went close but were both off target. Fylde despite being a man short showed no lack of quality when they had the ball. City took the lead for the second time in surprising fashion when Stephenson cut in from the right and fired a shot with his left foot. Jones seemed to have it covered at his near post but allowed the ball to squirm from his grasp and over the line. This was with just less than ten minutes to go.

Weeks came close to sealing victory when he was allowed to run and shoot – his effort narrowly over. But Fylde's never-say-die attitude was epitomised by Tollitt who picked up the ball outside the box as City struggled to retain possession and fired a low shot just inside Gray's right hand post.

So City had to be content with a share of the spoils which many might have settled for before the game began. However the nature of Chester's shape and composure on the ball bodes well for Steve Watson's influence upon them. Before the match Steve McNulty was announced as his assistant, adding more successful experience in this league to the club. City fans can allow themselves to be cautiously optimistic for the New Year.


• League table after this match | Match pictures
| Watch the highlights [YouTube]
---
Sunday 26 December
AFC Telford United 1 Chester 3
National League North
Attendance: 2,028 (472 Chester) Half Time: 0-1
Booked: -.

AFC Telford United: Cann, White (Bennett 67), Lilly, Shotton, Bood, Birch, Walker (McHale 74), Wiliams, Baker, Goodridge, Bange (Oswell 67). Subs not used: Abbey, Daniels.
Chester: Gray, Horsfield, Williams (Livesey 59), Grand, Askew, Roberts, Weeks, Glendon, Hardy (Cowan 79), Dudley, Stephenson. Subs not used: Smith, Morgan, Burke.
Referee: Dale Baines.



Chester fans received their perfect Christmas present at AFC Telford on Boxing Day as new manager Steve Watson piloted the Blues to a rare away win.
Early Blues fans arriving at the New Bucks Head were encouraged by Watson's strict and exacting pre-match warm-up. This looked like a man who meant business!
With George Waring absent through Covid, Watson set the team up with the one-man strike force of Anthony Dudley, backed up by Darren Stephenson and James Hardy on the wings.
The game's opening spell left Chester thankful for goalkeeper Louis Gray as Paul Carden's bottom-of-the table team tried to make an instant impression, with Kai Williams proving to be a particular handful.
But the initial home threat was forgotten on the 13th minute when a great cross from Stephenson came to Hardy, who took a couple of attempts to find the net. It marked a perfect return for Hardy, who'd been out with an ankle injury since October.
Telford tried to get back into the match, but Simon Grand and Matty Williams proved to be rock solid in defence. Then just before half-time, the back of George Glendon's head got in the way of a goal-bound Telford volley. He seemed to know little about it, and was pole-axed for a while.
Telford made a good start to the second half, but Williams was in the right place again to stop an Adam Walker strike. The Chester defender had to go off with blood pouring from his head. Thankfully there was an able replacement on the bench in the shape of former temporary manager Danny Livesey.
At the other end, Stephenson continued to be a force to be reckoned with. He drew a penalty with a clever manoeuvre on the 72nd minute when he wasn't really in a goal-scoring position.
Dudley confidently stood up to take the spot-kick and had no trouble getting the ball past Telford's on-loan goalkeeper Ted Cann.
Just five minutes later Stephenson got his own reward for his man-of-the-match efforts. Declan Weeks passed the ball to him and he hammered the ball home to give the Blues an assured victory.
The afternoon's drama wasn't quite over though as Telford's Assistant Manager Carl Baker scored a wonder goal on the 92nd minute. But many of his team's fans had already disappeared and it was too late for a home comeback, with Chester earning a deserved three points.




• League table after this match | Match pictures
---
Saturday 11 December
Spennymoor Town 4 Chester 2
National League North
Attendance: 1,205 (70 Chester) Half Time: 1-0
Booked: -.

Spennymoor Town: Eve, Lufudu, Sikora, Chandler, Richardson, McLean, Spokes, Ramshaw, Thompson, Hall, Taylor. Subs not used: Kennedy, Flatters, Moke, Mason, Muljern.
Chester: Gray, Roberts, Cowan, Williams, Horsfield (Askew 46), Clark (Stephenson 64), Glendon, Weeks, Redshaw (Oyibo 78), Waring, Dudley. Subs not used: Smith, Burke.
Referee: B.Wyatt.



Chester fought back from two goals down but conceded twice in the final five minutes to lose at Spennymoor.

Interim manager Danny Livesey made three changes from the side that scored a dramatic late win over Leamington. Declan Weeks, Anthony Dudley, and Luke Clark all stated at the expense of Charlie Jolley (recalled by Tranmere), Paddy lacey and Josh Askew.

Goalkeeper Louis Gray was the first to see action saving well from Luke Spokes in the opening five minutes as Moors started the stronger side.

Anthony Dudley saw an effort tipped onto the bar by Dale Eve, before Stephen Thompson missed a great chance to put the home side ahead at the other end shooting over from ten yards after John Lufudu had set him up.

With the game heading to first half stoppage time the breakthrough came as Rob Ramshaw's header looped onto the post and in off the back of Gray for an own goal.

Askew replaced James Horsfield at the break and he soon forced Eve into another good save from a long range effort. Midway through the second period Moors doubled their lead through Spokes converting Lufudu's cross.

Chester battled on and pulled a goal back on 77 minutes as substitute Darren Stephenson turned and shot from the edge of the box deflected off Kenton Richardson to wrong foot Eve in the home goal.

Seven minutes later Chester were level as a slip by Lufudu allowed Jude Oyibo through on goal and he made no mistake scoring his first of the season.

Chester's hard work in fighting back was undone though by two similar goals in the final five minutes that saw Glen Taylor send two near post flick headers past Gray two seal the three points for the home side.


•
League table after this match
| Match pictures | Watch the highlights [YouTube]
---
Saturday 4 December
Chester 2 Leamington 1
National League North
Attendance: 1,389 Half Time: 1-1
Booked: -.

Chester: Gray, Roberts, Cowan (Dudley 45), Glendon, Waring, Horsfield, Lacey, Williams, Askew, Redshaw (Weeks 69), Jolley (Stephenson 87). Subs not used: Clark, Oyibo.
Leamington: Weaver (Gittings 32), Meredith, Morley, Clarke, Morrison, Lane, Parker (Anderson 78), Prosser, Turner, English (Mooney 81), Kelly-Evans. Subs not used: Cook, Allen.
Referee: M.Barlow.

When, in added time added on to added time, James Horsfield slammed a pile-driver of a shot into the back of the net from just inside the area, he transformed a mundane, attritional match into a memorable one. It's not the first time this season that Chester have plucked a late winner out of the embers of stoppage time but it was a first win for Danny Livesey's caretaker spell and some welcome cheer after the sadness of the last few weeks.

Played in atrocious conditions, a swirling wind and unrelenting wintry showers, this game was as inhospitable to play in as they come. Livesey, with Simon Grand assisting him from the bench, made three changes to the side which had narrowly succumbed to Curzon in the FA Trophy. Lacey, Askew and Waring all started with Weeks, Clark and Dudley dropping to the bench. The referee, seemingly keen not to hang around in such appalling weather, kicked the game off five minutes early.

With the gusty wind at their backs City attacked the clock end. Twice in the opening minutes Redshaw found himself through on goal. First his touch allowed Brakes' keeper Weaver to gather and then the bouncing ball would not come under control for his second opportunity. It seemed a case of the wind gave and the wind took away.

Although City dominated territorially, Leamington were able to break swiftly and Gray was called upon to save instinctively at his near post when English's cross from the right was diverted towards goal by Kevin Roberts under close pressure by Kelly-Evans. At the other end Steph Morley headed Waring's towering header off the line.

A free kick on the left gave Blues the opportunity to launch the ball deep into the Leamington area. Weaver came to claim but dropped the ball after colliding with his centre-back. Lacey was first to react to the loose ball and scored. Celebrations became muted when it was realised Weaver was seriously injured in the fall. The referee led both teams off the pitch while the stricken keeper received medical attention. Eventually he was stretchered off and sent to hospital.

When the teams emerged again it was outfielder Gittings who took the red jersey rather than youth keeper Allen who was available. The break in momentum suited the visitors better and they broke forward again. Meredith was stopped on the edge of the box but unfairly in the eyes of the referee. Morley then curled the free kick into the near corner – Gray managed to get fingers on the ball but not enough to keep it out.

After the break the visitors enjoyed the advantage of the wind and, at times, City found it difficult to get out of their half. Dudley had replaced a limping Cowan at half time and Blues had to rearrange the defence as a result. It was Waring, though, who got his head in the way of a goal bound shot by Prosser. Although under the cosh for much of the second period, City conceded few other opportunities and protected their box well.

Weeks came on to relieve tired legs in midfield and towards the end of ninety minutes, Stephenson too. His tenacious foray down the right took the game to Leamington and stirred the home faithful. But it was deep into stoppage time when Weeks launched the ball towards Waring and his header was cleared only as far as Horsfield who claimed his dramatic winner.

The result was harsh on Leamington but rewarded Chester's battling spirit. It bought a bit of breathing space for board and management and sent the fans home happy in this last game at the Deva before Christmas.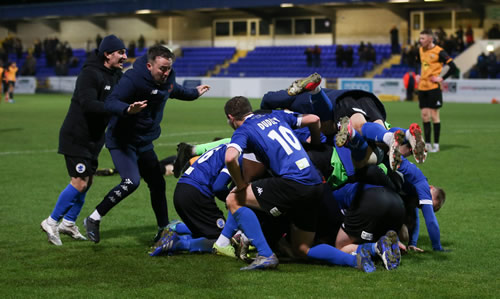 • League table after this match | Match pictures
| Watch the highlights [YouTube]
---