24 April 2019

SEASON TICKET PRICES 2019/20

Chester have frozen season ticket prices for next season, but in an effort to boost both the atmosphere and numbers on the Harry McNally terrace they have reduced the Early Bird price for admission of 18-21 year olds to just £50.00.

Early Bird prices are available from Monday 29 April to Friday 14 June. Current season ticket holders have until Friday 7 June to buy the same seat for next season.


Harry McNally Terrace

Adult Early Bird: £200
18-21 Early Bird: £50
Concessions Early Bird: £170
5-17 Early Bird: £30 (£55 with home shirt)

Adult full price: £225
18-21 full price: £75.
Concessions full price: £195
5-17 full price: £50 (£75 with home shirt)


Red Insure (Main) Stand and Swettenham Chemists Community Stand

Adult Early Bird: £250
18-21 Early Bird: £100
Concessions Early Bird: £200
5-17 Early Bird: £30 (£55 with home shirt)
Under 5: FREE


Adult full price: £275
18-21 full price: £125
Concessions full price: £225
5-17 full price: £50 (£75 with home shirt)
Under 5: FREE


Legends Lounge membership
Adults: £25 per game or £525 for the season (inclusive of VAT).
---
23 April 2019

PLAY-OFF HOPES OVER
Chester's slim hopes of reaching the play-off finals were ended with Monday's 0-0 home draw with Brackley Town. victory would have taken the fight to the last game of the season but it wasn't to be, the last play-off position will go to either Bradford (Park Avenue) or AFC Telford United.

It was a hard fought draw against a Brackley side that sits third on the league and have promotion aspirations of their own. The Blues almost grabbed the three points in the final minute when a cracking George Green effort saved by Dan Lewis in The Saints goal and Steve Howson unable to convert the loose ball.

Meanwhile managers Anthony Johnson and Bernard Morley have indicated that around six or seven of the current squad will around the club next season. The players are expected to be informed of the retained list in the coming days.

Morley said: "Getting rid of players is going to be difficult, it always is. I said it in my interview a couple of weeks ago, there is going to be a clean slate and players are going to get the answers this week and we have always said that. Now that the play-offs are done and out of sight it is time to honour them and respect them and tell them if they are going to be here next season or not, and whether they want to be with us or not. I think it's important we allow the players who aren't going to be with us to start planning as well as us. I think that is only fair."

• League table after Brackley match

---
20 April 2019

MURRAY SHINES IN BLUES VICTORY
Iwan Murray opened the scoring at Hurst Cross with a wonder strike as Chester went on to record a comfortable 3-0 victory over Ashton United on Good Friday with further goals from Danny Livesey and George Waring.

On Murray's goal, joint manager Anthony Johnson said: "It was unbelievable. We said to him before he went out that wanted to see four or five efforts by full time. That one was something special and he has special ability. I thought the lads around him allowed him to play with that freedom and I thought George Waring and Anthony Dudley gave us a platform on which to build on and that space was there for Iwan to work in. It was a brilliant performance from the kid."

---
15 April 2019

MOONEY RETURNS TO FLEETWOOD
Winger Dan Mooney has been recalled by Fleetwood Town three games before his extended loan spell was due to end, Fleetwood have several players currently injured/suspended. He wasn't included in the squad for Saturday's match with York City. The 19-year-old joining the Blues in the summer initially on a loan deal until the end of the year but after an impressive spell had the deal extended in the new year. In total he made 33+5 appearances scoring eight goals including two outstanding efforts in the 2-2 draw at Brackley Town back in November 2018.

---
CHESTER HELD BY YORK
Chester's chances of making the end of season play-off's were all but ended with Saturday's 2-2 home draw against York City. The result leaves the Blues tenth six points from the last qualifying spot with just three games left and a vastly inferior goal difference.

Twice Chester came from behind against the Minstermen with a Sean Newton own goal and a George Waring effort canceling out goals from Adriano Moke and a Gary Shenton own goal.

The Blues are next in action on Good Friday when they visit Ashton United, kick-off 15.00hrs.

• League table after York draw

---
11 April 2019

ACADEMY WIN TITLE IN STYLE
The youth team clinched the National League Alliance Division J title in emphatic style with a 6-0 victory over Stockport County on Wednesday night in front of a crowd of 464. Cain Noble put the young Blues ahead before Chester doubled their lead courtesy of an own goal. Lloyd Marsh-Hughes added a third to give Chester a comfortable half-time lead. Leighton Kendrick added the fourth goal before a brace from Sam McCormack completed the scoring. An injury to Marsh-Hughes saw him take off late in the game.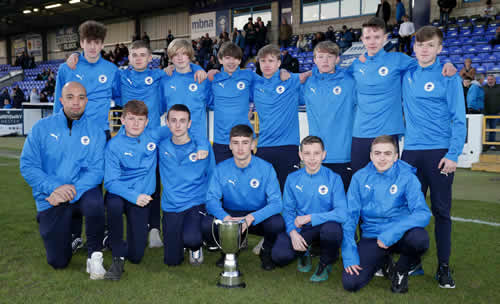 ---
9 April 2019

YOUTH TEAM LOOK TO CLINCH TITLE
The youth team are in league action at home tonight against Stockport County. A point from the game will see the young Blues clinch the National League Alliance Division J title. The match kick's off at 19.00hrs with free admission, though donations for the Youth Academy can be made on entry.
---
BLUES THRASHED AT HOME
Chester suffered their worst home defeat for many years when they were beaten 6-0 by Stockport County last night. The comprehensive victory took the Hatters to the top of the league.

The Blues found themselves a goal down after just ten minutes with former Blue Nyal Bell heading home from close range. Ten minutes later Sam Walker doubled the leading shooting paste Grant Shenton from the edge of the box. Bell scored his second as County took a 3-0 half-time lead.

Further goals from Darren Stephenson on 64 minutes, Walker from the penalty spot on 82 minutes, and Jordan Keane two minutes from time completed the humiliation in the second half.

Joint manager Anthony Johnson told the local press: "There is no excuses in terms of injuries, that was a weak, disgusting performance from all of us, and that isn't just the players that is every single one of us."

"The first half was a comedy show in terms of errors. The second half we are 3-0 down and we told the lads that this isn't September or October when we might have shut up shop, we needed to get something out of the game."
"It was alarming at the way we capitulated in terms of doing the basics right. But that is four or five times we have seen this now to an extent that I've never seen in any other team that we've managed, which is quite unbelievable."
"We shouldn't be getting beaten 6-0 at home by anybody. We got beaten 8-1 away from home and we put it down as a fluke – until now. You don't lose 6-0 at home in front of your own supporters. The supporters were hurting and I could feel it. We talked about trust at the start of the season, this group, mine and Bernard's group, but we have lost it too many times now."

Chester slipped to tenth following the defeat, they are next in action on Saturday with a home game against York City, kick-off 15.00hrs.

• League table following Stockport defeat
---
8 April 2019

LATE GOAL KEEPS PLAY-OFF HOPES ALIVE
A stoppage time goal from Danny Livesey gave Chester a 3-2 win at Nuneaton Borough on Saturday to leave the Blues three points form the play-off places. It proved to be a scrappy game on a bumpy pitch that saw Chester open the scoring in the fourth minute with a well taken Akwasi Asante goal but despite plenty of possession found themselves pegged back ten minutes before half-time through a Miles Addison goal.

The Blues regained the lead in the 50th minute with Livesey turning the ball home at the near post from a corner. Three minutes from time Borough drew level again as Mike Calveley took advantage of some slack Blues defending and looked to have sealed a point. However with the game four minutes into stoppage time Chester forced another corner which fell to Livesey to head home the winner from close range.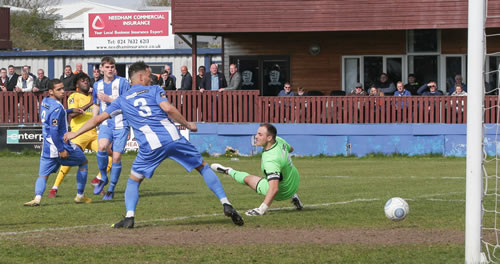 Joint manager Bernard Morley said : "I don't even know how I can smile, it wasn't good enough again. I know I sound like a broken record but for what we have watched today, in parts of that game, it was just not us."
"But credit to the lads, they found a way to win in the 94th minute and it gets us that little bit closer to what we are trying to achieve. Let's hope that takes us into Tuesday night's game now."
"The lads realised how poor we were first half and we came out second half with more energy and enthusiasm to our game. Danny gets us the goal and you think we'll push on and maybe get a third that will kill the game."
"But after that second Nuneaton goal Brad Jackson has traveled 60/70 yards at that pace to win the corner. A good ball by George Green from the corner which is defended well and a great ball back in by Ben McKenna and we've got the winner."
"That's the positive I can take out of today, the reaction after the second goal. It could have been heads down, take the draw and season finished, really."
"I'm not going to skirt around the edges of it because the lads know how poor they were. I've not even gone in the changing room after the game, they know it was a poor performance but it was three points. There is all to play for."

Chester are back in action on Tuesday night with an all-ticket home game against championship chasing Stockport County, kick-off 19.45hrs.

• League table


---
STOCKPORT TICKETS
Tickets will be on general sale for the last day today ahead of the home match against Stockport County tomorrow night, kick-off 19.45hrs. The ticket office is open daily form 10.00-16.00hrs. Season Ticket holders do not need an additional ticket. NO tickets will be sold on the day of the match. Stockport have sold out their allocation of 1,300 tickets.
---