---
Saturday 29 April
Chester 0 Boreham Wood 2

Conference Premier
Attendance: 2,013 Half Time 0-1
Booked:

Chester: Lynch, Hunt, Astles, Vassell, Hughes, Durrell (Waters 48), Shaw (Dawson 61), Lloyd, Davies (Joyce 61), Alabi, Akintunde. Subs not used: Roberts, Marsh.
Boreham Wood: Smith, Nunn, Paine, Stephens, Shakes, Davis, Andrade (Morgan 81), Ferrier (Sach 86), Ilesanmi, Balanta, Devera (Reason 72). Subs not used: Hitchcock, Keita.
Referee: Simon Barrow.

A strange end of season atmosphere pervaded the Deva Stadium as Chester's season drew to a close in this fixture with Boreham Wood. Though it was still mathematically possible for City to go down it needed all the teams below to win and York to make up a goal difference of nine in the process. In the end York failed to beat Forest Green Rovers and they were relegated along with Braintree, North Ferriby and Southport. News of the other games came filtering through as Chester's match unfolded. The play was fairly evenly balanced in the first half – though the visitors seemed the better organised and City seemed to be running on empty.

The Blues made a slow start and the visitors came closest to scoring when midfield dynamo Kenny Davis curled a shot just wide of the upright. Chester began to find an attacking rhythm as the half wore on but just as it was petering out to a blank scoreline at the interval; as one minute of stoppage time was announced ' Wood took the lead. Davis' careful shot from the edge of the box was heading straight for Lynch until Hughes lunged to deflect it past the helpless 'keeper. It was a hugely deflating time to score from Chester's point of view and the Blues went in for their half-time cuppa under a metaphorical cloud even though it was a sunny day.

Chester improved slightly after the break but still were outmuscled too often on the ball as they looked to threaten. Soon Durrell was surprisingly replaced by Waters. Shaw had a long range shot over the bar which raised spirits slightly. Then both he and Davies were replaced by Dawson and Joyce respectively. By then City were two goals down. The ball was given away sloppily in midfield and Balanta ran through unchallenged to score into the corner. For a few minutes it looked as though City would go to pieces and that nine-goal difference over York would be whittled away - but in fact they rallied to finish the game on the front foot and were unfortunate not to get at least a goal back, Closest was Alabi with a header from the six yard line, following an overlap and cross by Jonny Hunt. Smith flicked it over the bar

A goal would have lifted the home supporters and given them something to hold on to but it was not to be and Chester succumbed to a record-equalling eighth consecutive home defeat. Alabi led the players in applauding the crowd as they departed. There were half-hearted attempts to encroach on the pitch, in time-honoured tradition, by some of the youthful fans – but their efforts were snuffed out by the stewards.

It was a subdued end to the season but when the dust settles Cestrians should reflect that this was a good achievement to maintain National League status for another season. York, having parachuted down from the EFL with all the financial support of that had still gone down despite a valiant attempt to escape in recent weeks. An attempt which has involved them in spending next season's budget already. Credit is due to Jon McCarthy and all the players and staff for keeping the Blues afloat despite a relatively limited budget. Memories of the first half of the season – sweeping wins against Dagenham, Sutton and Dover; a dramatic late equaliser at Tranmere which elevated Ryan Astles to legendary status; Elliott Durrell's goal-of-the-season from the halfway line against today's visitors and an emphatic win away at Eastleigh are all evidence that this season has not been a disappointing one in the scheme of things.
Rate Chester's performance
---
Saturday 22 April
Sutton United 5 Chester 2

Conference Premier
Attendance: 2,082 Half Time 3-0
Booked:

Sutton United: Puddy, Beckwith (Spence 67), John, Collins, May, Eastmond, Bailey, Monakana (Jebb 56), Biamou (Dundas 59), Coombes, Cadogan. Subs not used: Gomis, Brown.
Chester: Lynch, Hughes (Joyce 56), George, Astles, Vassell, Dawson (Hunt 46), Shaw, Lloyd, Durrell, Alabi, Akintunde (Davies 71) Subs not used: Roberts, Waters.
Referee: Chris O'Donnell.
Anyone who watched Chester's last appearance on a plastic pitch - when they went three goals behind inside 14 minutes at Maidstone - must have had a feeling of deja vous as they saw the Blues let in two goals within eight minutes.
The Exiles banner was still being put in place after an excellent pre-match visit to the social club at the Borough Sports Ground, when Sutton's Adam Coombes found the net with a great strike after just five minutes.
Chester didn't learn from that early setback by tightening up at the back, as Adam May found himself in space two minutes after the re-start. He put Sutton two ahead with another well-taken shot past Blues' goalkeeper, Alex Lynch
The visitors made little impression in the first half apart from sending the 200-ish travelling fans into despair when they went 3-0 behind on the 41st minute thanks to a quality free kick from Sutton's captain Jamie Collins.
It couldn't have got much worse for Chester not long after the re-start when they let in the 4th goal on the 46th minute, thanks to an Adam Coombes header. There was no way Chester could get a look-in during this game and soon enough they were 5-0 down after Nicky Bailey found the net with 20 minutes left on the clock.
This seemed to spur Chester into action, and quick-witted James Alabi scored a consultation goal after a rare mistake from Sutton goalkeeper Will Puddy. Chester's leading scorer struck again with a close finish on the 82nd minute. He had a chance to get his hat-trick, but it wasn't to be and Chester had to settle for another inglorious defeat.
Sue Choularton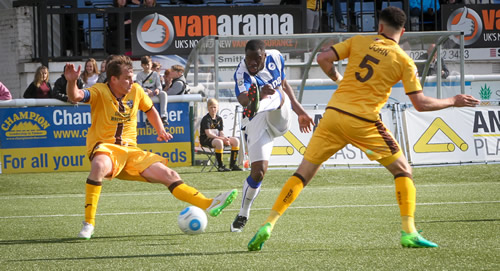 Picture © Rick Matthews (Chester Leader)
Rate Chester's performance
---
Monday 17 April
Chester 2 Woking 3

Conference Premier
Attendance: 1,770 Half Time 0-0
Booked: George.

Chester: Lynch, George, Astles, Vassell, Hughes, Durrell, Shaw, Lloyd, Joyce (Akintunde 74), Davies, Alabi. Subs not used: Roberts, Hunt, Waters, Dawson.
Woking: Poke, Caprice (84), Thomas, Jones, Saah, Murtagh, Ugwu, Ralph, Saraiva (Kretzschmar 71), Sam-Yorke (Lucas 65), Ferdinand. Subs not used: B.Hall, Lewis.
Referee: Steven Rushton.

In a calamitous last eight minutes Chester lost this see-saw thriller with Woking. Elliott Durrell seemed to have struck the winner in the eighty-second minute as the culmination of a great and hard fought fight back by the Blues – but Woking responded as substitute Conor Hall struck seconds after coming on. Worse followed in the final minute as George handled from a corner and the Cards were granted a spot kick. Ugwu just managed to squeeze the penalty past Lynch's dive to make Woking's Houdini act complete.
Chester recovered from a shaky start as Vassell headed Ugwu's effort off the line and escaped when Sam-Yorke latched on to Lloyd's kamikaze back-pass and rounded Lynch only to hit the side netting. But as the half wore on Chester got first a foothold and then more of a grip on the game. First Vassell prodded a shot goalwards – to be saved by the keeper; then Hughes headed just wide from a corner. Astles went on a surging run from the back and passed out to Lloyd on the left. The big man's momentum carried him in to the box to meet Lloyd's cross but he couldn't direct his header past the keeper. What a legendary goal it would have been. As City grew in confidence Durrell had a shot which stung Poke's hands in the goal and the keeper also pulled off an incredible save when Alabi got clean through.
After the break City continued to pick up where they left off and pressed forward but they were caught out when Joyce was adjudged to have fouled Ralph on the left side. The resultant free kick was not cleared properly and the ball fell to centre back Saah who slammed Woking into the lead. The advantage was short-lived though as Joyce delivered a superb cross from the right for debutant Liam Davies to head home with aplomb. Davies had struggled defensively in the first half as a left wing back but showed a good eye for goal as he scored with a beautiful effort.
Blues now tended to have the ascendancy in a very open game. George was in inspired form breaking up play in midfield and driving City forward. Alabi headed narrowly wide from a Davies corner and similarly Hughes too went close. Akintunde was introduced to replace Joyce on 74 minutes and his skill seemed to have carved open the golden opportunity as he got behind on the right side and pulled the ball back to Shaw. As his shot was blocked it fell to Durrell who smashed the ball in past a couple of defenders. Blues players and fans celebrated wildly thinking that safety had been achieved – but they proved to be premature after a stunning couple of sucker punches from the Cardinals.
In truth this was a good and characterful performance by the Blues but marred by the cruel last-gasp ending. The result heaps more pressure on Jon McCarthy who must be wondering what more he has to do to help Chester win at home. The last couple of games will call for cool heads, discipline and confidence, the hard-working and decent Chester manager deserves all of these from both players and fans as the season draws to a close. Keep the faith, City, keep the faith!

Colin Mansley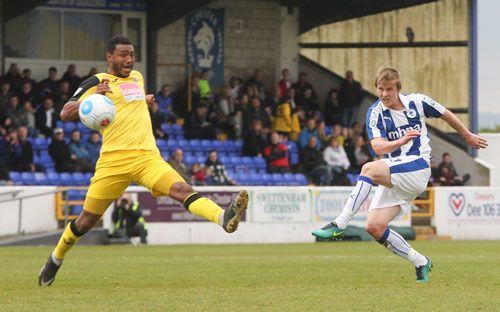 Picture © Rick Matthews (Chester Leader)

• League Table
Rate Chester's performance
---
Friday 14 April
Forest Green Rovers 2 Chester 0

Conference Premier
Attendance: 1,936 (143 Chester) Half Time 0-0
Booked: .

Forest Green Rovers: Russell, Tilt, Monthe, Traore, Ellis, Bennett, Doidge, Bugiel (Noble 68), Woolery (Mullings) 78, Wishart (Kelly 74), Cooper. Subs not used: Robert, Gosling.
Chester: Lynch, Vassell, Astles, Hughes, Hunt (Waters 70), George, Joyce, Dawson (Shaw 70), Durrell, Davies, Alabi (Akintunde 70). Subs not used: Roberts, Marsh.
Referee: Adrian Quelch
.


Chester never looked like they expected to get anything from their trip to promotion hopefuls Forest Green Rovers and - without a shot on target - were lucky to lose by only a two-goal margin.
Forest Green were livelier from the off, with prolific striker Christian Doidge hitting the post within the first few minutes. Soon after that, Elliott Durrell cleared the ball off the line from a corner.
Durrell went on to be the best Chester player on the park, with a second half strike which blazed over the crossbar being about the closest the Blues came to finding the net.
Forest Green almost went ahead halfway through the first half when the ball hit the woodwork again. At this stage, Chester had barely moved out of their own half and it looked inevitable that the home side would make the pressure count at some stage.
In fairness, Forest Green have got quality players oozing through their ranks and Theo Vassell, Sam Hughes, Ryan Astles and Alex Lynch gave respectable performances as the Chester defence were put under siege. Under that pressure, it actually seemed remarkable that it remained 0-0 at half-time.
But the scoreline didn't stay that way for long when Doidge seized on an opportunity on the 50th minute after a good pass was fed to him. He shot past the aquamarine-clad Chester goalkeeper to put the hosts ahead.
Forest Green's booming announcer - one of many things that still seem a bit incongruous about a vegan village team on a hillside with a relatively small following - made it seemed like Doidge had scored in front of 100,000 at Wembley. In truth, it certainly put his team well on the way to a play-off appearance at the home of football.
Chester made another treble substitution on the 70th minute when Matty Waters, Tom Shaw and James Akintunde came on to replace the largely anonymous James Alabi, Johnny Hunt and Lucas Dawson.
But Forest Green secured their play-off berth when substitute Liam Noble found the net with an excellent strike just three minutes later. Chester's best spell of the game came in the final 10 minutes, including that Durrell shot, as well as a penalty shout for Akintunde. But as they never seriously threatened their opponents' goal, it had to be a relief their goal difference was not too seriously impacted by their trip to The New Lawn.
Full-time came with the Chester fans looking nervously at their phones for results elsewhere. It must be near the end of the season again, as the Blues fans hope for a vital point or three from somewhere.
Sue Choularton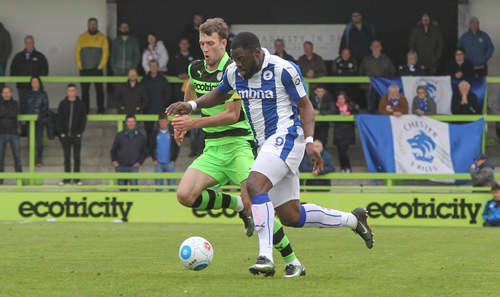 Picture © Rick Matthews (Chester Leader)

• League Table
Rate Chester's performance
---
Tuesday 11 April
Lincoln City 1 Chester 0

Conference Premier
Attendance: 7,401 (97 Chester) Half Time 0-0
Booked: Durrell, Lloyd.
Sent-off: Richards.

Lincoln City: Farman, Wood, Habergham, Whitehouse (Power 72), Waterfall, Raggett, Arnold, Woodyard, Angol (Anderson 30), Knott (Ginnelly 68), Rhead. Subs not used: Marriott, Long.
Chester: Lynch, Hudson (Vassell 67), Astles, Hughes, George, Joyce (Dawson 87), Shaw, Lloyd (Hunt 87), Durrell, Alabi, Richards. Subs not used: Roberts, Davies.
Referee: Alan Young.

Chester are beaten at league leaders Lincoln City and finish with ten men following a Kane Richards red card.

• League Table


Rate Chester's performance
---
Saturday 8 April
Chester 0 York City 2

Conference Premier
Attendance: 2,235 Half Time 0-1
Booked: Dawson, Shaw.

Chester: Lynch, Hughes, Astles, Hudson (Vassell 65), Hunt (George 65), Durrell, Shaw, Lloyd, Waters, Dawson (Richards 65), Alabi. Subs not used: Roberts, Joyce.
York City: Loach, Whittle, Heslop, Hall, Oliver, Morgan-Smith (Moke 89), Newton, Holmes, Parslow, Bencherif, Parkin. Subs not used: Fenwick, Rooney, Connolly, Muggleton.
Referee: David Rock.

The Blues were not good enough to match a resurgent York City and slumped to their sixth successive home defeat. Danny Mills has rebuilt his side since they last met Chester in October. Only Whittle and Heslop survived from that encounter. Today they sported squad numbers in the late thirties and in total York have used – including one unused substitute – a mind boggling fifty players this season as they strive desperately to remain in this division.

Chester in contrast were down to the bare bones. Horwood is the latest to have been ruled out by injury until after the end of the season. Matty Waters came in to the starting line-up for him.

As the game unfolded in bright sunshine both sides started tentatively. But the Blues were guilty of giving the ball away under pressure from the visitors and – after a couple of warnings – another mistake led to York taking the lead. Morgan-Smith wrested possession from Dawson and ran forward to put a tantalising ball through for Oliver. The striker just beat the onrushing Lynch to the ball and took it round him to tuck in the opening goal.

Durrell had a great chance to equalise when set through by Lloyd but could not beat Loach in the visitors' goal. Shortly afterwards Durrell flicked the ball up in the penalty area and made contact with Parslow's hand – but his appeals for a penalty were waved away by the referee. At the other end Parkin's first-time shot from well outside the area cannoned back into play off the inside of the post. After the break Dawson had a decent effort just wide but then Chester were given another scare as this time Morgan-Smith hit the post after being teed up by Parkin. Johnny Hunt ran through into the box to latch on to Shaw's pass and looked certain to equalise until a last ditch block tackle by Holmes saved the day for York.

Jon McCarthy made a triple substitution in an effort to revamp Chester into a 4-4-2 formation with Richards providing support for Alabi. Blues were livelier as an attacking threat as a result but still struggled to make clear-cut openings. And when Holmes went up to the other end and slammed home a second goal – blasting Morgan-Smith's lay-off into the net there was a sense that the game was decided.

Fans of both sides crammed in to the Blues Bar afterwards to watch the Grand National and were joined by some of the players. Jon Parkin – head and shoulders above the crowd – enjoyed a drink of San Miguel and chatted with supporters. The York Juggernaut looks to be turning around just in time to avoid relegation whilst Chester look as though they might just sneak over the finishing line – though neither are quite there yet.


•
League Table
Rate Chester's performance
---
Saturday 1 April
Torquay United 0 Chester 1

Conference Premier
Attendance: 1,881 Half Time 0-0
Booked: Alabi.

Torquay United: Moore, Rowe-Turner, Lathrope, Gallifuoco, Young, Harrad (Lee 44), Verma, McGinty, Anderson, Reid (Williams 75), Keating (Sparkes 75). Subs: Chaney, Nicholson.
Chester: Lynch, Hughes, Hunt, Astles, Hudson, Horwood (Waters 30), Dawson, Joyce (Durrell 71), Lloyd, Alabi, Richards (Shaw 79). Subs: Roberts, George.
Referee: Sam Allison.

Chester secured a remarkable third away win in a row, and all but secured National League football for another season, thanks to an 80th minute goal from captain Sam Hughes.
The teenage defender gave another outstanding performance and deserved the deflection that caused his 25 yard strike to find the net in front of the 160-plus travelling Blues' fans.
On a day which saw glorious seaside weather turn to April showers, there were also stand-out showings from Ryan Astles and Alex Lynch. The goalkeeper kept Chester in the match earlier in the second half with a fantastic double save which saw him tip Jamie Reid's strike just out of reach.
Referee Sam Allison had given the struggling home site a mountain to climb when he red-carded Myles Anderson on the 43rd minute for bringing down James Alabi on the edge of the box. Chester couldn't make the free kick count, but they definitely had the upper hand throughout the second half and deserved their late winner.
One downside for Chester was Evan Horwood limping off with an injury on the half hour, but his young replacement, Matty Watters, proved to be an able substitute and helped ensure the Blues enjoyed a memorable visit to the English Riviera.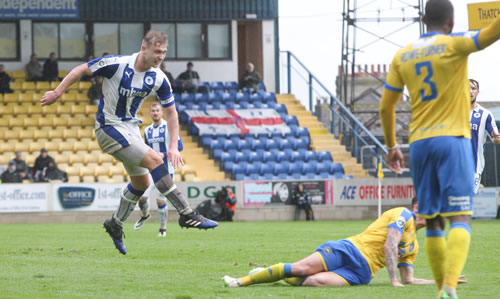 •
League Table
Rate Chester's performance
---